If you are on Reddit and asking questions on how to rip DVDs or questions alike, people would probably recommend using MakeMKV and Handbrake together: MakeMKV to rip the DVD to MKV and handbrake to format like mp4. People recommend so just because the two of them are free to use, and it always works great. So, are MakeMKV and Handbrake always the best combination to rip Bluray DVDs?
While it is free to rip and convert DVDs and AVCHD discs, it costs $50 for ripping Bluray discs. You may see discounts for MakeMKV up to 10%, 20%, and some even say 50%. However, none of the MakeMKV discounts are TRUE. I opened a post on the MakeMKV coupon and how to get a MakeMKV lifetime key, along with some FAQ. MakeMKV is ONLY available on their official site:
Best Combination to Rip Bluray DVD?
MakeMKV is very popular even when it comes to Bluray DVD ripping. MakeMKV rips almost any Bluray discs with the latest versions of AACS and BD+ up to v78 at the moment to MKV with all audio and subtitle tracks and keeps the original Bluray 1080P video quality. The ripping speed is fast, considering it does not re-encode the M2TS file as MKV is a great container to contain all kinds of video and audio codecs. So, if you just need MKV for playback on computers, either on macOS or Windows, MakeMKV will be your first choice.
I experimented with MakeMKV to convert MKV files from BluRay discs to reduce file size. But it does not seem to reduce much. In this case, Handbrake is right here to combinate with MakeMKV and do the following for you:
Disadvantage of Using MakeMKV and Handbrake to Rip Bluray DVD
While it seems that MakeMKV and Handbrake are your best option to rip Bluray DVDs but they still have their disadvantages and cons. 
First of all, as mentioned above, it takes you two processes to rip, firstly rip Bluray DVD to MKV and re-format MKV to MP4. Although the two still take a reasonable time to convert, it is still inconvenient, and you will have to sit in front of your computer and start the next process of converting MKV to MP4 using Handbrake, which will be time-consuming. 
Second, either MKV or MP4 is limited for some people. People come with different needs for videos playback, streaming, editing, etc and thus, some would prefer ripping Bluray DVD to AVI or WMV, or do you want to rip Bluray directly to iPad or Bluray to Google Drive? And, is Handbrake able to convert MKV to 3D MP4? Obviously not. 
MakeMKV and Handbrake Alternative-Rip Bluray DVD Directly to MP4 AVI WMV
Suppose you are looking for a more straightforward way to rip Bluray DVD directly to MP4 AVI WMV and even 3D formats like 3D MKV and 3D MP4. In that case, I'd like to recommend an awesome MakeMKV and Handbrake alternative for you-Leawo Bluray Ripper.
With Leawo Blu-ray Ripper, you can do all the combinations of MakeMKV and Handbrake within one program. It does more with over 180 output formats supported, including those that MakeMKV and Handbrake do not support, like the audio formats AAC, MP3, FLAC, etc., and 3D formats. The editing feature is powerful for you to customize your outputs just as you like. One more, Leawo Bluray Ripper also supports DVD ripping, and you can even rip DVDs remotely without a local DVD drive.
How to Rip and Convert Bluray DVD directly to MP4 AVI WMV
If this is your first time ripping Blu-ray discs with Leawo Blu-ray Ripper, this is a quick guide to rip and convert Bluray DVDs directly to MP4. And it applies to other video formats like AVI, MKV, MOV, and devices like iPhone, iPad, Apple TV, etc. 
1. Follow the above free trial link to download and install Leawo Bluray Ripper. You will see what you download and install is called Leawo Prof. Media. No worry, this is the all-in-one launcher of all Leawo media solutions.
2. Click Blu-ray Ripper in the main UI of Leawo Prof. Media.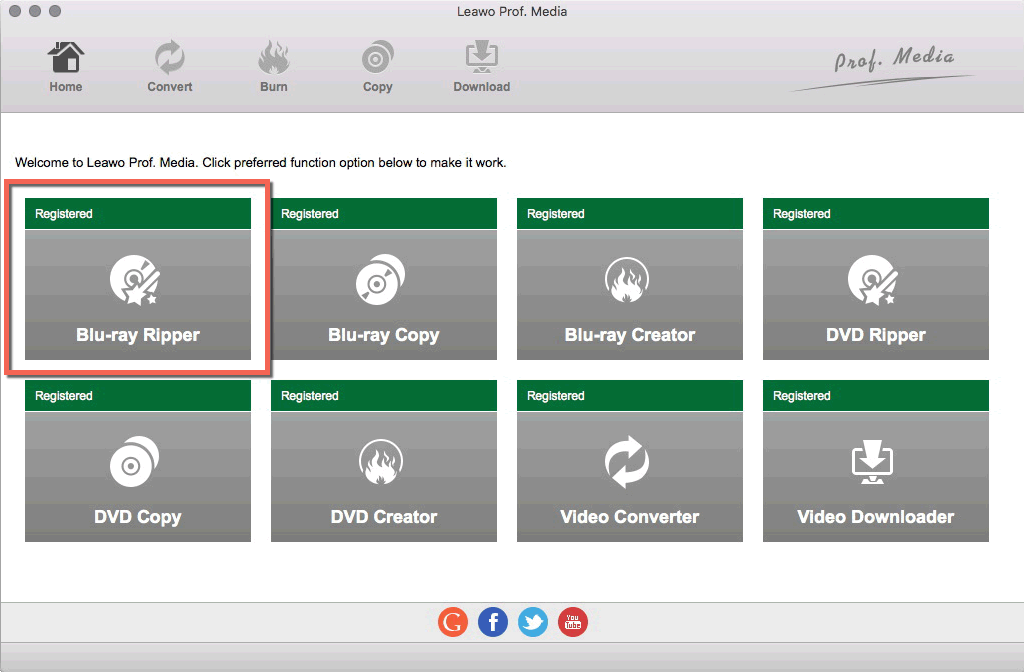 3. Click Add Blu-ray/DVD to add the Bluray you want to rip directly to MP4.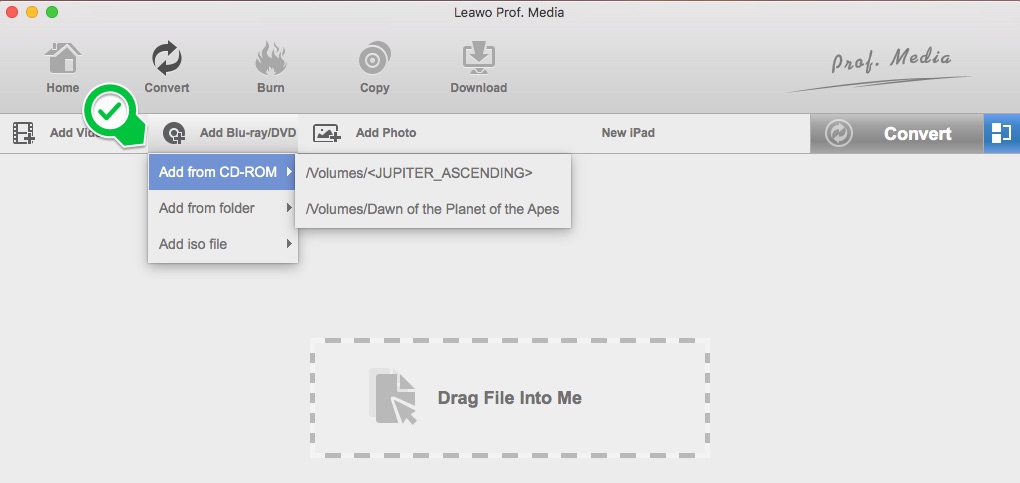 Free free to drag and drop the Blu-ray disc to the program for easy adding. Also, Bluray folders and ISO files are also supported. 
4. You will then be presented to choose the Full, Main, or Custom Movie for ripping, and Main Movie comes as default and is recommended for most of us. For those who are ripping TV shows, workout DVDs, please go to Custom Mode so you can choose the titles you need. Full mode is NOT recommended.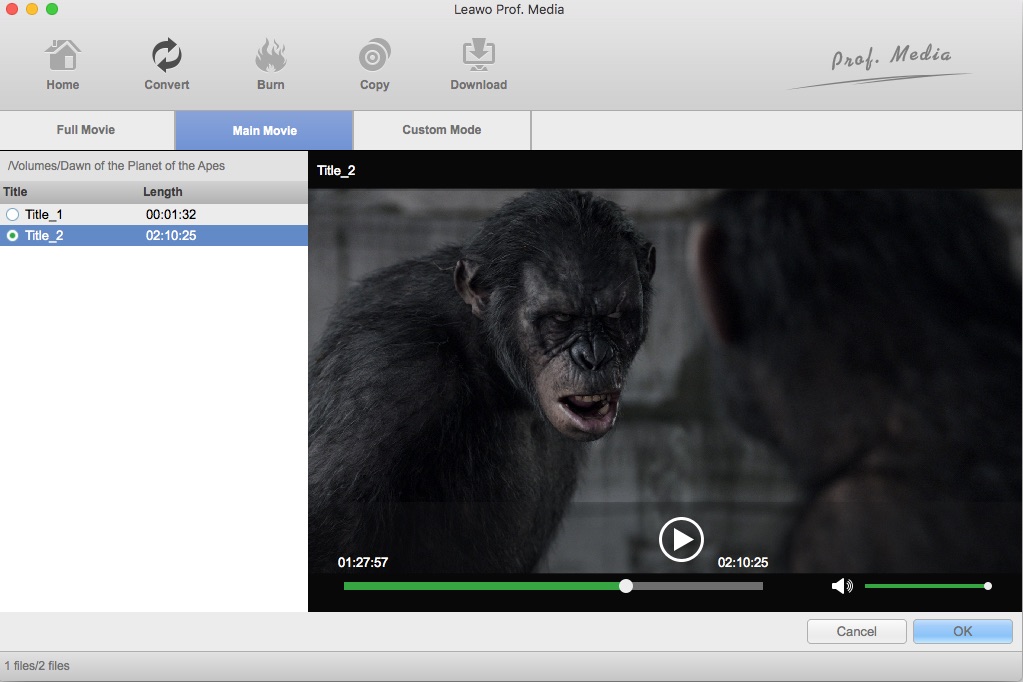 5. Select the output format. MP4 video is the default profile for ripping. Click MP4 Video and change it to another if you need anything else. And you can learn how to rip Bluray to iPhone here.
6. Editing Bluray. Leawo Bluray Ripper comes with a powerful preview player and an editing engine. Click Edit for options like trim, watermark, crop, adjust effects. If you'd like to enjoy a 3D movie on a larger screen Apple TV, go 3D and enable 3D mode. Side-by-side is recommended:
7. Ripping Bluray directly to MP4. So, we are almost done now. Just hit the big CONVERT button and let Leawo do the rest for you. Have yourself a cup of coffee and be back to enjoy the Bluray movie with the original video quality!
In order to better rip Bluray DVDs to any video format or device you need, I have prepared a 25% discount coupon for you, and you can save up to $24.99 for a lifetime license! The discount coupon is both available for PC and Mac users!