When taking pictures at night, or there isn't enough light, or the camera isn't set up right, there can be too much noise in the photo. Noise can ruin your photography. So, how do you denoise images?
Adobe Lightroom Classic is the most widely used photo editing program to edit photos and do image noise removal. It's the top program, and there is currently no serious competitor in terms of image editing or image management. Even though Lightroom Classic has a lot of options, I don't quite like the image noise reduction function. I always thought there must be a better way.
In this situation, some of my friends told me that there are AI image denoisers that do a great job in noise reduction. In this post, I'd like to recommend 3 AI-based programs to denoise images on your PC, Mac, or online.
What is an AI Image Denoiser and Why Do You Need It?
Images often contain unwanted noise that can be introduced from various sources like low light, high ISO settings, or older sensors. Noise appears as graininess, blurriness, or pixelation in photos and reduces quality by impacting sharpness, contrast, colors, and visibility of details.
An AI image denoiser is a tool that uses machine learning algorithms to detect and remove noise from images. It analyzes photos to distinguish between actual details and random noise patterns. By eliminating noise, AI denoising produces cleaner, sharper, and more natural looking photos.
Slide
Original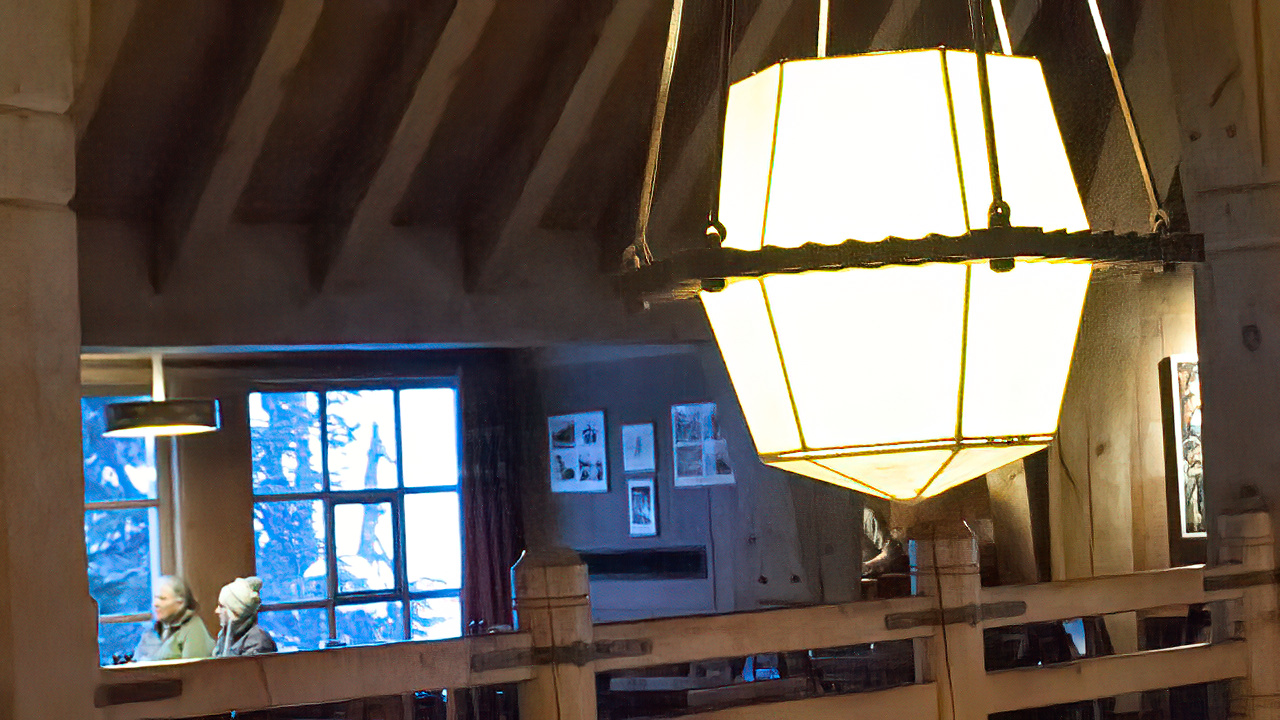 Denoised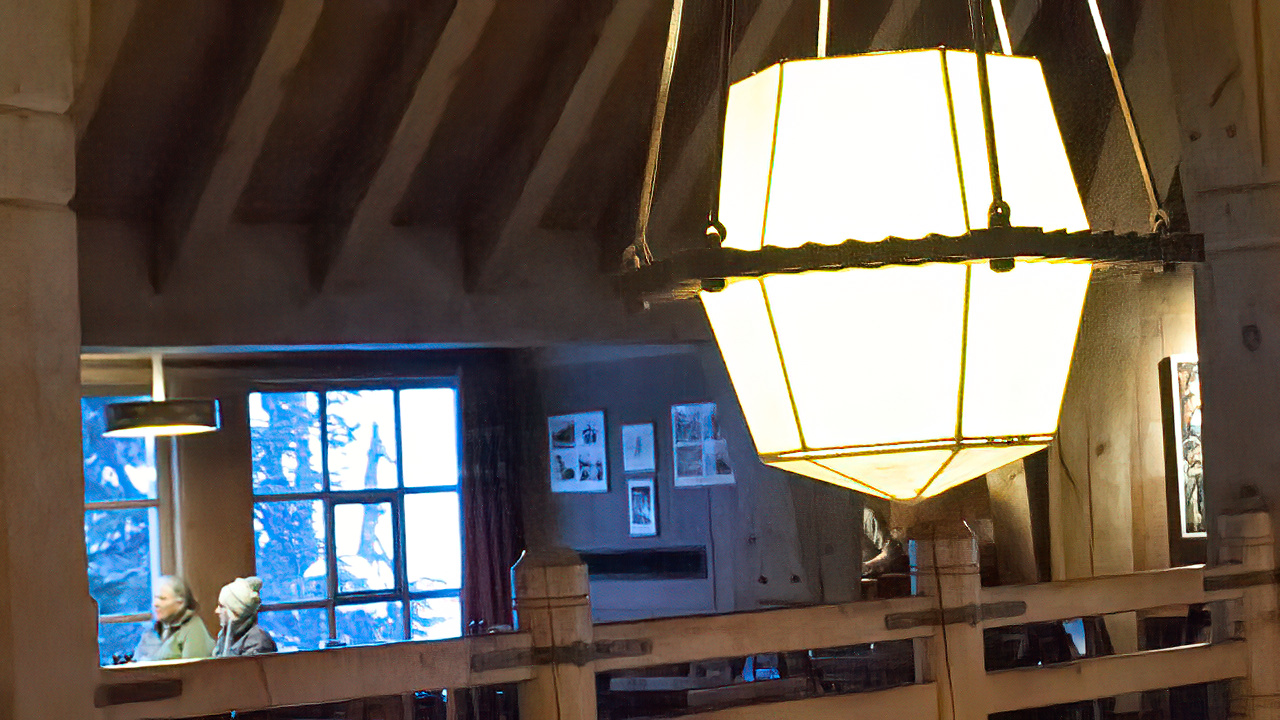 You may need an AI denoiser if you frequently take pictures in noise-prone situations. For example, indoor or night scenes often have low light that increases noise. High ISO settings, long exposures, or older cameras can also contribute to noise. An AI denoiser can help improve the quality of photos from these challenging lighting conditions or equipment.
How to Choose the Best AI Image Denoiser
When selecting a denoising tool, consider factors like algorithms, presets, controls, masks, features, performance, usability, compatibility, and price.
Algorithms affect how noise is identified and removed. Presets offer automated settings while controls allow custom fine-tuning. Masks target specific areas. Features provide additional editing options. Performance impacts speed and resource usage. Usability revolves around the interface and learning curve. Compatibility involves file support and platforms. Price determines value and affordability.
Evaluate these qualities across different options. Look for reviews from reputable sources and compare strengths versus needs. Demo or trial versions help you test functionality. The best denoiser balances all criteria for your specific workflow and photography style. With the right tool, AI can enhance image quality by intelligently eliminating distracting noise.
Topaz: Best Way to Denoise Images, Photos and Pictures on PC and Mac
When it comes to reducing image noise through artificial intelligence, Topaz Labs has established itself as an industry leader with their lineup of powerful denoising tools. But which is best suited for your needs – Topaz DeNoise AI or Topaz Photo AI? Let's examine these top options in more depth.
More About Topaz:
Topaz Labs is a well-known company that develops its own AI algorithms for noise reduction, sharpening, as well as other post-processing problems. Gigapixel AI, Video AI, etc., are all sophisticated software from Topaz Labs.
Topaz DeNoise AI
is available as a standalone program or a plugin for Adobe Photoshop or Lightroom Classic. Here, I am talking about the standalone program. It's a powerful piece of software powered by AI to do image noise reduction from your photos while maintaining the original detail.
It has a straightforward and understandable user interface with various customizable noise reduction settings that can be applied to any image. After years of development on this project, Topaz is no doubt the best and most effective software to denoise images, photos, and pictures with a significant advantage over other programs all over the world.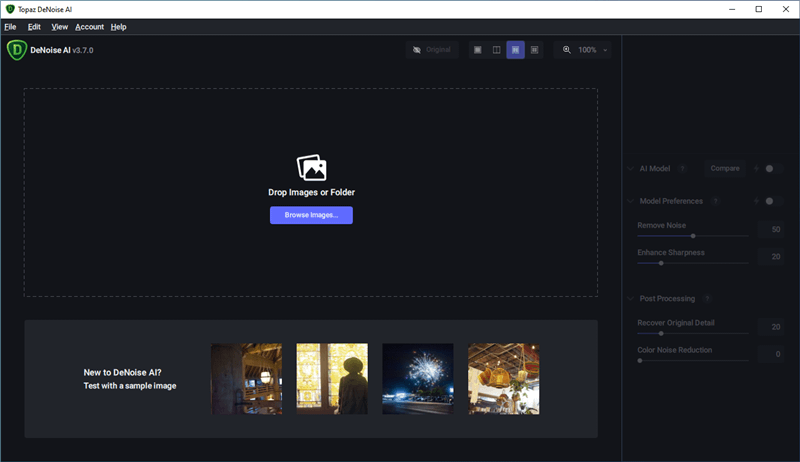 Note:
Image noise reduction by AI is GPU demanding and time-consuming. If your machine isn't very powerful, the whole process may take a long time.
Excellent quality with detail preserved
World-class AI algorithm for image noise removal
4 AI Models to denoise different kinds of images, photos, or pictures
Automatically detect the suitable model for denoising
Uncompressed or RAW photos supported
Auto Model Preferences
How to do Image Noise Removal with Topaz DeNoise AI
Topaz DeNoise AI is easy to denoise images, pictures, or photos. As you can see above, the main UI is clean and straightforward. Simply follow the below button to download, install, and launch Topaz AI image denoiser to get started. 
What you need to do is: 1, load your image, 2, choose an AI model, 3, set the Model Preference, and 4, set Post Processing. Then, 5,  you can save your image.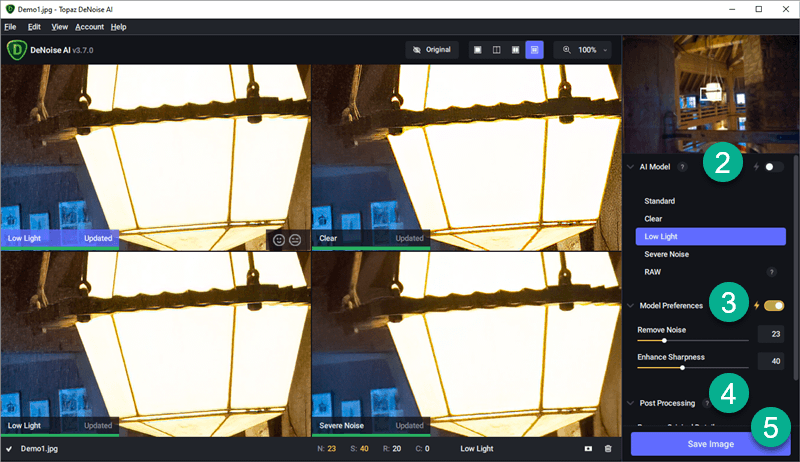 Tips:
I advise using the Comparison View to locate the ideal model. Following that, you have the option of selecting automated settings for the specified model or making your own adjustments. Acquiring the ideal outcome with DeNoise AI could take some time, given the myriad parameter options.
According to our research, Topaz Photo AI is the most advanced noise reduction software for 2023. As a cutting-edge tool, it uses AI to handle all image quality needs via its auto-pilot feature. This automatically detects and corrects common issues like noise, blur, and resolution while enhancing details, colors and contrast.
Specialized AI models analyze photos deeply, removing both luminance and chrominance noise while recovering details and colors. Other functions include sharpening, upscaling, and facial recovery with realistic results. Issues like blur from various sources can also be fixed. Resolution increases without losing quality or artifacts.
How to Use Topaz Photo AI
Since Autopilot was introduced, Topaz Photo AI has been super-easy for beginners. Once you have installed and opened the program, open an image via the Browse Images button or drag/drop. You will see Autopilot is working: 
After that, you can manually select an option like Remove Noise, Sharpen, Upscale, or Face Recovery.
In Noise removal, you can manually pick up the AI Model that better meets your needs or adjust sliders for Strength, Debluring, etc.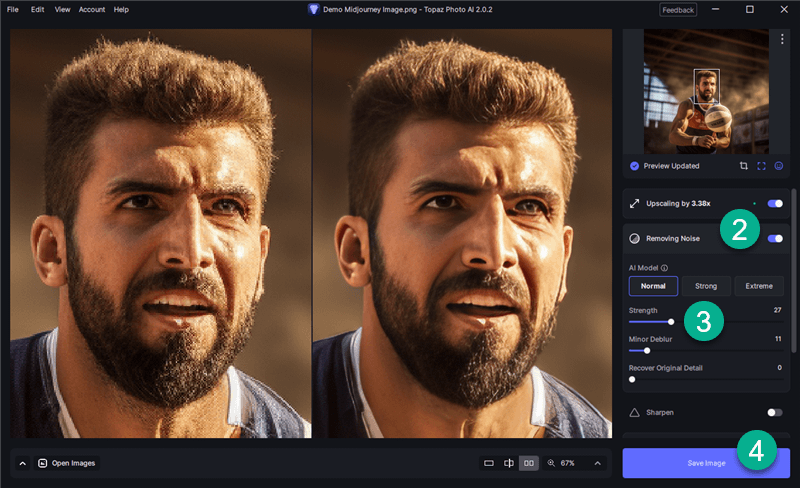 Compare before/after views before you Save Image.
Topaz DeNoise AI vs Topaz Photo AI
Topaz DeNoise AI and Topaz Photo AI, both from Topaz Labs, can do noise reduction. Which one should I choose? It depends!
Topaz DeNoise AI is a specialized noise reduction software that focuses on removing noise from your photos while preserving details and colors with more control over the parameters of noise reduction. So, if you only need to reduce noise in your photos and nothing else, you might prefer Topaz DeNoise AI. And, it's cheaper.
Topaz Photo AI is an all-in-one image quality software that handles all your image quality needs with its auto-pilot feature, which automatically detects and corrects common issues in your photos such as noise, blur, resolution, etc. In the case that you have to handle multiple image quality issues in your photos besides noise reduction, you should consider Topaz Photo AI.
Free
No Subscription or sign-in needed
How to Denoise Images Online Free
To denoise images online, you just have to upload your pictures by clicking "Select Images." And then click Start. Denoising goes all automatically. After that, you can download your photo.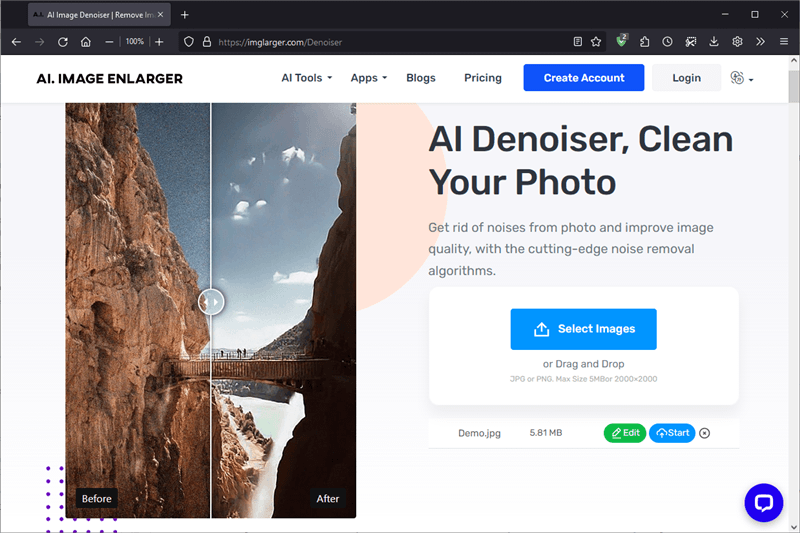 Vanceai: AI Image Noise Removal Online
VanceAI Image Denoiser makes it simple to remove noise from photos. It produces natural-looking photos by automatically eliminating image noise using the Denoise AI algorithms.
Online photo denoising with VanceAI also adds genuine detail. There is no need for prior experience or expertise in photo processing. Images no longer need to be manually altered. Do you wish to get rid of image noise? Denoise AI can handle this complex task.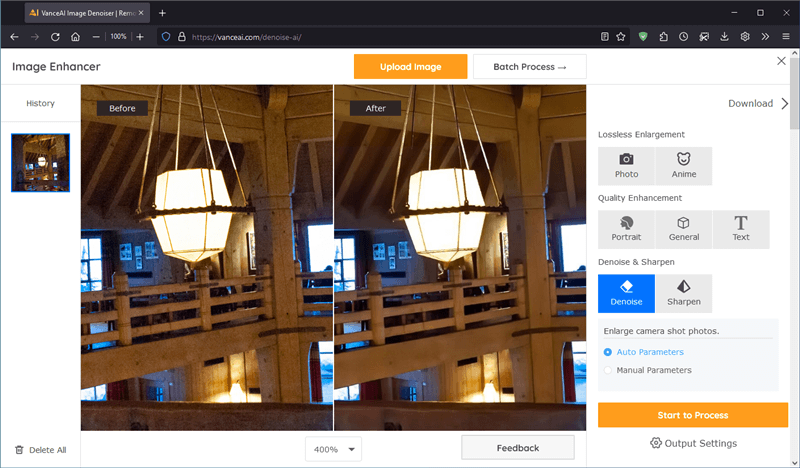 Free
No Subscription or sign-in needed
Lossless Enlargement
Auto Parameters
Two credits only for free

Watermark