When taking pictures at night, or there isn't enough light, or the camera isn't set up right, there can be too much noise in the photo. Noise can ruin your photography. So, how do you denoise images?
Adobe Lightroom Classic is the most widely used photo editing program to edit photos and do image noise removal. It's the top program, and there is currently no serious competitor in terms of image editing or image management. Even though Lightroom Classic has a lot of options, I don't quite like the image noise reduction function. I always thought there must be a better way.
In this situation, some of my friends told me that there are AI image denoisers that do a great job in noise reduction. In this post, I'd like to recommend 3 AI-based programs to denoise images on your PC, Mac, or online.
Topaz: Best Way to Denoise Images, Photos and Pictures on PC and Mac
Topaz DeNoise AI
is available as a standalone program or a plugin for Adobe Photoshop or Lightroom Classic. Here, I am talking about the standalone program. It's a powerful piece of software powered by AI to do image noise reduction from your photos while maintaining the original detail.
It has a straightforward and understandable user interface with various customizable noise reduction settings that can be applied to any image. After years of development on this project, Topaz is no doubt the best and most effective software to denoise images, photos, and pictures with a significant advantage over other programs all over the world.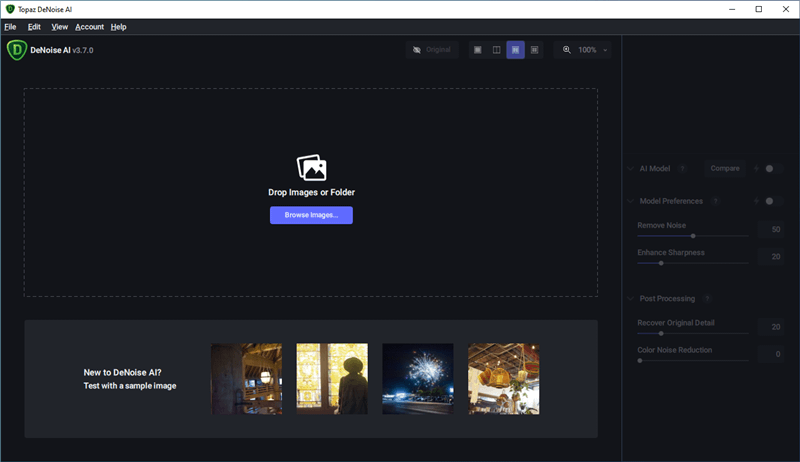 Note:
Image noise reduction by AI is GPU demanding and time-consuming. If your machine isn't very powerful, the whole process may take a long time.
Excellent quality with detail preserved
World-class AI algorithm for image noise removal
4 AI Models to denoise different kinds of images, photos, or pictures
Automatically detect the suitable model for denoising
Uncompressed or RAW photos supported
Auto Model Preferences
More About Topaz:
Topaz Labs is a well-known company that develops its own AI algorithms for noise reduction, sharpening, as well as other post-processing problems. Gigapixel AI, Video Enhance AI, etc., are all sophisticated software from Topaz Labs.
How to do Image Noise Removal with Topaz DeNoise AI
Topaz DeNoise AI is easy to denoise images, pictures, or photos. As you can see above, the main UI is clean and straightforward. Simply follow the below button to download, install, and launch Topaz AI image denoiser to get started. 
What you need to do is: 1, load your image, 2, choose an AI model, 3, set the Model Preference, and 4, set Post Processing. Then, 5,  you can save your image.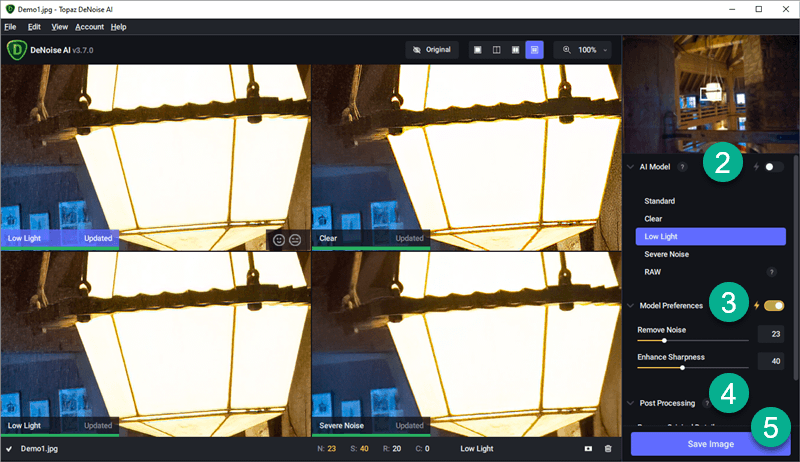 Tips:
I advise using the Comparison View to locate the ideal model. Following that, you have the option of selecting automated settings for the specified model or making your own adjustments. Acquiring the ideal outcome with DeNoise AI could take some time, given the myriad parameter options.
Free
No Subscription or sign-in needed
How to Denoise Images Online Free
To denoise images online, you just have to upload your pictures by clicking "Select Images." And then click Start. Denoising goes all automatically. After that, you can download your photo.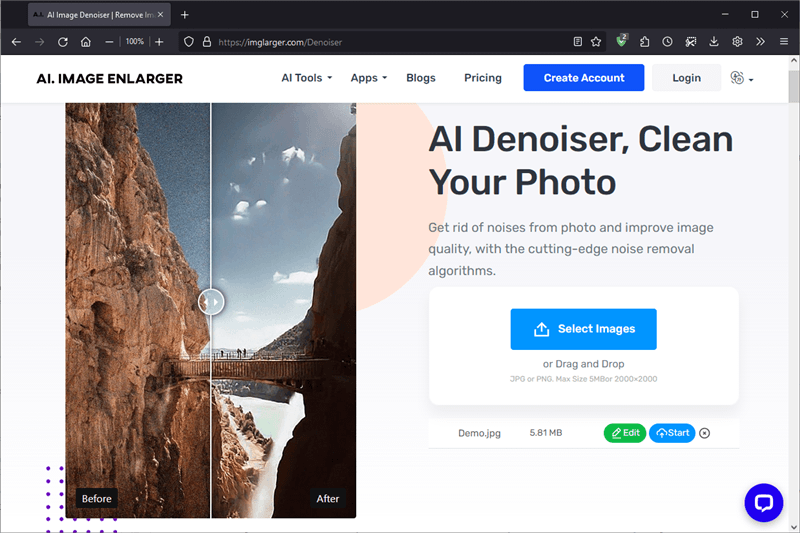 Vanceai: AI Image Noise Removal Online
VanceAI Image Denoiser makes it simple to remove noise from photos. It produces natural-looking photos by automatically eliminating image noise using the Denoise AI algorithms.
Online photo denoising with VanceAI also adds genuine detail. There is no need for prior experience or expertise in photo processing. Images no longer need to be manually altered. Do you wish to get rid of image noise? Denoise AI can handle this complex task.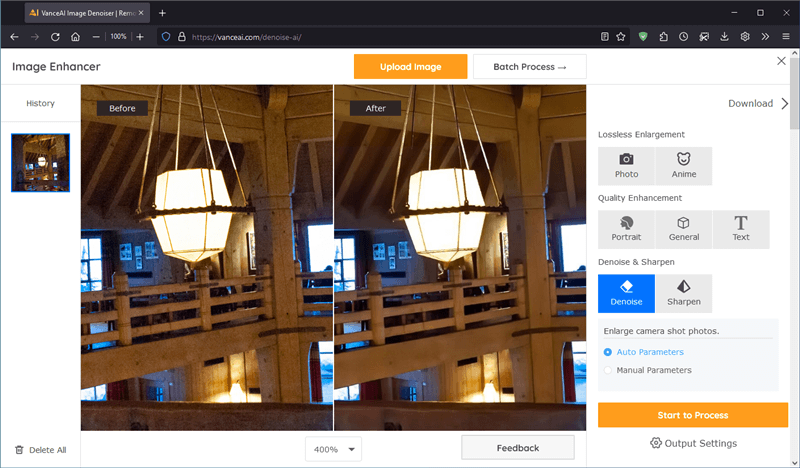 Free
No Subscription or sign-in needed
Lossless Enlargement
Auto Parameters
Two credits only for free

Watermark