With a lot of videos you take during the World Cup, I always suggest you guys to backup them. If you plan to share your videos/recordings to video sharing sites like YouTube, Vimeo, Dailymotion, etc, it is a good idea to edit videos, like removing unwanted background noise, flipping and rotating, color tuning, panning and zooming, splitting screens, etc to make your videos/recordings more impactful and professional. Today, I am going to recommend the best video editor for you to edit 4K videos and recordings with over 1,000 effects!
Filmora, launched in April 2015, is a simple, stylish, and powerful video editing software, one of Wondershare's masterpieces in recent years.
In the past three years, Filmora stands the test of time by millions of users worldwide. It has evolved from a single video editing software to a comprehensive one with multiple functions such as video editing, video converting, screen recording, etc.  Due to its powerful and functional experience, Filmora has been able to stand out from other well-known software such as Movie Maker, Video Studio, and Premiere Elements, and becomes more and more popular.
Wondershare Video Editor, Filmora, is available for both PC and Mac users. I believe it is one of the best video editors for some of the below reasons. 
Nice UI for Convenient Video Editing
Being unanimously favored by users worldwide, Filmora must have its own uniqueness. Either the function of the best video editor or the user interface, Filmora can meet the explicit and implicit needs in video editing, making it look fashionable and work functionally.
Unlike other products with a single gray interface, Filmora is composed of dark green and deep navy blue. The functional areas are concise and clearly structured. In order to satisfy different users, Filmora also offers a light-colored interface that is made of gemstone green and beige. I must say this is the most beautiful and convenient video editing software I have ever seen. 
For non-professional users to edit 4K videos, Filmora provides an intuitive and easy-to-use interface that allows users to get started without professional training. Filmora provides over 1,000 elements and massive templates and materials for users to directly apply, including thousands of Hollywood blockbuster special effects, 300+ kinds of subtitles, and 400+ kinds of overlays.
Besides the built-in effects, Wondershare has more wonderful effects packs that are available in its Effects Store.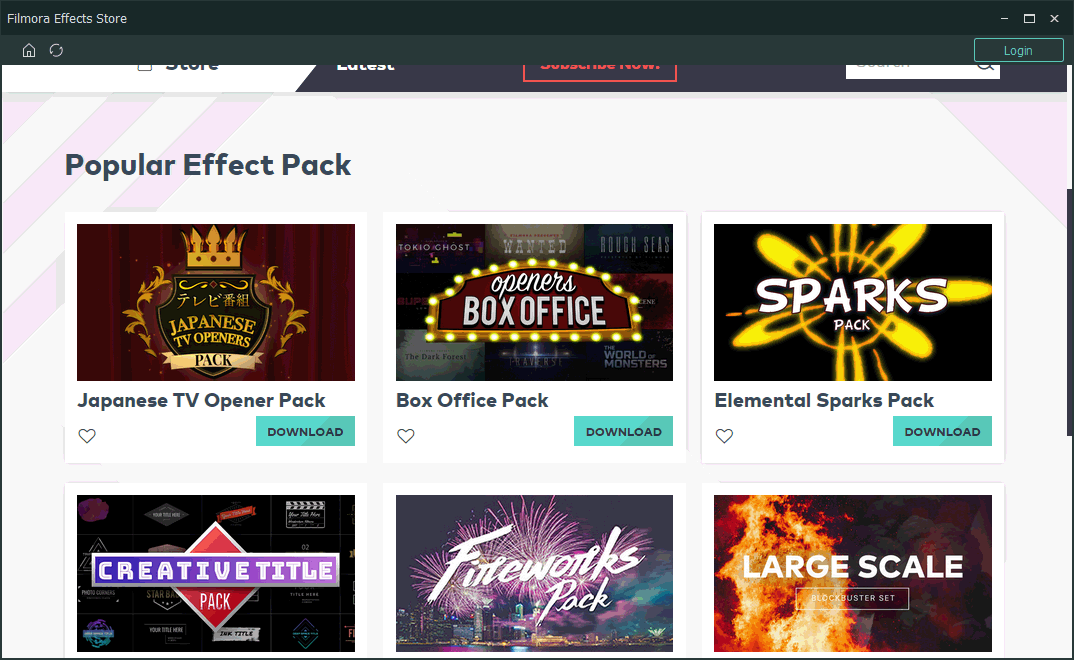 You can access the Effects Store via the Download button on the upper-right.
Powerful functions to Edit Videos
Talking about video editing, Filmora has professional editing tracks, with real-time screen capturing, voice-over, precision speed control(up to 100 times faster or slower), video rotation, diversified debugging functions as well as many others, which are enough to meet junior editors in video editing.
In audio editing, Wondershare's video editing software Filmora has over 50 free music presets and has set up a separate cover for them to use. In addition, with a frame-by-frame preview, you take full control of every frame of audio music files and videos, making the editing more accurate.
In terms of subtitle, title, opener, and other TEXT/CRE editing, there is a unique and professional editing track for them with hundreds of special effects. The classification for those TEXT/CRE is clear and you are able to preview them before you add subtitles/title/opener to videos. It is convenient for you to collect your favorite materials for future video editing. 
Besides, Filmora still has many user-friendly features in transition, superimposed materials, and export formats. As such, it is not difficult to understand why I recommend Wondershare Filmora for you to edit 4K videos with hundreds and thousands of elements. 
Although it is easy with Filmora to edit 4K videos or recordings, it is still hard to tell in a single post. So I suggest you visit Wondershare's official guide center or its YouTube channel. Here's a beginner's guide:
How much does Filmora cost? Is there any Monthly fee?
When you're ready to make the decision to pay for it, Filmora provides a subscription option as well as a one-time payment. 
Both the macOS and Windows versions are available for $51.99 annually, or you can get a lifetime license for $79.99.
Please note Filmstock Standard Assets and AI Portrait Add-on are checked by default. They are monthly subscriptions. If you don't need them, make sure to uncheck them before your purchase.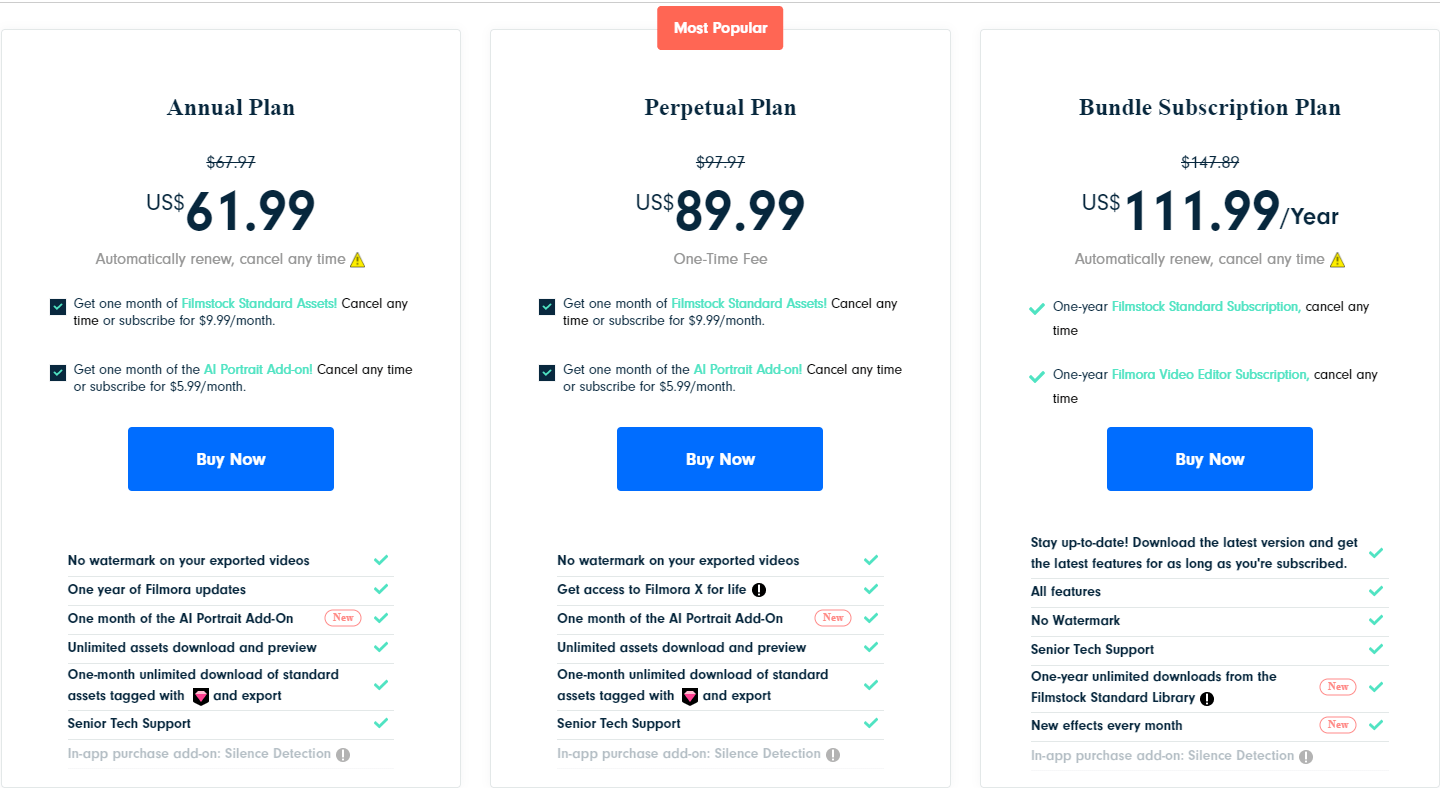 Here's the 20% discount coupon for Filmora, Wondershare Video Editor. And, follow the guide below to see how to use the coupon.
Click the below BUY NOW buttons to buy a lifetime license of Wondershare Video Editor Filmora with 20% off.  Check "I have a discount coupon", enter the discount code above, and update the shopping cart.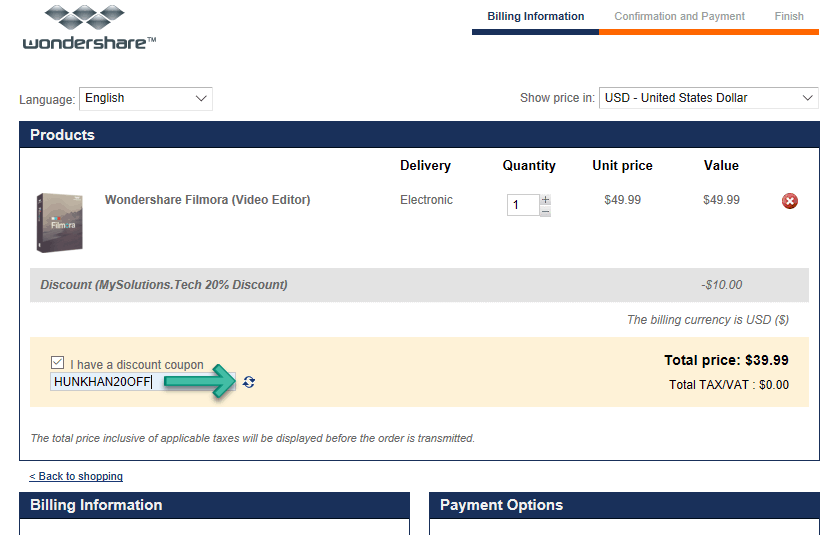 I know people are actually looking for a way to remove video watermark exported by Filmora without buying the full version. Well, there are a couple of ways you can try.
Use a watermark remover, either online or a desktop program, better free, to remove the Filmora watermark. There are even AI-powered solutions. But I am not quite satisfied with the results.
Use a cracked version. This is actually highly dangerous, so please be cautious.
Record the preview. This is what I think the best way to remove the Filmora watermark. When I did this Filmora review, I successfully recorded the preview. The point is, you need to pause the preview and wait a little bit longer so that Wondershare can render your video.
Use a free alternative. I know Filmora is a great video editing software. But since you don't want to pay for it, why not find an alternative that is 100% free to use?
Looking for a Filmora giveaway.
Easy and straightforward UI
4K video editing
A lot of buitlt-in transitions and effects, add with drag-and-drop
Motion tracking, and key framing support
Advanced Audio Editing like Audio Ducking
Intuitive yet Intelligent Color Matching
Abundant video Guidelines from the official and third-parties
Great many of export options
No 3D support
Add-on packs require monthly payments