I used to be a DVDShrink user to free shrink DVD to standard 4.7 GB blank DVDs. However, DVDShrink is no longer updated since 2004, which is a decade ago! Actually, DVDShrink is still working well on Windows XP, Windows 7 for some old-fashion DVDs. but I heard people complaining about its incompatibility with Windows 10, and for the latest DVDs from Disney, DreamWorks, etc. with the different copy protections, DVDShrink no longer works and I have to find a DVD Shrink alternative to compress 8.5GB DVD to standard 4.7 GB DVD5 and below is my review for Magic DVD Copier, the best DVDShrink alternative for Windows and macOS
DVD Shrink Alternative Windows
When I was looking for a DVDShrink alternative to Windows 10, I did try the trial version of DVD Copy Pro and I tried to copy a disc that had 7+GB onto a blank disc with 4.7 GB. The program would not do the copy saying that I needed a "DL Disc". I will have to go on finding copy programs that have a compression feature that fits that 7GB onto the 4.7GB, which is the key feature of DVDShrink. And the very alternative I find is Magic DVD Copier. 
I have reviewed its DVD ripper from MagicDVD and I thought it did a great job to separate DVD by chapter. The Magic DVD Ripper is also able to shrink an 8.5GB DVD to HDD to two 4.7GB DVD folder or compress it to one DVD5, but you will need another program to burn for you. There is great free DVD burning software for both Windows and Mac, say, DVDStyler, but I don't think this is convenient to make DVDs to DVD backup in two programs as such you will have to wait in front of the computer. Alternatively, Magic DVD Copier is able to do those DVD9 to DVD5 backup automatically if you have two DVD drives. But if you only have one, you can do so as well.
1:1 DVD backup, Compress or Split DVD9
As the name suggests, Magic DVD Copier is a DVD copying program that copies the original DVD to another DVD. You can use it to do a 1:1 DVD backup, but I mainly use it to compress an 8.5GB DVD9 movie to a 4.7GB. This means quality loss but it is still within my expectation. Also, it is able to split a DVD9 to two DVD5 thus you are able to keep the original DVD quality. If you don't want to keep the extras, you are also free to copy the main movie or specified titles only. And it is straightforward and everyone understands the Copy Mode:
Full Disc means 1:1 DVD backup and with Main Movie, Custom or DVD9 to 2DVD5 you are able to compress or split DVDs. 
Make Your Copies Region Free
I know how important it is to remove region code or other protections including CSS, RCE, Sony ARccOS, PuppetLock and make the copies region free so that I can play on any regular DVD players without any hassle. Magic DVD Copier automatically removes all the protections and decrypts the DVD to free playback. Significantly, Magic DVD continuously upgrades itself to keep up to date and it auto-downloads the latest encryption files, making it always working great on me.
If you have trouble playing the copies with the error message that says the DVD is not for your region or something like that, make sure the below option "Keep Region Code" is unchecked.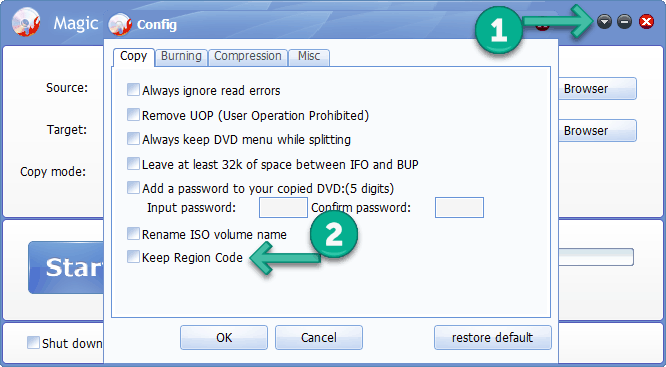 To clone DVDs is no longer hard with Magic DVD Copier. There are no specific steps required for you to backup your DVD to another blank DVD or HDD. What you have to do is just one click. As the best DVDShrink alternative for Windows 10 in 2018, the program is optimized to clone a 90 DVD in about half an hour, expressive! Besides, all kinds of blank DVDs are supported DVD-R, DVD-RW, DVD+R, DVD+RW, DVD+R DL, DVD-R DL.
How to Shrink a DVD9 movie to a 4.7 GB blank DVD?
Compressing a DVD9 to another 4.7 GB DVD5 still seems to be the most economical way to backup DVD movies from being scratched. Magic DVD Copies offers four copy modes. Except splitting a DVD9 to two DVD5 standard blank DVD, you actually have three ways to shrink a DVD9 to DVD5 which depends on what you need and I will explain them in detail.
Getting Ready:
Download Magic DVD Copier, install, and launch it.
Put one DVD into your DVD drive. The DVD here I take as an example is the kid's movie The Lego Movie.
Once you have the DVD in the drive and open the program, it will automatically analyze the DVD and select the source and target DVD for you. Full Disc copy mode comes as the default mode for copying DVDs.
If you have two drives, one source DVD, and another 4.7GB blank DVD, you will get the below message once you click Start. Click Yes to start shrinking 8.5 GB DL movie to 4.7 GB DVD5 blank disc. If there is only one drive, the program will first copy the DVD to HDD and let you eject the source DVD and insert a blank DVD, you will then be presented the below message, remember to click Yes.
We don't always have to copy the full movie. There are ads, previews, or some extras we don't want. Full copy movie is easy to use but you may lose more quality when compressing it to D5. Main movie copy mode lets you compress only the main content to a 4.7GB disc. As far as I can see, the main movie itself is still larger than a DVD5 blank DVD, you will have to click on Yes to compress it as well. However, Magic DVD Copies does not always check the right title for the main movie, check here to check the correct DVD title for free. Custom mode is for advanced users to compress selected titles/episodic, audio, and subtitle tracks to another DVD.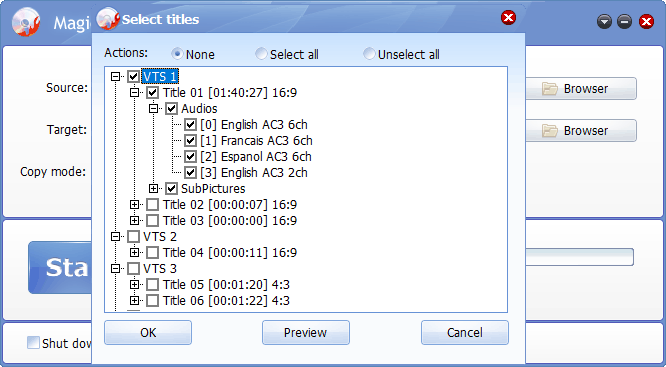 So, how do you think of Magic DVD Copier? Does it work well on Windows 11 making it the very DVD Shrink alternative?