Slysoft AnyDVD is gone, and it's gone forever because of some legal issues, mostly Blu-rays, as what happened to DVDFab. It is really a pity. However, some other programs can work as an alternative to AnyDVD to decrypt and backup your DVDs and Blu-ray discs, among which Leawo is the top alternative which, in my opinion, offers a better user interface and more user-demanded features.
Leawo DVD Copy can do all AnyDVD does for DVDs: copying the entire disc to the VIDEO_TS folder or ISO image file and removing all copy protections like CSS, and making the DVD region free to be playable on all DVD players. I do think it is one of the best AnyDVD alternatives because it offers more user-demanded features than Leawo, like main movie backup, splitting, merging, or cloning. All ways of copying DVDs are fast and offer 1:1 quality or 78% compression to a DVD5 from DVD9s.
One of my goals is to be able to copy the DVD onto my computer, which is running the latest Microsoft Windows 11 as well as macOS 13 Ventura in 2023, and be able to run it with all menus pointing to the correct chapters and titles as if I had just inserted the DVD into the drive. I want to playback with menus as I would expect but from my external storage drive. This is possible with Leawo DVD Copy to create a 1:1 copy on both PC and Mac with menus and all its extras like the original DVD in the VIDEO_TS folder or ISO image file as well. Both can be easily played on Windows with the default player, my recommended MPC-HC player, or INNA for macOS. If you are not sure how to make this happen, simply follow the screenshot below and select Full Disc in Copy Mode. DVD9 is recommended for the Output as there won't be any quality loss while maintaining the menus like the original DVD. And I have a detailed guide on How to create a DVD copy on HDD with menus like the DVD on Windows and macOS.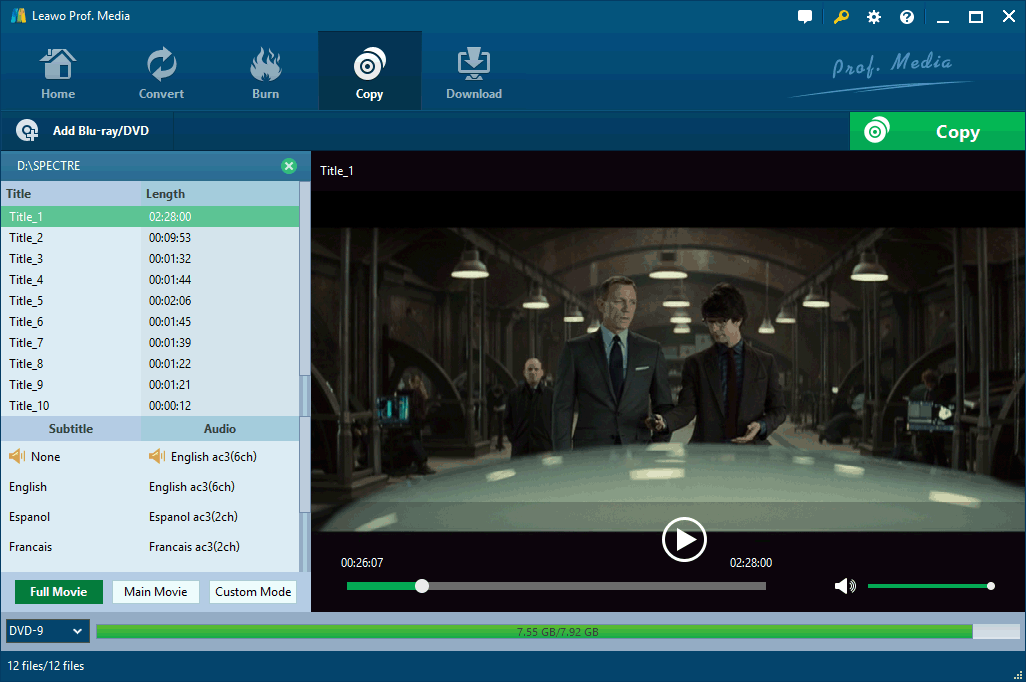 Backup Main Movie to ISO/Folder
I know there is a couple of programs that are able to backup DVDs to ISO, like WinX DVD Ripper and WonderFox; however, it looks like when I clone DVDs to ISO, the output file the program does is always a 1:1 copy of the entire disc, and there is no way to pick options. Specifically, I'd also like to make a backup copy of a DVD into an .ISO file but only want the main movie along with English & Spanish/German Language and English & Spanish/German or forced subtitles (where available) which omit all other languages (like director's commentary), subtitles extras and menu. 
Leawo DVD Copy offers the main movie backup. You can even custom whatever you want and make a VIDEO_TS folder or ISO file like the below: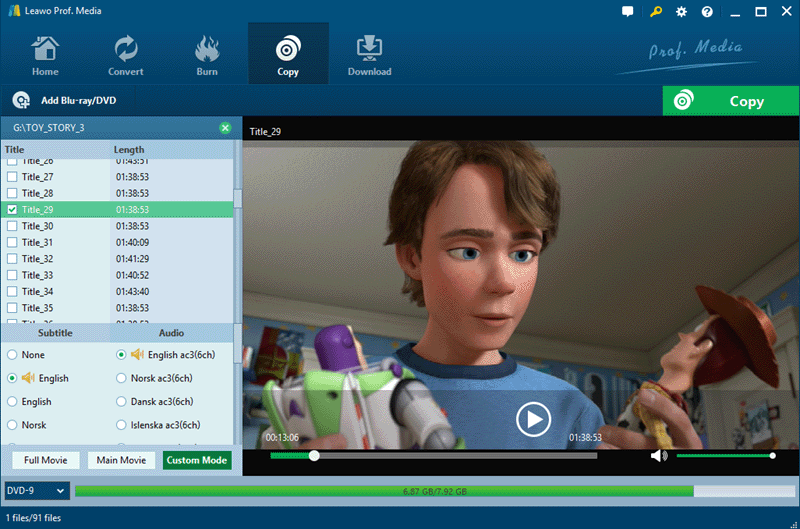 The Copy button lets you save the DVD to the VIDEO_TS folder AND ISO file. I mean, you can save the DVD to a VIDEO_TS folder and ISO image simultaneously. I prefer ISO! 
Please note you will lose the menus when you only copy the main movie or custom the backup. 
Copy DVD to DVD for any DVD Player
Is it possible to copy from DVD to DVD using Leawo DVD Copy in order to play in the home DVD Player? Unlike AnyDVD, this alternative lets you create a copy of the original DVD, so you don't have to use free software Burn or payware Toast in order to write from DVD to DVD. I like Leawo better just because it does more than AnyDVD, like burning DVD to DVD with region free so you can play DVDs with any DVD player, old or new, Windows or Mac. The Full Movie Mode is a 1:1 bit-to-bit copy which is recommended, but you are also free to use main or custom mode.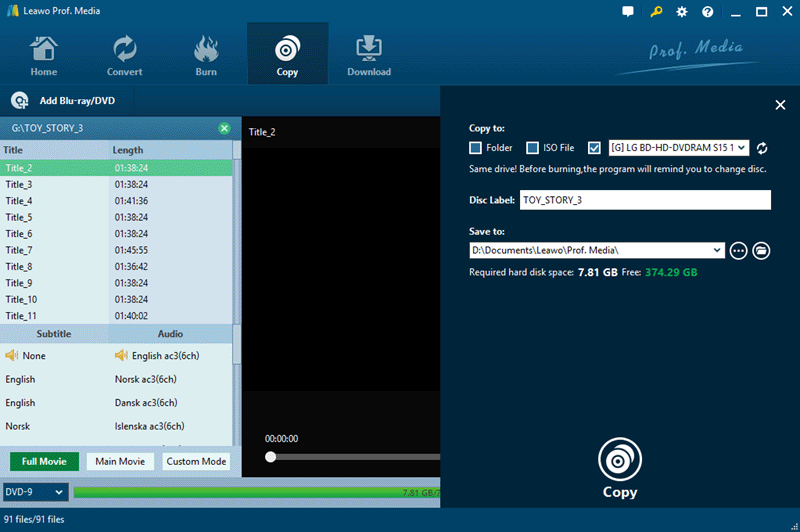 If you have only one drive, no worry. The program will remind you to insert a blank DVD when the burning is ready to go. 
Shrink DVD9 to standard 4.7 GB disc
To shrink DVD 9 movies to standard 4.7 GB blank DVD 5, making Leawo DVD Copy more practical and a perfect AnyDVD alternative! Compressing or shrinking a DVD 9 to DVD 5 is available in Main Movie mode and Custom Mode only, but Main Movie mode is recommended. And it is super easy to shrink DVD9 to a standard 4.7 GB disc on Windows as well as macOS, including Silicon Macs. You can have to select DVD 5 here: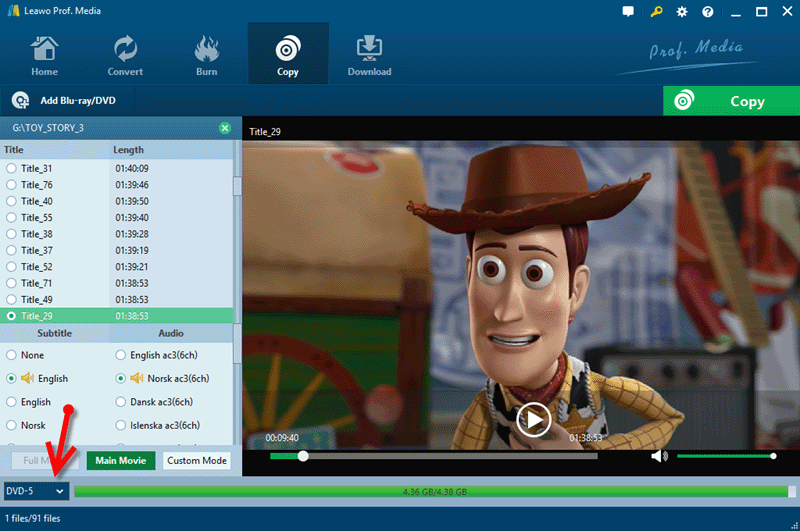 Leawo has been an old-brand multimedia solution provider since 2007, providing a wide range of programs in DVD and Blu-ray copying, ripping, and creating. Its DVD Copy is supposed to be the best AnyDVD replacement on Windows with all the attractive features mentioned above, and it works on macOS as well. It would be a 100% perfect alternative for AnyDVD if Leawo could split DVD 9 into two DVD 5. Leawo DVD Copy is sold at $39.95 for a lifetime, but you are able to save $9.9 here, which would be much cheaper than AnyDVD as far as I can remember.