Apple releases its own CPU: the ARM-based M1 chip and it is running on MacBook Air, MacBook Pro, and Mac Mini. I cannot help myself buying a Mac Mini to be my center of home entertainment when I digitize all my DVD collections to MP4. You may be wondering which program I use. Well, it's MacX DVD Ripper Pro, and I'd like to recommend it with a detailed review.
11 Reasons that Make MacX DVD Ripper Pro the Best DVD Ripper Software for Mac and PC
I'd like to recommend MacX DVD Ripper Pro in this review for your DVD ripping on both PC and Mac, especially for M1 Macs running Big Sur, with the below 11 reasons. Basically, it works, and it is stable to use, fully compatible with the latest Windows and macOS. Meanwhile, it is fast with the great video quality. You will see detailed reasons.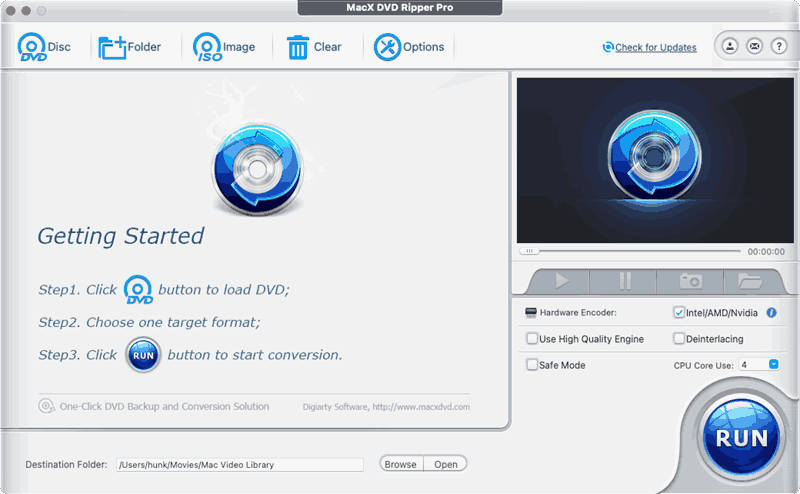 Is MacX DVD Ripper Pro safe to use? Definitely yes! It ranks the first because I think it's one of the basic and I cannot recommend something that contains a virus or Trojan, or something that is spyware or malware. We have zero tolerance for such programs. MacX DVD Ripper Pro is developed by a verified developer, Digiarty Inc. So, it is just safe to go.
Great Stability and Compatibility.
It's one of my basic requirements as well. A program needs to work stably without failing to rip DVDs or giving errors over and over again. MacX DVD Ripper Pro just works great. Another great news for you all is that MacX is a 64-bit DVD ripper, and is fully compatible with the latest macOS as well as the new Silicon Macs! You now have no worries to rip DVDs on your ARM-based MacBook Air, Pro, iMac, or Mac Mini. Also, its Windows version WinX DVD Ripper Platinum works well on Windows.
This looks to be the expanded requirements for the above one. If a DVD ripper does not support protected DVDs, it will keep giving you errors. You even cannot load those DVDs. However, we have a lot of DVDs that are protected with different copy protections. But, this is the most significant reason MacX DVD Ripper Pro is recommended because it supports all kinds of DVD copy protections, including the region code, CSS, and DVD Disc Corruption(Disney X and Sony ARccOS).
Not everyone is tech-savvy. However, some DVD ripper software is hard to understand. MacX DVD Ripper Pro, on the other hand, is very easy to use, with understandable buttons.
High-Quality Output with Reasonable file size
With the built-in high-quality engine, MacX can keep the original DVD quality in ripping. And, it keeps a good balance between the quality and output file size.
MacX can take full advantage of your CPU and GPU to speed up the ripping. You can even backup your DVD to MPG in less than 10 minutes with the profile Main Title Content Copy. Surely, your computer needs to be powerful enough.
Rich profiles and practical functions
MacX DVD Ripper Pro builds in over 350+ profiles for different video, audio formats, and devices. Thus, anyone can find one that suits their needs without having to create their own. It also comes with practical functions like preview, DVD editing, fps and bit rate customization, etc.
I see MacX is rated at 4.7 of 5 on Trustpilot and most of them give 5-star reviews for their customer support. This is nice! Digiarty mainly offers email support for MacX DVD Ripper Pro.
MacX DVD Ripper Pro is not free, but I do believe its pricing is reasonable and the program is cost-performance. You can check more on Pricing in the review that follows.
I'd always like to try first before I buy. And, MacX offers a free trial for its ripper on both PC and Mac. The trial version can rip only 5 minutes of a DVD with full function.
7 Native language support
English, Japanese, French, Spanish, Italian, German, and Chinese are the display language in MacX. It's a bonus feature with the native language support to better understand the program.
MacX DVD Ripper Pro Review: The Main Features
Why do you rip DVDs and what are your requirements for ripping? If there is a DVD ripper software that is fast to rip both encrypted and home-made DVDs to different videos like MP4, AVI, MOV, MKV, etc, or audios like MP3, AAC, DTS, as well as devices like iPhone, iPad, PS4, Samsung phones, etc. And, as one of the best DVD rippers, it is fully compatible with M1 Macs running Big Sur. Will it meet your needs?  Well, here it comes. 
Yes, MacX DVD Ripper Pro is so powerful and it rips almost all kinds of DVDs on MAC and PC, either home-made or protected. For the commercially purchased protected DVDs, MacX supports all kinds of DVD copy protections, like CSS, Disney X, to name but a few. What's more, this Mac DVD ripper can load DVDs with different file systems: ISO and UDF. The DVD ripper software auto-detects the right DVD file system for you to load. One more thing, you can load DVD disc, DVD VIDEO_TS folder, or DVD ISO files to the program for ripping.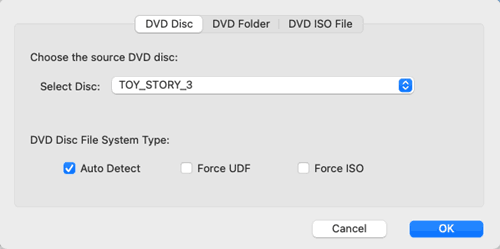 Rich Profiles to Rip DVD to Any Video, Audio, and Devices
There are up to 350+ profiles built-in. So, with MacX DVD Ripper, you can rip DVD to MP4, AVI, MKV, VOB, FLV, MP3, DTS, iPhone, iPad, Huawei, Samsung as well as other Android-based phones and TVs.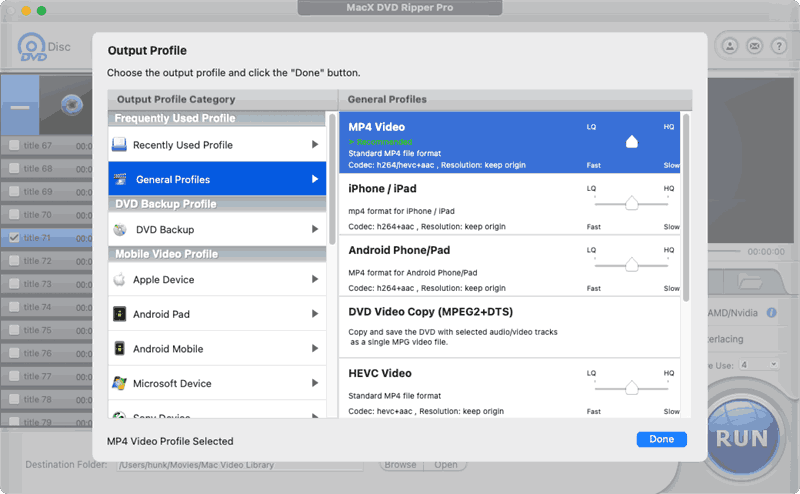 1:1 Copy DVD to Hard Drive
MacX DVD Ripper can do a 1:1 DVD copy to the hard drive in ISO format. This way, you can 100% of the DVD, including menus, episodes, credits, etc. For the Windows version, you can copy DVD to the VIDEO_TS folder too.
No 1. Fast DVD Ripping Software for Mac/PC
I believe MacX DVD Ripper Pro is the No.1 fast DVD ripping software for MAC. First of all, it takes full advantage of your CPU to speed up the ripping. And, if your GPU is supported, you can enable hardware acceleration while ripping DVD to MP4 H.264.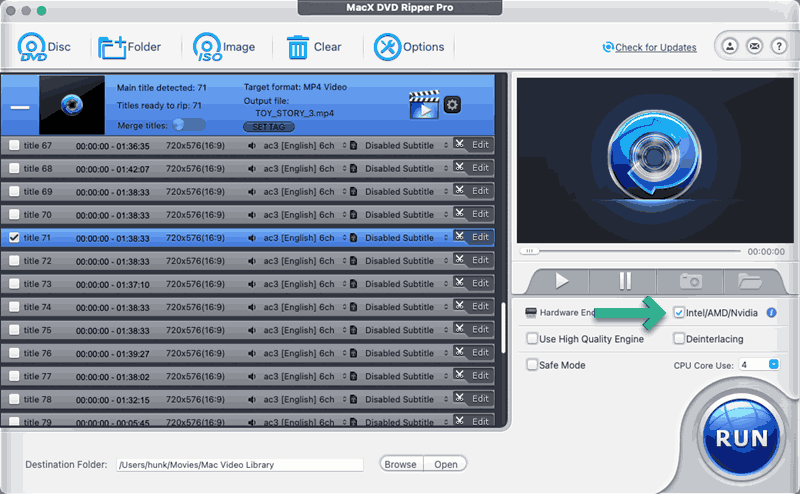 Importantly, if you don't care much about the file size, you can choose the profile Main Title Content Copy as shown below. It copies DVD to MPG2 video without re-coding.  Using this profile for ripping takes only about 10 minutes!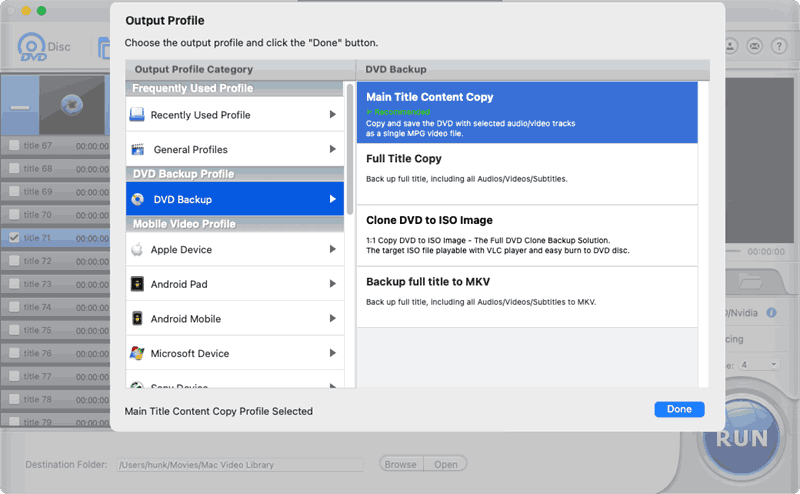 High-Quality Output for DVD Ripping
I am very satisfied with the output quality. Generally, there are 3 ways in MacX to somewhat improve the DVD output video quality. First, you can simply set the profile to HD with the below slider. However, please note the file size would be larger and it takes longer to rip.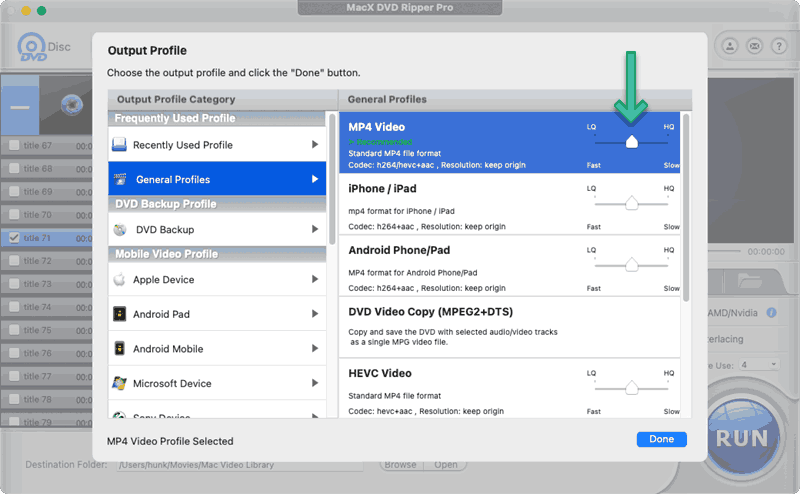 Second, you can set a higher bit rate in the option. Third, enable High-Quality Engine.
Rip DVD on Windows or macOS[Silicon Supported]
Apple releases its new MacBook Air, MacBook Pro, and Mac Mini with Silicon chip. The good news is that MacX DVD Ripper Pro is fully compatible with those new Mac models and the latest macOS. Also, you can rip DVD with MacX DVD on Windows! Its Windows version is called WinX DVD Ripper Platinum. 
MacX DVD Ripper Pro Guide: Rip DVD with Ease!
You can click the question mark in MacX DVD Ripper Pro get the official help guide. However, in my review of the MacX DVD Ripper Pro, you will get a detailed guide on how to rip DVDs with ease. I will show you my personal tips for ripping! Stay tuned!
Please follow the below link to visit its official page and download the installer. Here's the first tip on how to install MacX DVD Ripper Pro to the Applications folder as it's a little bit different as we do on Windows or the PKG installer on Mac.
You need to double click the DMG file, macOS will mount the installer for you and this is what you get: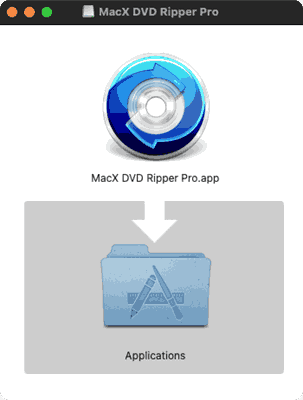 Now, simply drag the icon to Applications as the arrow shows. Done! That's it! You can now go Applications folder, and MacX DVD Ripper Pro is right there!
Installing WinX DVD Ripper Platinum is just like what we do for other programs, nothing special. Generally, we only have to click Next, next, next, and that's it! 
Using MacXDVD is easy. You can click the question mark in the program to visit the official user guide. But don't miss the tips from me. It's unique!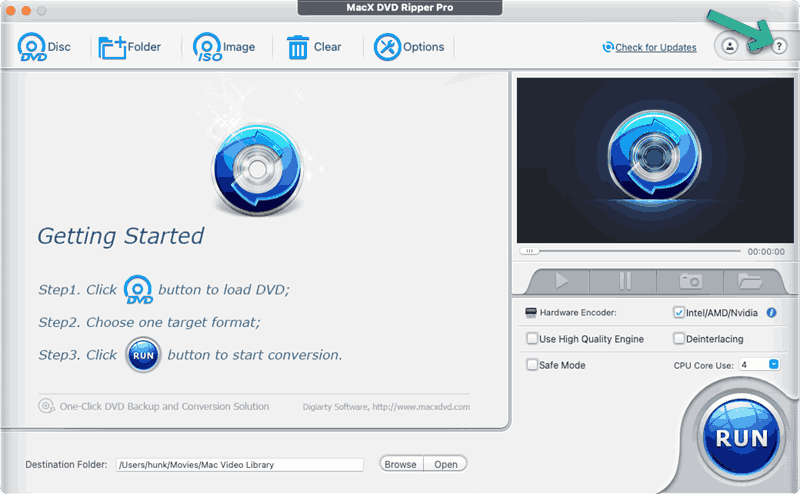 Step 1. Load DVD
As is explained above, there are three ways to add a DVD. If you have your DVD in the DVD drive, click the Disc option, and OK to confirm. Here, you don't need to change the DVD file system, the auto mode is just fine!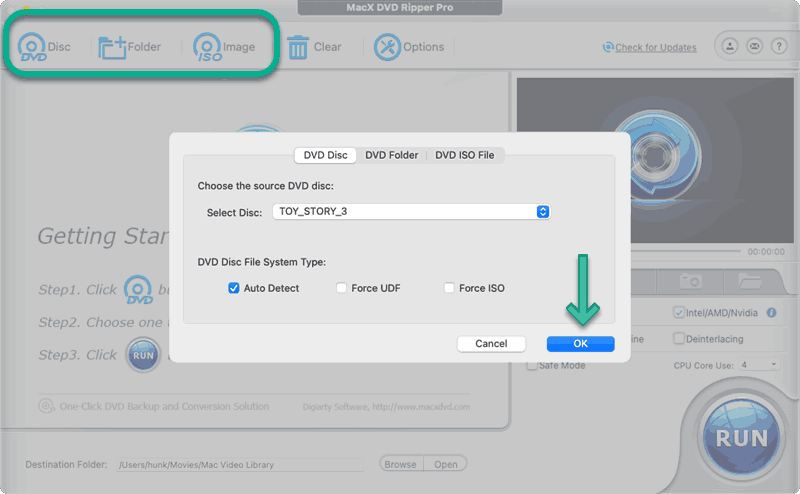 Click the Folder button to load a DVD VIDEO_TS folder, or the ISO button to load a DVD ISO file from your hard drive.
Step 2. Choose Profile Before Ripping
Your last used profile or MP4 is the default profile for DVD ripping. And, that is what I'd always like to recommend. Do you want to rip DVD to iPhone? No problem, just go and select one profile you prefer!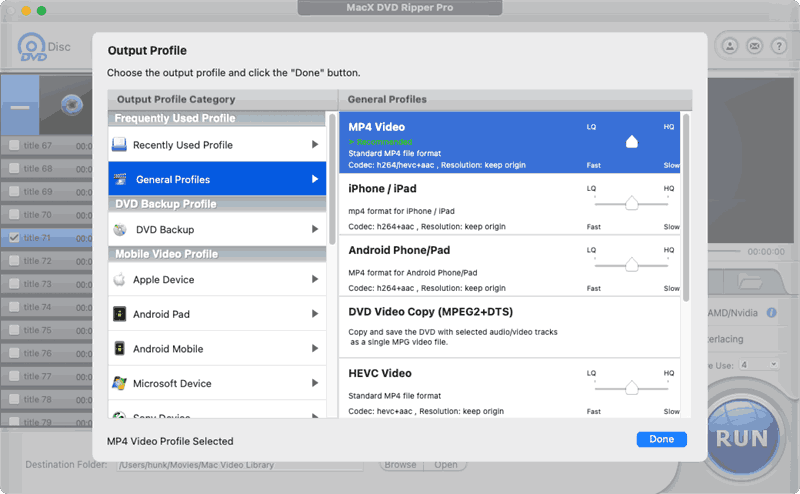 Step 3. Rip the DVD
Now with everything ready, click the big blue RUN button to start the ripping!
DVD Ripping Tips for MacX
Unique tips for using MacX DVD Ripper Pro! 
Using MacX DVD Ripper Pro on Big Sur
If you are running macOS Catalina or Big Sur or newer macOS, make sure you allow MacX DVD Ripper Pro to access the volume when you load DVDs. You need to click OK to allow MacX to read the DVD from your DVD drive.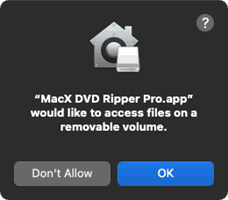 Or, you won't load it at all with the below error that reads: "MacX DVD Ripper Pro cannot access the DVD driver!"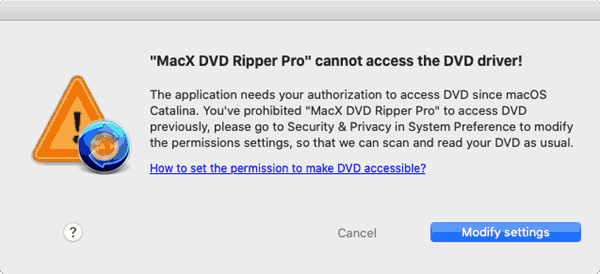 For some reason, you click "Don't Allow", now worry, click Modify Settings shown in the above, or go to the System Preference-Security & Privacy-Files and Folders, and manually check MacX and restart the program! Then, you can load DVDs to the program!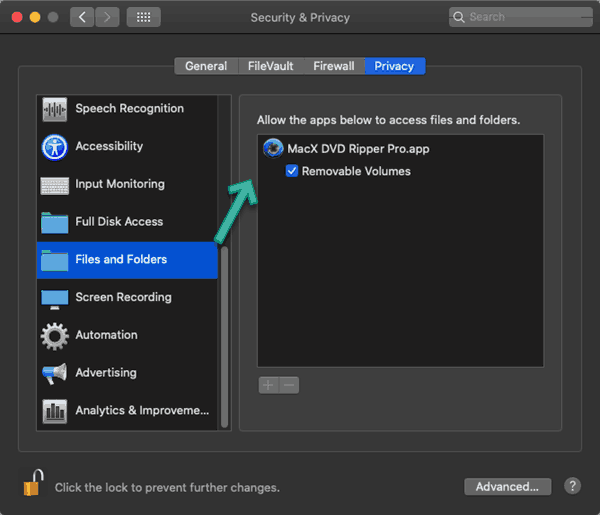 Set Display Name and Artist Name
After ripping, when I watch DVD videos on Plex, VLC, or iPhone, iTunes, I notice sometimes it displays a different name than the one it displays in Explorer and Finder. You can edit such display names or artist names instead of the file name here in SET TAG.
I prefer 5.1 sound while ripping DVDs, so I click the gear icon here and set the channel to 6 to keep the 5.1 sound.
Set Default Audio for Ripping
English is the default audio MacX DVD Ripper Pro selects for you in ripping. If English is not the first choice, you don't have to click manually select your own language. You can set the default audio here in OPTION.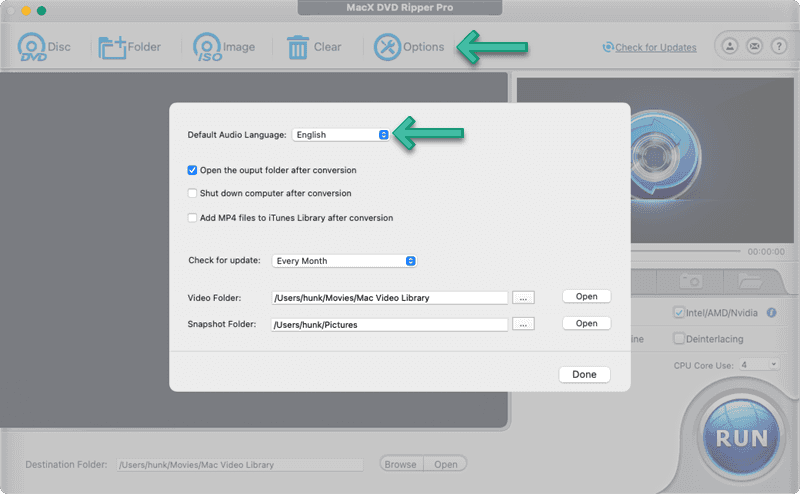 It's always recommended to have a trial first and confirm it works before you make the decision to buy. MacX DVD offers a free trial of its DVD ripper for both PC and MAC. It rips 5 minutes of each DVD with full functions and no watermark.
About the price, there are three offers. The 3-Month license, 1-Year license, the lifetime bundle offer with other programs as shown below: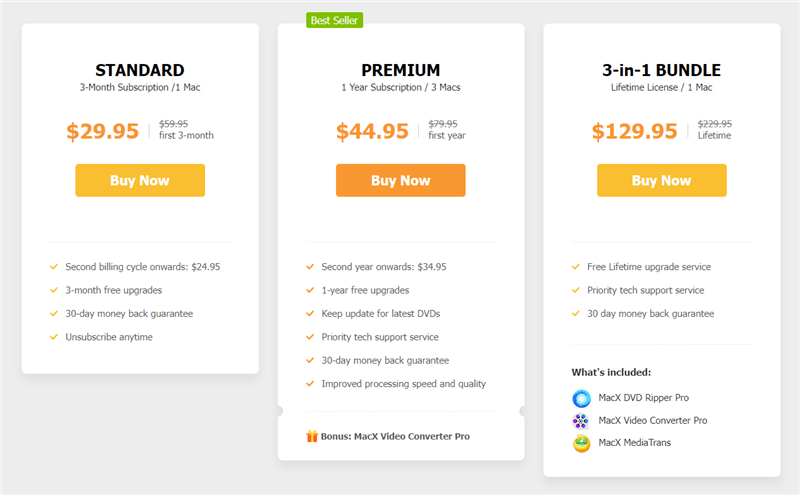 MacX DVD Ripper Pro Lifetime License Discount
You see, there is no lifetime license is for the single program MacX DVD Ripper Pro. The pack is not in high-cost performance. If you are looking for a MacX DVD Ripper Pro lifetime license, there is the most cost-performance one. Here, in this MacX DVD Ripper Pro review, you can get the LIFETIME subscription for just $39.95! 
Please note, the 3-Month or 1-YEAR license is NOT recommended unless you just want to recommend a couple of DVDs in a short time. This is because you will have to purchase AGAIN (renew) after ONE YEAR with the FULL price. Generally, others that offer a one-year subscription will renewal your order at a reasonable low price, like 10% of the original, but this is not the case here because they don't support auto-renewal, and you need to pay in FULL AGAIN.
Pros:
Support protected DVDs from Disney, Dreamworks, Lionsgate, Sony, etc
Always keeps itself for the latest OS, copy protections, and devices like iPhone 12
Easy to use for beginners, and yet it comes with advanced options for experienced users
Support editing before ripping.
Apple Silicon chips compatible
Cons:
The trial version is limited for ripping 5 minutes of a DVD. It would be much better if it supports  some days full trial
If you check my posts about DVD ripping on my blog, you see MacX DVD Ripper Pro is widely recommended. It just works, even for the protected DVDs. And, you don't have to be tech-savvy to use it. So, to add a short summary for MacX DVD Ripper Pro review here: it won't let you down.