Apple releases its new iPhones every fall, in September or October. And now, we have iPhone 12 Mini, iPhone 12, iPhone 12 Pro, iPhone 12 Pro Max. With a more powerful A14 CPU inside and larger screen, it can be easy and great fun to enjoy Bluray or DVD movies on the new iPhones. If you are interested in ripping Bluray DVD to any iPhone models for watching, this guide can be helpful.
The Bluray DVD Ripper for new iPhones
There are a lot of Bluray and DVD rippers that can rip Bluray DVD to iPhone, but today I'd like to recommend DVDFab for you guys to rip Bluray DVD to any model of iPhones.
DVDFab can rip both Bluray as well as DVDs. And both the DVD ripper and Bluray ripper are function modules of DVDFab's all-in-all program: DVDFab 12. So, you can download the Bluray and DVD ripper via the below button.
From my blog, you may notice I am a big fan of DVDFab. This is just because DVDFab's programs can meet my needs. When it comes to Bluray and DVD ripping for new iPhone models 2020, iPhone 12 Mini, iPhone 12, iPhone 12 Pro, iPhone 12 Pro Max, DVDFab Bluray and DVD Ripper is a perfect solution. And here goes the reason why.
First of all, I have a good many DVDs and Bluray discs to rip and DVDFab supports different Bluray and DVD copy protections and always does a great job in removing those copy protections. It supports Bluray copy protections off the latest MKB version of AACS and DVD copy protections from Disney, Paramount, BBC, Beachbody, etc.
Secondly, I am able to customize each profile and save them as my own. And, and the output video quality is great.
Best Profile for iPhone Ripping
When we are ripping Blu-ray and DVDs, we are always wondering about the best profile for the iPhone. For me, I'd always like to keep the original video quality, but the smaller the size is, the better. The built-in profiles for each iPhone model are perfectly balanced with great video quality but smaller video sizes. So, to me, I just need to choose the default profile for the desired model.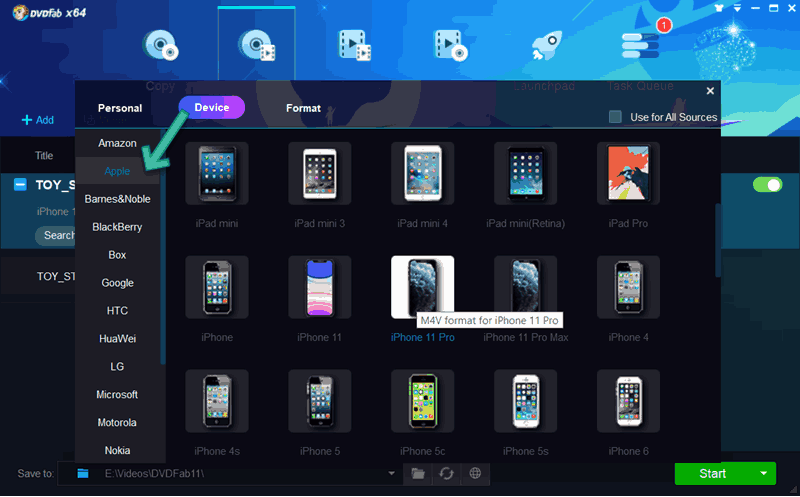 Custom Profile for Any iPhone Ripping
With DVDFab, you are always free to custom your own profile for any iPhone to rip Blu-ray and DVDs. You just need to go for Advanced Settings and change the details like bit rate, resolution, FPS, 1-pass or 2-pass encoding, and even the spit mode.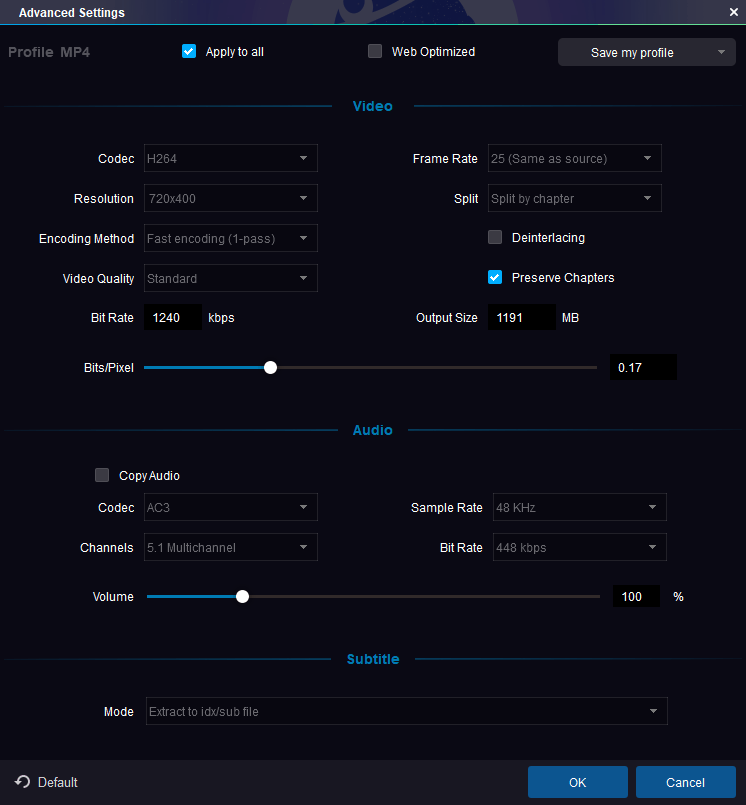 However, please be sure the profile is iPhone Compatible. Check this link to see what is supported by Apple.
How to Rip Bluray DVD to new iPhone 2022
In this post, I will walk you through how to use the very new iPhone Bluray DVD ripper to rip Bluray DVD to the new iPhone.
Since DVDFab combines its Bluray ripper and DVD ripper into one program, the steps are exactly the same for ripping Bluray and DVD. OK, let's go.
Getting ready:
Please simply follow the above button to have a free trial of DVDFab. Install and launch it. Insert your Blu-ray or DVD that you want to rip to the new iPhone to your Blu-ray DVD drive to get ready.
Step 1. Load Bluray DVD
DVDFab automatically loads all Blu-ray or DVDs in the drives to the program. Or, you can click the Ripper module on top and load the Bluray or DVD disc from your Bluray DVD drive by clicking the Add button.
Besides, you may be presented with the below window, asking for the right region of your Blu-ray or DVD. Feel free to disable it as DVDFab can detect the right region for you. Also, you can re-enable it in Common Settings.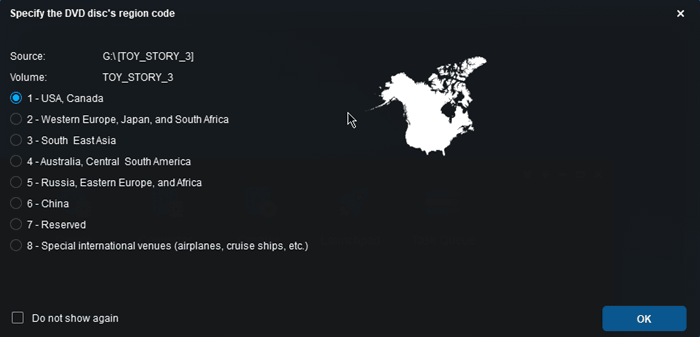 Step 2. Main Title/Other Titles[Optional]
DVDFab only takes seconds to analyze the whole disc and you will be to the main window and the program is actually ready for ripping. However, there I'd like to recommend the default main mode for movie DVDs. For TV shows, BBC, and workout DVDs that come with two or more titles are the main title, please click Choose Other Titles to select the needed titles before ripping. Generally, I don't recommend you guys to select all titles.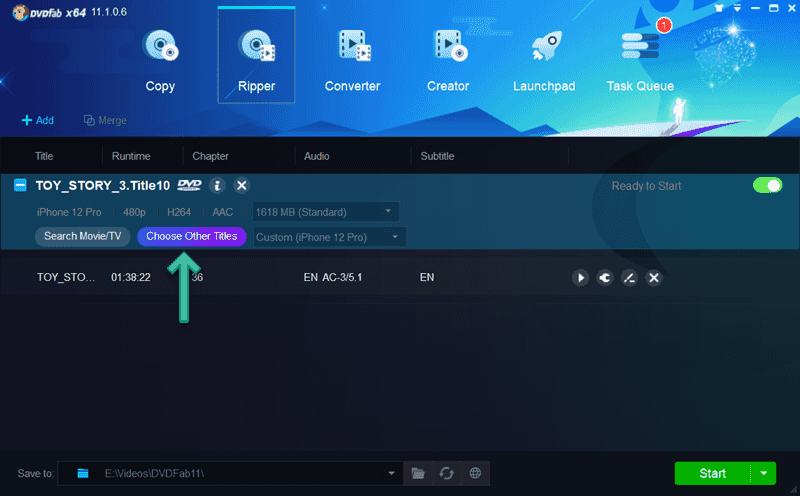 You are able to preview your Bluray or DVD movie here or visit this guide to learn how to detect the right title for Bluray DVD to iPhone ripping for free.
Step 3. Profile for new iPhone
Here comes the most important part. You need to choose a profile for Bluray DVD to iPhone ripping. The set or your last used profile comes as the default profile for ripping. Click it and click Change: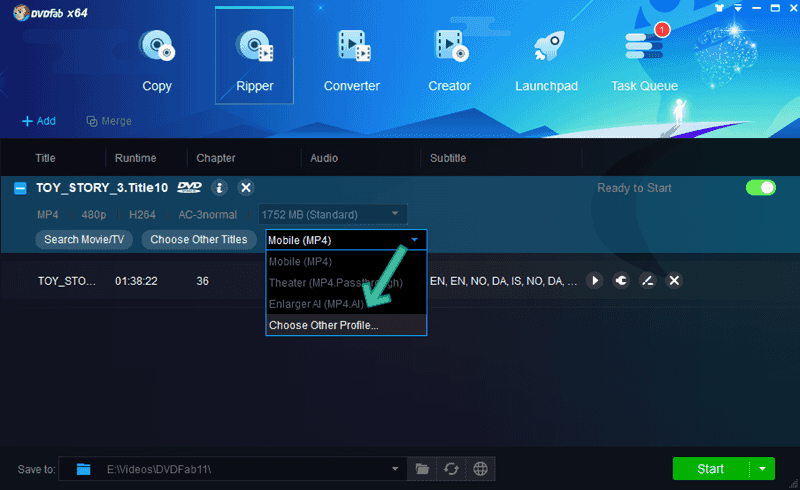 Locate the profile for your new iPhone in Device-Apple. As far as I can see, the profile for the last year's iPhone 11 also works for Bluray DVD to iPhone 12 Mini, iPhone 12, iPhone 12 Pro, iPhone 12 Pro Max ripping. But in case you want to customize the resolution and bit rate etc, you can click the Advanced Button button as shown above to do so.
Step 4. Rip Bluray DVD to iPhone
After everything is done, click the big Start button, and start ripping Bluray DVD to iPhone 12.
Transfer Blu-ray DVD to iPhone
After ripping your Blu-ray or DVDs to the new iPhone compatible video, you will then need to transfer those Blu-ray DVD videos to the iPhone for watching. iTunes on PC or TV.app on macOS is the initial way to do so! Following this guide, you will see a detailed guide on transferring your Blu-ray DVD videos to the new iPhone 12.
However, to me as well as many others, iTunes does not always work with satisfaction. And, I'm not used to its design and find an alternative: DearMob iPhone Manager.
As you can see from the below screen, its UI is clean and straightforward. It takes three mouse clicks to transfer Blu-ray DVD videos to new iPhone.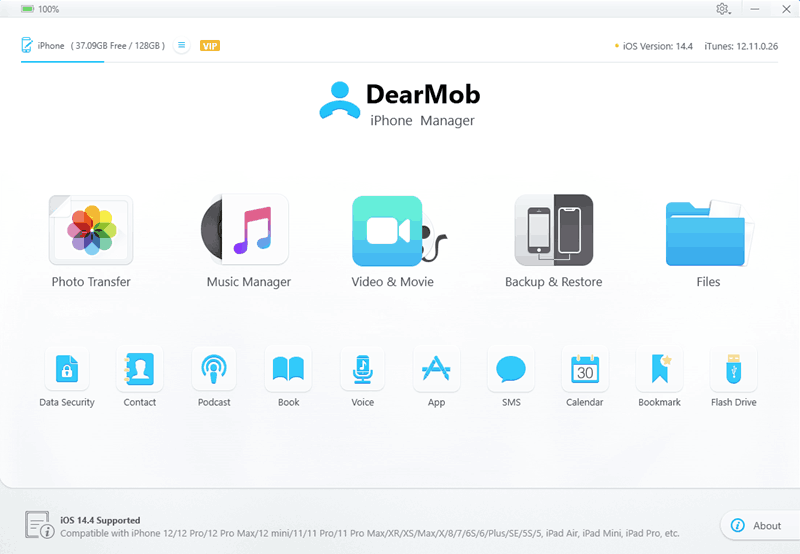 Click Video & Movie on the main UI, then Add Video and Sync. Done! It's as easy as that.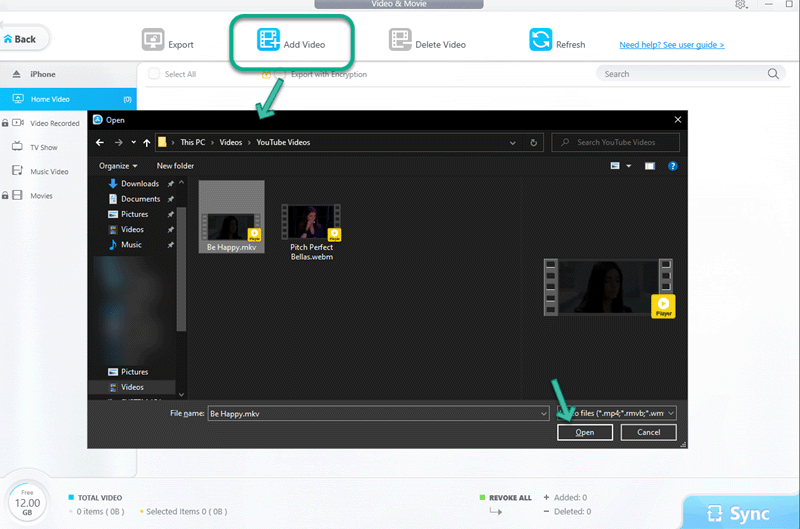 Bonus Gift: Convert Any Video to iPhone
As we can see, DVDFab is an all-in-one tool and it converts any video to your new iPhone as well. You may have other videos like M2TS, MKV, AVI, etc that are not compatible with the latest iPhone, you can just convert them with DVDFab. It's also very easy: go Convert tab, add your video, choose new iPhone models, and hit Start. DONE!