When I watch YouTube videos, I am signed in, and I can play any video, including the age-restricted ones, because Google knows my age. Also, I could download any age-restricted YouTube video previously with my favorite YouTube download Wondershare UniConverter without any problem. However, recently, when I attempt to download age restricted YouTube videos, I have had no luck at all.
After that, I did some Google searches, and this seems to be a common problem for us all because Google may change something and restricted YouTube video downloading is now limited. Fortunately, we still have a couple of age-restricted youtube video downloaders to download age-restricted videos.
Note:
You will have to sign in or authorize your YouTube account to download those restricted videos within the 4K Video Downloader and Streamfab Downloader. For the very moment, if you know a program that can download age restricted videos without sign-in, please kindly let me know. Thank you!
Four Downloaders to Download Age Restricted YouTube Videos on PC and Mac
You may not realize one YouTube video is age-restricted until you try to download it because you are signed-in in your browser. However, when you try downloading, it fails. But don't worry, I'd like to recommend three 100% working YouTube downloaders for the age-restricted YouTube downloading. Let's go.
4K Video Downloader[PC & Mac]
4K Video Downloader is one of the most current ones I've come across, and it quickly becomes my favorite for a couple of reasons. First of all, it is free to use, and it is fast for downloading general videos. It supports up to 7 threads for downloading. And it is rather simple to use. Its smart mode is really convenient, and we can download the desired YouTube video with just one mouse click. Moreover, it displays FPS and HDR info, making it extremely easy for 60 FPS and HDR video downloading. One more, it actually supports Facebook, Vimeo, Dailymotion downloading too. 
Although it's named as 4K Video Downloader, it is actually able to download 8K YouTube videos.
Note:
I know free YouTube downloaders are becoming increasingly popular, and there are free YouTube downloaders that are very powerful for downloading YouTube videos. However, the 4K Video Downloader is free for general YouTube video downloading. For age-restricted YouTube videos, as well as other private playlists like 'My Mix,' 'Watch Later,' and 'Liked videos,' it requires a personal or pro plan.
Age-restricted YouTube Downloading Guide
4K Video Downloader is defiantly very easy and straightforward. The only extra step for age-restricted YouTube video downloading is to sign in to your YouTube account first. Let's get started.
Step 1. Sign in
I assume you have downloaded, installed, and launched 4K Video Downloader? OK, let's go for Tools > Preferences in the menu and sign in to your account as requested.
If successful, it will show you as "Logged in as xxx." And you will be notified by Google that you just signed in to a new device.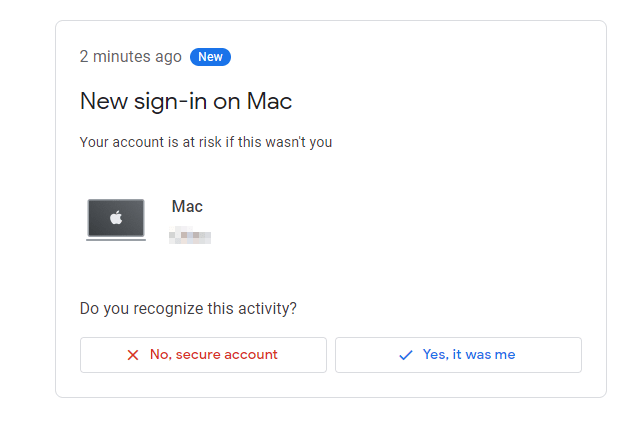 Step 2. Copy URL
Now, you need to go back to your browser and copy the URL of the registered video.
Step 3. Paste URL
Click the Paste Link button in the 4K Video Downloader. And it starts by analyzing the age-restricted YouTube video.
Step 4. Choose Video for Downloading
After a few seconds, the 4K Video Downloader finishes the analysis, and you will be presented with the below window where you choose to download the video or audio, the output format. You can select your preferred resolution and quality for downloading.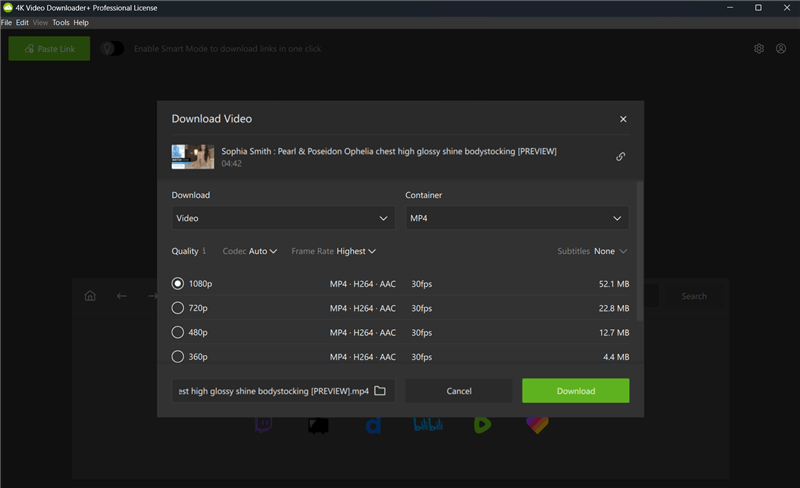 Step 5. Download 
Hit the Download button to start downloading age-restricted YouTube Videos.
Tips for Age Restricted YouTube Downloading
Smart Mode is actually an option to remember your choice, so you don't have to select the output format or resolution of everything when you try to download any video. Simply enable Smart Mode, and thus, you can just hit the Paste Link button. And the 4K Video Downloader will start immediately downloading any YouTube video, including the age-restricted ones.
Enable Proxy in Preference-Connection for downloading videos that are not available for your region.
StreamFab Downloader[PC & Mac]
StreamFab Downloader is an all-in-one downloader for YouTube, Facebook, Twitter, Instagram, Vimeo, and many others from DVDFab. It was called DVDFab Downloader. However, this name seems to have nothing to do with downloading but DVD ripping. So, it is now renamed to StreamFab.
Note:
Please keep in mind that it does not enable us to download videos in any format other than MP4, and I cannot discover a way to change the video format.
Furthermore, it can download YouTube videos to MP3 at a bitrate of 320 kbps!
StreamFab Downloader functions similarly to an explorer, allowing you to download videos with it. For age-restricted YouTube videos, it is very simple to use. Just sign in as you do in your browser.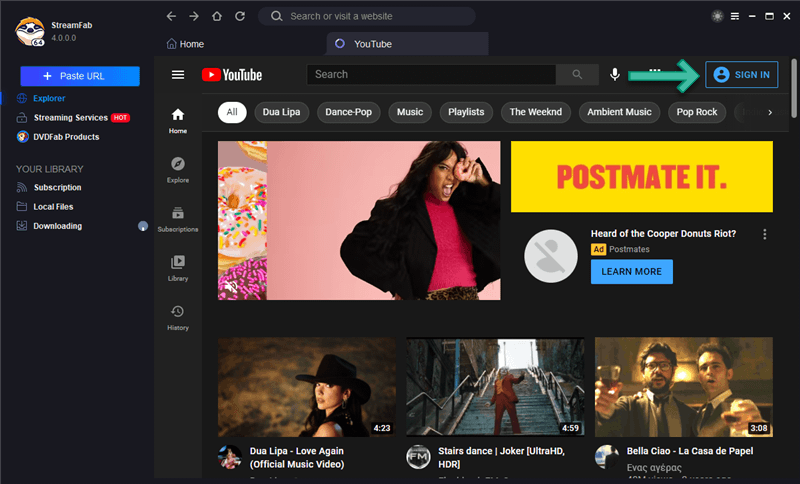 NOTE:
You will have to have one more try to sign in if you see the below error: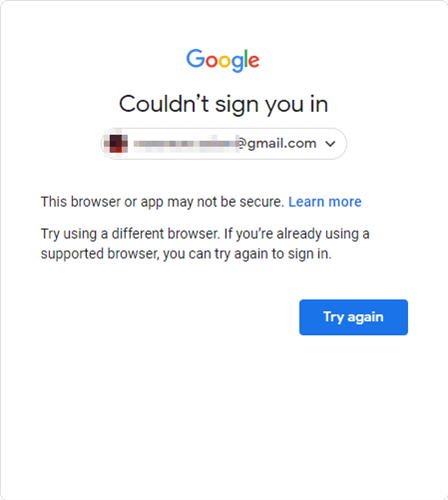 Then, you watch a video in it, and there is a floating download button, click it to download.
Internet Download Manager[Windows Only]
Internet Download Manager, also known as IDM, is an adroit, multifaceted software solution designed to facilitate seamless, efficient, and fast downloading experiences for users. As a potent download accelerator, IDM deftly optimizes file transfer speeds, while its comprehensive error recovery system ensures the smooth resumption of interrupted downloads. By circumventing common hindrances such as connection loss, network issues, or computer shutdowns, this venerable tool empowers users to manage their online content with impressive efficacy.

One of the most useful features of IDM is its ability to download streaming videos from all most all online sites. With IDM, you can download such streaming videos from sites like YouTube, DailyMotion, Vimeo, Facebook, etc. When I wrote this post about age-restricted YouTube downloading, I did try IDM, however, at that time, it didn't work. Now, I am glad to recommend it to you all as I find it being able to download age restricted YouTube videos. Let's get started.
Use IDM to Download Restricted YouTube Videos
Downloading YouTube videos with IDM is a facile, straightforward process that requires just a few simple steps. And, as for age-restricted videos, there are no special steps.
Step 1. Install IDM
First, download and install the latest version. The software can be procured from the official IDM website.
Step 2. Enable Browser Integration
IDM uses its own browser extensions for Chrome, Edge, and Firefox, to detect the real link for streaming videos. Typically, after you have installed IDM, it will install its extension automatically when you open your browsers. Just ensure that you allow it when prompted.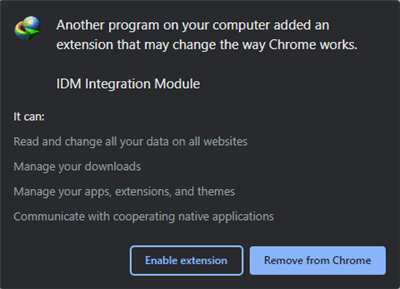 For any reason the extension is not installed, you can easily obtain it from the Chrome Web Store, Edge, or the Firefox Add-ons Manager.
Also, make sure you allow IDM to capture downloads from your browser in Options-General: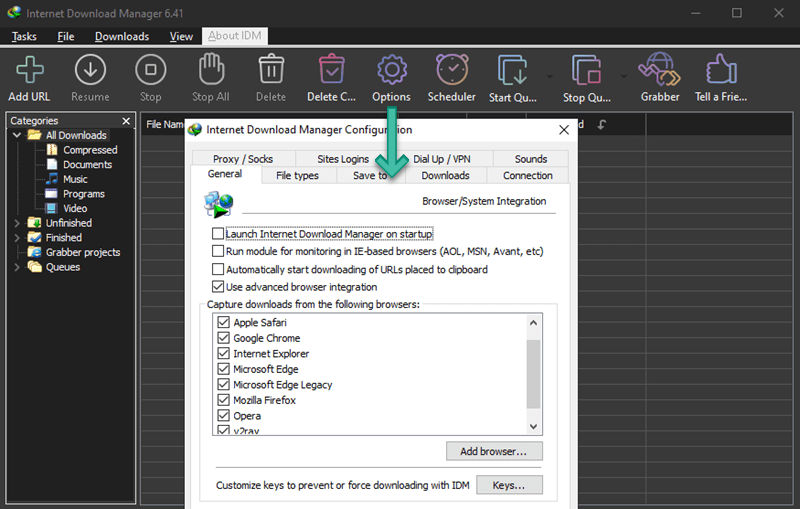 Step 3. Visit YouTube
Access your desired YouTube video via your browser, and allow the page to load completely. For age-registered YouTubes, always sign in first as Google needs to verify your age.
Step 4. Locate the IDM Download Button
Upon successful integration, an IDM download button should materialize within the YouTube video player. Generally, it is on the top right corner of the YouTube playback window. Click it and IDM will present you with an array of video quality options. Choose the desired resolution and video format and click it to download.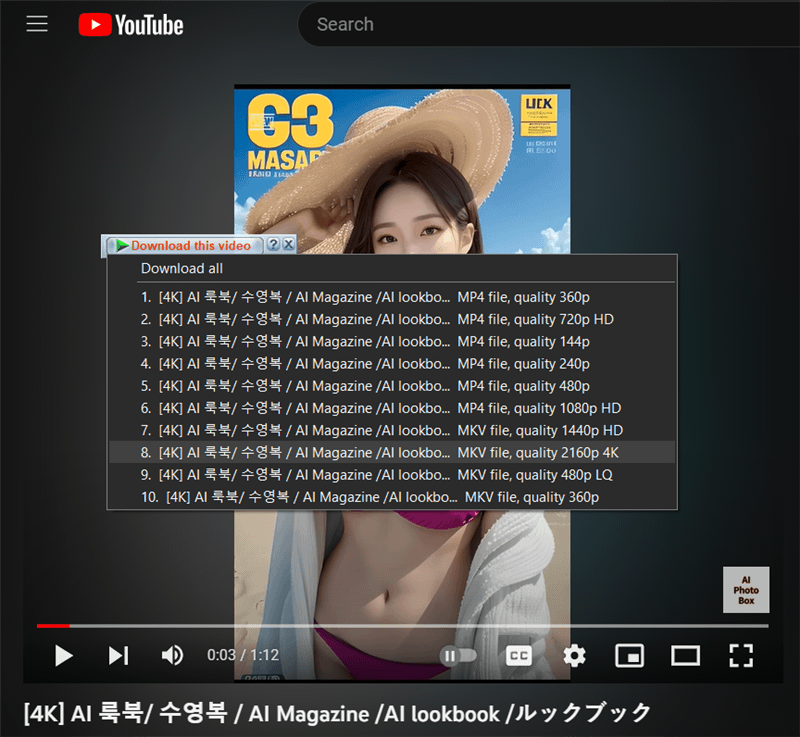 Step 5. Start Downloading
Then, IDM's download interface will now show up. You can set the output folder here or start downloading right away.
What else does Internet Download Manager do for you?
IDM's multifarious capabilities extend far beyond its primary function as a download accelerator. Its dynamic segmentation feature ameliorates download performance by splitting files into smaller fragments, thereby expediting the transfer process. Moreover, IDM's automatic URL capture and clipboard monitoring systems streamline the downloading workflow, enabling users to effortlessly initiate new transfers. The software's advanced browser integration allows for seamless one-click downloads, while compatibility with numerous proxy servers ensures that IDM can accommodate a diverse range of user requirements. In essence, IDM's myriad functionalities coalesce to provide a comprehensive, user-friendly solution for all your downloading needs.
Any Video Converter Free[No Login Required]
Update:
For some reason, Any Video Converter is no longer working even I have entered my YouTube account and Password. I have even tried the new generated App Password with no luck. 4K Video Downloader and StreamFab Downloader are still working.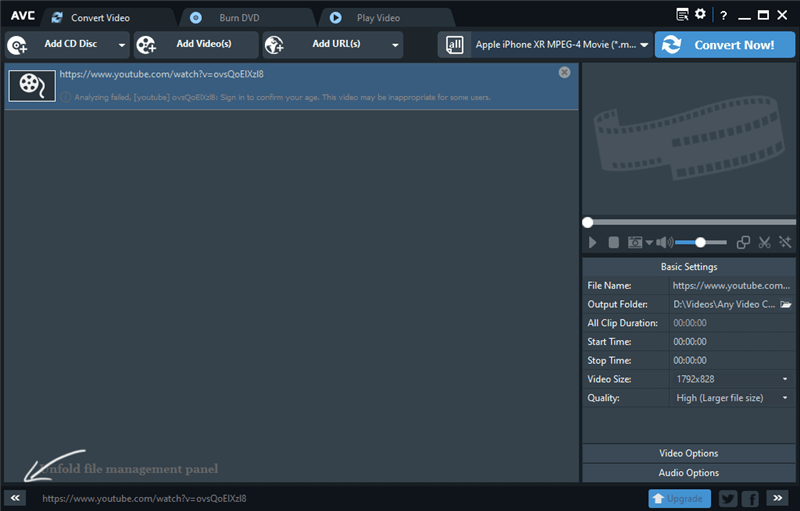 Thanks for @tallship's recommendation! Any Video Converter Free version is a totally free video converter that can do age-restricted YouTube video downloading; no payments or login are required!
Since no login is required, Any Video Converter Free is extremely easy to use! After installing, please go to "Add URLs" and paste your age-registred YouTube video URL and click Start Download: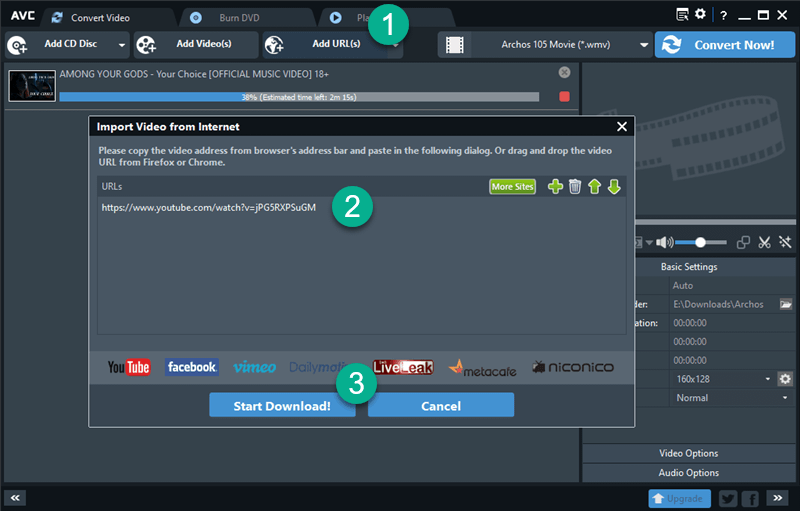 By default, Any Video Converter Free will download the best quality of the age-restricted video. You can set it to Manually Select here in Options-Online Video:
Note:
Some available formats contain VIDEO ONLY if you set it to "Manually Select." For the "Best Quality" option, there is no such problem.
Troubleshooting-Why QuickTime Cannot Play the Downloaded Video?
For the first time, when I download an age-restricted video from YouTube on my Mac, I found QuickTime cannot play it because it is not compatible. And the same happens to the Movies & TV app in Windows, and you need a free AV1 Video Extension.
Well, don't worry, the video is NOT corrupted. This is just because the video codec is AV01, also known as AV1(not AVI), which is becoming more and more popular in YouTube video streaming. However, your Windows and macOS built-in player does not support it at all.
And, there is an easy fix for you, and I'd like to recommend IINA video player for macOS users or MPC-BE, PotPlayer for Windows. Alternatively, you can re-convert the video for Mp4 H.264 or whatever format your player accepts.
If you don't want all those, be sure NOT to select AV01 videos for downloading.