I gathered a free copy of Leawo DVD Ripper in a giveaway, and it worked well on ripping DVD VTS files to MP4, like Beachbody workout DVDs and other encrypted DVDs, including Deep Murder, The Souvenir, etc. All are the latest releases in 2019. And I have ripped the DVDs to the iPad. However, the program is for DVDs only. I have a bigger screen new iPad Pro and some copy-protected Bluray discs. I assume ripping Blu-ray to iPad and watching Bluray movies on bigger screens like iPad and Apple TV would be extremely fun.
Since Leawo DVD Ripper worked so well for me, I'd like to try Leawo Blu-ray Ripper to see if it works for the Bluray discs. And I will walk you through how to rip protected Blu-ray to iPad and transfer Blu-ray to iPad on PC and Mac, especially the latest operating system Windows 11 and macOS 13 Ventura
How to rip Blu-ray to iPad on PC and Mac
Getting Ready:
Insert Blu-ray into your computer's Blu-ray drive.
Download and install Leawo Blu-ray Ripper from the below buttons and launch it.
Step 1. Load Blu-ray
Select Blu-ray Ripper in the main UI of Leawo Prof. Media. Load a Blu-ray disc to the Blu-ray to iPad ripper.
Loading DVDs and Blu-rays to Leawo is easy. All three ways are within three clicks:
Click the "Add Blu-ray/DVD" button, choose the Blu-ray drive, and select open to load.
Click the "Add Blu-ray/DVD" dropdown menu to load the Blu-ray.
Drag the Blu-ray drive or folder in Computer (in Windows 10, it is called "This PC") and drop it into the Blu-ray to iPad ripper. On macOS, you can drag the Blu-ray icon on the Desktop to the program for ripping.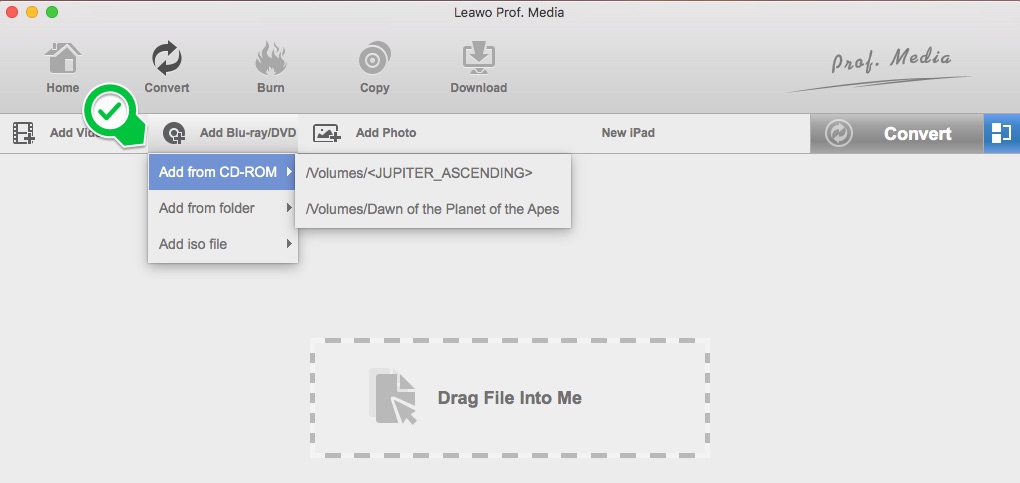 The built-in Blu-ray player works very well for the preview. Full Movie, Main Movie, and Custom Mode are available for Blu-ray backup with Main Movie backup in default, I only want the main movie, so I leave it and click OK to continue.
Besides, Leawo always highlights the main title for you. If you want to change another title for ripping but are not sure which one is the right title for ripping, check the link to see how.
Step 2. Set iPad for Bluray Ripping
MP4 video is the default profile for ripping Blu-rays as well as DVDs in Leawo Bluray to iPad Ripper. You will have to go to MP4 Video and click Change to set the profile. There are profiles for iPad Pro, iPad Mini, and a new iPad. You can search or go to Devices to locate the profiles shown below to rip Blu-ray to iPad.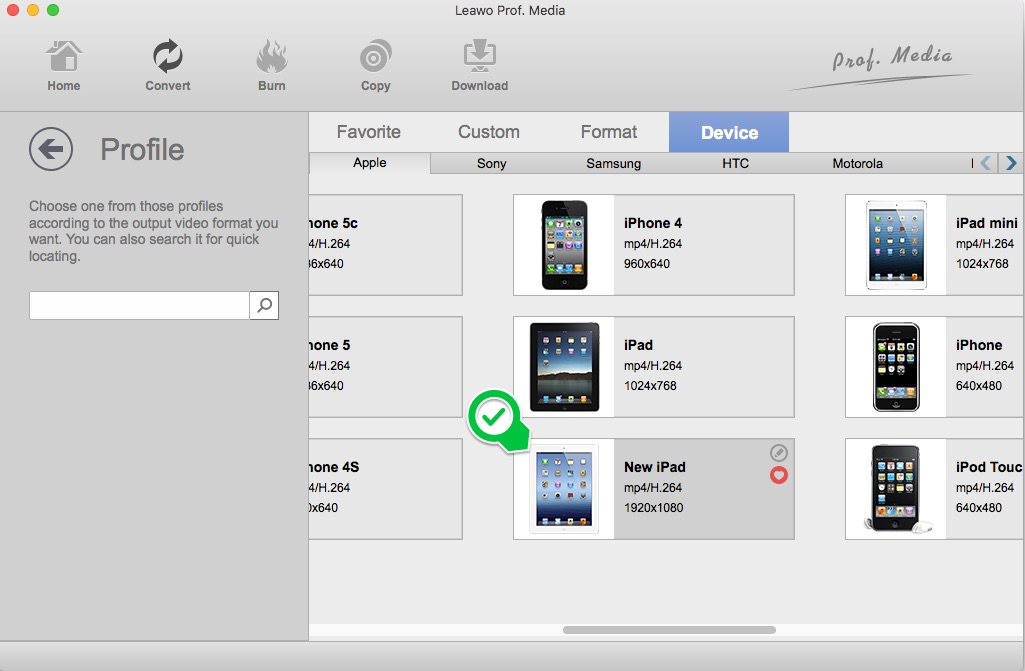 Step 3. Rip Blu-ray to iPad
Since I want to keep the original resolution of Bluray as the new iPad, iPad Pro, and other iPads can handle 1080P videos; no more settings are needed. I click Convert to start ripping my Blu-ray to my iPad.
Leawo Bluray Ripper is compelling in video editing. If you are interested in this part, LeawoSoft offers an easy way to trim, watermark, crop, adjust effects, convert and rip 2D Bluray and DVD to 3D videos in MP4, MKV, etc.
One thing I find very interesting is the MP4 Video profile in Common Video and HD Video. If you are ripping a Bluray, MP4 in HD Video is only 1280×720, while in Common Video, the MP4 would be 1920*1080. It seems this Blu-ray ripper is mainly for DVDs. :) Anyway, it works!
Transfer Blu-ray to iPad on macOS Windows
After ripping Blu-ray to iPad on the computer, you save the iPad compatible MP4 file onto your hard drive, and now it's time to transfer Blu-ray video to iPad for watching. iTunes is always free to go. But for some reason, if you are looking for an alternative on PC and Mac to transfer Blu-ray to iPad, I'd like to recommend Leawo iTransfer as it is straightforward to use. 
As you can see, you will just need to click the Add button in the Movie tab to transfer Blu-ray to iPad. And that's it!