Do you think of yourself as a professional photographer dedicated to bringing out the best in every shot you take? In spite of the fact that it is preferred to get everything correct on camera, noise is usually an unavoidable outcome of photography. As a consequence of this, the process of noise reduction might end up becoming a vital part of the workflow of a photographer.
And how about videos? It seems to be much more complicated to do video noise reduction. No worries; in this post, I'd like to recommend four AI-based denoisers for you to remove noises from photos and even videos in a few mouse clicks.
I assume you know what image noise is and are looking for better ways to remove and denoise images. Photoshop has been the best way to reduce image noise in the past two or three decades. We can still manually denoise with Photoshop and other tools, but a denoiser AI can automatically remove noise faster and with even better results. Furthermore, noises can be in videos too!
So, what is Denoiser AI? As the name suggests, it's a computer or online program based on AI that denoises images and even videos automatically within a few mouse clicks.
You can see how those denoiser AI work: 
Slide
Original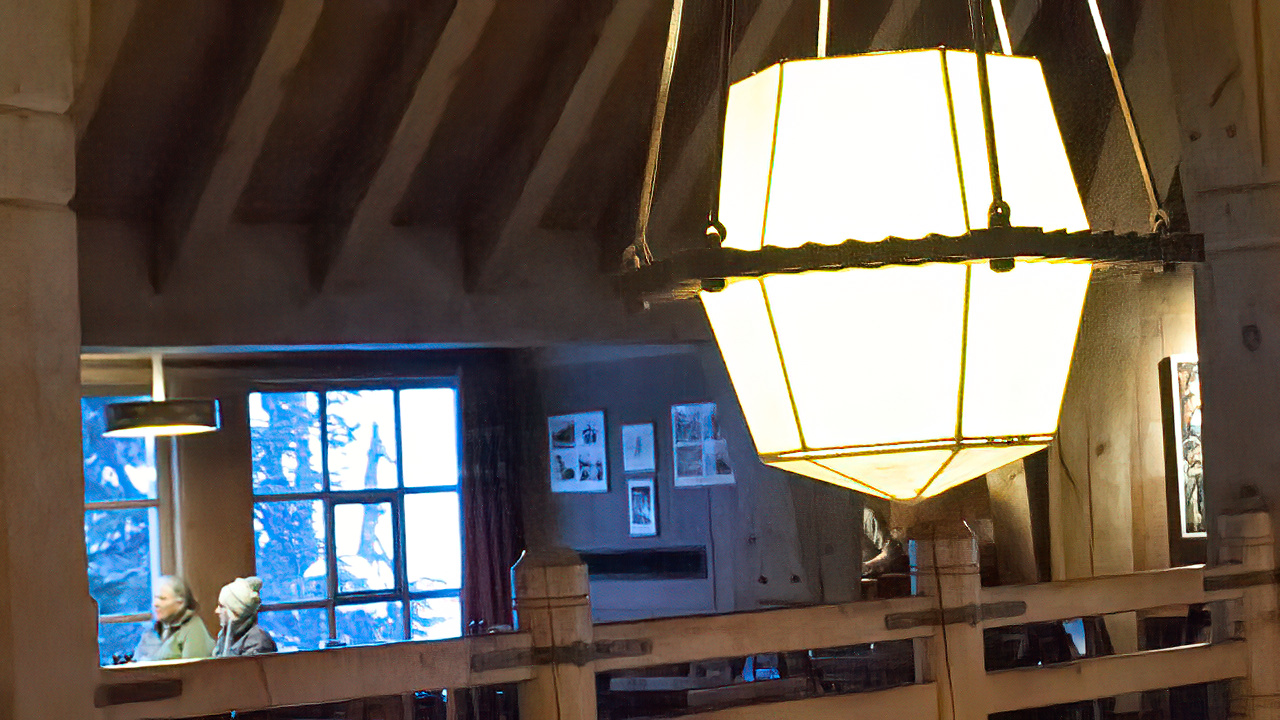 Denoised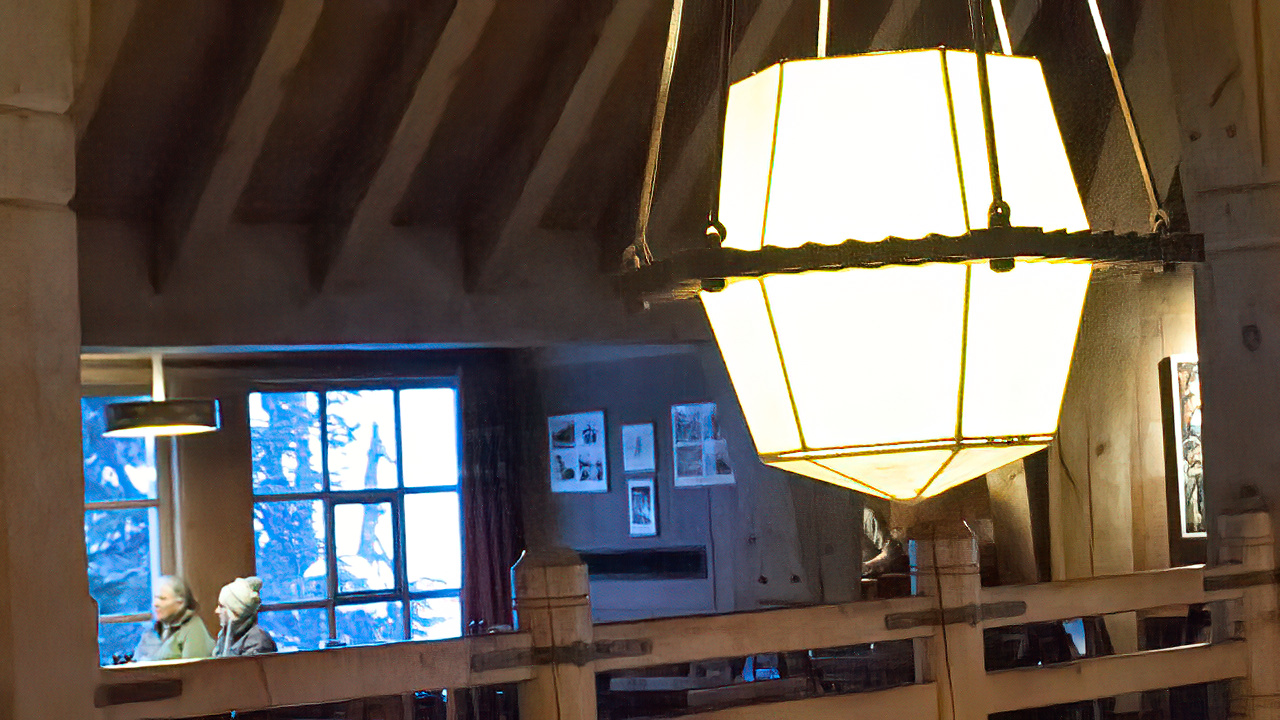 Topaz Denoise-Best Image Denoiser AI for PC and Mac
If you are looking for a denoiser AI for images, I'd like to recommend a couple here. However, how the noise reduction software works for you should be your primary consideration. I cannot stress enough how important it is for you to conduct some testing on your own, employing the image files that were made by your own camera.
This is because the results from each camera and lens combination will be a little bit different. It is absolutely necessary for you to run the software through its paces on the actual operating system of the machine that you intend to use to evaluate how well your setup performs with the noise reduction software.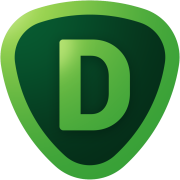 Price: $79.99
OS: Windows & Mac
Lightroom Plugin: Yes
GPU Acceleration: Yes
RAW File Support: Yes
Free Trial: Yes
Topaz develops the best noise reduction software: Topaz Denoise AI or Topaz Photo AI. Topaz Denoise AI focuses mainly on image noise reduction, while Topaz Photo AI is a unified, all-in-one AI-driven software for noise reduction, sharpening, and upscaling.
Since this post is about denoising, we will mainly discuss Denoise AI.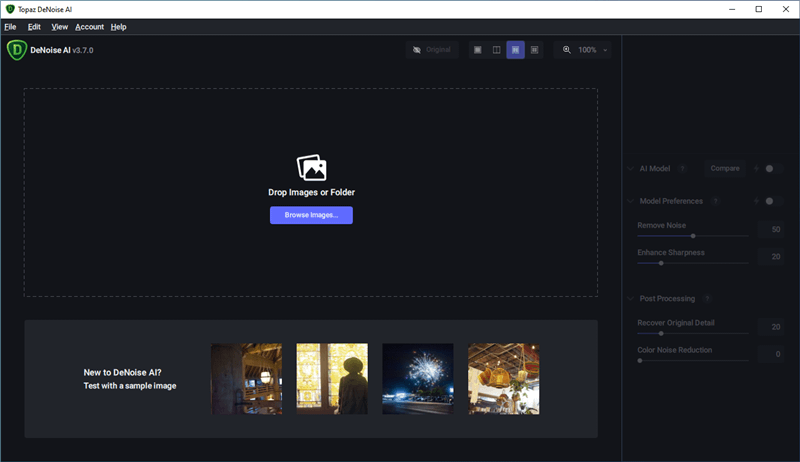 Topaz Denoise AI Key Features
It can be used as a standalone application or as a Lightroom plugin.
Five Noise Reduction Models
Topaz can automatically analyze your image and choose the best noise model.
Masking tool for global adjustments. Occasionally, Topaz makes mistakes, but the masking tool makes them easy to fix.
RAW file processing
Batch editing. However, please note that you will always need to click on each image and let the AI analyze it before you can process RUN.
Efficient with GPU-accelerated to boost performance.
Split screen and side-by-side preview
Excellent quality with detail preserved
World-class AI algorithm for image noise removal
4 AI Models to denoise different kinds of images, photos, or pictures
Automatically detect the suitable model for denoising
Uncompressed or RAW photos supported
Auto Model Preferences
Topaz Noise Reduction Guide
Topaz DeNoise AI can remove noise from photos by itself or as a plugin for Photoshop or Lightroom. With a clean UI and auto-analyzing, Topaz is easy to denoise. Let's check out how.
Step 1. Download and Install
Please visit Topaz Denoise's official website. Click "Try it for free," enter your email, and hit "Get a free trial" to start downloading. The downloaded file for the installation will be approximately 1.2 GB for Mac and 3.5 GB for Windows. Double-click the .exe or .dmg file for installation.
Note:
You will not be able to use the Adobe Lightroom or Photoshop plugins until you have installed the standalone program.
Step 2. Load Images
You can simply drag and drop your images, photos, pictures, or even folders, for noise reduction.
Step 3. Preview
Enable the Preview so you can better see how the AI denoiser works for you. A side-by-side or comparison view is recommended.
Step 4. AI Models
If you are not a professional user, you can enable the Auto button and let Topaz recommend what it thinks is the best model for you. Look at the Preview to see if it meets your needs.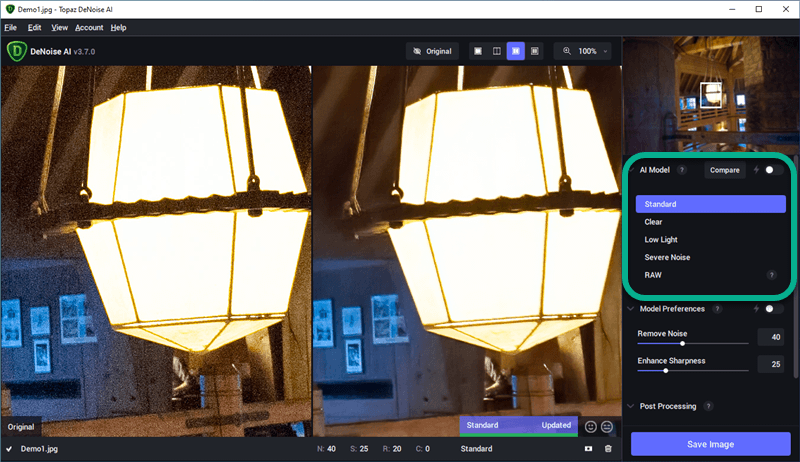 Step 5. Model Preference and Post-Processing [Optional]
You can set the Model Preference and Post Processing according to your needs. Use Preview to see how it works for you.
Step 6. Save Image
Click the lower-right Save Image button to start AI denoising.
Noises can appear in videos for the same reason they do in photos! The good news is that AI-denoising software is available to assist you in resolving this issue and removing unwanted noise from videos!
Suppose you are looking for a reliable noise-reduction tool to improve your video-watching experience. In that case, I'd like to recommend some Denoiser AI for videos, no matter what kind of background noise you're dealing with.
Although I believe Topaz is the best AI image denoiser, it is only for PC and Mac users. I know that many people prefer online noise reduction solutions for various reasons, such as having less powerful computers or simply not wanting to install those programs. Here they are, and there are even free online denoisers with AI!
VanceAI is a relatively new company founded in 2020 but has experienced rapid growth. As the name suggests, it focuses on AI-powered online tools, such as improving photos, upscaling, removing noise, sharpening, etc.
VanceAI Image Denoiser is online noise reduction software that can get rid of noise from an image while keeping all of its details.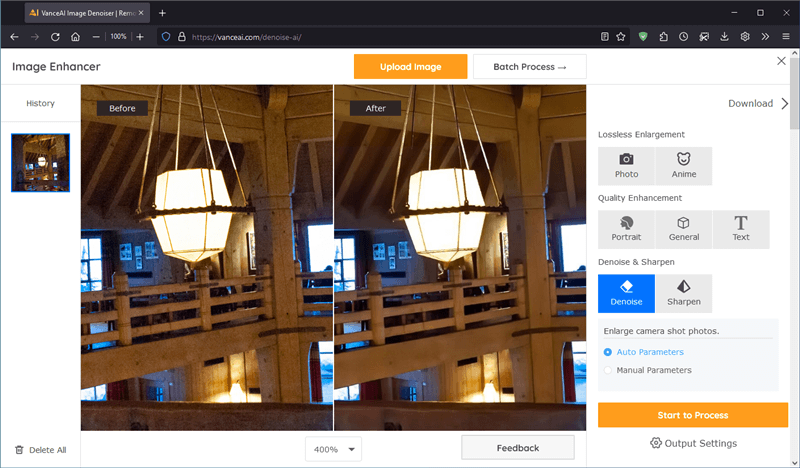 Besides, it has a PC version too. There is currently no Mac version.