I don't burn much. To me, it is really not convenient to take physical DVDs or Bluray along with me when I travel. I'd prefer to rip and compress Bluray DVDs to MP4 H264 and watch on whatever devices like iPhone or bigger screen iPad or smart TVs with kids and I even upload them to the cloud for watching. But there seems that a lot of people are still want to burn DVDs or Blu-ray discs for various reasons.
Below is my review for the latest version Leawo Bluray Creator which burns your videos, ISO files, and photos to DVD as well as Bluray. The review is made on my Windows laptop, so the screenshots are taken on Windows. But the review also applies to the macOS version as well because Leawo Bluray Creator is fully compatible with the latest macOS and the Silicon Macs based on ARM.
Download and Installation
You can follow the below link to download and install Leawo Bluray Creator. However, please note what you download is called Leawo Prof. Media, the total converter for Leawo's multi-media apps and Leawo Blu-ray Creator is one of the main function modules.
Installing Leawo Bluray Creator is as usual as what we do for other Windows or Mac programs. We need to allow it to make changes to your PC, agree with the End User License Agreement, set the installation folder, install it and done.
What is supported to burn?
Leawo Bluray Creator is a very comprehensive disc burning application and it does a great job burning as the name suggests. And as you can see in the below sheet, Leawo Bluray Creator supports a good many video formats to burn like AVI, MP4, MKV, MTS/M2TS, AVCHD, VOB as well as images like PNG, BMP, JPG, JPEG and DVD and Bluray ISO file.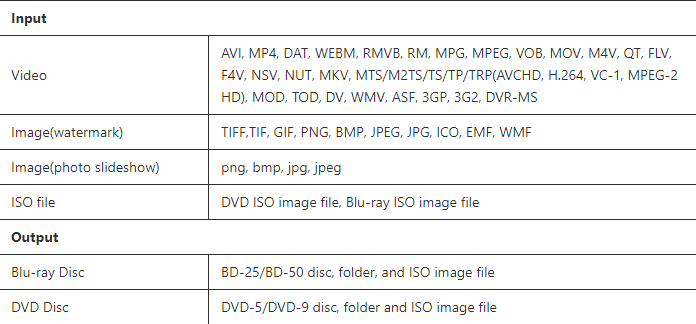 When compared with other Bluray DVD creating program Ashampoo Burning Studio, Leawo Bluray Creator works much better as it supports many more videos to burn, while Ashampoo Burning Studio only has native MPEG-4, H.264, and AAC support. Further formats are supported as well with additional codecs/codec packs like K-Lite Mega Codec Pack. Or you won't able to load files like AVI, M2TS, etc with the error message:
Error while loading the following movies:
D:\Desktop\xxx.AVI
Possibly, the format is not supported because the codec is missing on your system or file is corrupted. Please contact the support for further information.
Burn MP4/AVI/MKV to Bluray in 720P/1080P
We see Bluray videos in discs are in 1080P and some even in 4K, but we see 1080P or 4K videos are huge and takes much space. With Leawo Blu-ray Creator, you are able to burn your MP4 AVI MKV MTS/M2TS files to Bluray BD 25 or BD 50 in 1280*720 to save space or burn more things to BD 50! Just make sure to select the resolution here:
Burn Bluray DVD ISO to Bluray DVD
With Leawo Bluray Creator, you will be able to burn ISO including DVD and Bluray ISO image file to blank Bluray and DVD as well.  You just need to click Bluray Creator or go Burn tap and add the ISO via Add video-Add iso file or drag the ISO directly to do so. Leawo walks you through with a step-by-step guide. You just need to add your ISO file and leave the rest to Leawo. It's just as easy as that.
Both DVD and Bluray ISO image files are supported to burn! However, Leawo Bluray Creator is not able to decrypt protected DVDs nor Blu-rays disc. If you want to copy and compress Bluray or DVD to another Bluray or DVD, go for Leawo Bluray Copy or Leawo DVD Copy. 
Pros:
Burn video, folder, ISO or photo with menus
Online beautiful menus
It is fairly easy to use with its self-explanatory icons and step-by-step layout.
It burns as fast as your blank discs'max write speed and is extremely stable during burning and no error message whiling playing on my stand-alone Bluray DVD player collected with my TV and car DVD player. The disc also plays on Mac computers.
Burn Bluray in 720P 
Cons:
No data disc or CD support
Bottom line:
The disc may be not quite convenient to take with but are convenient to create with Leawo Bluray Creator.