Update: Wondershare Video Converter Ultimate is updated and renamed to Wondershare UniConverter. But it looks and works just the same. So, this Wondershare UniConverter review still works. 
A video converter now seems to be more and more important than DVD rippers as there are more and more videos to convert, merge, edit as well as downloading YouTube videos, making photo slideshows. Wondershare's UniConverter is among the top video converters that work really great. Fast, simple and it is usable for many different file types, including 4K UHD MKV, MTS/M2TS videos. No difficult manuals, no more time spending on FAQ, just selecting the correct file, choose the output I wanted and the program did the work the way I wanted it. Superb!
With this software, it was possible for me to store even my oldest movies I've once made on an old phone, in the cloud next to my other pictures. And below is my review for Wondershare UniConverter and you can follow the below buttons to have a free trial of it for both your Windows PCs and Apple MacBook Pro, iMac, etc.
Easily Convert MTS/M2TS MKV MP4 AVI WMV
How does Wondershare UniConverter work? Quite easily. All the icons in the software will lead you through the process. Add one or more video files to start and choose the output you need. The default presets are well pre-programmed. Perfect for the job. If you want you can even change these presets for higher quality or bitrate, change resolution, and if you want to add subtitles, no problem!
With Wondershare UniConverter, you are able to convert almost all video formats including MTS/M2TS, AVCHD, MKV, MP4, AVI, WMV, Flash SWF, etc and even the Sony MMV. And you are able to convert those video formats to whatever video format or devices including Apple iPhone/iPad/Apple TV, Samsung, Sony, HTC, and other Android devices like Innotab and be a perfect alternative to Freemake Video Converter.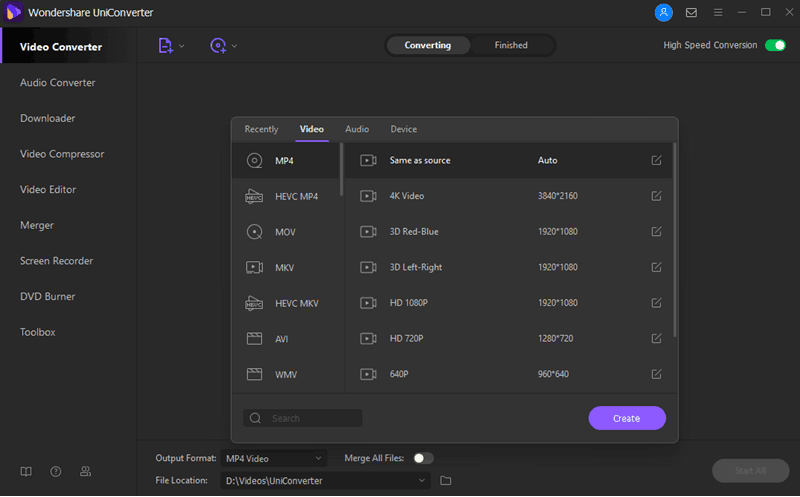 Besides, Wondershare UniConverter is also able to optimize all your videos for web and faster streaming, especially for YouTube, Facebook, Vimeo. Check this guide for details.
In the Convert tab, you see it is able to load DVDs. Yes! Wondershare UniConverter, though named as a video converting program, supports DVD ripping as well. And the output format is the same as we do in converting like ripping DVD to Apple ProRes 422.
Also, Wondershare UniConverter is one of the top DVD rippers that are able to rip DVDs WITH chapters, meaning you are able to switch between different chapters in MP4, MKV, etc. But the option is hidden and disabled by default. Please go to Preference-Convert to enable.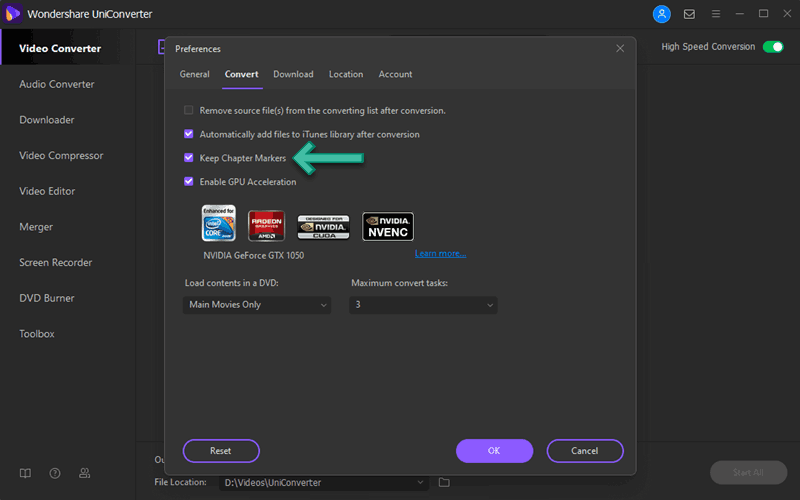 Transfer file to iOS, Android, iCloud Photo library
Wondershare UniConverter works as an iOS and Android manager and iTunes alternative. You can connect your iOS and Android device and transfer the converted videos or ripped DVDs to your iPhone/iPad or Android phone/tablet. Please make sure you choose the profiles for iOS devices before you transfer videos to them as there are limitations on video playback by Apple. And I have successfully transferred my DVD file to my Galaxy S9.
Also, after converting the files it is possible to transfer all files into your iCloud Photo Library. Just select the files in Finder and copy them to your photo library. Now it is possible to place them in shared albums. Now everyone you want can watch them on their iPad and Apple TV. And after all, the quality is still the same or even better, after optimizing for the correct device (iPod, iPad, etc.). Of course, all new file formats are also working great. No hick-ups, fast and clear quality for audio and video.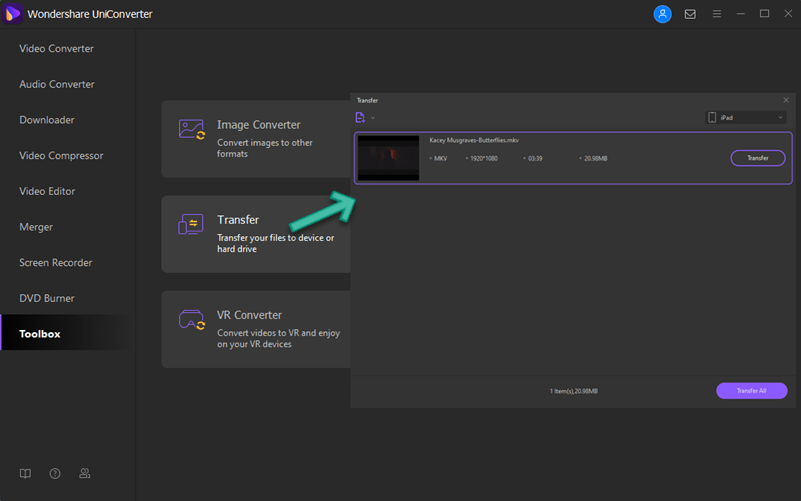 Update: since version 12, Transfer is moved to Toolbox. 
Intel QSV/AMD/CUDA/NVENC supported for faster converting
Also during converting the bigger movies, I did notice Wondershare UniConverter was faster than many free programs. For me, this was the opportunity to convert some movies to a viewable iPad format for my two kids on our vacation. And afterward, they still use them, streaming to their Apple TV without any problems on WiFi and really good and sharp images on the screen.
The program utilizes the hardware GPU in my Intel processor. My MacBook Pro is over 4 years old now, and re-encoding my EyeTV recordings was not only taking a huge amount of time but consuming 100% of my processor during the transcoding. I even have one of their hardware encoders, the Elgato turbo.264 HD device. It was severely lacking in its capabilities and didn't do a lot to speed up encoding, and that is with an external hardware device.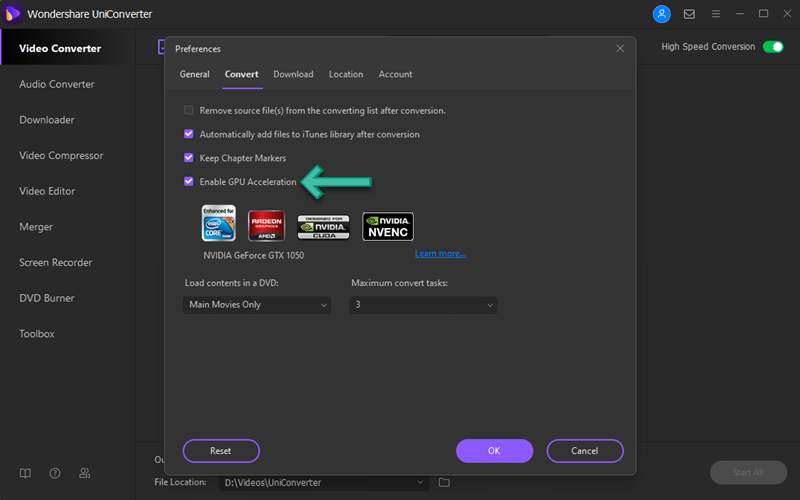 Now, I can easily tap the built-in potential of my MacBook Pro with its Intel HD Graphics and get more out of it than I ever did. It gives extra life to an older system and an old workflow that completely hogged the resources and time of my computer. Wondershare UniConverter has freed up my processor and my time to be better utilized for other things that I want to do.
It also supports AMD, CUDA, and NVENC GPU acceleration but you have to enable it in Preference-Convert as well. 
However, I don't see those options in the Mac version. When I was doing the Wondershare UniConverter review, I contacted the Support Team and they said to enable GPU acceleration, we have to enable High-Speed Conversion mode. Well, to be honest, I doubt. 
4K/8K/360° Video Downloading
Wondershare UniConverter says it is able to download online videos from over 1,000 video sites, and I do believe so. It is actually super powerful to download 4K/8K videos from online sites like YouTube, Vimeo, Dailymotion, etc. For 360° video downloading, it is a piece of cake for Wondershare.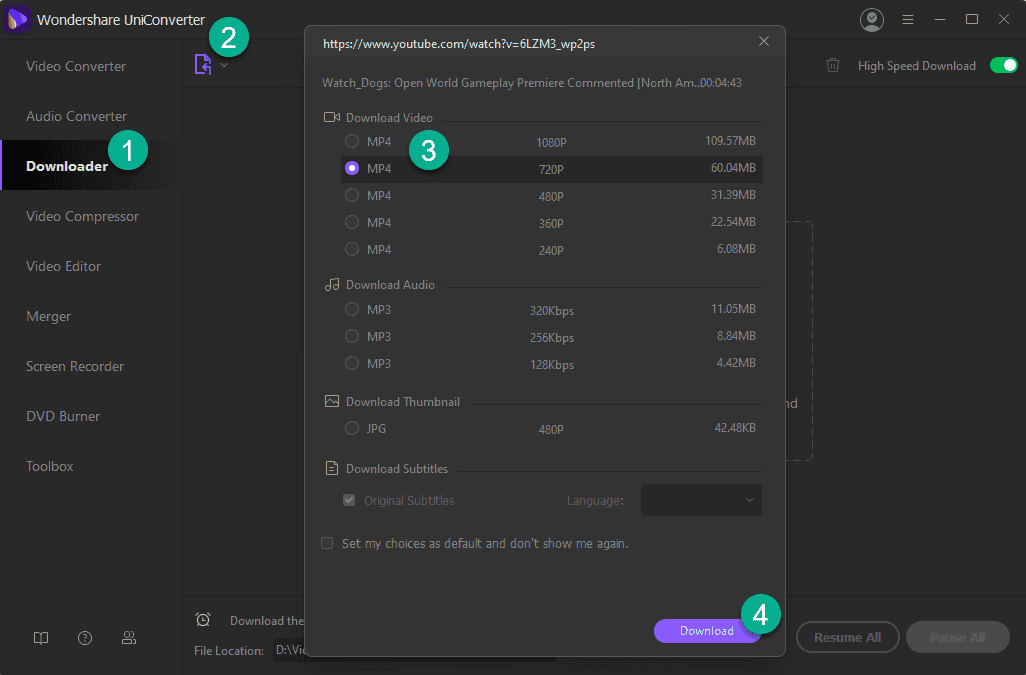 Wondershare UniConverter offers a couple of very useful tools in Toolbox. You can add/fix metadata for your media files, so you can rip DVDs to iTunes with cover art. Making GIF and VR videos are nice to go. You are also able to cast videos on TV and record screen. Copying DVD to ISO or VIDEO_TS folder is a unique feature on macOS. More details can be found on its official site.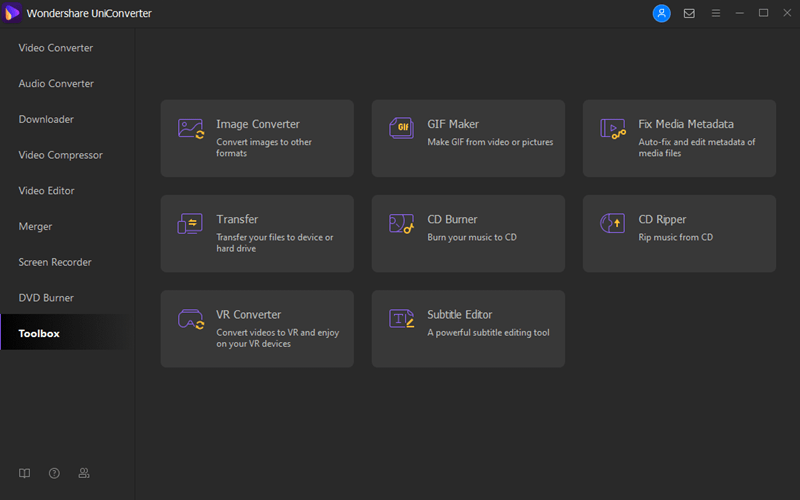 Wonderhsare UniConverter Review: The New Features
This part of the review will record some new key features added to Wondershare UniConverter. 
On July 14, 2021, the Wondershare UniConverter 13.0, with a new and redesigned UI, along with some new features, was just launched by Wondershare Technology. The UI is more friendly with a Home tab where you can add your favorite functions. The value-added features give you quick access to the new features:
Smart Trimmer, 8K Video Player, and Watermark Editor are new features along with the release of UniConverter 13. You can locate them in Toolbox.
Smart Trimmer
A new option that enables users to swiftly edit quiet parts using intelligent video volume analysis, therefore saving them time and effort throughout the editing process.
Note:
For now, only MP4 videos are supported.
8K Video Player
UniConverter 13 was built-in a new video player on the right-side column. It is capable of playing almost all media files, including the 8K ones. You can set it to your default media player, so there is no need for third-party apps to watch videos.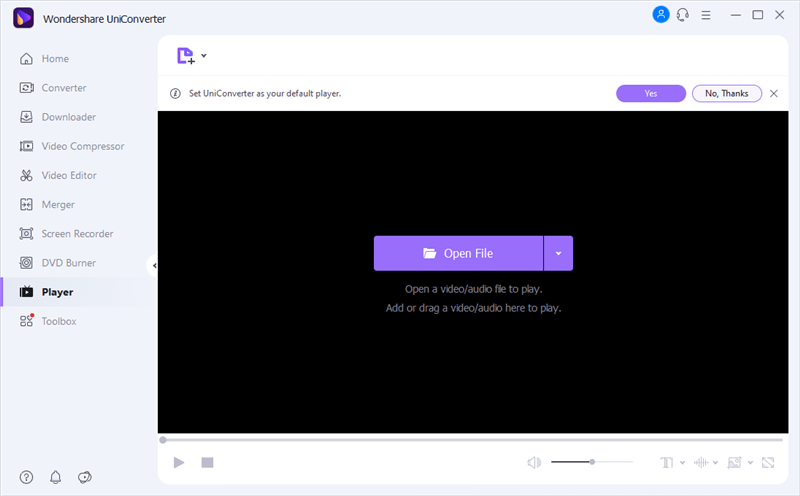 You can take screenshots within the player in JPG or BMP just as you prefer. You can click the below button to take a screenshot or its drop-down menu to set JPG or BMP.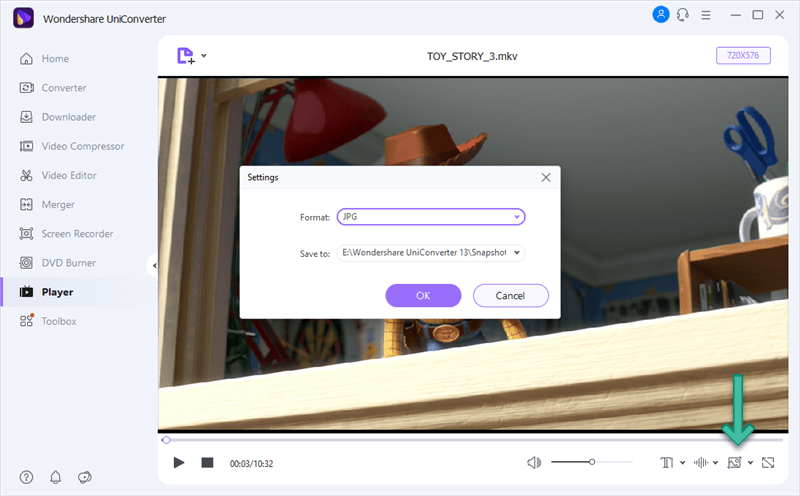 Watermark Editor
Watermark Editor enables you to remove and add watermark. And, it's super easy to use. You just drag your mouse to select the part of the watermark on the video and hit Remove.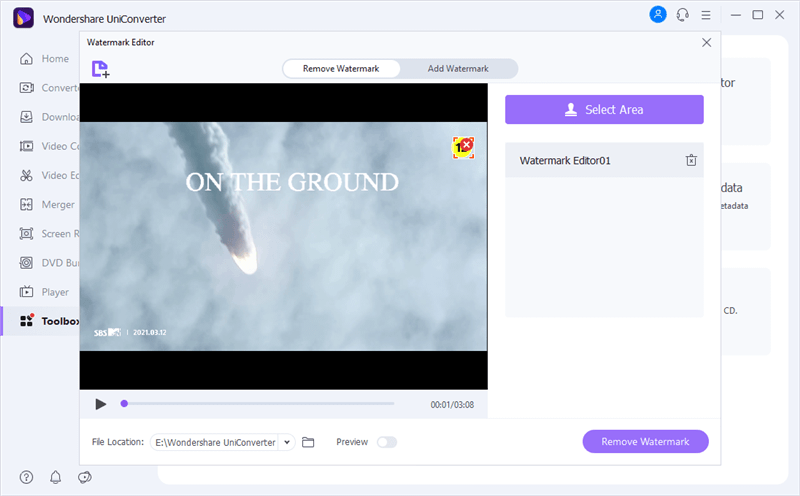 You can preview to check if it well it works: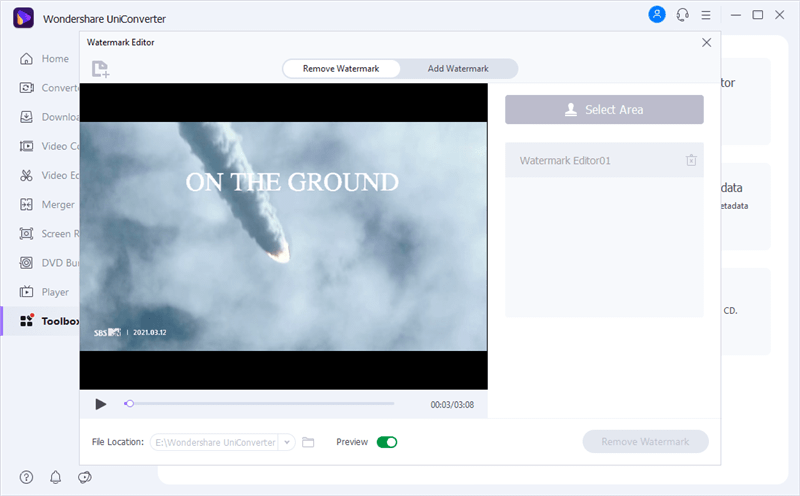 Also, you can add images or text watermarks too. Feel free to set your preferred position, font, size, color, or opacity for your texts.
With a recent release of Wondershare UniConverter(v12.5), we are now able to edit subtitles with it. You can locate the Subtitle Editor here in Toolbox: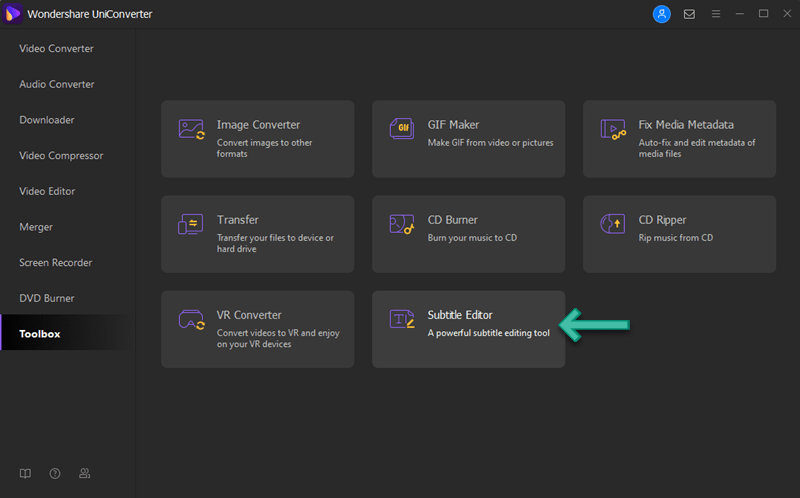 Once you have imported a video to the subtitle editor, you can create a new subtitle for your video, search subtitle from opensubtitles.org, or import one from your hard drive.
Either way, you can set your substile font, size, color, width, position, etc. Really useful updates!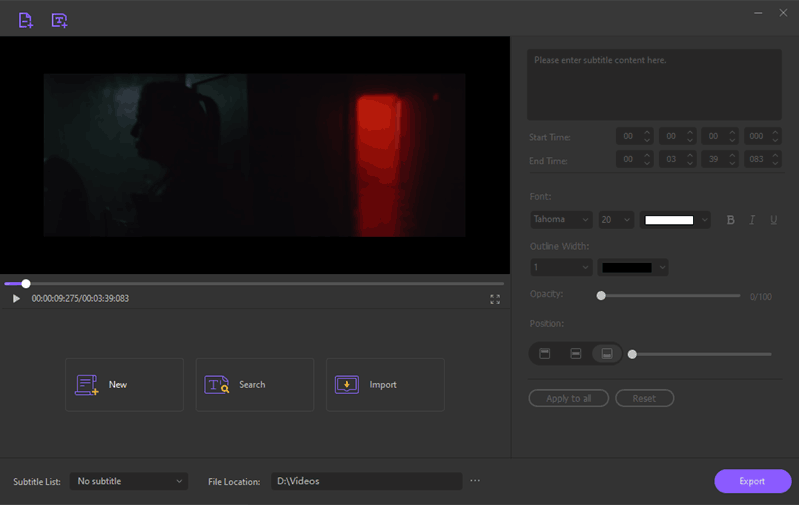 Pros:
Fully compatible with the latest Windows and macOS
Convert to over 350+ profiles, iPhone, iPad, new Apple TV included
Batch converting
Import output videos directly to iTunes
Support adding subtitles for any video
Photo slideshow making
Record video with Mac's built-in camera or external webcam
Create a custom Output Profile (to avoid the need to make the same selection repeatedly)
For batch jobs, I would like the option to automatically either delete the original or Wondershare does so!
Cons:
It might be nice to have a PAUSE button instead of canceling the whole ripping/converting.
I believe everything I used is just a small part of all the many options Wondershare converter can provide. Do you want to burn DVDs or download YouTube videos? The program works for itself. I can recommend this software to anyone who needs to convert any movie files for any purpose. I hope my review for Wondershare UniConverter helps. You can have a trial first to see if it's the very program you are looking for.