I recently downloaded Mac DVD Ripper Pro and won't consider paying for the unlimited version because it works no better than Handbrake. I understand how to use the DVD ripping and converting software generally but I'm having trouble getting the subtitles to record into the copies/formats (output files) that I make. I'd like the output video to have English audio and I want to have the subtitles either as an option or included in the output file. Here's how I rip DVDs with Handbrake on macOS with subtitles and how I troubleshoot Handbrake subtitle not showing up.
How to rip DVD with Handbrake with subtitles?
Ripping DVDs with Handbrake on macOS is not complicated. Here's my guide on how to rip DVDs with subtitles by Handbrake on macOS.
Step 1. Download Handbrake
Handbrake is 100% free to use. You can download it from its official site here. Install and launch it to get ready. 
Step 2. Load DVDs
Once launched, Handbrake will ask you to open a source for ripping/converting. Locate your DVD drive and click on the VIDEO_TS folder and then click Open.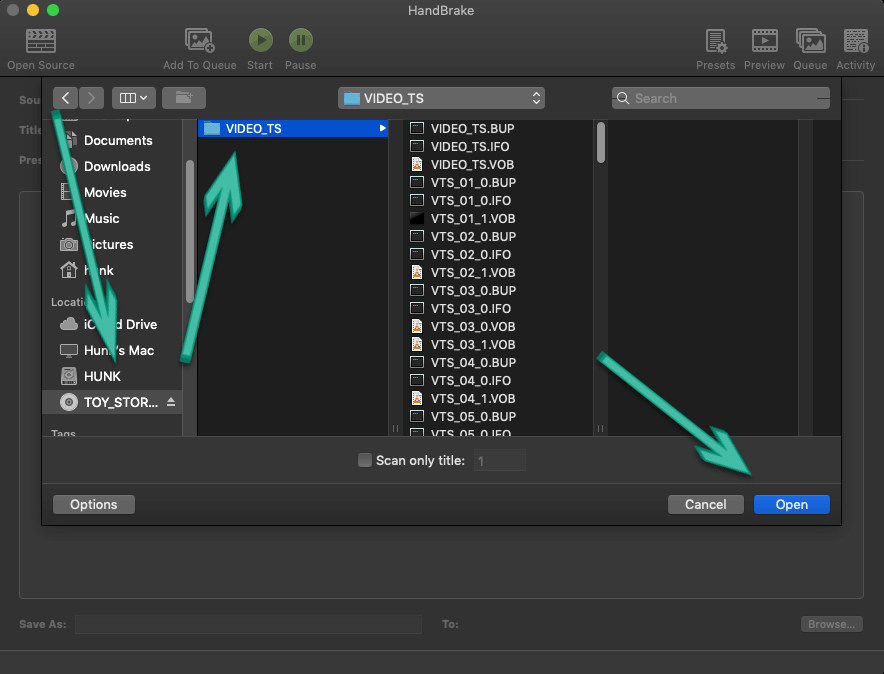 Step 3. Profile for DVD Ripping
Click the drop-down menu of Preset. I'd like to recommend the Very Fast or Fast 480P/576P profiles in General. Others are too much for a DVD.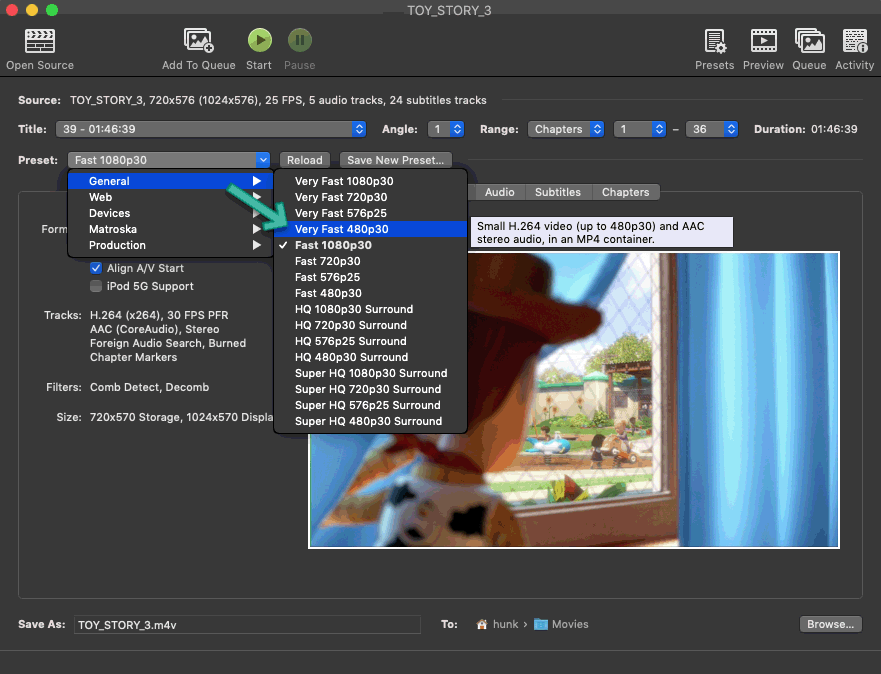 Step 4. Subtitles
Go for the subtitle tab and choose your subtitles. If you want to turn subtitles on and off, uncheck the Burned In option.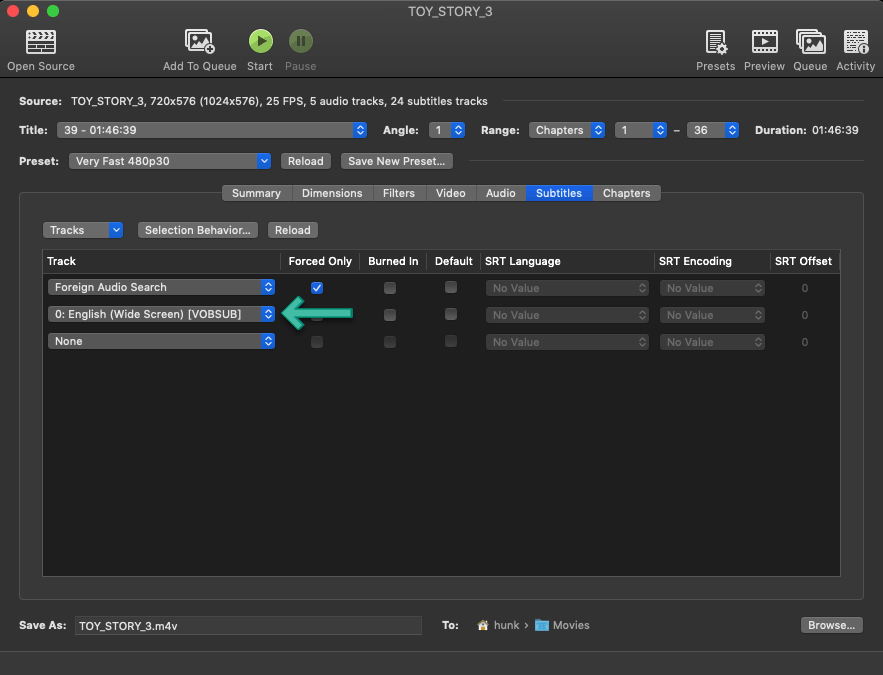 Troubleshooting-Handbrake Subtitle Not Showing up?
After ripping DVDs with Handbrake on Mac, I can't seem to get the subtitles to display the way I do on my current program. What I want to do is rip a movie DVD into the .mov format and bring along the English subtitles but have them not automatically displayed. In other words, when I play the .mov version in QuickTime Player, I want to be able to use the View/Subtitles menu to either turn on the English subtitles or turn them off. I tried ripping a movie a couple of different times in Mac DVD Ripper Pro, but I either got no subtitles (and no access to them in QuickTime Player) or the subtitles were permanently burned into the movie, with no way to switch them on or off.
Is there an easy way to rip a movie DVD and have the subtitling get included and be selectable when played back but not "forced" on all the time?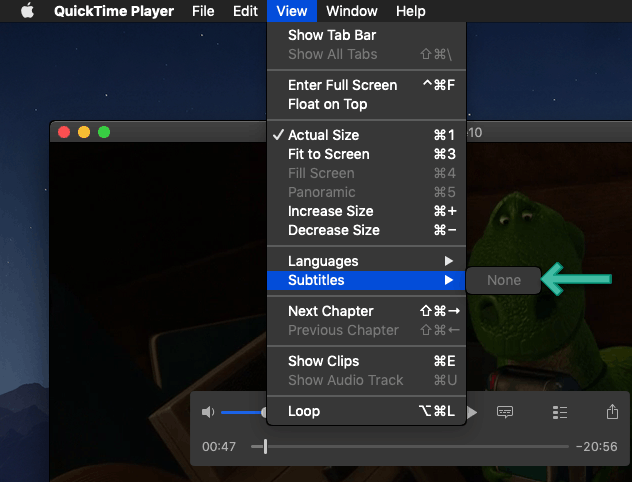 The reason why QuickTime, iTunes or Apple TV shows no subtitle or Handbrake subtitle not showing up is that Handbrake rips the DVD subtitles into VOBSUB, which is actually an image file that is projected onto the screen. However, QuickTime, iTunes or Apple TV does not support this kind of subtitle format, they require TEXT subtitles to be displayed. 
So what's the fix for Handbrake subtitle not showing up? Here are my alternatives:
Built-in Subtitle for DVD Ripping
To be able to rip DVDs with Handbrake on macOS, we are able to set the subtitle to be built-in here in Subtitle tap:

Please note built-in subtitle means you WON'T be able to turn the subtitle ON or OFF as you like. 
It's really a pity that QuickTime does not support VOBSUB. Luckily, we are still able to turn subtitles on or off with alternative media players on macOS. And, IINA and VLC Media Player are two that I'd like to recommend for playing Handbrake ripped videos with subtitles. And, you can are able to turn on the subtitle here: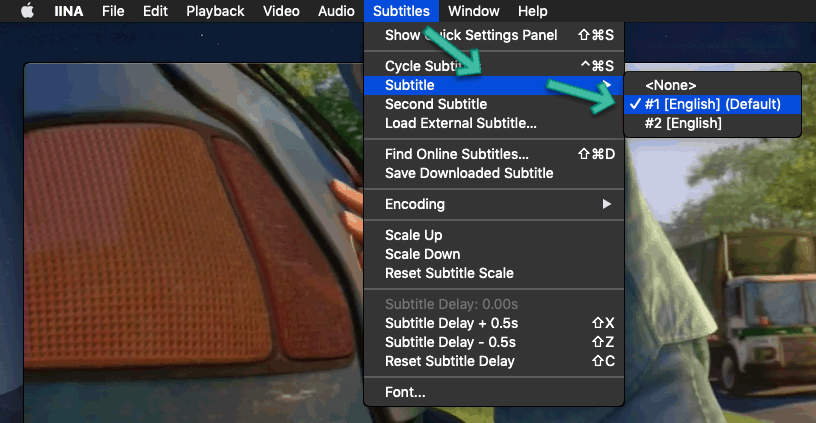 And, enable subtitle in VLC here:
Handbrake Alternative to Rip Protected DVDs with Subtitles
Handbrake is always working great for my home-made and unprotected DVDs. However, when it comes to the protected DVDs, I always get the below error message that reads: "Copy-protected sources are not supported."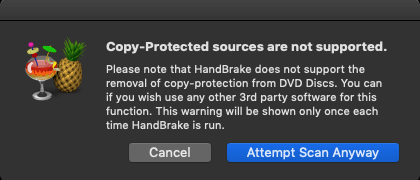 Even though I click Attempt Scan Anyway and go on ripping, Handbrake crashes while encoding. So, if you want to rip a protected DVD with subtitles on either PC or Mac along with the subtitles to be able to be turned on or off, I'd like to recommend an alternative-WinX DVD Ripper Platinum.
In my point of view, WinX DVD Ripper Platinum is the most powerful DVD ripping program on both PC and Mac. It supports all kinds of DVD copy protections from CSS, Region code, Disney, etc and decrypts DVDs to abundant video formats like AVI, WMV, MOV, MKV, M2TS, FLV, etc and different audio formats, MP3, AAC, AC3, FLAC, to name but a few.
You can also try DVDFab to extract the Bluray and DVD subtitles directly into SRT.