I like traveling and I'd always like to digitize my DVD collection before I leave. When I am ripping DVDs, one of my main concerns is the time that the rip takes to process. I tried with some free DVD rippers, and they let me down as they took ages to rip. I am lucky to have a DVD Ripper called Leawo DVD Ripper, which meets all of the needs of DVD ripping and this is my review for it. 
Leawo DVD Ripper Review: An ideal DVD Ripper for PC/Mac
When I rip DVDs, my main concerns as stated above are as follows:
The output quality

The time that the rip takes to process

The Disney and other protected DVDs' ripping
Leawo DVD Ripper is believed by me one of the best DVD rippers in the market that is ideal in ripping protected DVDs from Disney, BBC, Beachbody, etc with fast ripping speed and 1:1 video quality. 
You can simply follow the two buttons below and have 30 days full version try and see if it is your ideal DVD ripper.
Leawo DVD Ripper is fully compatible with Windows 10 and macOS 11 Big Sur. My Leawo DVD Ripper review will explain why it can be an ideal DVD ripper and the best alternative to other DVD ripping software.
Rip DVD to MP4 AVI MKV with 1:1 Video Quality
Leawo DVD Ripper, while ripping DVDs, can maintain almost 1:1 video quality to the original DVD. The H.264 coder is what I recommend as the output MP4 comes with the best video quality and smaller file size. One more thing that is important is that MP4 is the most compatible container for all kinds of operating systems including Windows, Mac, iOS, Android, and Windows Phone as well as smart TVs and even Google Drive, Dropbox, etc.
Fast in Ripping DVDs on PC/Mac
As one of my concerns to rip DVDs, some DVD Rippers rip really slow, which is one of the main reasons for me to find an alternative. And Leawo DVD Ripper did offer a faster way to rip DVDs. Leawo does not advertise itself to be the fastest DVD ripper but it is able to rip a 90 minutes DVD to H264 MP4 in about 20-30 minutes on my old MacBook Pro during my review for Leawo.  
Easier Disney DVD Ripping
While ripping Disney DVDs and other protected DVDs, like CSS and region code, Leawo DVD Ripper rips all those DVDs without any problem. It picks up the correct DVD title for me. What I need to do is choose the output profile and hit run. Have myself a cup of coffee and let the program do all the rest for me.
And, Leawo DVD Ripper is able to rip other protected DVDs from, say, BBC, Beachbody, Pixar, etc.
Pros:
Intuitive and easy-to-understand UI
Support different copy protection
Lossless copy DVD to MKV as MakeMKV does
The editing function is convenient
Nice output video quality yet small video size
2D to 3D DVD Ripping
Cons:
The trial version is limited to just 5 minutes ripping
If you are the one like me who's not very satisfied with your DVD ripper's long time for ripping, Leawo DVD Ripper is the best alternative for me. It is faster and more stable in ripping, especially for Disney and other protected DVDs.
And, there are two plans for Leawo DVD Ripper. The price for the PC version and Mac version are the same:
$29.95: 1-Year Plan
$39.95: Lifetime Plan
Please note it takes $10 for a one-year renewal. So, if you plan to rip DVDs over a year, the LIFETIME plan is recommended.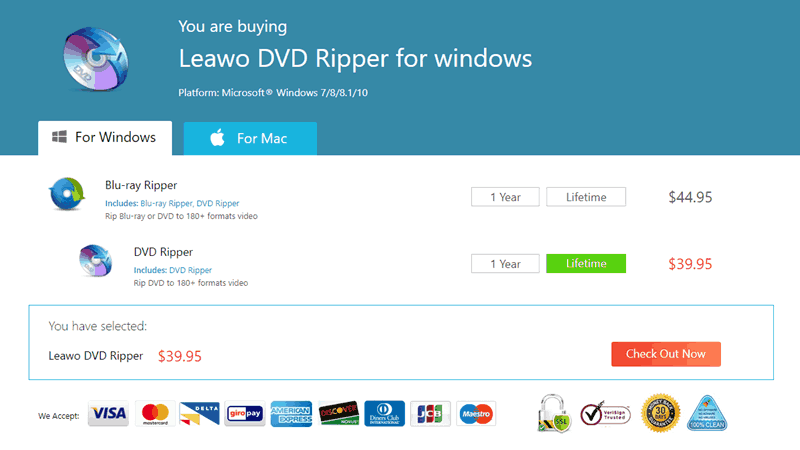 You are able to follow the below link for a free trial and you are to get a full and lifetime version for just $29.96 here. It's 25% off and you save $9.99. 
I am a long time user of Leawo DVD Ripper Pro and I know it is good in DVD ripping and my needs can be fullfiled just with it. However, even after reading my review for Leawo DVD Ripper Pro, I still highly recommend you to have a try before you buy. Be sure it's 100% working for you, and it won't let you down.