Even people who aren't interested in watching films can probably agree that it's an amazing experience to view videos in high resolution, like 4K. Nowadays, smart TVs can do AI video upscaling and enhance your SD videos to match their display. However, are you satisfied with watching SD videos on your 4K TVs?
While there are many types of video enhancement software, such as AI-powered video upscaling software and non-AI video improving software, the truth is AI video enhancer works much better than non-AI software. And, you know what? There is AI video upscaling software that is easy to use, even free, yet delivers professional results with video details enhanced! 
What is AI Upscaling? Does it work?
Resolution refers to the number of pixels comprising an image or video. Higher resolution means more pixels and sharper, smoother videos. However, many videos, especially older ones, have low resolution and appear blurry or pixelated on large screens.
Al upscaling is the process of generating additional pixels of image information in order to add detail where there was none previously, which helps to replicate the appearance of a higher-resolution image and then apply machine learning to enhance the outcome. AI video upscaling utilizes artificial intelligence to increase the resolution and enhance video quality.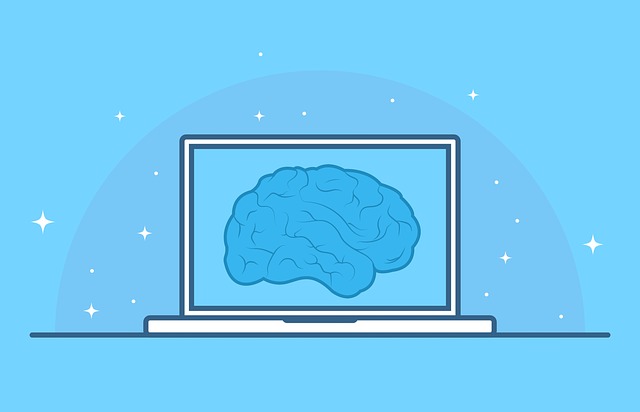 While traditional upscaling simply stretches or duplicates existing pixels, lowering quality and realism, AI video upscaling analyzes low-resolution videos and predicts missing pixels. This restores old videos, reduces noise, enhances colors, and adds natural motion.
AI video upscaling also uses neural network systems that learn from data like the human brain. Neural networks detect video features like edges, shapes, and textures. By combining these elements, they recreate what a high-resolution version would look like.
Is AI Video Upscaling possible?
By raising the bit rate of the video, it is possible to increase the visual quality slightly. However, raising the bit rate of movies with resolution upscaled does not significantly improve their image quality.
The good news is that upscaling software based on artificial intelligence technology has been developed, making it possible to increase the picture quality of DVDs as well as lower-quality movies.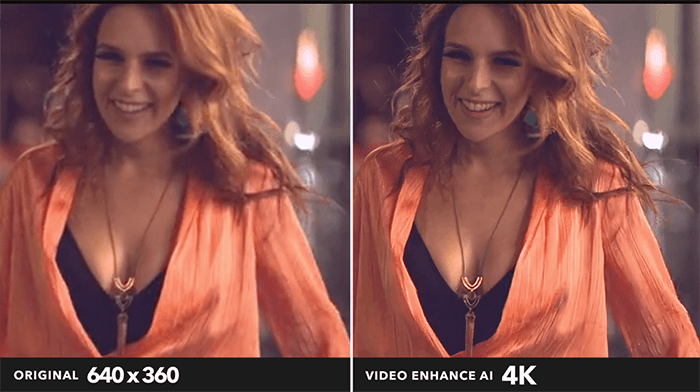 Why Do You Need AI Video Upscaling?
AI video upscaling provides many benefits for enthusiasts. It improves quality for larger screens while preserving details lost in traditional upscaling. Compression reduces file sizes and storage needs. Enhanced colors and reduced noise also improve videos.
However, AI video upscaling has limitations. It requires high computing power and takes time to process. Artifacts or distortions may occur with low-quality input or overly high-resolution output. Overall though, AI video upscaling revives and enhances old, low-resolution videos by generating new life-like frames. It opens up new possibilities for restoring treasured videos for viewing and sharing.
Best 4 AI Video Upscaling Software
Is there an easy-to-use but professional video enhancer? Many individuals today are into uploading video clips to social media sites like Facebook and Twitter for communication, entertainment, learning, and even self-improvement. YouTube and TikTok are now the most widely used video streaming services. Are you interested in uploading your video in order to engage your audience? Focus on exceptional and exciting videos, not only on the contents and forms.
Quality is thus the first concern when creating video content. AI video enhancer comes in useful to achieve this goal. And there are AI-powered video upscaling software and non-AI ones, some free and open-source, some paid, and even online. Video enhancers powered by AI can increase video quality and help you attract more people on YouTube or Facebook. Let's find out the best AI video upscalers in the world!
Topaz Video AI: Best & Editor's Choice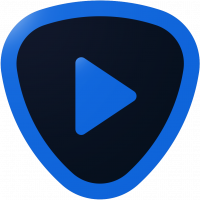 Publisher/Developer: Topaz Labs
Available on: Windows, macOS
Price: $299 for Lifetime
Max Resolution: 8K
Slow Motion: Yes, up to 2000%
FPS Boosting: up to 120
Output: MP4, MOV, TIFF, JPG, PNG
Result: Great
Note:
Topaz now releases version 3.0 and renamed its Video Enhance AI to Topaz Video AI.
Topaz Video Enhance AI[Topaz Video AI] is an AI video upscaling program created by Topaz Labs that enhances the quality of videos.
Using machine learning makes it possible to expand lower-quality video footage up to 8K. Topaz's built-in AI engine has been trained on hundreds and thousands of videos, and it can fix every pixel of your video frame by frame, decrease video flickering, sharpen the blurred images, and do a variety of other tasks to get natural-looking results. It performs an excellent job of upscaling videos, and I am impressed with the overall improvement and believe it's the best AI upscaling software for videos.
How does Topaz Video AI work?
From the below YouTube video, you will see the impressive result I got from upscaling 480P video to 4K by Topaz AI video enhance:
And, if you want to make a slow motion up to 2000%, here's the YouTube tutorial for you: 
Topaz rebuilt its Video Enhance AI with a brand new UI and new AI models, parallel tasks, and filters. With these updates, users can perform tasks such as batch AI upscaling, AI stabilizing, AI slow motion, and AI frame interpolating, among other things, all at the same time.
With the new coded Video AI 3, we easily handle videos with variable FPS, repeating frames, or changing scenes.
Full trial
Up to 8K upscaling
Great video quality, better other any other AI upscaling software
Easy to use. With AI Model Picker, we can get better results
Uncompressed Tiff, Tif, and lossless PNG support
Boost FPS to 120 with 2000% slow motion
Expensive

Large watermark in trial
AVCLabs Video Enhancer AI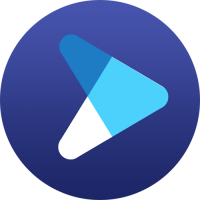 Publisher/Developer: AVCLabs
Available on: Windows, macOS
Price: $39.95 for one month, $199.95 for one year, $499.95 for Lifetime
Max Resolution: 8K
Slow Motion: NO
FPS Boosting: NO
Output: MP4, AVI (Uncompressed)
Result: Great
AVCLabs Video Enhancer AI is one of the best AI video enhancers available in the field of AI video upscaling.
Due to the robust algorithms included, it is a highly effective tool for video upscaling. It was trained to detect deleted pixels by studying each frame via millions of hours of videos, films, and television shows. The video is then automatically upscaled and enhanced by boosting the resolution, denoising, sharpening, and color improvement and correction, among other things.
Suppose you want to improve the quality of your video. In that case, you can use AVCLabs Video Enhancer AI, an AI-based software that uses deep-learning neural networks to improve the quality of your video from SD to HD, HD to 4K, or even 8K. Super Resolution can create extra pixel data from a low-resolution source to fill in the gaps in a high-resolution video. Multi-frame enhancement uses the multi-frame convolutional neural network to improve the video quality, remove motion artifacts, stabilize the video, and remove overlay noise and grain to make it look more natural than traditional programming.
Easy to use
Up to 8K AI Enhancement
Auto face refinement
Flexible subscriptions

Great output quality
DVDFab Enlarger AI: AI Video, Blu-ray, and DVD Enhancer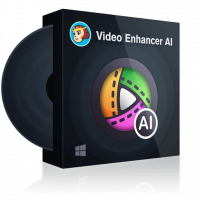 Publisher/Developer: Fengtao Software Limited.
Available on: Windows
Price: $44.99 to $139.99
Max Resolution: 4K
Slow Motion: No
FPS Boosting: up to 60
Output: MP4, MKV
Result: Good
DVDFab Enlarger AI uses the open-source framework TensorFlow, powered by Google, and artificial intelligence (AI) technology for machine learning to upconvert SD (480p) movies to a maximum resolution of 4K with enhanced video quality.
Because DVDFab is capable of ripping both Blu-ray and DVDs, you may use its artificial intelligence engine to upscale and improve the visual quality of your Blu-ray or DVDs. Blu-ray discs can have their regular 1080P source converted to 4K MP4 or MKV format for playback. When it comes to DVDs, you may go as high as 1080P.
The only program to upscale Blu-ray and DVDs
AI video upscaling to 4K
AI-boost FPS to 60
Remove video noise and blur
Easy for bignners
Need to work in conjunction with its Blu-ray, DVD ripper, or video converter
Pixop: Best AI Video Upscaler Online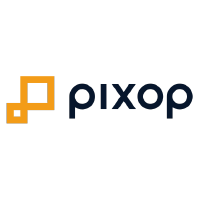 Publisher/Developer: Pixop ApS
Available on: Online
Price: Free to Pro by gigapixel
Max Resolution: 8K
Slow Motion: NO
FPS Boosting: Custom FPS
Output: MP4, MXF, M2TS, MOV
Result: Great
There is four online video upscaling software that I find that work, but here I replace GDFLab and recommend Pixop over others to be the best online video upscaler due to the following reasons:
GDFLab does not work very well, and it's unsafe to visit its website.
Neural.love is an excellent online AI video enhancer, but I prefer Pixop because it comes with more options, and it takes a few hours to reply to my emails. For Neural.love, sorry, but they don't reply to any of my emails until I go for Twitter to contact them.
Kokoon.cloud​ is a new online video upscaler I recently found. It develops its own AI algorithm, and it's fast in upscaling. It is currently free to with but with a watermark. It seems to be still under development, so there is no way to remove the watermark.
Pixop provides an online video upscaling service that is AI and ML-based and offers a variety of features, like super-resolution, restoration, dejittering, deep restoration, denoising, etc. Due to its up-to-date AI engine and machine learning technology, it is incredibly efficient and delivers great results.
It's straightforward to use too. You need to create an account, sign in, upload your videos, and choose Process. Choose a profile or customize yours to get started. 
Check the video upscaling online guide for details: 
And, check my video to see how it works! 
Online AI Video Enhancer with rich options
Up to 16-bit support
Metadata editing
Customize output bitrate and FPS
Quality analyses
Expensive if you have a long video or more options selected or many videos to upscale
Video2X: Free & Open-Source AI Video Upscaling

Publisher/Developer: Open-source
Available on: Windows
Price: Free
Max Resolution: 4K
Slow Motion: No
Output: MP4, MKV, etc
FPS Boosting: No
I'm working on a personal project, and I'll be using some old, extremely low-resolution videotape for a portion of it. I've used various free internet programs (such as deep-image.ai) to upscale low-res images in the past, and they've always worked out well. Now, I'm looking for a comparable solution for video, but all of the products I've come across are either for business use or are prohibitively expensive. Is there a free tool available for upscaling videos by AI engine that I can use?
Yes, free stuff is quite popular among people everywhere! And, yes, there are free ai video enhancers, and it's open-source!
In order to use Video2X, you must have Python 3 installed. And, check the official guide to set up Video2X.
Gif Upscaling
100% free to use
A lot of options for advanced users
Customized output format
Complicated for beginners
I believe Topaz Video AI is the best choice if you want to do AI video upscaling. It is a simple but effective AI video enhancer that allows you to upscale videos up to 8K. Regarding using Topaz AI Video Enhancer, please go to my below post for details. I explain the best settings for upscaling videos, especially for animation videos in the below post.
Just be sure to pick the most suitable AI mode to get better results.
You can also check the below YouTube video to learn video AI upscaling. 
Suppose you are already a DVDFab user and use DVDFab products. In that case, the DVDFab AI enlarger can be a better option for you as it can work in conjunction with DVDFab Blu-ray Ripper, DVDFab DVD Ripper, and DVDFab Video Converter to upscale and enhance videos, Blu-rays, and DVDs up to 4K for you. I have a very detailed guide here in its review to upscale Blu-rays, DVDs, or videos with DVDFab Enlarger AI.
Alternatives for AI Upscaling Video
I believe you have your own needs in video AI upscaling. While I believe those four bring the best results to upscale and enhance your videos, you may still want an alternative that may be cheaper, more straightforward, or more stable, specifically for you. I don't mean they are not stable. However, nothing is perfect, and the one that fully meets your needs is always the best.
Ok, those AI video enhancers are worth your trying.
HitPaw Video Enhancer AI(PC & Mac)
HitPaw was a newly established company in 2019. It focuses on video converting, editing, and recording,  as well as AI solutions like AI video and photo upscaling and AI watermark removal. 

Its AI Video Upscaler comes with a nice and clean UI. It's more straightforward for beginners as there are only four AI models:
The General Model is for most videos with AI noise removal.
The Animation Model is specially designed for computer-generated videos.
The Face Model suits you if you want to recover more details on people's faces.
The Colorize is able to turn black-and-white videos into color.
It definitely works in AI upscaling your videos and takes three steps. You need to pick up one AI model, set the resolution and output format, and click Export. Easy?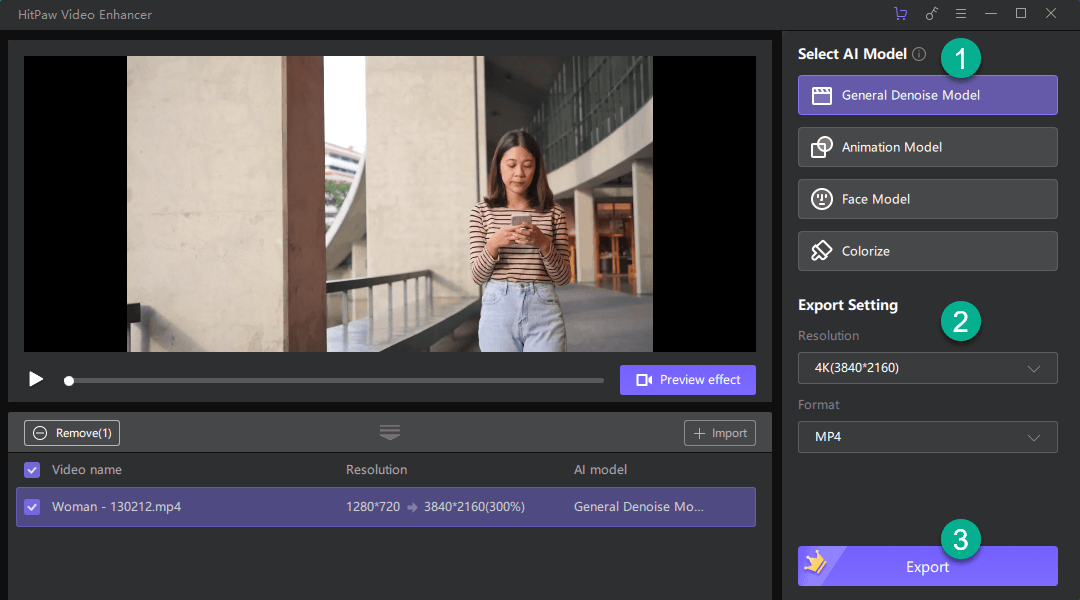 However, I just find the upscaled video looks unnatural, especially the girl's face. It does not make a big difference wheater I use the General Denoise Model or Face Model.
If you want to AI upscale video online, Neural.love is definitely a nice alternative. Compared with Pixop, it has fewer options, making it easier to use. You need to set the resolution. Then, you can go directly to process upscaling. Changing the FPS, facial restoration, colorization, and slowdown are available if needed.
However, my biggest problem with Neural.love is its support system. Anytime you click Contact Us and submit your question, you will always be noted a Thank you letter. However, for days and weeks, there has been NO reply.
Waifu2x Extension GUI[FREE]
To be honest, I prefer Waifu2x Extension GUI over Video2X as the best free ai video upscaling software. However, it shows itself as a trial version. Well, it is actually not because it's open-source, and you don't have to register, but it's definitely confusing. Also, it comes with its own ads that ask you for donations.
Besides those, it is worth trying. I have a video review for it. Check it out:
TVs with AI Video Upscaling Built-in
As far as AI TV upscalers are concerned, Sony and Samsung are at the top of the globe. Upscaling is also quite well on Nvidia's Shield TV box.
You will always have full 4K/8K resolution on your Samsung TV, thanks to the powerful AI engine built-in Neo Quantum Processor. QN900A and QN95A are the latest Neo Quantum Processors for AI upscaling.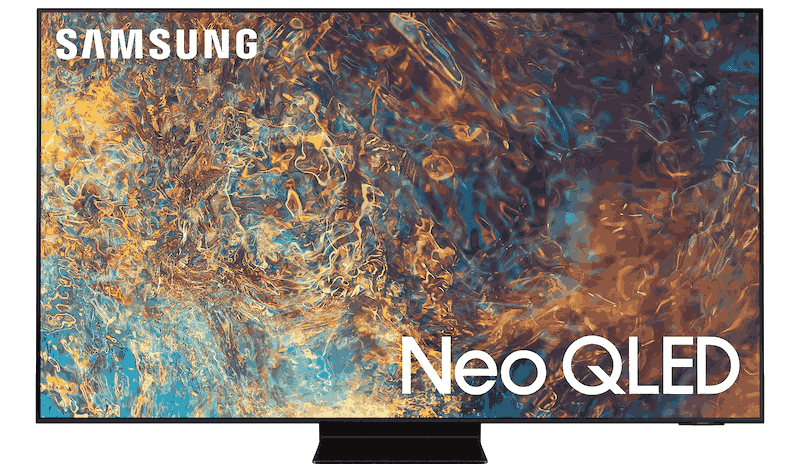 Sony's top-of-the-line upscaling technology is referred to as X-Reality Pro or XR Upscaling. Go for those models of Sony TVs.