I believe Topazlabs is one of the best companies for photo post-processing, and it has remarkable programs like DeNoise AI, Sharpen AI, and Gigapixel AI. However, you will find that each program does a specific job, like removing noise, de-blurring, or upscaling. But the actual demand from users is that we need an all-in-one, automatic program for denoising, sharping, and upscaling. That's why Topazlabs releases Topaz Photo AI, which I will review in this post.
Topaz has Topaz Denoise AI, Sharpen AI, and Gigapixel AI and sells them as a Topaz Image Quality bundle. However, anyone who regularly works with the three standalone programs knows it's cumbersome and bulky to switch back and forth between the three constantly. This is simply because a single image can have several quality problems, and beginners may not be sure which of the three will help the best to improve the photo quality. Furtherly, supporting numerous AI models in the programs complicates things, requiring you to run different models in different apps to get the best results.
So, this is why Topaz Photo AI was developed; it can be regarded as the all-in-one program for three apps. Photo AI is such a smart system that makes the whole process of finding image quality problems and fixing them in the best way automatically and clearly. That's where the name "Autopilot" is from.
For more details about Photo AI and the "Autopilot", please check here.
Topaz Labs has released Photo AI 2, a major upgrade to its photo editing software. New features in Photo AI 2 include Lighting and Color adjustments to help correct exposures and remove casts. Existing features like noise removal, sharpening, and integration with Photoshop have also seen significant improvements.
Photo AI 2 introduces Adjust Lighting and Balance Color filters. Adjust Lighting improves lighting and exposure while Balance Color removes color casts. These aim to fix issues rather than add creative effects. They can help develop raw files, correct underexposed images, and neutralize strong casts.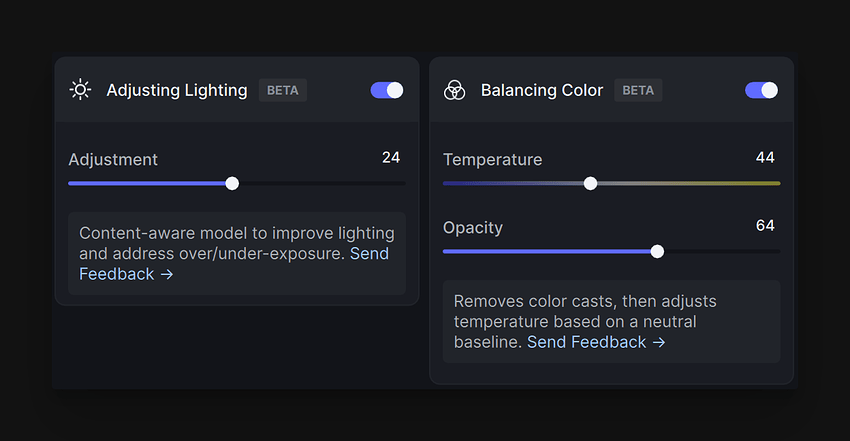 Raw noise removal and sharpening models have been upgraded in Photo AI 2. The new raw noise reduction better removes noise while preserving details. Sharpening now offers more natural results. Autopilot parameters can also be customized.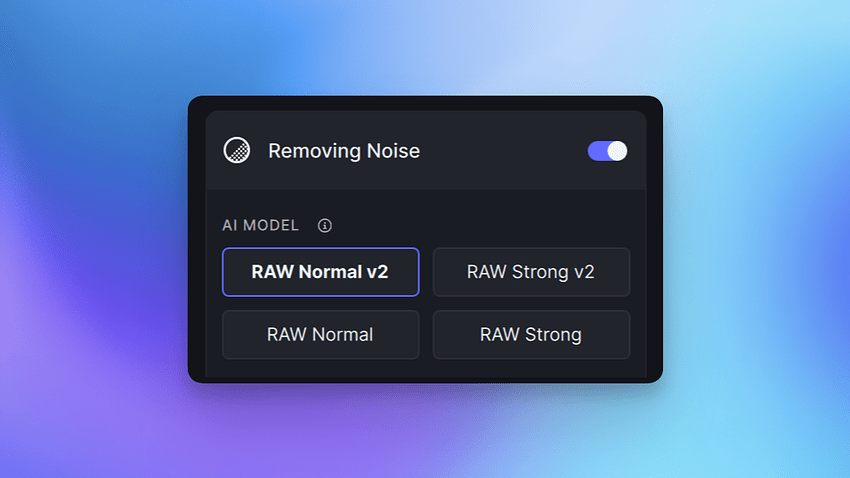 Other enhancements include upscaling directly from Photoshop, improved batch processing, bug fixes, and continued performance optimizations. Topaz Labs will continue to improve features like brush removal and detail handling. They aim to achieve the highest image quality and welcome user feedback to guide further development.
Overall, Photo AI 2 represents a substantial upgrade that introduces new lighting and color tools. Existing features see major quality improvements through upgraded AI models. Check out the new version here:
Photo AI System Requirements, Download and Install
Topaz officially launched its Photo AI on September 15, 2022. If you are a new customer and want to have a trial first before you buy, you can download the program from Topaz's official site here:
Click "Try for free," enter your email address and start downloading the AI photo editing program. You can even enter a fake email address to avoid the newsletter and ads from Topaz. 
If you already have the Topaz Image Quality bundle, you can get it free in the Topaz account dashboard-My Product. 
Please note what you download is a .msi file instead of .exe for Windows and a .pkg file for macOS. Double-click the installer to install, and be sure to install it with an internet connection on both PC and MAC because the Setup wizard will download a lot of components to install the program fully.
Tips:
I get the below notification that I need to close the applications/services. And, I recommend you click OK.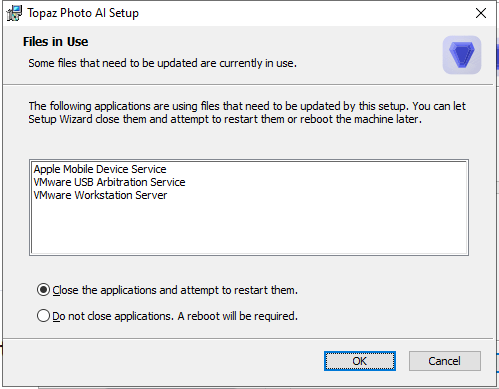 Also, make sure you have a well Internet connection. If not, you may get the below error message over and over again: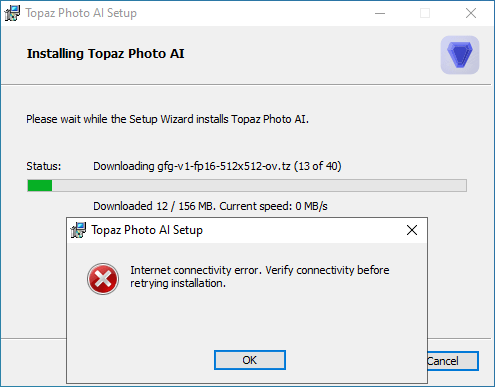 If you are on a Mac, be sure to allow the installer to determine if your system support installing the Photo AI software.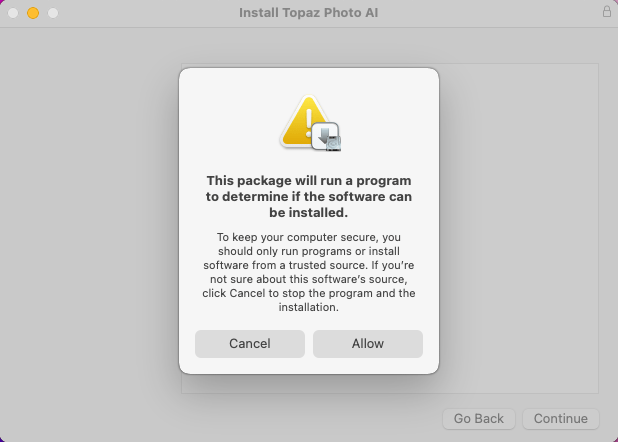 Topazlabs always recommends running its Photo AI on computers with newer CPUs,  larger RAMs, and the latest operating systems. 

However, from my testing, it still works on a 4G RAM virtual macOS Monterey with no GPU. So,  always feel free to have a trial first, even on less powerful or older computers, before you purchase. 
With years of training and improving AI models, Photo AI can automatically detect and correct image quality issues. It analyzes your photographs and applies the proper models and settings. That's why it is called Autopilot.
The Autopilot feature in Topaz Photo AI is a standout component that distinguishes it from other photo editing software. This feature leverages artificial intelligence to automatically detect and apply the optimal settings for image enhancement, including face detection, noise reduction, and detail improvement.
The official Topaz Labs website emphasizes that the Autopilot feature is designed to maximize image quality, allowing users to focus more on the creative aspects of photography. The AI is exceptionally good at improving image quality, accurately distinguishing between real image detail and noise with a remarkable level of precision. This is achieved by learning from millions of images, enabling Topaz Photo AI's Remove Noise module to understand the contents of your image.
The Autopilot feature is not just about automation but also about precision. The AI technology ensures that the applied settings are the most suitable for each image, potentially saving users from making manual adjustments that may not yield the best results. This feature is particularly useful as it can identify the main subjects in the image, including wildlife, and if the subject is human, it can even identify faces, offering an AI-based "recover faces" option that can help recreate missing detail.
Not only does the Autopilot settings by default work with noise reduction and sharpening, but they also do not enlarge your images. However, users have the flexibility to reconfigure Autopilot settings to suit their needs. This means that the software can be tailored to the specific requirements of each user, providing a personalized editing experience.
In order to give the best possible result, it analyzes each image and takes file types, metadata, human faces, noises, blurs, image sizes, etc., into consideration.
First, Autopilot identifies noise and soft focus throughout the image and applies denoise and sharpen models with automatic strength settings.
Second, Autopilot recognizes and sorts faces by quality and enhances low-quality faces.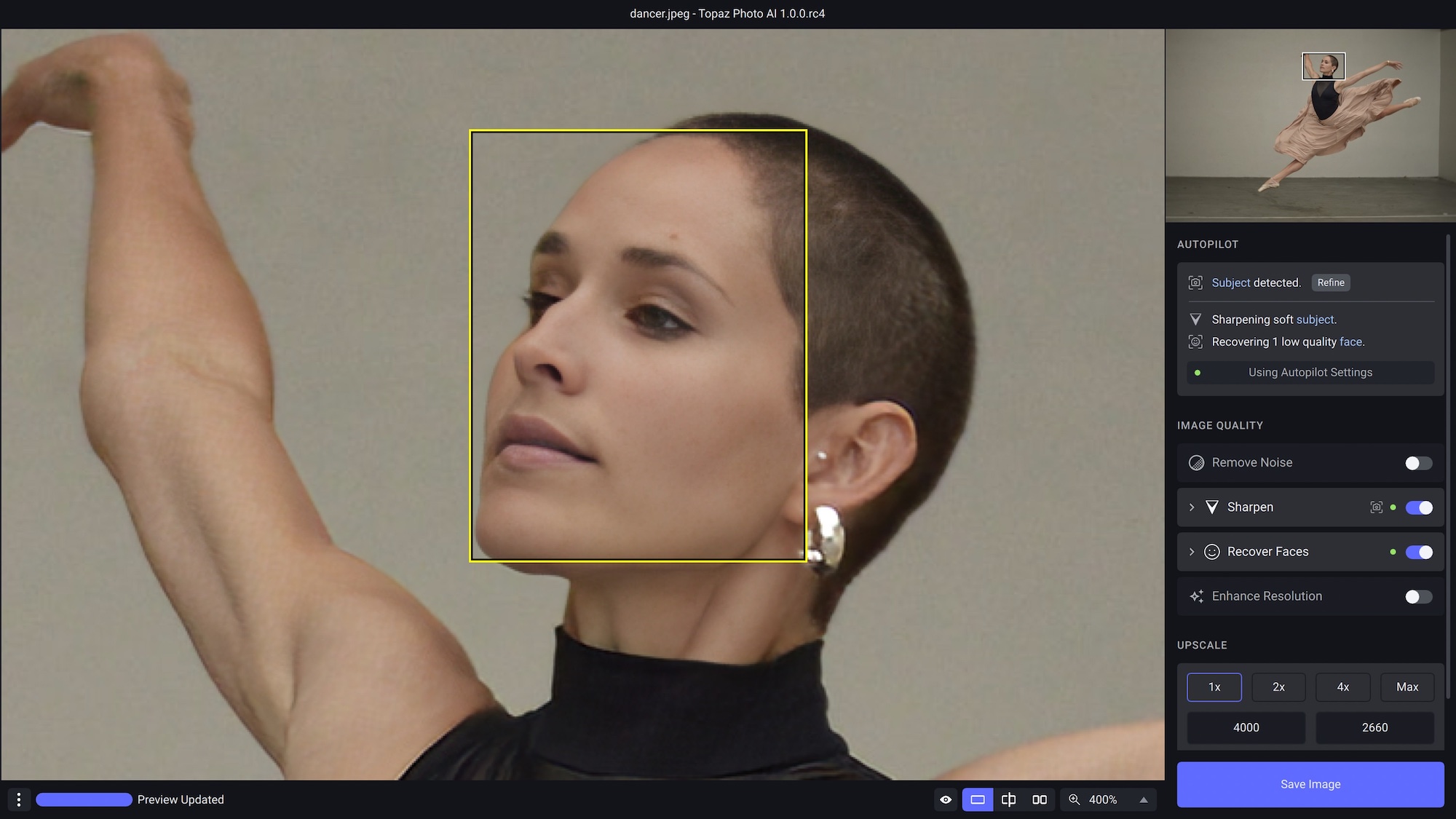 Third, Autopilot detects image highlights and may sharpen them to make them stand out. And finally, you will have a perfect photo sharpened as well as all noises removed, and details, and faces enhanced.
You will see that Autoplit is working when an image is loaded: 
Work together with Lightroom Classic, Photoshop, etc
Topaz Photo AI also works as a plugin in Lightroom Classic, Photoshop, and Capture One. If you already have those applications, the plugin will automatically be installed after you install Photo AI.
Here's the path where you can use Topaz:
RAW: File > Plug-in Extras > Process in Topaz Photo AI
non-RAW: Photo > Edit in > Topaz Photo AI
Image > Edit with > (Process in)Topaz Photo AI
When you choose those options in Lightroom Classic or Capture one, the images or photos will be sent to Topaz for processing, and after that, you will have to import them back for your further work.
Filter > Topaz Labs > Topaz Photo AI
Topaz Photo AI is deeply integrated with Photoshop. After processing, you have the option in Topaz "Save to Adobe Photoshot," and you don't have to import again.
Say Goodbye to Noise and Blur: How Topaz's AI Tools Can Elevate Your Photography!
Topazlabs has a bunch of AI tools to elevate your photography. Before discussing the individual apps, it's important to understand the difference between Topaz Photo AI and the three individual apps. Topaz Photo AI is a comprehensive tool that combines the functionalities of DeNoise AI, Sharpen AI, and Gigapixel AI into one application. This means you can access all the features of these three apps within Topaz Photo AI, providing a seamless and efficient workflow.
On the other hand, DeNoise AI, Sharpen AI, and Gigapixel AI are standalone applications that focus on specific aspects of photo editing. DeNoise AI is designed for noise reduction, Sharpen AI focuses on enhancing sharpness, and Gigapixel AI is used for upscaling images. These individual apps allow you to focus on specific editing needs, providing more specialized tools and controls. Let's go a little bit more details about each individual app. 
Topaz DeNoise AI is a powerful tool designed to reduce noise in your images while preserving the details. It uses machine learning to identify and remove noise artifacts, resulting in cleaner, clearer images. This tool is particularly useful in low-light situations where high ISO settings can introduce unwanted noise into your photos. DeNoise AI goes beyond simple noise reduction, it intelligently enhances the image to maintain important details, resulting in a balanced and pleasing image.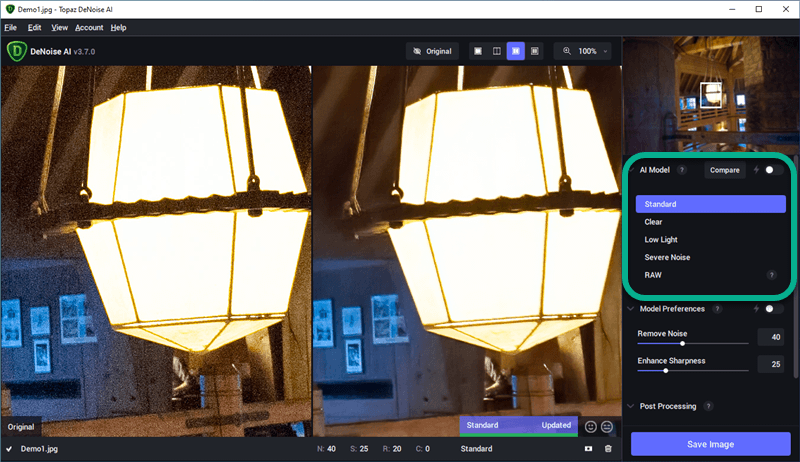 Gigapixel AI is a game-changer for photographers who need to upscale their images. Whether you're printing large format, cropping, or simply want to improve the resolution of your images, Gigapixel AI can help. It uses deep learning to upscale images, adding natural-looking detail and enhancing the image quality. It's capable of upscaling images by 600%, and the results are often impressive. Gigapixel AI can also remove compression artifacts and improve the texture and sharpness of various elements in your images, from fabric to fur to feathers.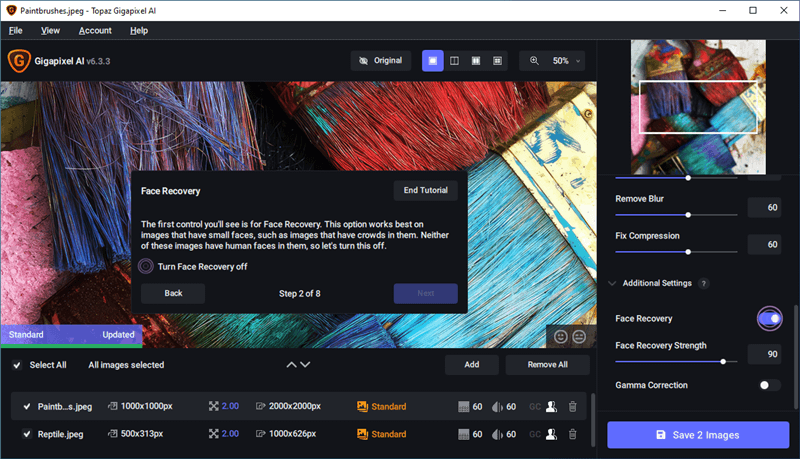 Sharpen AI is another impressive tool in the Topaz suite. It uses artificial intelligence to enhance the sharpness of your images. Unlike traditional sharpening tools, Sharpen AI targets and reverses three specific types of blur: motion blur, focus blur, and general softness. This results in more natural and detailed images. It's particularly effective for images with fine details like eyes, feathers, leaves, and stars. Sharpen AI can also be used to recover images that are slightly out of focus or affected by camera shake, providing a lifeline for images that might otherwise be discarded.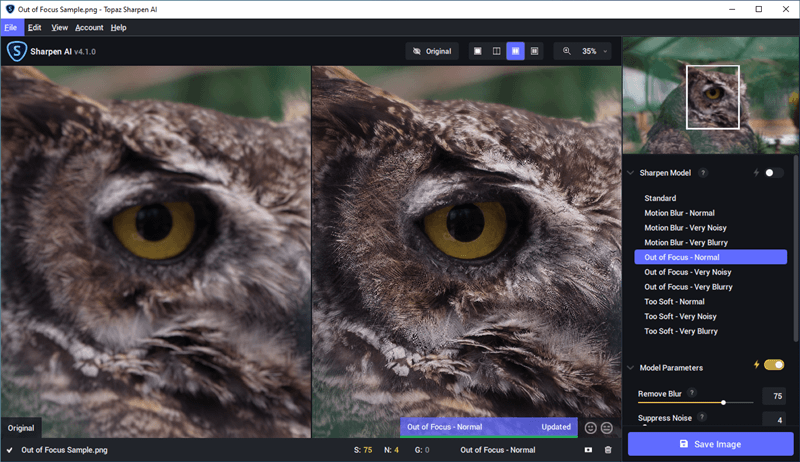 In summary, if you're looking for a comprehensive solution that covers noise reduction, sharpening, and upscaling, Topaz Photo AI would be the best choice. However, if you need more specialized control over a specific aspect of photo editing, the individual apps would be more suitable.
The price and value of Topaz Photo AI are key considerations for potential users. According to the official Topaz Labs website, Topaz Photo AI is now available for new users at $199 with one year of unlimited free updates. You can use it on both Windows and macOS simultaneously. You can purchase additional license seats for $99.00 per seat.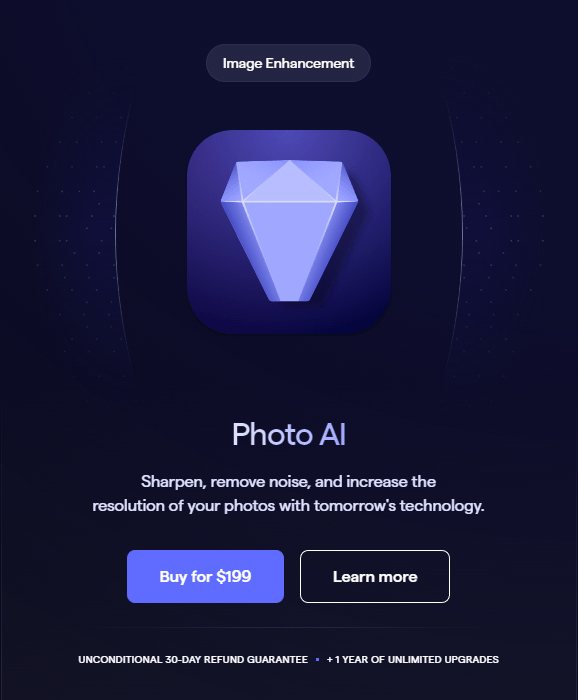 While the software might be more expensive than some other photo editing tools on the market, the unique features and superior results it delivers make it worth the investment. The combination of noise reduction, sharpening, and upscaling tools in one application provides a comprehensive solution for photo editing, which can save users from having to purchase multiple separate tools.
Moreover, the software's ease of use and the time it can save in the editing process add to its value. The Autopilot feature, in particular, can significantly streamline the editing process, automatically applying the optimal settings for noise reduction and detail enhancement. This can save users a significant amount of time and effort, particularly when editing large batches of photos.
NOTE:
If you already have Topaz Image Quality Bundle, you can get Photo AI for free.
In addition, Topaz Labs offers a 30-day refund guarantee, which provides some reassurance for users who are unsure about the investment. This allows users to try the software and see the results for themselves before fully committing to the purchase.
All-in-one to denoise, sharpen, and upscale photos
With autopilot to do everything automatically
Workflow in batches with multiple photos and file types
Installation takes really long to download the necessary components. And I have the error over and over again for the whole day. If there is an offline installer, it would be great.
Finally, we have the all-in-one solution and we don't have to switch back and forth between Topaz Denoise AI, Sharpen AI, and Gigapixel AI. Photo AI is designed to save time with the expected image quality. 
It's only version 1 and it has some problems, but I do believe Topaz will continuously update Photo AI and make it better.