I am a long user of MakeMKV and a big fan of GuinpinSoft inc, and I want to thank them for the great software. I discovered this after using it and replaced my previous version of Mac DVDRipper Pro, and I also found the developer was in no way as helpful as theirs, yet that software gets highly recommended over them!!! I cannot see how, as GuinpinSoft is far superior and a GREAT piece of software! It is the best I've used and uses all 8 cores!! The good news is that MakeMKV is promised to be "free while the program is in beta." And my MakeMKV review is mainly for DVDs because MakeMKV is believed to be one of the best free DVD rippers, while ripping Blu-ray discs is not always free.
You are able to use MakeMKV for 30 days for trial if you don't have a key. But you can get a beta key for MakeMKV about every two months here in my post.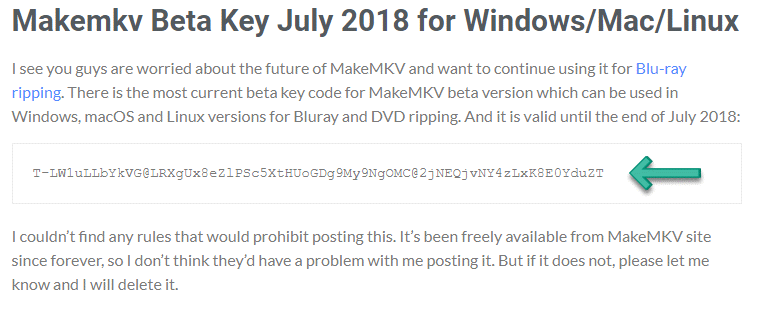 The post is updated synchronously when the new beta key is released. Please note the beta key is only valid for about two months, and you will have to get another one.
I know it can be nice that you don't have to mess with updating the registration code that expires every month. You can support GuinpinSoft Inc and get a lifetime key for MakeMKV with a 25% discount here.
Also, you can check more free DVD rippers from Wong's guide.
Install and Activate MakeMKV
Installing MakeMKV on Windows is easy. You just have to double-click then .exe setup file, follow its instructions to install. For macOS users,  Double-click the downloaded DMG file to mount, then drag and drop the icon to the Applications folder.
Open MakeMKV in Applications folder and you will get the below error message saying it's from an unidentified developer. And this is because MakeMKV is NOT signed by Apple. There is no worry about this it does not mean MakeMKV is dangerous to use. For more details, you can visit Apple's official explanation about Gatekeeper.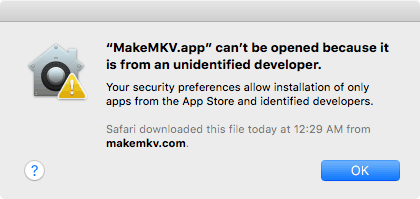 You can simply right-click or Control-click on MakeMKV.app in Applications folder in Finder and select Open. You will get the below message and click Open again. Then you will able to use it without any warning again.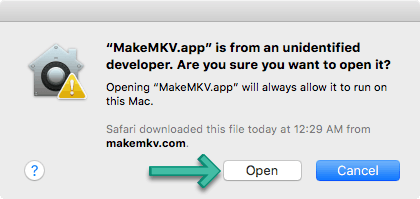 And then, you are able to register with the beta license code you have from the above page and click Activate.
MakeMKV-Free Rip Any DVD on Mac, PC and Linux
MakeMKV is one of the top DVD rippers on PC, Mac, and Linux, and is able to rip almost all my DVD collections so far to MKV. It is believed to rip any DVD, either protected or home-made DVDs on Windows 11, macOS 13 Ventura, and Linux. With the free beta license, you are able to free rip DVDs with MakeMKV.
With a great human interface, MakeMKV is easy to use, and within a few minutes, I've converted a 90-minute section of a DVD to MKV.
How to Rip DVDs with MakeMKV
Below is a quick guide on how to rip DVDs with MakeMKV for free. 
Step 1. Add DVD 
MakeMKV offers three ways to add DVDs from your DVD drive, VIDEO_TS folder (VIDEO_TS.IFO), and ISO files on your HDD. For DVDs in your DVD drive, MakeMKV automatically loads them when you open MakeMKV. For the VIDEO_TS folder and ISO files, you can go File-Open files or Ctrl(Command)+O to add for ripping.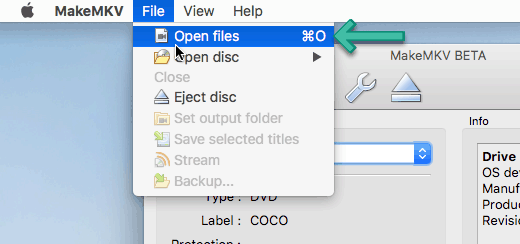 Step 2. Open DVD Disc
Click the Open DVD Disc button as shown. MakeMKV will start analyzing the disc.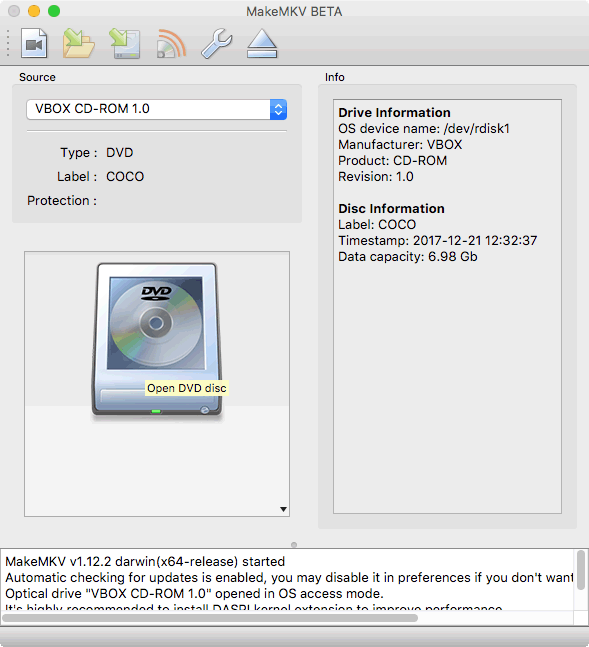 Step 3. Confirm Titles[Important]
After analyzing, The below window is presented for you prior to ripping. You may notice MakeMKV lists a couple of titles for you with information like Source title ID, duration, Chapter count, Size, Segment count, Segment map, File name, etc. if you click on each title. DO WE LEAVE ALL TITLES FOR RIPPING? Absolutely NOT!
I am assuming that MakeMKV is NOT quite sure which is exactly the right title. So you will always have to confirm the right title before ripping. And I have a detailed guide on how to detect the right DVD title free with VLC Media Player on PC and Mac. It is strongly recommended that you guys confirm the right title before you rip the DVD with MakeMKV. 
Step 4. Ripping DVD
Generally, those are the steps to rip a DVD to MKV. Clic click "Save selected titles" to start ripping. MakeMKV will ask you if you want to create the output folder. Make sure you click on Yes.

As a free DVD ripper, MakeMKV really does a great job in DVD ripping. However, there are shorting comings for this program and there are the pros and cons.
Pros:
FREE. MakeMKV is 100% free as officially stated. No watermark. 
Cross-platform. You are able to use the program on PC, Mac, and Linux.
Protected DVDs supported. This is one of the most important factors that MakeMKV is widely recommended on Reddit and many other forums.
Fast in ripping. Since there is no process to re-encoding, MakeMKV is super fast in DVD ripping.
Cons:
MKV Only. MKV is the only format for the output. I recommend Wondershare UniConverter to re-convert, burn MKV, and transfer MKV to iOS devices.
Titles. As mentioned above, MakeMKV is not quite sure about the right title for ripping. You will have to confirm by yourself.