Are you looking for an iTunes alternative to manage music, photos, videos, etc of your iPhone and iPad? Are you wondering how DearMob iPhone Manager works? Is it a good iTunes alternative? In my DearMob iPhone Manager review, you'll find an answer.
In this review of DearMob iPhone Manager, I'll explain in detail its key features, its pros, and cons, as well as its price information.
DearMob iPhone Manager Review 2022: Manage Your iPhone/iPad without iTunes
In the past few years, iTunes is a must for iOS device management because anything that is related to iOS requires iTunes to provide drivers. Nowadays, there are some awesome third-party iPhone, iPod, and iPad management software that can manage your iOS devices to transfer photos, music, videos, books, voices, etc between your PC and Mac. Importantly, iTunes is no longer needed. DearMob iPhone Manager is such an iTunes alternative. 
And, it comes with a straightforward user interface for a better user experience. Do you want more details? Please go ahead reading my review for DearMob iPhone Manager.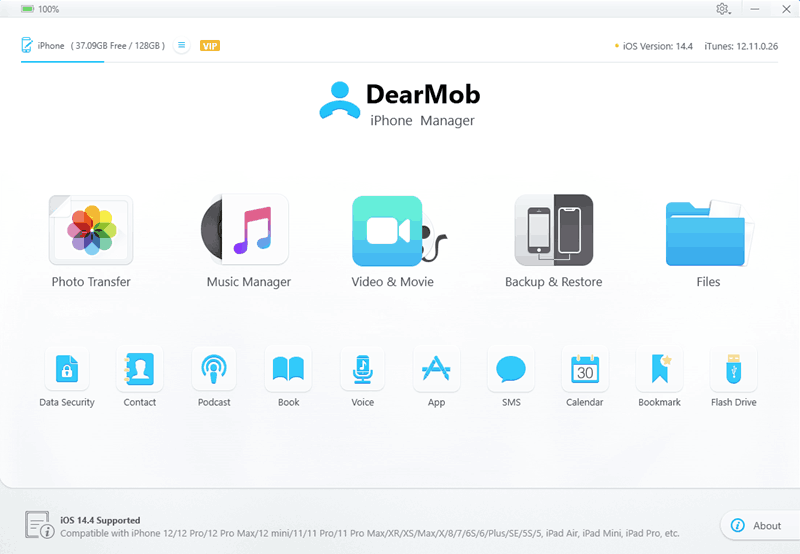 DearMob iPhone Manager Full Spec, Installation, and Trial Limitations
DearMob is a branch company of Digiarty Software Inc. It develops 5KPlayer as well. For more details about DearMob iPhone Manager, please check it out here:
| | |
| --- | --- |
| Name | DearMob iPhone Manager |
| Publisher | DearMob, Inc. |
| Supported OS | Windows 7 to Windows 10, Windows 11, macOS 10.6 to macOS 12 |
| Supported Device | iPhone, iPad, iPod with iOS 7 or later |
| Homepage | www.5kplayer.com |
Is DearMob iPhone Manager Safe? DearMob Installation
Definitely YES! DearMob is a subsidiary corporation of Digiarty Software, Inc, a verified developer by Apple and Microsoft. And, installing DearMob is very easy. On Windows, you just need to allow it to make changes to your computer and hit the big INSTALL button. And, that's it! It takes a few seconds and you can open the program right after the installation.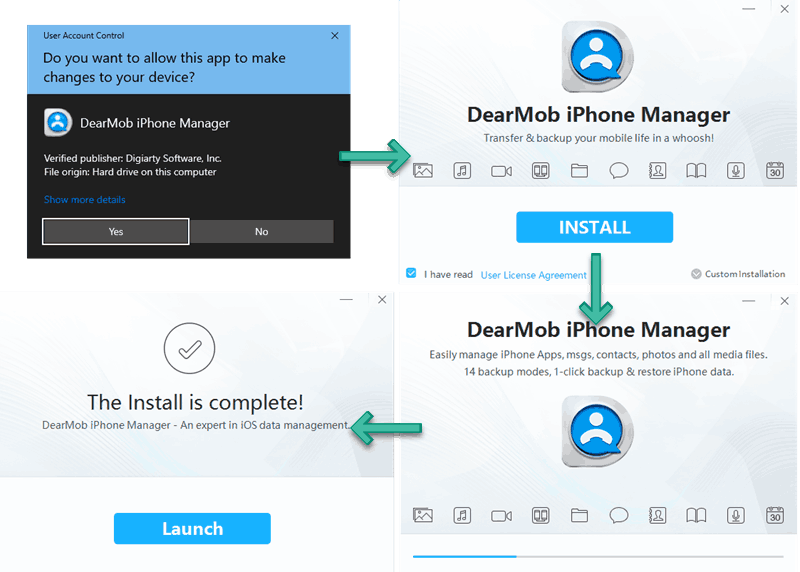 If you are on a MAC, including the M1 Macs, you just need to double click the .dmg file to mount and then drag the DearMob.app to the Applications folder as the arrow suggests.
DearMob iPhone Manager offers 100 points each day for the trial. You can transfer up to 50 photos, or 20 music files, or 600 MB videos, a backup, and restore. For more details, you can check the below chart: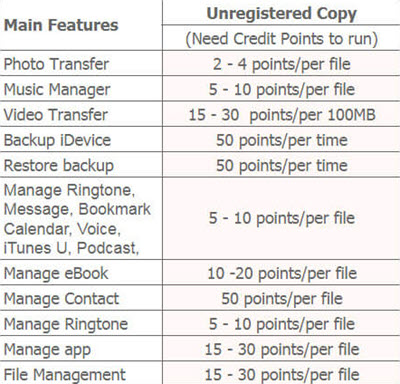 DearMob iPhone Manager Key Features
In this part of the review for DearMob iPhone Manager, you will see the key features. And, they are also the main reasons why it is recommended as a great iTunes alternative. 
Easy to Understand Interface
DearMob iPhone Manager is easy to use with the straightforward and self-explaining user interface as you can see below. When you see Photos, we know that's where we manage our photos. And so do Videos, Music, etc.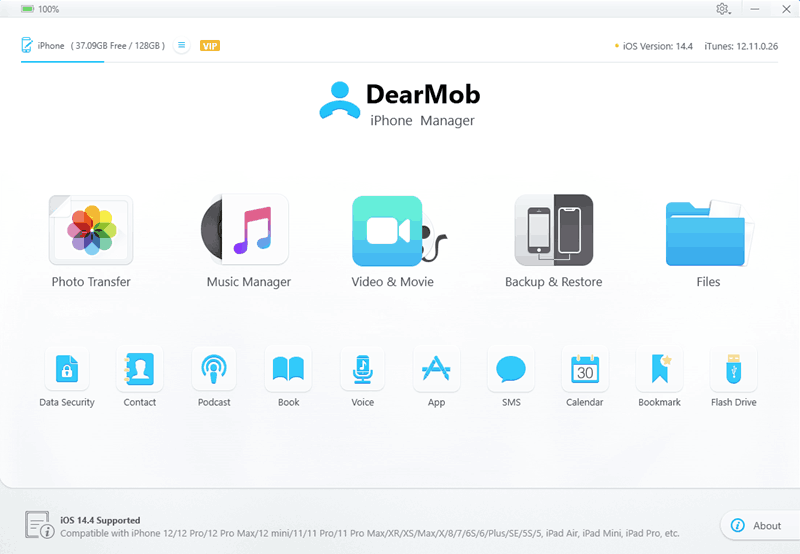 Backup Your iPhone/iPad without iCloud
As a qualified iTunes alternative, a full backup and restore feature is what we cannot miss. If you use iCloud for backup, you may have to pay extra for space, and a good internet connection is needed. Unlike iCloud backup, DearMob is the offline backup without iCloud. And, I do believe DearMob iPhone Manager does a better job. The backup is fast and restore is easy.
When I was using iTunes on my Windows 10, I always found my C drive full. And this is just because iTunes automatically did a full backup of my iPhone without my permission. It is about 40 GB of data right into the C drive! And there is NO WAY to change that.
In this respect, DearMob iPhone Manager is very easy to understand. Importantly, we are free to change the location of our backup. As you can see, I set it to H drive and it is an external drive!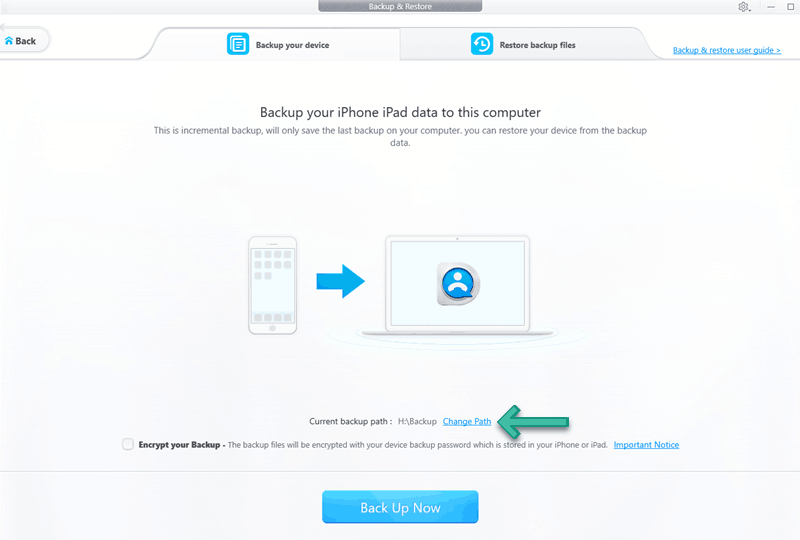 Encrypt Your Backup for Comprehensive Security
For comprehensive and better security, we can encrypt our backups with a password. You can set it here in the program: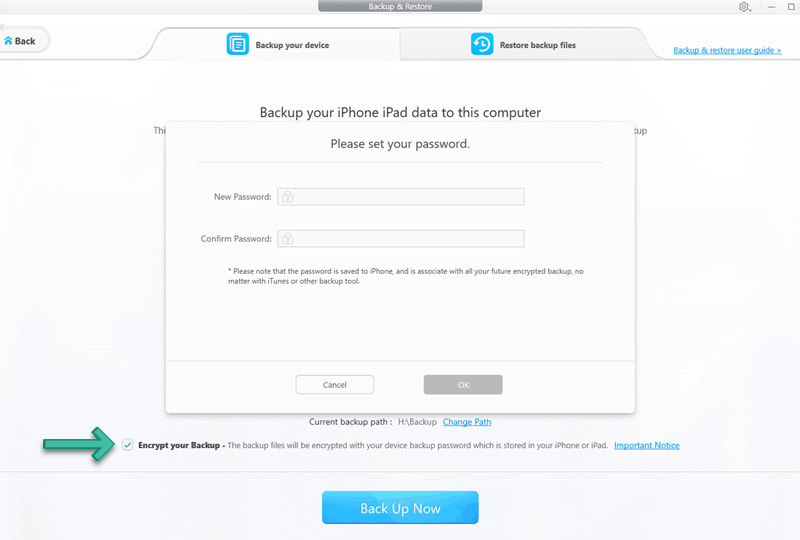 However, always be sure to remember the password. If you forget it, there is no way to restore it. But you can erase the password by resetting all the settings on your phone.
I myself prefer to leave it unprotected for the following two reasons. First, I myself don't remember passwords at all. Second, an Apple ID password is required if you want to access the restored apps, which I do believe is secure enough for me.
It's one of my main reason, or maybe yours too,  to find an iTunes alternative that I need to save and transfer photos taken with my iPhone to my computer. While we have the Photos.app to manage all our photos. However, there is no way to manage photos in iTunes on Windows. And, there doesn't seem to be a good iOS photo manager on Windows. Things are getting worse that I usually cannot see any contents in Drives and drives and it says "This folder is empty". Isn't very annoying?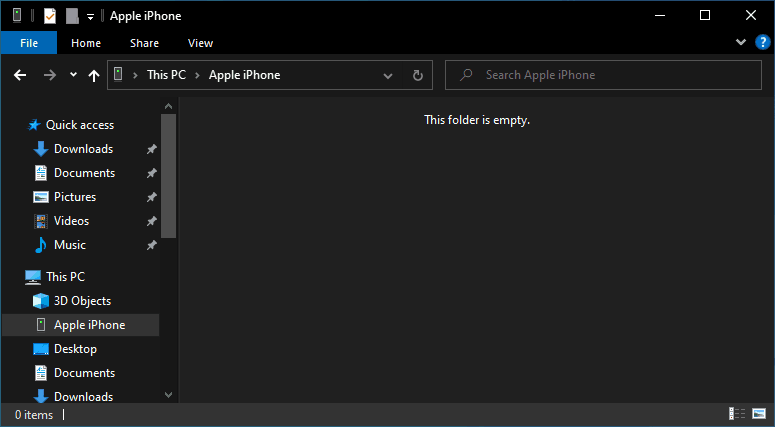 With DearMob, managing your photos and pictures taken by your iPhone or iPad becomes much easier. Once connected, go for Photo Transfer to manage all your photos. All the photo thumbnails will be displayed for your preview within seconds, even for thousands of thousands of photos. Here, you can sort your photos by day, month, or year.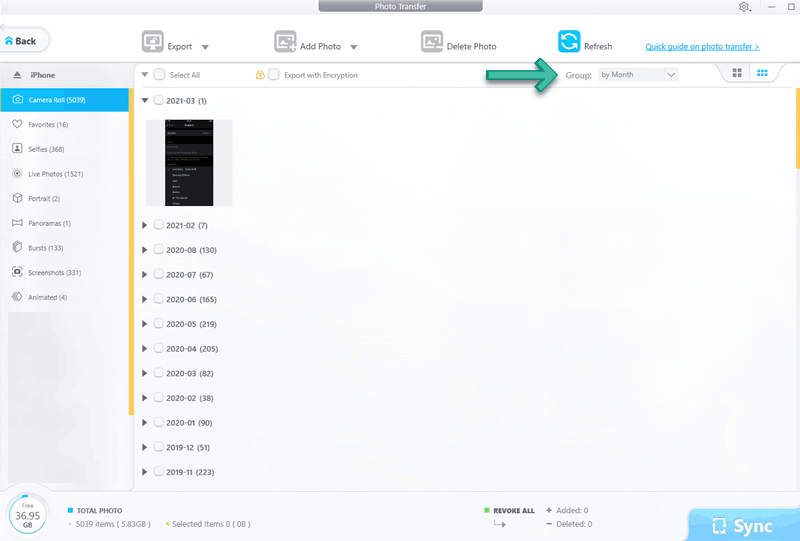 Since iOS 11, photos taken by your iPhone or iPad are saved as .heic by default. HEIC is a highly compressed image format and was adopted by Apple in 2017.
You can convert HEIC to JPG with DearMob iPhone Manager so you don't another a paid add-on to view your HEIC files on PC. But you can also export your photos originally as HEIC that keeps the original date created.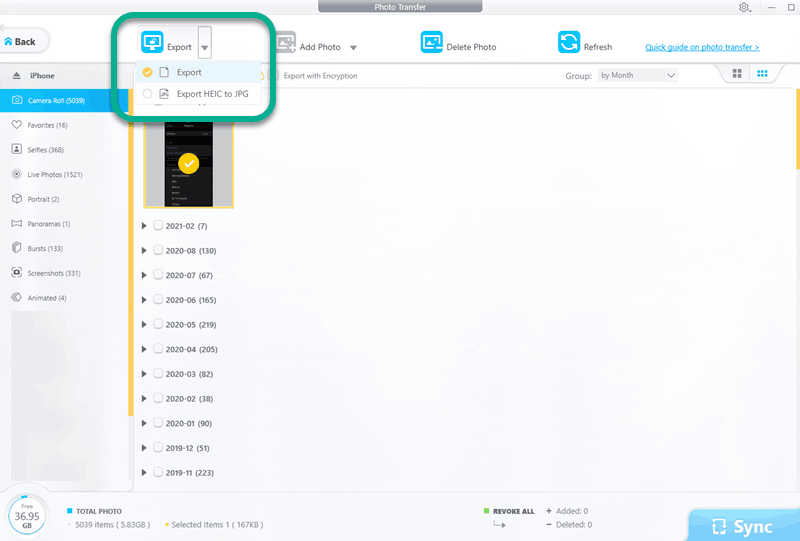 One more thing for your attention, please. If you want to transfer photos, images, or pictures from your PC/Mac to your iPhone, iPad, or iPod, you will have to create a new album first.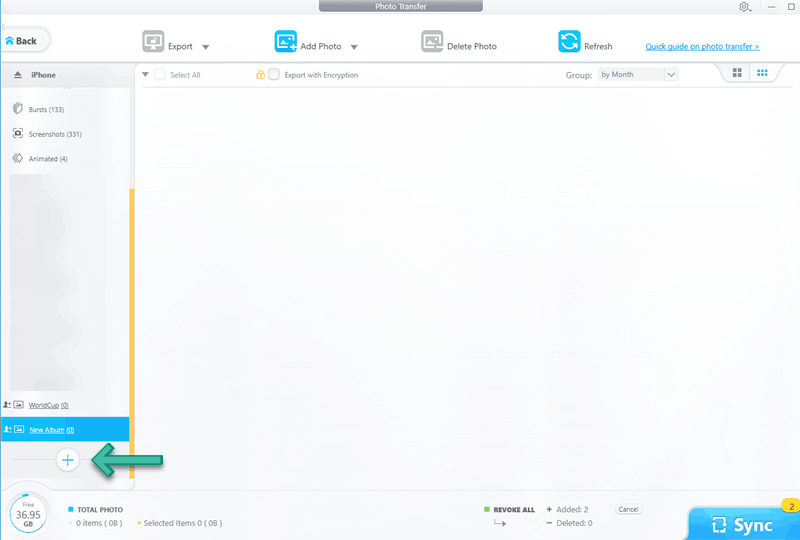 Transfer Music/Video Between iOS, PC/Mac
You can go for Music Manager and Video & Movie to manage your music and videos. You can transfer music and videos between your iPhone, iPad, or iPod and Windows PC or Mac.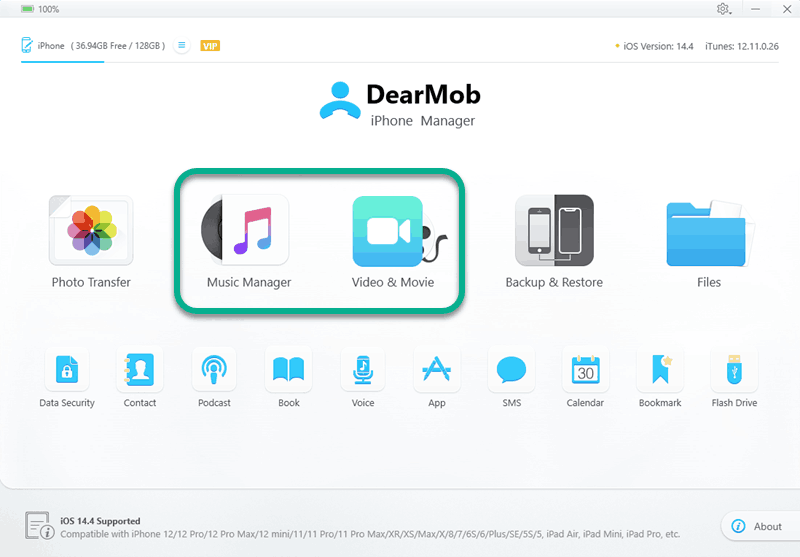 Transfer Any Video/Music to iPhone/iPad
As is known to all, the video and audio supported by iOS are really limited and there is no way to transfer lossless audios like FLAC or APE, HD videos like MKV or M2TS to your iPhone or iPad with iTunes. You always have to convert them to iOS compatible formats before transferring.
But now, it's so convenient to transfer any video or music as DearMob iPhone Manager will automatically convert MKV, M2TS, AVI, WMV, FLAC, APE, OGG, etc to the best compatible format.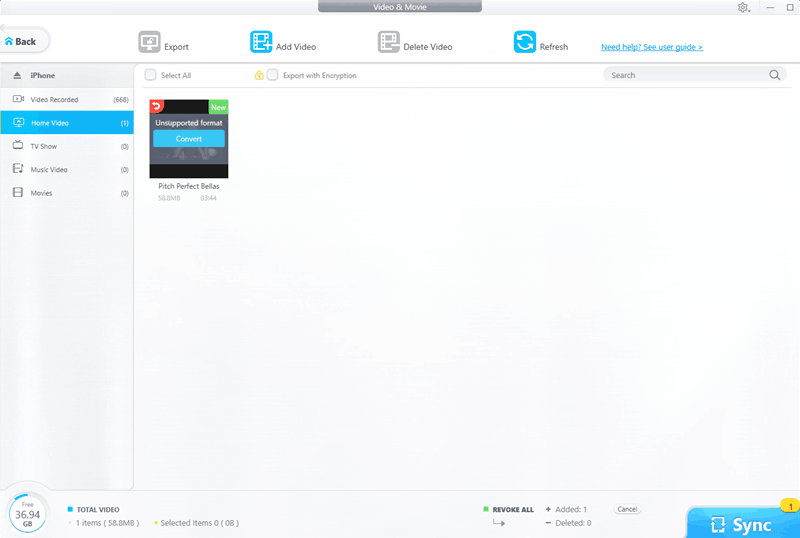 You can add any music or video to the alternative and then hit Sync. DearMob will do the rest for you. 
Managing playlist within DearMob is just a few mouse clicks. You would only need to create a new playlist first, drag and drop all kinds of music to the new playlist, click the SYNC button to make the changes. DONE!
On Android, I used my favorite songs as the ringtone, and it's very easy to do so. But on iPhone, to be honest, I don't quite know how to do so as I can only find the built-in ringtones.
After using DearMob, I can now personalize my own ringtone by creating one with it. You just cannot imagine how easy it is to do so! You just have to move your mouse over to the songs in Music Manager and hit the button "Make Ringtone" to cut 40 seconds of your music to create a ringtone by drag-and-drop. Click OK and then Sync to confirm making the changes.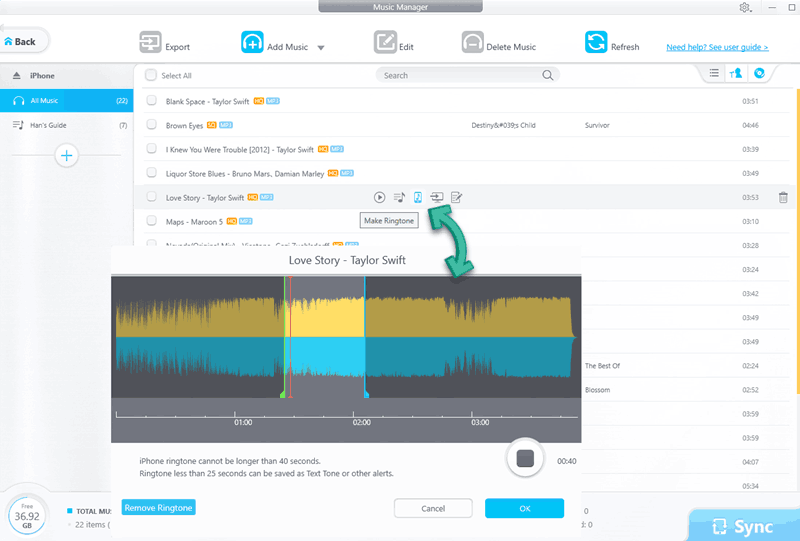 And you will see the ringtone you make in Settings-Sound & Haptics-Ringtone.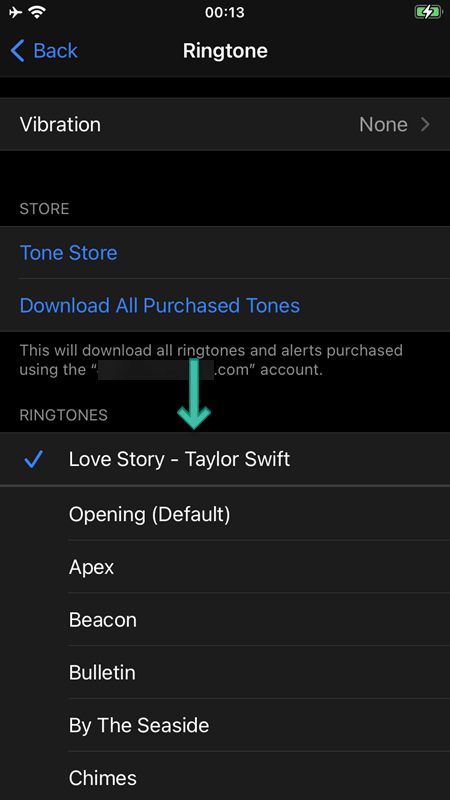 Backup contacts without iCloud
iTunes does not manage our contacts. What if we want to back up our contacts to the hard drive? Practically, DearMob iPhone Manager provides you such a solution to export, edit, delete and merge contacts on your computer. 
You can export your contacts in VCF, PDF, TXT, or HTML for better compatibility with different possible devices.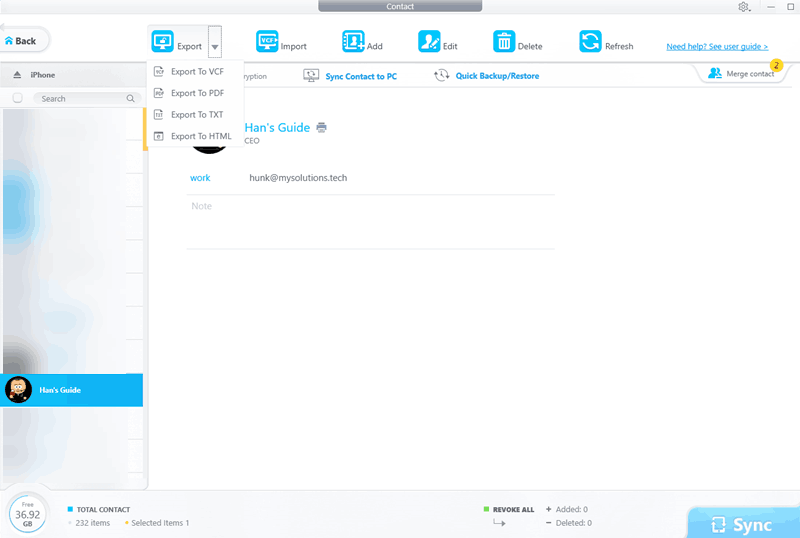 You can also import contacts to your iOS devices. VCF is supported to import.
Encrypt Photos/Videos/Contacts
Like iTunes, DearMob can protect your pictures, videos, movies, or recording as well as your contacts. To get your data protected, you need to go for Data Security, add your files or a whole folder, set a password that's at least 8 digits long.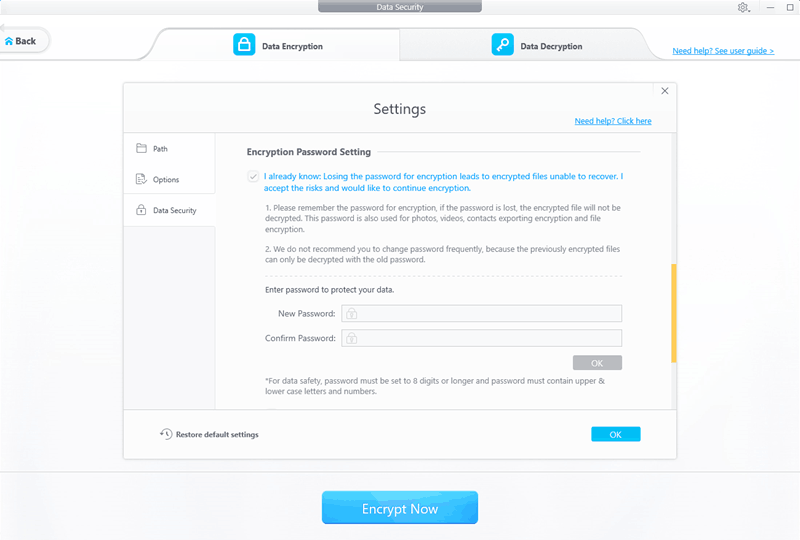 Always be sure to remember your own password because you'll need it to decrypt the files that are encrypted by DearMob. Note that there's no way to recover that password. If you lose it, you lose your data forever.
DearMob iPhone Manager New Features
In this part of the review, I'd like to keep a record of some of the new features added to DearMob iPhone Manager. Most of them are major updates that are worth recommending.
On April 8, 2021, DearMob iPhone Manager adds some new features for its version 5.2 and now you can connect your iPhone/iPad to the program via WiFi. And, DearMob offers detailed guidance on how to connect via WiFi.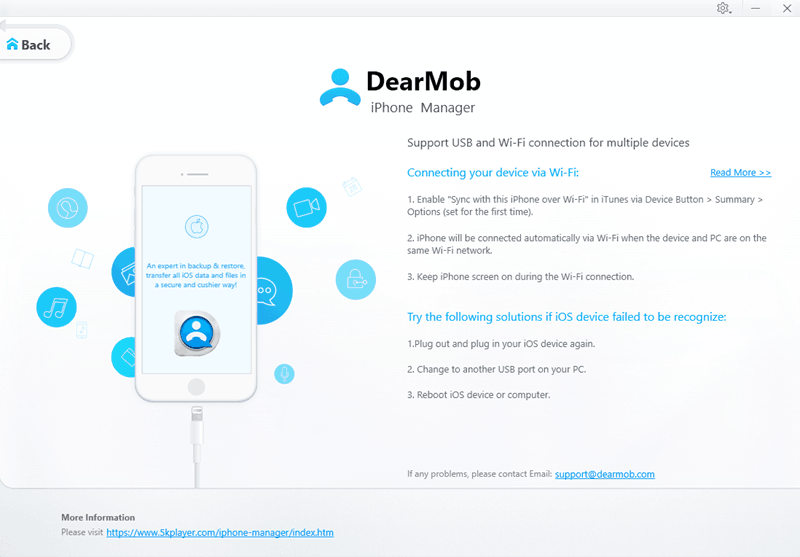 For the first time you want to connect your device via WiFi, you will still need to connect it with a USB cable and enable "Sync with this iPhone over Wi-Fi" in iTunes in Settings-Summary-Options: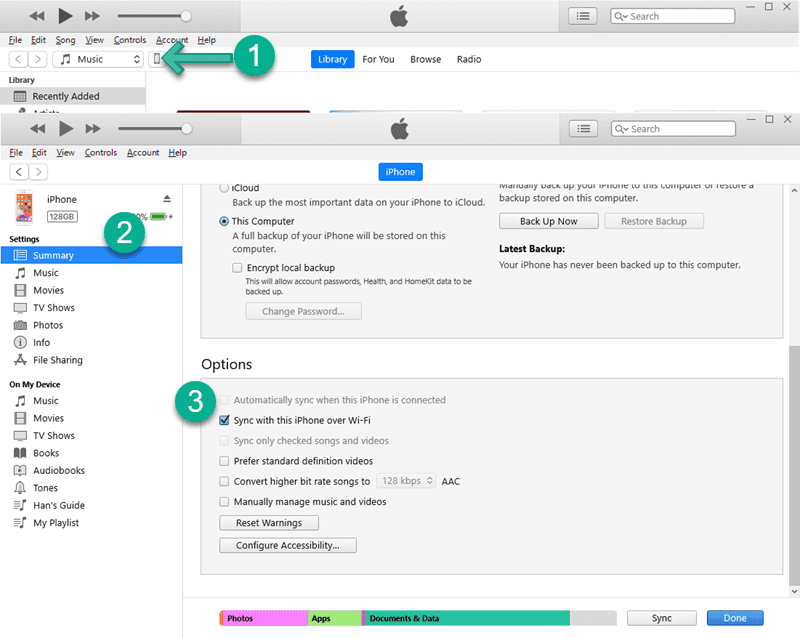 From what I can see, this feature is unstable to use. Please, pay close attention to the below tips: 
1. Your iPhone/iPad and your computer must be connected to the same network.
2. For a better connection, you will have to keep your iPhone/iPad screen unlock and don't turn off the screen. If you want to leave it during backup or importing/exporting, you may have to set the Auto-Lock to "Never" in Settings > Display & Brightness.
3. For faster and more stable backup, a USB connection is always recommended.
Export photos by year/month/date
Even though it's a new feature, it's disabled by default. You will have to go for its settings and enable it here: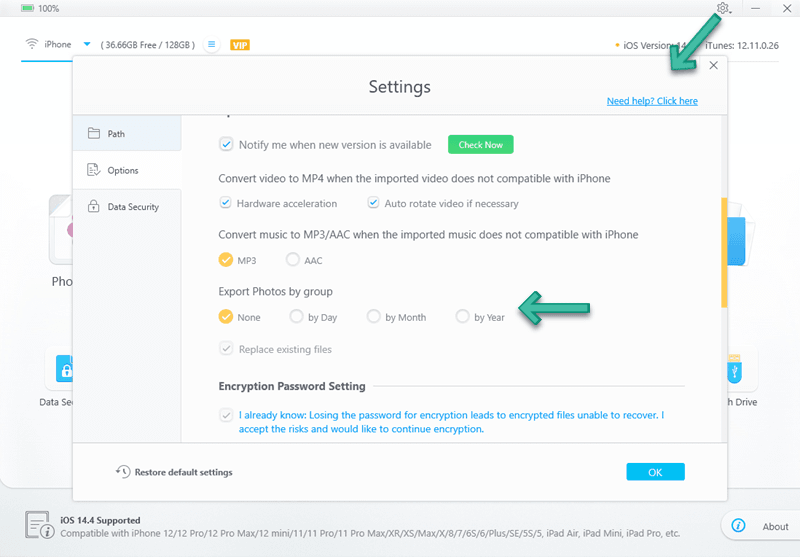 In particular, in this review for DearMob iPhone Manager, I have summarized the points that are good compared to iTunes and the ones that I did not like or want.
Pros: 
Easy to install and understand
The program is stable to use, no common errors
No need to have iTunes installed
Only 2 clicks required for backup
Intuitively manage your photos, videos
Files can be encrypted and backed up
It's fun yet easy to make ringtones
Cons:
Not support for iTunes library
DearMob iPhone Manager Review: Final Verdict
How do you think of DearMob iPhone Manager after reading my review? Well, here's my last suggestion: always be sure to have a trial first and make sure it works before you finally decide to purchase it.
From my experience of using DearMob iPhone Manager during the review in the past few weeks, I do believe it works and can be a good iTunes alternative with nice and functional features.
Bonus Gift: Free HEIC Plugin for Windows
I know there are free HEIC plugins or add-ons for Windows 10 in the Microsoft store. I have tried a couple of them, only to find they are either slow in loading HEIC or they come with ads. Here's a 100% free HEIC plugin for Windows, with NO ADS. 
Windows Photo Viewer would then be used to open HEIC files. Here's how it looks. Is it what you are looking for?