What would you do if you've just captured some fantastic footage, but it doesn't appear to be of high quality? What would you do to have a better watching experience with your old SD videos on your modern 4K TVs? Don't throw your cherished videos away! We can use AI video upscaling software to improve and enhance your video quality!
In this AVCLabs Video Enhancer AI review, I'd like to show you how it works to upscale videos with the help of AI technology. This does not involve more knowledge and skill because it is easy to use with a few mouse clicks.
AVCLabs supports a wide range of input videos, like the common ones like MP4, MOV, MKV, WMV, M2TS, AVI, and old formats like 3GP, FLV, VOB, WMV, etc.
The output formats are currently Mp4 H.264 and AVI. The AVI is uncompressed and lossless. However, during the review of AVCLabs Video Enhance AI, I found the output was also HUGE. I upscaled my 1M 360P sample (10 secs) to 1080P, and the AVI is 890MB! So, I'd always take MP4 as it is much smaller and widely supported by different devices.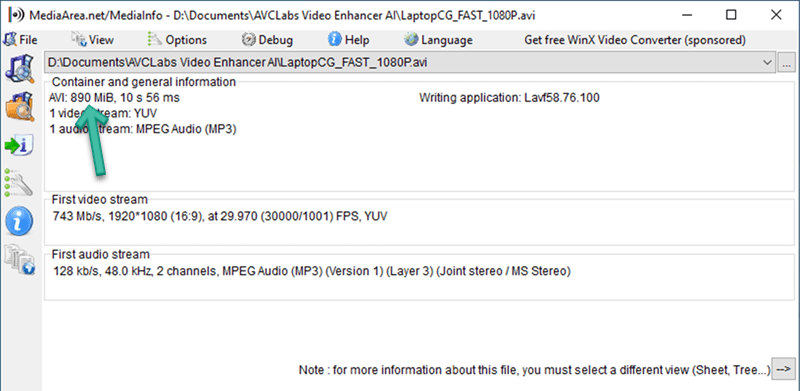 You can have a try to see how AVCLabs works for you. All three videos can be upscaled in their entirety with a watermark. Anyone interested in AVCLabs Video Enhance AI can get a full trial for their PC and Mac here:
AVCLabs Video Enhancer AI Review: The Key Features
In the field of AI video upscaling, the AVCLabs Video Enhancer AI is one of the best AI video enhancers available. AVCLabs Video Enhancer AI can enhance low-resolution videos, either animations, movies, or recordings, up to 8K with excellent quality. In this part of the AVCLabs Video Enhance AI review, I will list its main features for your reference.
Modern and powerful AI engines
AVCLabs Video Enhancer AI, as the name suggests, is an AI video enhancer for videos. AVCLabs develops its own AI algorithms and trains them with machine learning to automatically improve your video with ease. Currently, there are two AI models: Upscale and Multi-frame Enhance.
For the first time you use AVCLabs, make sure it is allowed for internet access as it will download the required AI runtimes as shown below: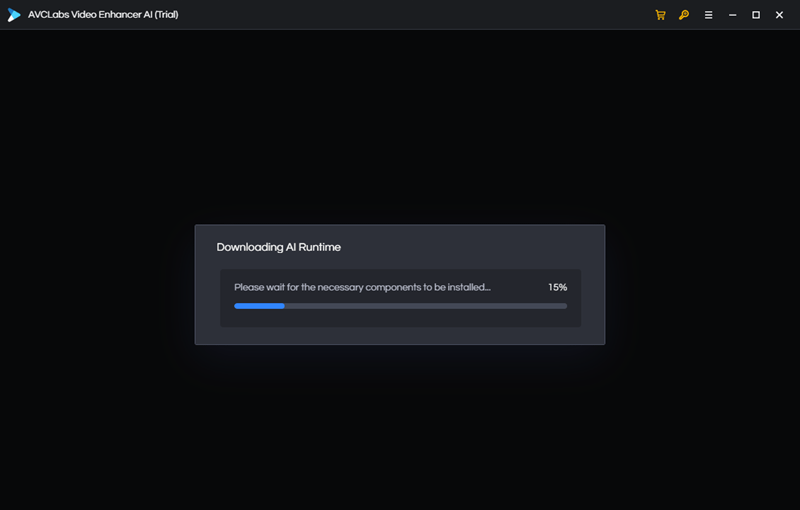 Video Upscaling and Enhancement Using AI
It's time to make your videos look better! With the help of AI technology, AVCLabs Video Enhancer AI is able to take low-resolution videos to a new level while maintaining picture quality. The maximum resolution you can set for upscaling is 8K. However, from my experience, it does not make too much sense to upscale a 360p video to 8K. To get true better results, we can try upscaling video from SD to 720P or 1080P, 1080P to 4K, or 4K to 8K. 
Check how it works here: 
One of the most striking features of AVCLabs Video Enhancer AI is the "AI Video Colorizer" function. This innovative tool takes your black-and-white footage and uses deep learning techniques to transform it into vibrant, full-color content, giving your videos a modern and visually appealing touch.
The AI Video Colorizer works by first analyzing each frame of the black-and-white video in detail. It uses artificial intelligence to identify and recognize various elements within the footage, such as objects, textures, and patterns. By understanding the context and composition of the scene, the AI Video Colorizer can accurately estimate the colors that were most likely present in the original setting.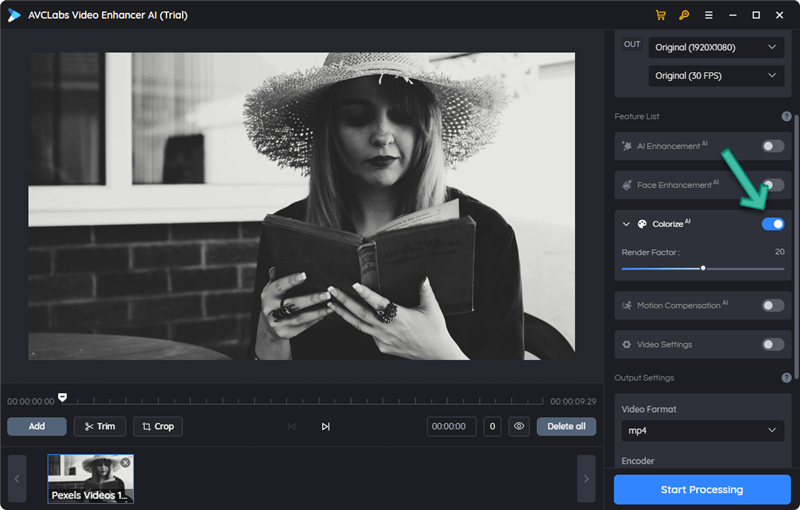 Once the AI Video Colorizer has determined the appropriate colors for each object and surface in the scene, it applies these colors to the footage in a way that looks natural and authentic. This process involves meticulous color grading and blending, ensuring that the colors are seamlessly integrated into the video without any visible artifacts or distortion.
The result is a beautifully enhanced video with stunning, true-to-life colors that add depth and dimension to your visual storytelling. Whether you are working with old family videos, historical footage, or any other type of black-and-white content, the AI Video Colorizer allows you to experience your memories in a whole new light. By breathing new life into your outdated videos, AVCLabs Video Enhancer AI enables you to preserve and share your precious moments with future generations in a format that is both captivating and relevant to today's audiences.
Camera shaking, low lighting, zooming in or out of the lens, fast-moving objects, and poor focus, to name a few, are just a few factors that may lead to video blurring. With the help of AVCLabs, you can quickly eliminate blur and background noise from your videos. It does the job automatically.
AVCLabs Video Enhancer AI can smoothly increase the frame rate of your videos(up to 120 FPS),  or interpolates missing frames, providing a more fluid and enjoyable viewing experience.
Also, the software intelligently creates slow-motion effects up to 16x to generate smooth, high-quality playback.
Face Enhancement is an advanced tool that focuses specifically on recovering and improving the appearance of faces in video content. The AI algorithm identifies, analyzes, and enhances faces within the footage, providing a more visually appealing and polished result.
The Face Recovery and Refinement feature is particularly useful for videos where the quality of facial features has been compromised due to factors such as low resolution, poor lighting, or motion blur. You can simply enable Face Enhancement here: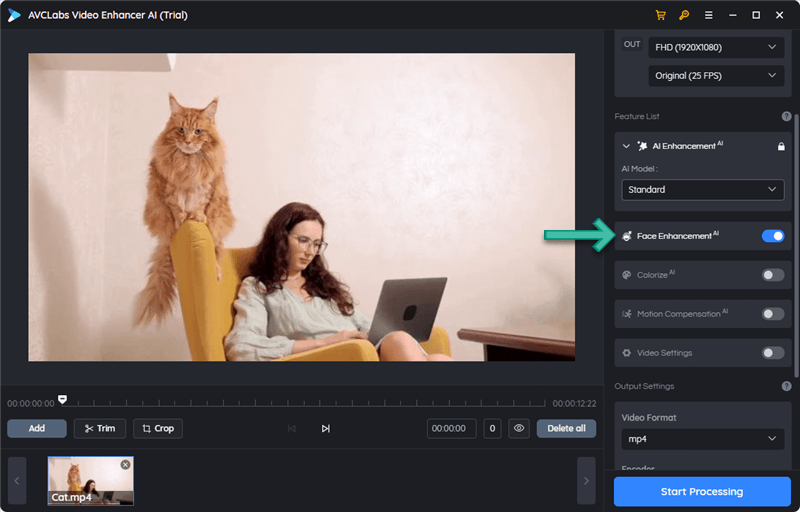 Wondering how actually it works? The AI algorithms first identify faces within the video frames, recognizing facial features such as eyes, nose, mouth, and contours. Once the faces are detected, the software analyzes their features, taking into account factors such as lighting, sharpness, and overall quality. Based on the analysis, the software applies a series of adjustments to the faces in the video. These adjustments may include improving skin texture, removing blemishes, correcting color balance, enhancing facial contours, and increasing sharpness. The goal is to make the faces appear more natural, lifelike, and visually appealing.
AVCLabs Video Enhancer AI supports both the CPU and GPU for video upscaling. However, we always recommend you upscale on more powerful machines with modern GPUs and larger RAM for faster processing.
For acceleration, Nvidia, AMD, and Intel GPUs are available. However, please be sure your system is newer than Windows 10 1903 or macOS Big Sur with Silicon chips.  For more details, please visit the official specification.
If your GPU is available for acceleration, it will be highlighted here: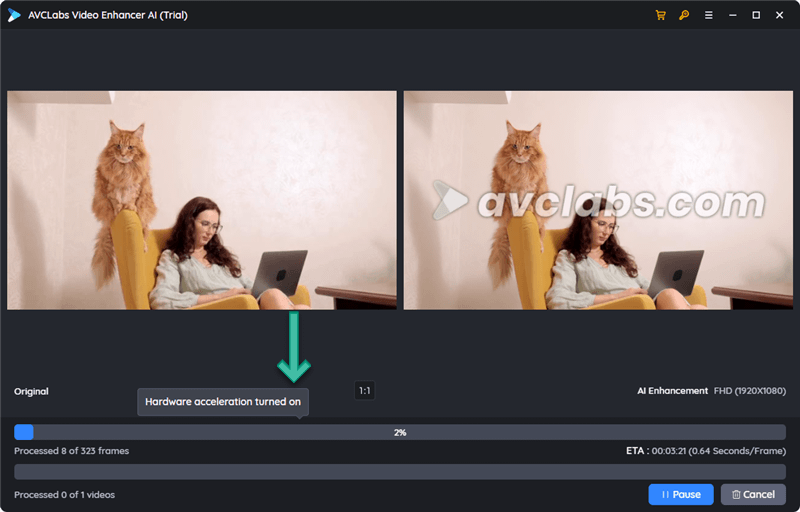 Tips:
For better outcomes and faster performance, Nvidia RTX graphics cards are officially recommended by AVCLabs for upscaling.
After your video is loaded, you can preview 30 frames by clicking on the video.
Note:
Audio is disabled in Preview. Also, there is a typo in the program. The preview is only for 30 frames, not 30 seconds.
You can also do a trim before upscaling. Set the start and end time as shown below: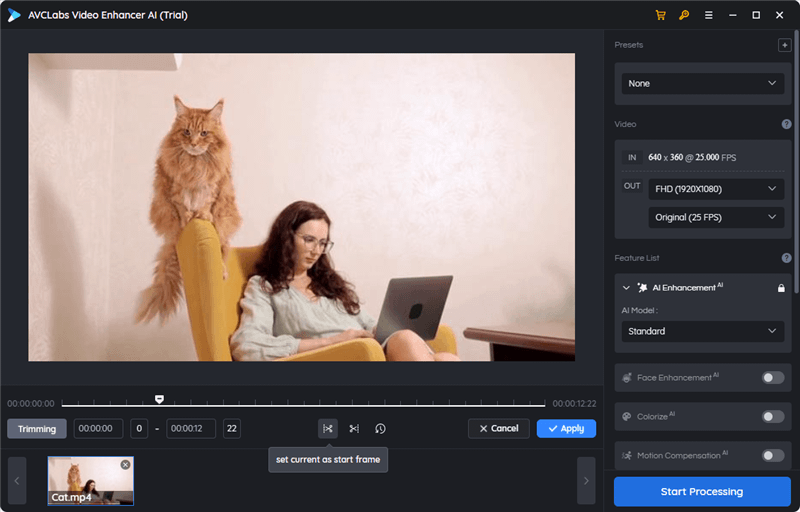 AVCLabs Video Enhancer AI is available for both Windows and macOS users under either a one-month subscription plan for $39.95, a one-year subscription plan for $199.95, or a perpetual license for $499. The two subscription plans come with a 5-day money-back guarantee, and the lifetime plan has a 30-day money-back guarantee. All plans are for one PC or Mac computer and include free updates and 24-7 technical support via email.
The one-month subscription is only $39.99. So, if you don't have a lot of videos for upscaling, it's good to go.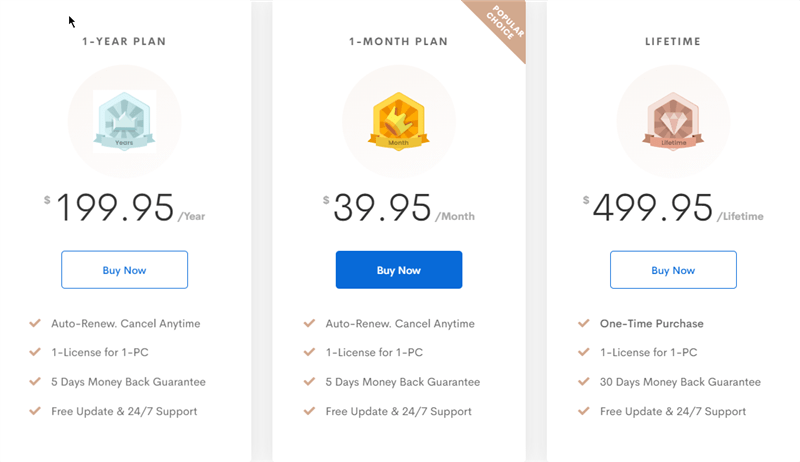 However, please note that auto-renewal is enabled automatically. If you don't want an auto-renewal, you can cancel it at any time. Here is how to cancel the subscription.
Advantages and disadvantages:
Here are the pros and cons for AVCLabs Video Enhancer AI:
Easy to use
Up to 8K of AI Enhancement
Auto face refinement
Flexible subscriptions

Great output quality
Older GPUs are not available for acceleration.
AVCLabs Video Enhance AI looks like an early version of Topaz Video Enhance AI. It's not that complicated, but clean and easy to use. As an up-rising star, AVCLabs does an excellent job of upscaling, and I am looking forward to more advanced options for advanced users and better support for early GPUs.
And thank you for reading my AVCLabs Video Enhancer AI review. Always be sure to have a trial first before making the final decision.