My desktop is over 7 years old and it's become slower and slower. Some time ago, I upgraded it from Windows 7 to Windows 10 and it seems to be better. However, with more and more programs installed, I'm afraid it's time to get it replaced until very recently the PC maintenance Wise Care 365 installed on my Windows 10 and I find it to make my computer faster. So, I decided to give Wise Care 365 Pro a review and share what I thought about it.
Wise Care 365 Pro Review: Overview
Wise Care 365 Pro focuses on what is really needed or helpful for users and makes itself an efficient PC registry cleaner, privacy protector, and computer speed-up tool. When some programs are installed into the computer, they'd always like to add themselves to the windows start-up. Clearing history or registry is believed by me to be one of the most important parts for PC clean. As a PC registry cleaner and privacy protector, Wise Care 365 Pro offers a straightforward way to keep your computer safe.
Is PC maintenance software like Wise Care 365 really helpful? Please keep reading about my detailed review for Wise Care 365 Pro.
| | |
| --- | --- |
| Publisher: | WiseCleaner |
| Price: | Free and Pro |
| Requirements: | Windows XP/Vista/7/8/8.1 and Windows 10 |
| Download: | Official Link |
PC Checkup-Is your PC healthy?
I'd always like to check how healthy my PC is now with Wise Care 365 Pro installed. Actually I force myself to do so because higher entries make me worry about my PC is at risk and lower score makes me comfortable. PC Checkup comes first of Wise Care 365 and it's Pro version where you can quickly start a full scan of your computer and the program will show your PC healthy status. How healthy do you think your PC is? Let's run a check-up and see the entries that need to be fixed: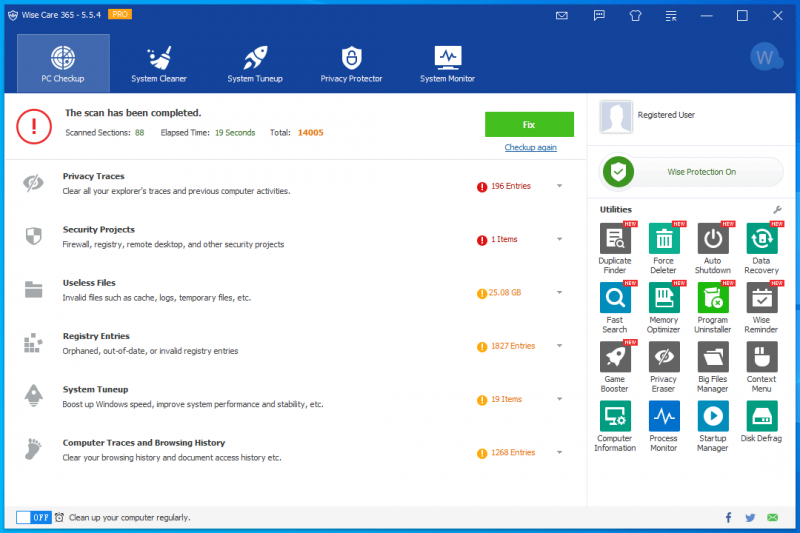 As we can see from the above screenshot, it scans privacy traces, security project issues, useless files, invalid registry entries, system tuneup, and privacy-related issues and gives me 14405 entries. With 1272 entries in total privacy records found like viewed pictures, accessed files watched movies or visited pages, the privacy protector gives such a low scan and suggests to fix it. The Fix button gives you a quick fix and make your computer 10 out of 10.
System Cleaner-Registry clean is important
Regular cleaning of the registry allows you to prevent the accumulation of unwanted junk data in the registry. The clean and stable registry can significantly improve the performance of your PC. As the most frequently used components in PC, it is highly likely that the registry is corrupted or invalid due to various reasons, making your computer in errors like access violation. Wondering on how to speed up your PC on booting? The cleaning registry helps as well. Uninstalled programs leave junk on your start menu and registry and to clean them will make your computer faster.
Besides, DLL errors, ActiveX errors, and many Windows errors, as far as I know, are caused by the invalid registry and can be fixed by cleaning the registry as well. As a PC registry cleaner, it is important and recommended to clean registry for invalid ActiveX/COM components, files left by removed software, shared DLLs, start menus, etc. Wise Care 365 scans the registry and all that is related to shared DLLs, drivers, etc. can be detected. Therefore, regular cleaning of the registry is key to maintain the system without error or even making it faster.
Wise Case 365 Pro will notify you how many items can be removed, but no worry, the unsafe entries won't be selected for deleting. If you are not sure about all those things, just leave it as the default.
System Tuneup-How to speed up your PC
I see a lot of Windows 7, Windows 8 and Windows 10 users, including me, from forums, Yahoo answers, etc complains the computer's running slow-the system takes longer to boot, programs take longer to respond or even get stuck, and seek for answers how to make the computer faster. Actually, problems can be completely fixed or at least better than before, for example, optimize prefetch parameters, disable unnecessary programs or services from booting along with the system, etc to improve start-up speed, optimize fresh policy of Windows file list, optimize processor performance to make applications, games, etc to run more smoothly, optimize disk I/O while CPU is idle, boost the display speed of Aero Peek to make your whole system faster.
Wise Care 360 Pro does all those with two clicks-Scan and Optimize. It is as easy as that.  Note that it can also speed up your network. 
Start-up speed will somehow show you how fast or healthy your PC is. The faster or more healthy your PC is, the less time it takes to start. My computer is 7 years old and after system and start-up optimization, it is able to run the whole system within 40 seconds. And there is no SSD in this computer, it is a 5400RPM 320GB HDD. I assume it is good or acceptable, considering it takes about one minute or two in the past. This is the most recent record before and after optimization.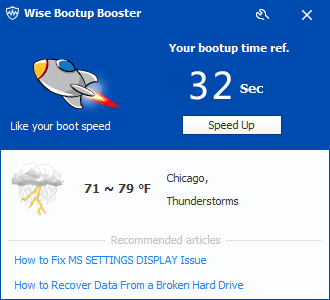 Privacy Protector-Your Privacy Guard
For any reason, one would like to protect their own privacy and prevent sensitive data from being exposed to the Internet. It's crucial to me to keep all most all data private. Wise Care 365 Pro works as your own privacy guard that cleans histories of visited pages, accessed files, as well as watched movies, etc.
Disk Eraser and File Shredder should be used with caution. Any file deleted by File Shredder will no longer be recovered through any other third party programs.
A tiny tool is added to Wise Care 365 as the password generator to create a strong password for you just as you wish.
What's the difference between Wise Care 365 free and pro version?
There is a chart that shows the difference between the free and pro version of Wise Care 365 for your reference.
| | | |
| --- | --- | --- |
|   | Pro Version | Free Version |
| PC Checkup | √ | √ |
| Clean registry and disk junk | √ | √ |
| Deeply clean your private data | √ | √ |
| Make your PC faster and more secure! | √ | × |
| Defragment registry, disk and tune-up system | √ | × |
| Automatically update to the latest version | √ | × |
| Fantastic new skins & themes | √ | × |
| Unlimited 7×24 Technical Support | √ | × |
| system registry protecting function | √ | × |
The free and pro version shares the same .exe setup file. Once you register the program, you make the free version pro and remove all the limitations in the free version. However, it is clear that the free version does not clean/protect your registry nor tune up the system, which are the main features needed for PC maintenance. For those who want just want a privacy protector or just don't know how to make your computer faster, the free version is good to go. For more powerful functions, the pro version is worth the pay.
Here you can save $35.98 for the lifetime subscription and it is for 3 PCs. It's $13.49 cheaper than the current price on the official site. Checkout with PayPal! 
If you just want the one-year license, I have a discount as well. Just let me know.
Han's Tips on how to keep your PC healthy
When I review Wise Care 365 Pro, I see it is helpful to make the computer faster and keep the PC healthy, but it is still important to keep a good habit of using your own computers. Below are some tips I think are worth a mention.
When surfing on the internet, be careful about the unknown website. Use Chrome or some other safe browsers that will warn you about an unsafe site. Be very careful about the porn site, you'd better go one you know.
When you are downloading programs on the internet, you'd better to their official website or large download site like CNET, Softpedia for safe downloading.
When installing a program, use custom installing instead of the default one and be careful about each step as it may install some other programs you don't need or add itself to boot along with Windows.
About the Desktop folder. It's not somewhere we store our important data, store your sensitive data to somewhere safer.
Pros:
The program works smoothly on my Windows 10 and makes my old computer faster
It protects the computer and prevents any unwanted changes to the computer like default browser or browser home page changes
It will ask your permission to allow a newly added program into the windows startup
Multiple UI themes supported. I like it better than CCleaner just because of UI.
Very useful utilities like auto shutdown, program uninstaller, etc
Cons: None that I can see.
Summary:
After the review, I do believe Wise Care 365 Pro is an efficient PC registry cleaner, privacy protector, and computer speed-up tool and does everything you can think of to keep Windows 10, Windows 8, Windows 7 clean, secure and fast.