I was on Reddit some days ago and found some users were looking for a 60FPS video converter and wondering how to convert videos into 60FPS. The full question below:
Wondering if there is other programs to convert videos(like mkv,mp4,avi etc) to 60 FPS. I remember using one called InterFrameGUI and it was the best. Just recently upgraded my PC and InterFrameGUI is now dead. Wondering if anyone knows a good alternative. And yes, I already tried Hybrid and it was too slow. In addition, I also tried something called Internet Friendly Media Encoder. If you also know an alternative, can you kindly give me a guide to do so? Thanks in advance.
In this post, I'd like to share my experience of how I convert videos to 60FPS with the top five 60FPS video converters on both PC and MAC.
I'd like to recommend a free tool to check your videos' detailed information like resolution, bitrate, frame rate, etc. It is free to use on both PC and Mac and it's very clear to see if your video is 60FPS or not. 
Once installed, simply drag and drop the video to the program and you will see the details as shown below and you will see my video is 4K 60FPS: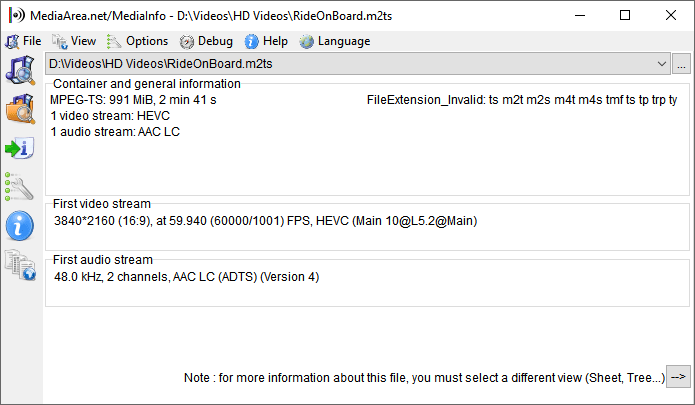 You can also check if your video is 60FPS right within the 60FPS Video Converter like Wondershare UniConverter. Drag and drop the file you want to convert from 60FPS to the 60FPS video converter. Right-click on the file and choose Media Information: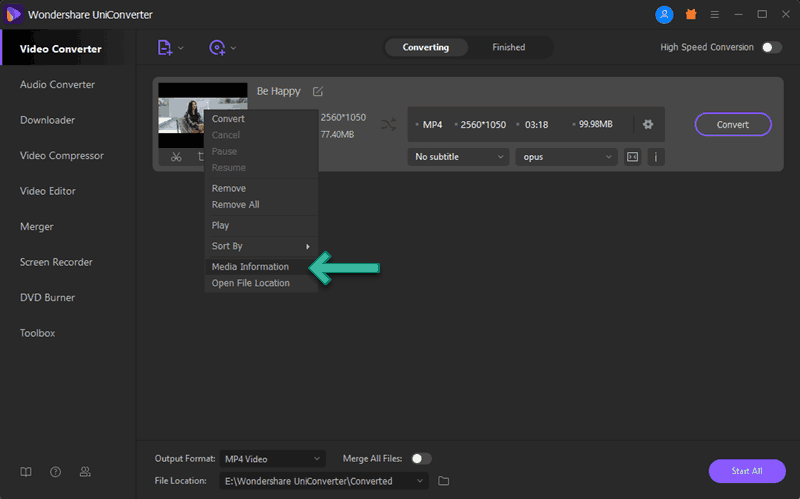 You will see the video's detailed information like the video codec (like MPEG4, H264, HEVC, VP8), resolution (1080P, 2K, 4K), bit rate and frame rate, etc like what we do in MediaInfo. MediaInfo is recommended just because it is a more general solution for checking videos' details. 
Top SIX 60FPS Video Converters
As far as I can see, a couple of years ago, most videos are in 30 FPS, but in the most recent years, video cameras from Sony, NEEWER, etc, as well as smartphones like iPhone and Samsung, are able to record videos over 60 FPS even 120 FPS. Also, some HD DVDs and Bluray discs are in 60FPS. Most of the video formats, as I can see, are M2TS/MTS or AVCHD, and MKV is able to contain videos in 60FPS as well, and we do have the eagerness to convert those M2TS/MTS or AVCHD videos to 60FPS in MP4, MKV, etc with decent and user-friendly 60FPS Video Converters. And there are the top 5 of them. 
Update:
Wondershare Video Converter Ultimate is now renamed Wondershare UniConverter, but it looks and works the same. So, this guide still works.
I know Wondershare a long time ago but didn't use its programs much until I try to convert my 59.94 FPS MKV to MP4 with the same FPS as I have trouble doing so as Freemake Video Converter fails to start up at all and other majorities of video converters like Leawo Video Converter only supports up to 30 FPS. 
Wondershare Video Converter Ultimate is the very 60FPS video converter that is able to convert 30 or 60 FPS 4K M2TS/MTS, MKV, AVCHD, etc to 60FPS 4K MP4 M4V MOV OGA. I have a sample 4K video in MKV with the video frame rate over 30, actually 59.94, so I decide to have a try and convert it to MP4. 
You will see the detailed guide below on how to use Wondershare UniConverter, the very 60FPS Video Converter, to convert any video to MP4, M4V, MOV, and OGA in 60 FPS. 
DVDFab is an all-in-one solution for Blu-ray DVD ripping, copying, creating, and video converting, burning, and downloading. It's one of the top Apple TV converters that can convert any video for your Apple TV 4K and Apple TV HD. I use the program to convert my MKV files for streaming or convert MKV to MP4 without losing any quality. 
With DVDFab, you are able to upscale MKV to 8K with 60FPS and it is easy to do. Frame rate is hidden in Advanced Settings in the 60FPS Video Converter from DVDFab. 

And you will change the Frame Rate here. DVDFab will mark the original FPS for you.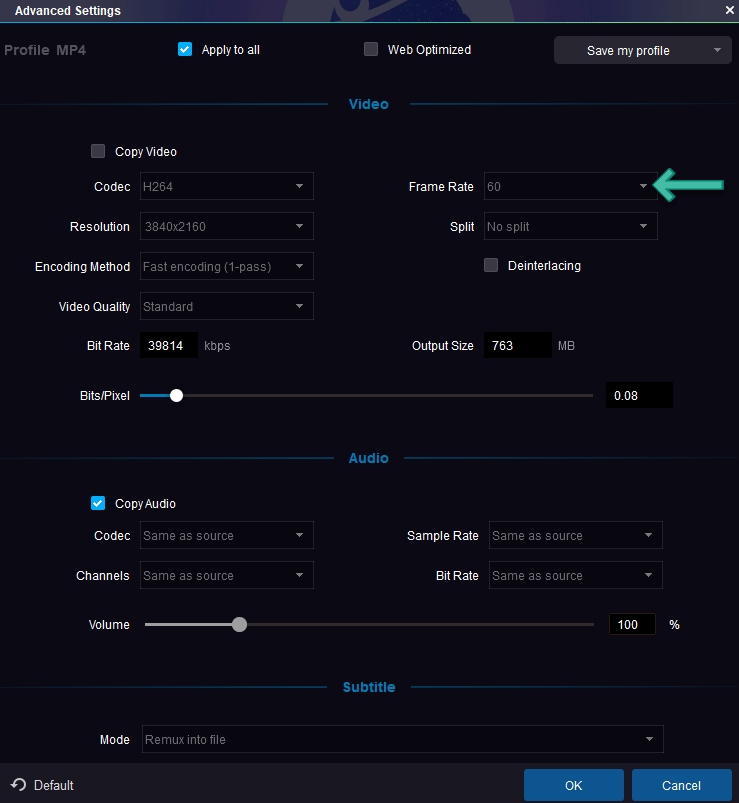 WinX HD Video Converter Deluxe is a new program from Digiarty and it's an all-in-one 60FPS Video Converter that can rip DVDs, download 60FPS YouTube videos, record screen, and webcam(Mac version available). I am quite impressed by its Toolbox which can do video stabilization and denoise GoPro videos and correct the eye-fish video for you. Besides, you can also custom thumbnail with WinX like what we do in Wondershare UniConverter. 
You can set the FPS before you convert MKV/AVI to MP4 in 60FPS. Actually, you can convert any video to 60FPS. You can choose the Frame Rate in its Option: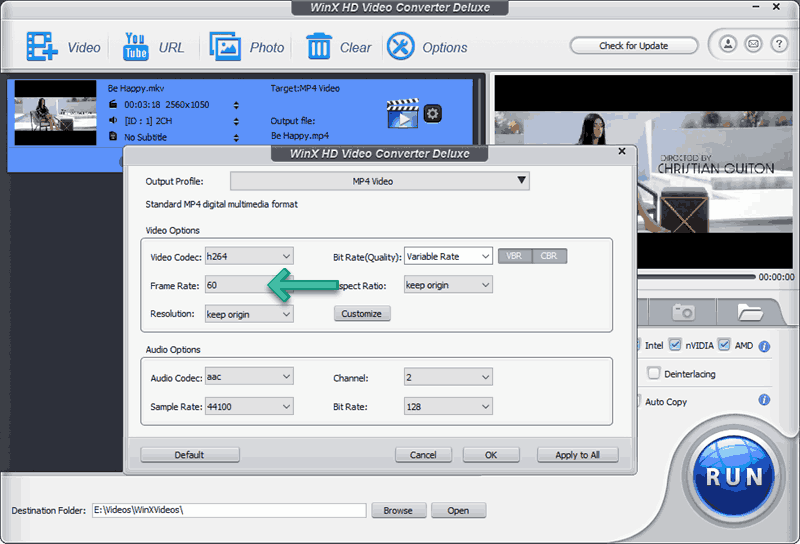 I don't use Movavi much, but Movavi is definitely one of the best video converters out there with unique features. For example, you can convert MKV AVI to full display phones [18.5:9 or 19.5:9 aspect ratio]without any black bar. 
To my surprise, Movavi Video Converter Premium not only supports 60FPS video converting, but also 120 and 240FPS! I assume this is currently the only program that supports converting videos to 120 or 240 FPS. And it is working great! 
Frame Rate options can be found here in Settings as shown below: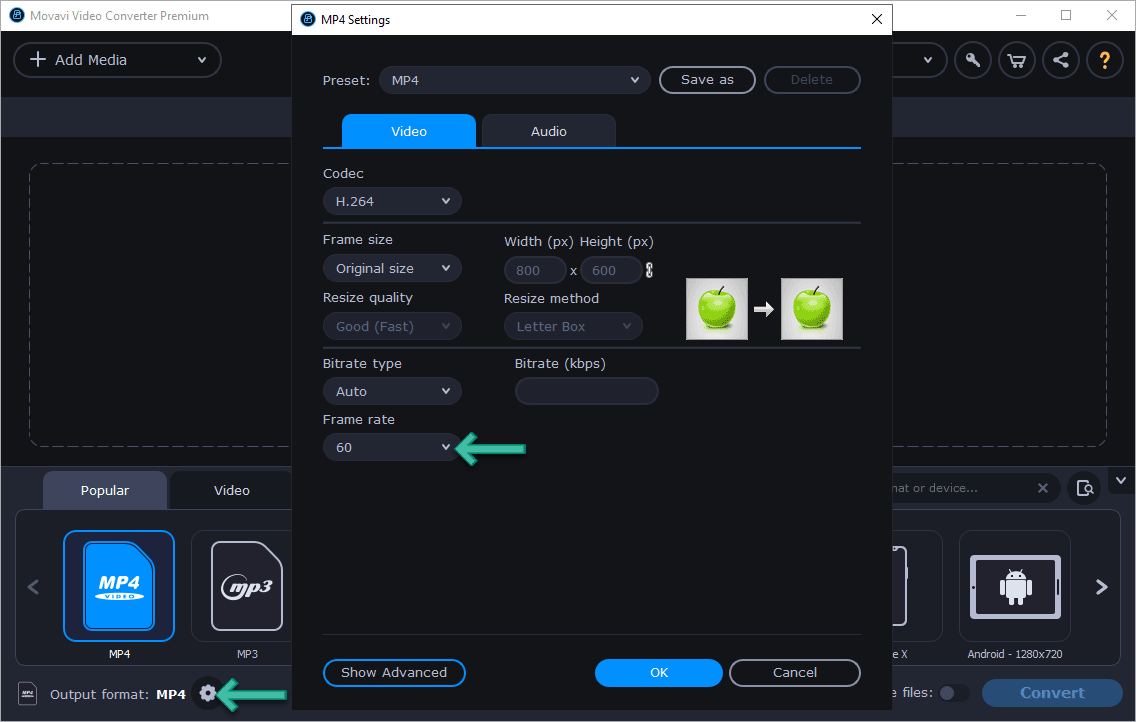 Converting videos to 60FPS is also within a few mouse clicks, and you can change the Frame Rate from smart march to 60FPS here in Settings: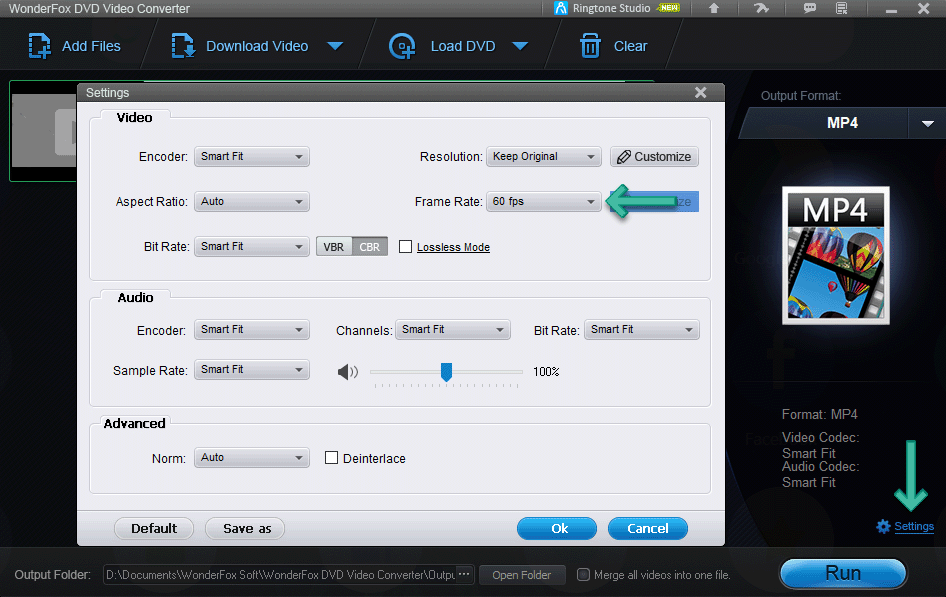 It's really a pity that WonderFox DVD Video Converter is PC only.
VideoProc is another program Digiarty. Screen recording, video editing, and conversion are all included in this comprehensive software for Windows and Mac users.
VideoProc can convert between video and audio files with over 400 built-in profiles. A GPU may be used to speed up video conversion if supported, which can increase your performance by 10.
With VideoProc, you can easily convert any video to 60 FPS here in Option: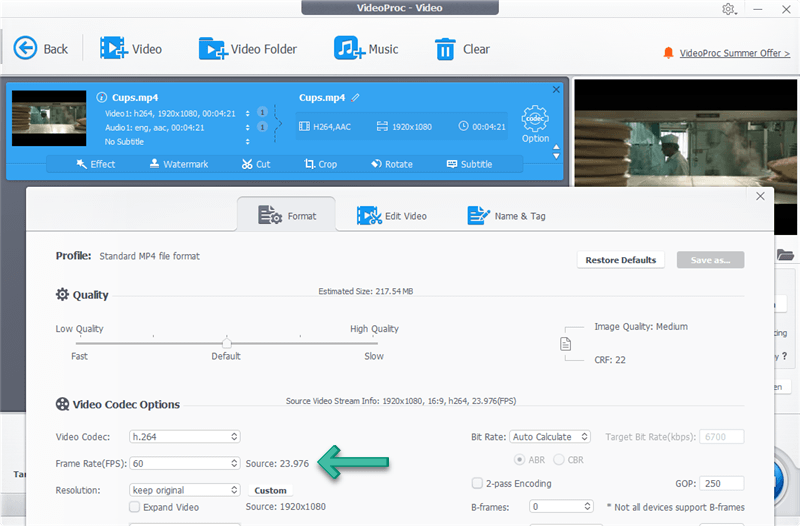 Wondershare UniConverter offers a trial version to convert 1/3 of your 60FPS video so you can fully confirm if it is your right one converting any video to 60FPS. With the support of drag and drop, Wondershare makes a very user-friendly 60FPS video converter. Below I will take my M2TS video and show you how to convert 4K M2TS video to MP4 in 60FPS.
With Wondershare the 60FPS video converting app, you are free to convert videos between 24, 30, and 60FPS, meaning you are free to convert a 30FPS video up to 60FPS or 30FPS video down to 24FPS, but I'd always recommend you guys to keep the original FPS, like 30 FPS to 30FPS, 60FPS to 60FPS, etc. This will somewhat prevent you from the audio and video syncing issue.
Follow the button above to download the 60fps video converter for 4K videos, install and launch it. Unlike Leawo, Wondershare creates a single setup file for its different programs. So, make sure what you download is called Wondershare UniConverter. It is available for Windows and Mac and it is fully compatible with the latest OS Windows 10 as well as macOS Big Sur. It also works with ARM-based M1 chip Macs including MacBook Air, Pro, and Mac Mini.
Step 1. Add video.
Click the Add Files icon to add M2TS/MTS/TS or MP4, MKV, AVI, WMV, DPG, FLV, TS, M2TS, VOB, etc to the program(4K videos are also supported). Click its drop-down menu to add a whole folder, or add from devices or camcorder. Also, drag-and-drop is supported.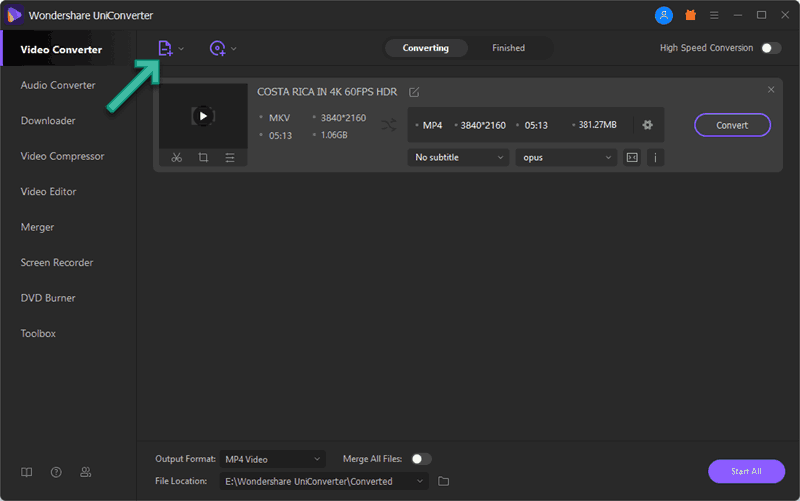 As you can see, what I add here as an example is a 4k (3840×2160) sample. The original FPS is 59.94 and I am going to convert it to a 60FPS MP4 and keeps its original resolution in 4K!
Step 2. Select a Profile. 
Wondershare 60FPS Video Converter builds in a number of pre-optimized profiles for almost every possible video format including some 3D and 4K formats in MP4, MKV, etc. As far as I can see, formats like MP4 M4V MOV OGA support up to 60 FPS converting. MP4 is my favorite as it offers the best video quality possible and is compatible with almost all devices and players and it is also the default profile.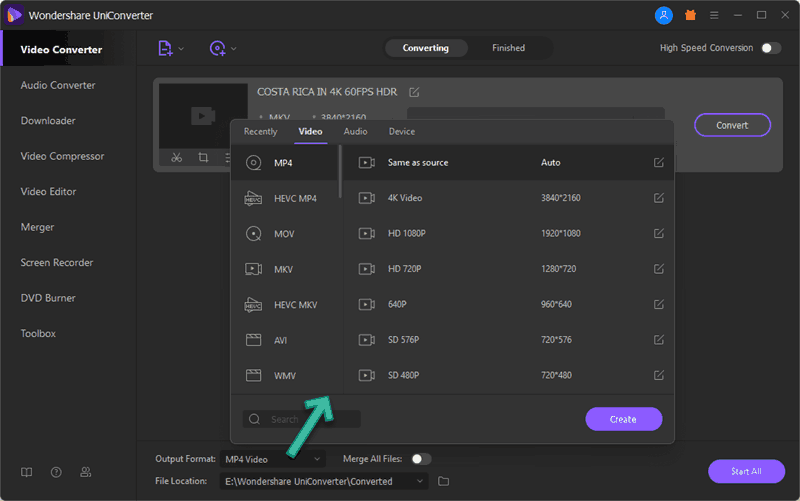 Step 3. Advanced Settings.
Go Advanced Settings to set the FPS as "Same as source" is the default. You are free to set the frame rate and convert 30fps to 60fps. I find it no problem converting my source 59.94 FPS to 60FPS as well as 29.97 FPS to 30FPS but I am afraid there would be audio and video sync issues if you convert 25FPS or 30FPS to 50 or 60 FPS. Just do so with caution.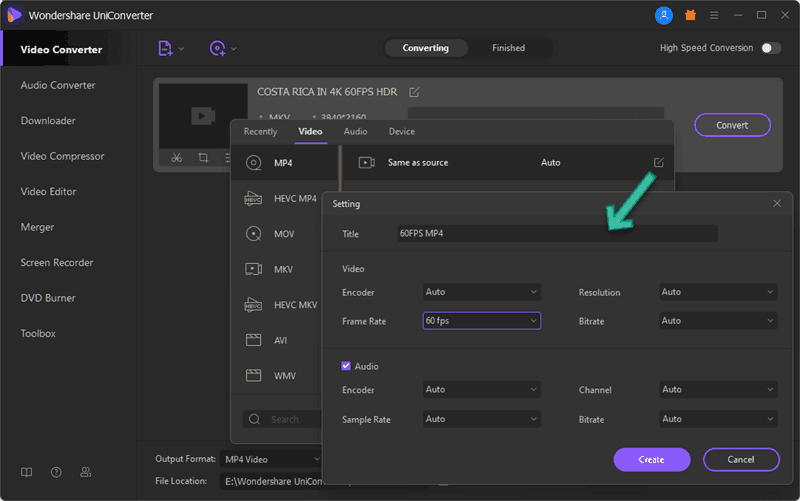 Here you can save the profile as your own so you don't have to set this again the next time you convert videos to MP4 in 60FPS.
Step 4. Go Converting 60FPS
You can just click "Convert All" and begin converting the 4K MKV to 60FPS MP4.
Tips for 60FPS Video Converting
The below tips are mainly for Wondershare UniConverter. 
Click the "Edit" button if you want to custom the aspect ratio, trim or crop the 60FPS video, add watermark, flip/rotate, etc.
"Merge All Video" is always available even when only a single video is added to the program. Add two or more videos to enable Merge and merge different videos into a single 60FPS video. It allows you to set the order of each video. 
It is always recommended to enable the High-Speed Conversion to improve the supported video conversion 10x faster!