Have you ever wished you could make your videos look more vivid and realistic? Whether you want to restore old or black-and-white footage or improve low-quality recordings, video quality matters a lot. But how can you enhance your videos without spending hours on complicated editing software or hiring a professional?
That's where Hitpaw Video Enhancer comes in. Hitpaw Video Enhancer is an AI-based video enhancing software that can colorize, upscale, denoise, and improve your videos in just a few clicks. It's a powerful tool that can transform your videos from dull and blurry to sharp and vibrant.
In this Hitpaw Video Enhancer review, we'll show you how this software works, what are its pros and cons, how it compares to other software, who should use it and why, and how to get started with it. By the end of this review, you'll have a clear idea of whether Hitpaw Video Enhancer is the right solution for your enhancing videos.
Hitpaw Video Enhancer Review: What is it?
Video enhancement is the process of improving the quality and appearance of a video by applying various techniques, such as color correction, noise reduction, super-resolution, sharpening, etc.
Hitpaw Video Enhancer is an AI video upscaling software that can help you transform your videos from dull and blurry to stunning and sharp. Whether you want to restore your old family videos, improve your online videos, or create professional-looking videos for your business or personal projects, Hitpaw Video Enhancer can help you achieve your goals. For example, with the General Denoise Model, Hitpaw can automatically apply the appropriate settings to make your video look better. You can also use other models that better meet your needs.
Hitpaw Video Enhancer Main Functions
Hitpaw Video Enhancer uses AI technology to analyze and optimize your videos. It can intelligently recognize the content and context of your videos and apply the best enhancing techniques or algorithms to make your videos look more vivid and realistic, but avoid artifacts or distortions.
You will see the below listed main functions that can help you enhance your videos.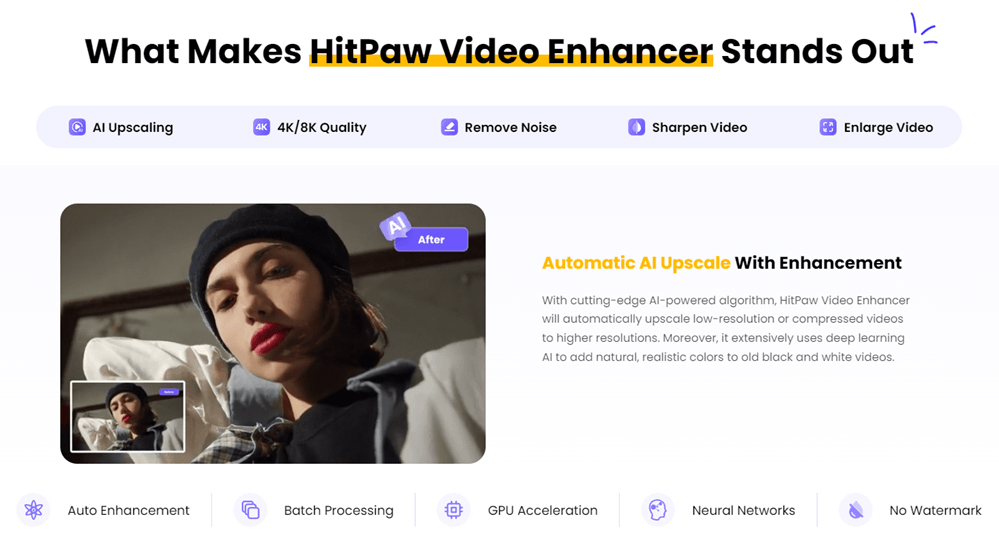 AI Video Upscaling: This function can help you increase the resolution of low-quality videos. You can choose the resolution from 720p to 1080p, or 4K, or do a 100%, 200%, or 400% upscaling. Also, you can customize the resolution.
AI Video Denoising: It helps you remove noise or grain from noisy videos and make them clearer. It is available in General Denoise Mode and you can choose the Quality or Fast mode here. While Quality mode delivers the best video quality, it is slower. Fast mode is a balance between speed and quality.
Animation Enhancing: As the name suggests, this AI model is specifically designed for improving animation or computer-generated videos. By restoring clarity and providing AI-powered upscaling, it delivers an optimal anime viewing experience.
Slide
Before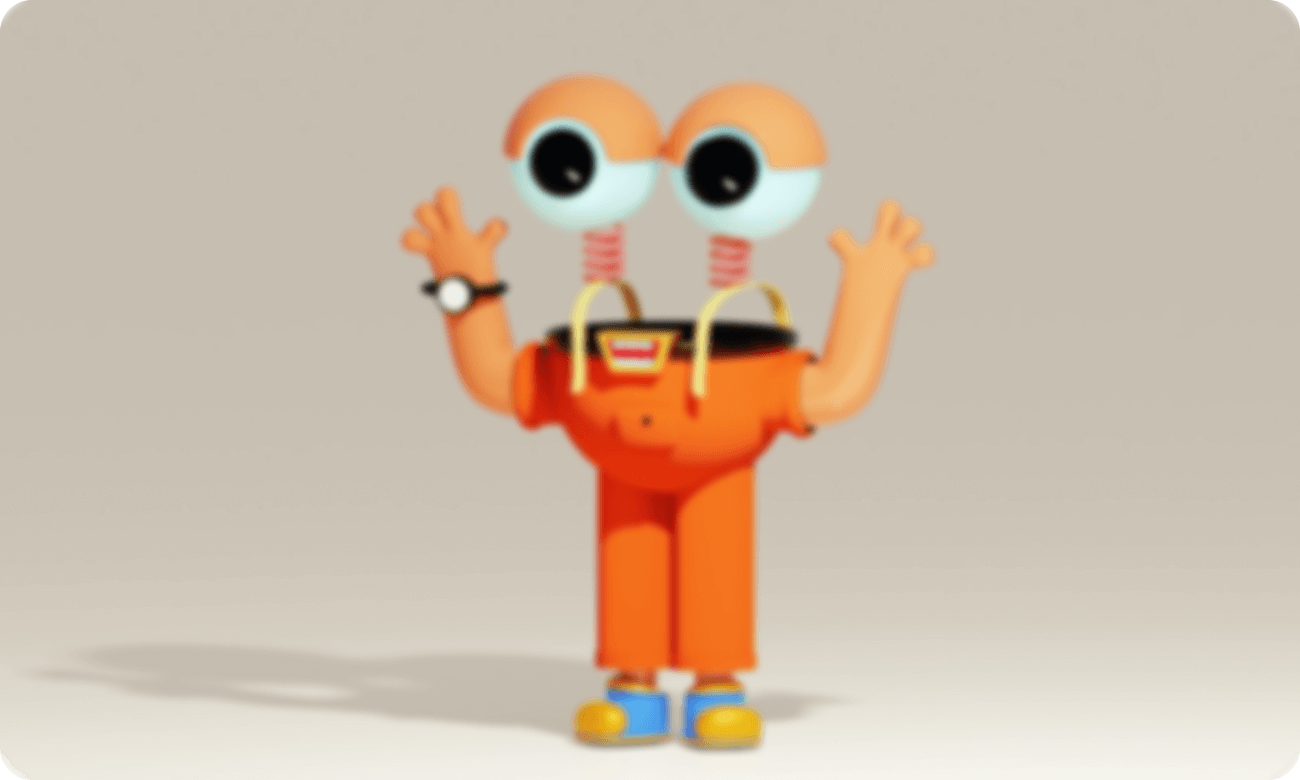 After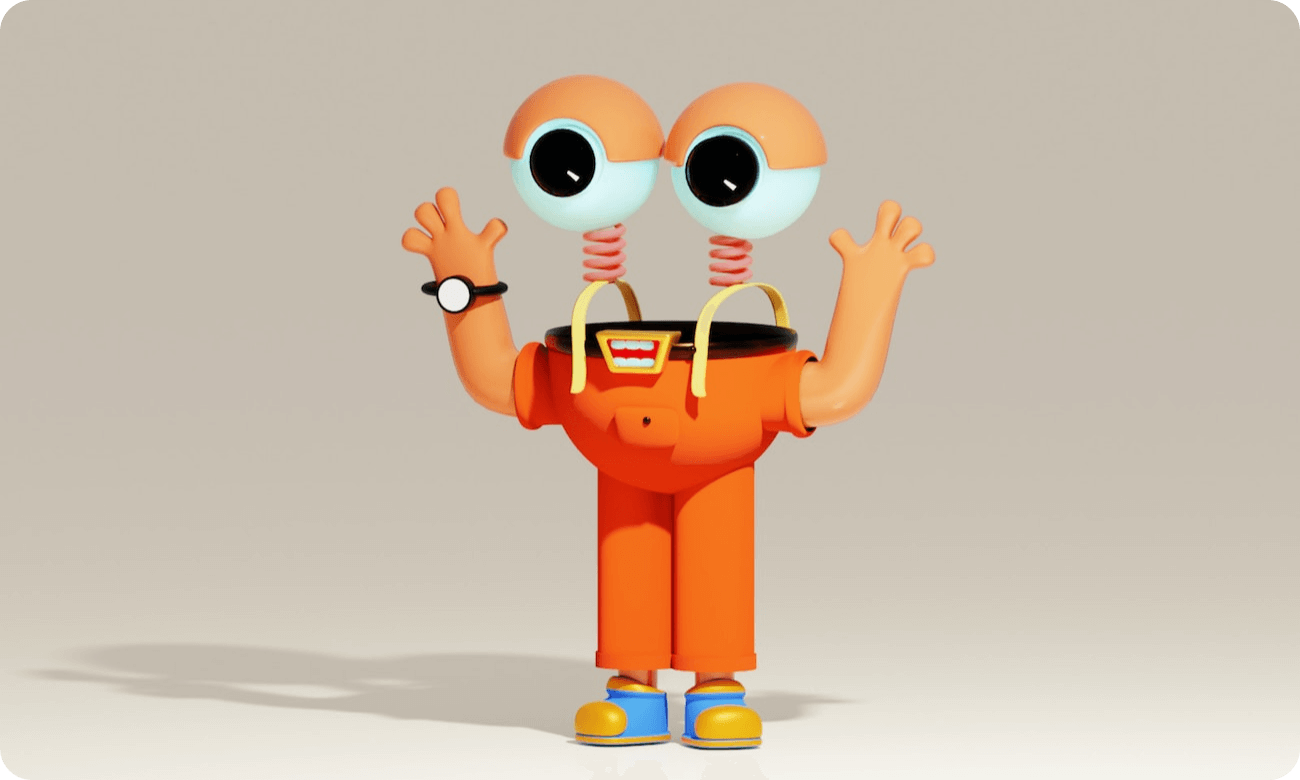 Human Face Repairing: AI-powered tool for those who are seeking to enhance and restore the intricate details of human faces in videos.
AI Video Colorizing: The Colorize AI Model can help you add realistic colors to black and white videos. However, there is no option to choose a color style, such as natural, warm, cool, etc. Hitpaw does all the job automatically, but hopefully there would be more advanced options.
Windows, macOS and Online: Yes, besides the desktop client for both PC and Mac, you can use it online, just with a browse on your Linux, iOS, Android, ChromeOS, and any other devices! The online version works almost the same as the desktop version with a few differences and you will see more details following the review.
GPU Acceleration: GPU Acceleration plays a crucial role in AI video upscaling for faster processing, higher performance, and energy efficiency. You can set the AI Processor in Settings.
Besides, you'd better keep your GPU driver up-to-date for better performance. Or, you may not be able to use the program at all. 
Color Enhancement: Since version 1.7.0, Hitpawa features a new Color Enhancement Model, aiming to improve video colors by adjusting brightness, contrast, and saturation levels. Color Enhancement Model is available under the General Denoise Model, Animation Model, and Face Model.
Besides, the software also provides a preview feature, allowing users to see the changes being made to their videos in 45 frames. Additionally, the software supports batch processing with the same or different settings for each video.
HitPaw Video Enhancer Online
While the main focus of the HitPaw Video Enhancer is its downloadable software, there is also an online version available for users who prefer a web-based solution. The HitPaw Video Enhancer online version is accessible through the official website and requires no installation or registration. It is a great option for users who want to try out online AI video upscaling without committing to downloading software or purchasing a full version.
However, it is important to note that the online version may not offer the same level of performance and customization as the downloadable versions due to its limited feature set.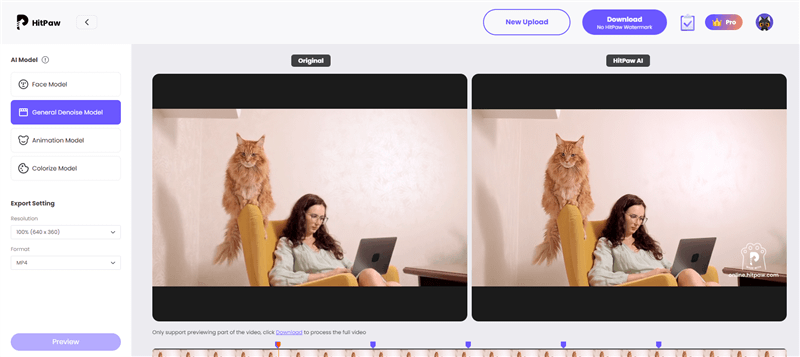 Differences Between the Online and Desktop program
The online version offers almost the same features compared to the desktop versions and all four AI models are the same. However, there are some tiny differences between the online and desktop program.
First of all, if you want to use Hitpaw Video Enhancer online, you will need to log in first, either directly with your Gmail account or sign up with any other email address. No login is required for the Desktop program while in the trial.
Secondly, the online service has a limitation of 40000MB of video processing and there is no such limitation for the Windows and macOS version.
One last big difference is pricing. There is no LIFETIME subscription and the one-year license is more expensive for the online version.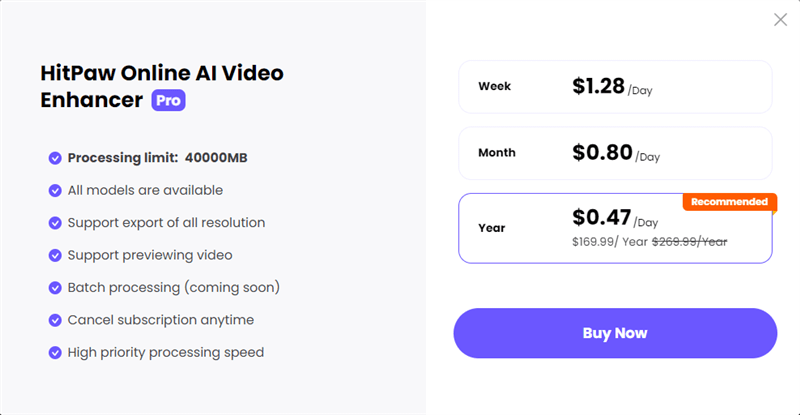 When I was writing the review, you cannot customize the resolution online, but now a week later when I publish the post, it is available, even only for the paid user. However, batch processing online is still not coming yet. I do believe Hitpaw will update the online version to be the same as the desktop version. 
What are the system requirements for Hitpaw Video Enhancer AI? Well, you don't have to have a very powerful machine to run it, only i3 is needed. However, older GPUs may not be supported as the minimum required OpenGL version is 3.3.
Here are the detailed requirements according to the official site: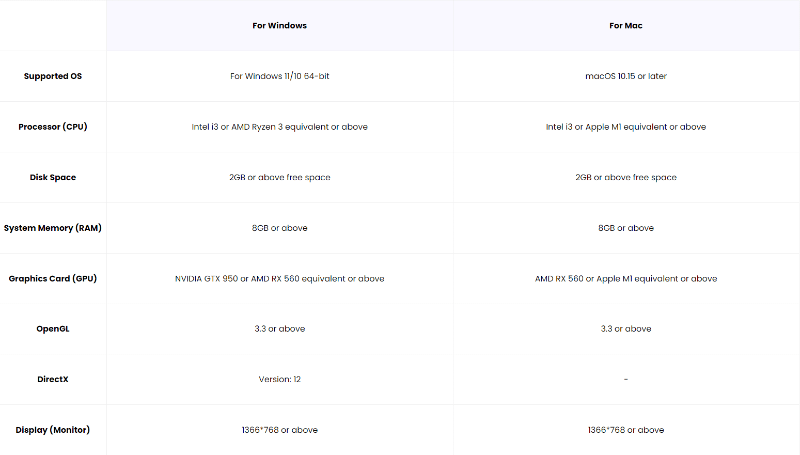 How to Use Hitpaw in Easy Steps
With an intuitive interface, drag-and-drop support, preview functions, and simple and straightforward adjustment options, Hitpaw Video Enhancer is easy-to-use to use. Also, Hitpaw provides practical video tutorials, and helpful tips throughout, making it user-friendly. Generally, you can enhance your videos in four easy steps.
Note:
This guide is mainly about how to use Hitpaw on your Windows or macOS computers. The online version is more or less the same.
Step 1: Download and Install
You can get it from the official website through the below "Free Download" button, available for both Windows and macOS. Always remember to have a free trial first. Importantly, you can use Hitpaw Video Enhancer online! For the online version, you will have to create an account.
Note:
The only difference between the full and trial version of Hitpaw Video Enhancer is that you cannot export your video in the trial version. You can only preview to see how it works.
Step 2: Import Video
You can drag and drop your video file to the software or click the "Choose file" button to browse your computer. You can also import multiple video files or even a folder at once for batch processing.
Step 3. Select AI Models
Then, you can select the enhancing mode you want from the right panel. There are four models for you: the General Denoise model, the Face Model, the Colorize model, and the Animation Model.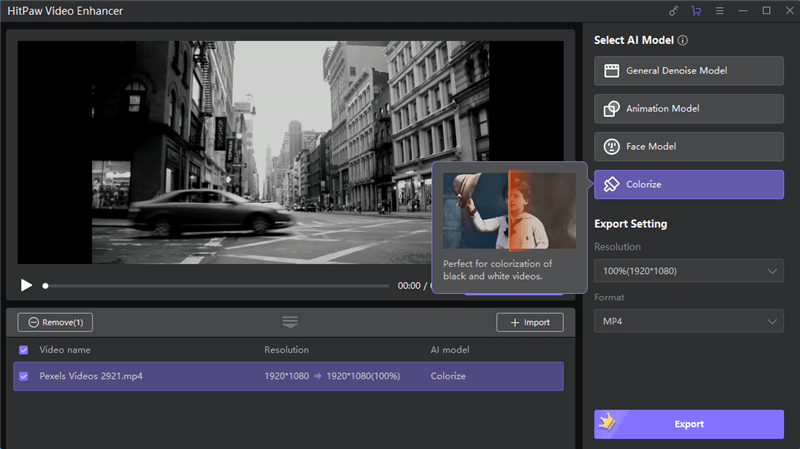 In this Hitpaw Video Enhancer review, you will see there are no parameters to adjust in each AI model. Um, while this is extremely user-friendly for beginners, it lacks some settings for advanced users for better control of their output video.
Step 4. Preview[Optional]
You can preview the results of your enhanced video. You can use Dual Screen, Sliding, or Overlap for comparison. In each comparison, you can Zoom In and Zoom Out with the scroll wheel to change the size of your video.
Step 5: Export
If you are satisfied with the preview results, you can click the "Export" button to export and save your enhanced video. Before that, you can choose from different video formats, such as MP4, MOV, AVI, MKV, etc., and different video resolutions, such as 720p, 1080p, 4K, etc. Also, you can set the bit rate, change the output folder or keep the original path as the video, just as you like.
Hitpaw Video Enhancer is a great software that can help you enhance your videos in a fast and easy way. However, like any other software, it has its pros and cons. Based on my experiences during the review, here are some of them for your reference:
Easy to use interface
Windows, macOS, and Online version
Fast processing speed with GPU acceleration
Added various video formats
Customize resolutions
No advanced options for each AI model
Frequently Asked Questions
Here are some questions about Hitpaw Video Enhancer AI that you may be interested in, along with the answers.
Hitpaw Video Enhancer is a powerful and easy-to-use AI video enhancing software that can help you improve the quality and appearance of your videos in a few clicks. Whether you are a video editor, a filmmaker, a vlogger, a gamer, or just someone who loves videos, Hitpaw Video Enhancer can help you achieve your goals. It can help you colorize, upscale, denoise, and colorize your videos. It can also produce high-quality and realistic results that can make your videos look more vivid and stunning.