Have you ever wondered how your favorite songs would sound like if they were performed by different musicians? Or have you ever wanted to create your own song covers with the voices of celebrities, characters, or even yourself?
FineShare Singify is a song cover generator that lets you create stunning song covers using the voice of your choice with the help of AI. Whether you want to sing with the voice of Beyoncé, Jay-Z, or Ariana Grande, or make your own parody songs with Plankton's voice, Singify can make it happen. You can access it directly on the browser and without any cost.
FineShare Singify is a web-based song cover generator that uses advanced AI technology to transform any song into the voice of your choice. You can choose from over 100 different AI voice models, ranging from popular artists like Beyoncé, Taylor Swift, and Jay-Z, to fictional characters like Elmo, Plankton, and SpongeBob. You can upload your own voice too, and make an AI model that has the same voice of yours.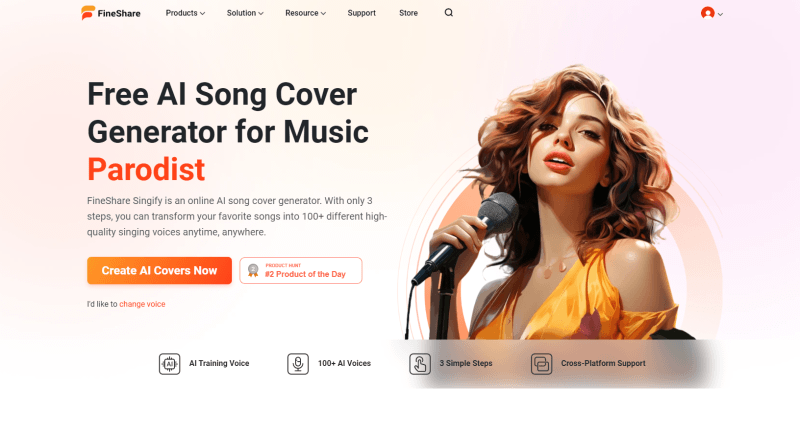 FineShare Singify is not only a fun and easy way to make AI song covers, but also a powerful tool for music creation and entertainment. Whether you are a content creator, a music lover, a singer fan, or a parodist, Singify can help you unleash your creativity and make your own unique music. You can rap like Drake, hit the high notes like Ariana Grande, or sing like Morgan Freeman. You can also mix and match different voice models and create hilarious or amazing mashups.
More Importantly, FineShare Singify is constantly updating its AI model library to bring you more fresh and diverse experiences. You can also request new voice models. FineShare Singify aims to redefine music at your fingertips and ignite your passion for music creation.
FineShare Singify is designed to be simple and convenient for even a beginner can use. Regardless of the musical background or abilities, anyone can use it.
It offers abundant AI voice models.
You can find your favorite singers, celebrities, or characters among the 100+ voice models available.
It's high-quality and natural-sounding.
The advanced AI technology produces high-quality voices that are close to human speech. It delivers clear and smooth vocals that match the original melody and lyrics of the song.
It provides various ways to upload audio.
You can upload audio from different sources, including searching for a song within the app, uploading an audio file from your computer or mobile device, or recording your voice using the microphone.
It allows users to create a new voice
You can create your own custom voice models by uploading your voice sample. You can also name your voice model and save it for future use.
It supports downloading different versions of covers.
You can download different versions of your AI song covers that include the vocals and the music, the vocals-only version containing only the AI-generated voice, or the pure music version with only the original music without any vocals.
Take the Drake AI voice model as an example, here's what you need to do to use Singify.
Step 1: Register a free account and find the Drake AI voice model.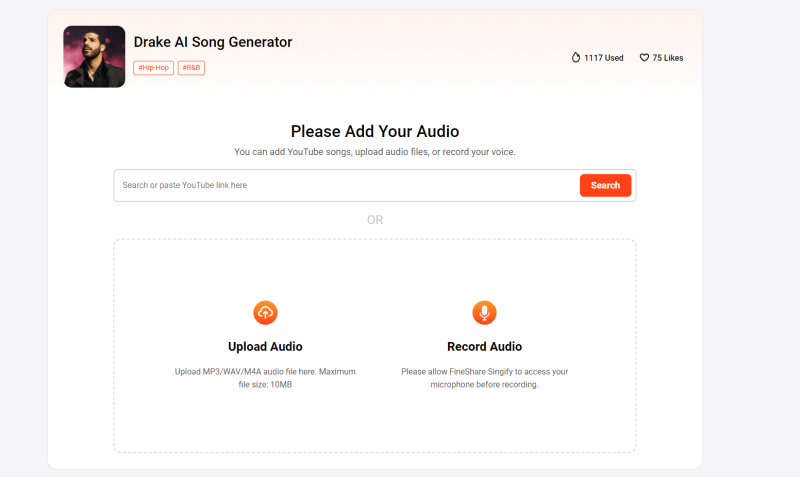 Step 2: Then you will see a search bar where you can enter the name of the song you want to cover. You can record your own voice through a microphone or upload an audio file from your devices.
Step 3: Once the conversion is done, you can download and share it with different platforms such as Twitter, Facebook, Reddit, WhatsApp, etc.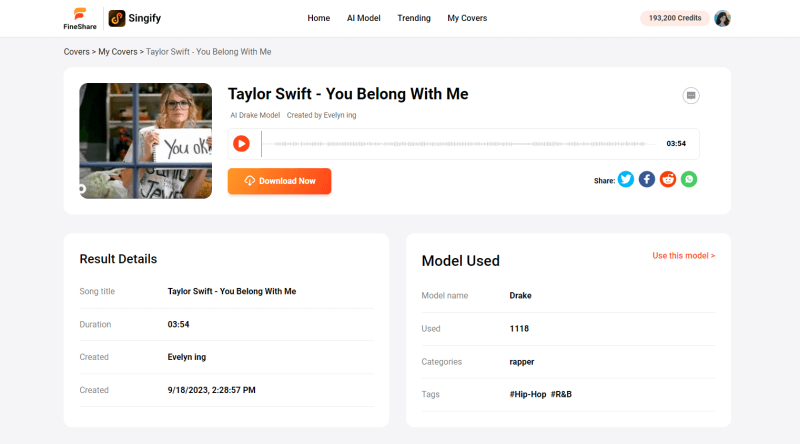 That's all! You have successfully created your own AI song cover by these three steps. You can create as many AI song covers as you want with different songs and voices. Have fun and enjoy your music!
FineShare Singify is not just a fun tool for music lovers, but also a powerful tool for music creators. It's suitable for engaging in subsequent pursuits.
Make your own AI song covers with the voices of your favorite singers, celebrities, characters, or even yourself.
Create unique and original music content for your social media, YouTube channel, podcast, blog, or website.
Experiment with different genres and styles of music and discover new possibilities, such as K-pop, pop, country, R&B, and many more.
Make tributes to your favorite singers or parodies of popular songs and have a good laugh.
Improve your singing skills and confidence by singing with the best voices.
Have fun and enjoy music with your friends and family.
FineShare Singify has received rave reviews from its users, who have enjoyed its features, quality, and user-friendliness. Here are some of the testimonials from its website:
"This is amazing! I really enjoy how I can make my own song covers with different voices. It sounds so realistic and professional. I can't believe it's free!"
"I greatly enjoyed my time using FineShare Singify. I made a parody of 'Bad Guy' by Billie Eilish with Plankton's voice and it was hilarious. My friends loved it too."
"FineShare Singify is a great tool for music creation. I used it to make an original song with my own voice and it sounded awesome. It was pretty easy to handle and the quality was impressive."
FineShare Singify has also been featured on several online platforms, such as Slant and AllAIStartups, where it has been recommended as one of the best AI song cover generators available.
FineShare Singify is a game-changer in the realm of AI-driven music creation. It's not just about making song covers, it's about experiencing music in an entirely new way. Whether you're looking to experiment with musical genres, showcase your vocal or instrumental talents, or simply have a blast with friends, Singify is your stage.
Embark on your musical journey today and discover the boundless possibilities that AI-powered music covers bring to the table. So, get ready to channel your inner rockstar, and let the music play!