The realm of image processing has been radically transformed by the advent of artificial intelligence (AI). This groundbreaking technology has introduced innovative solutions that have reshaped our interaction with digital imagery. One of the most notable advancements is the ability to unblur images using AI image sharpeners. This capability has revolutionized the way we handle and perceive digital images, bringing a new level of clarity and detail to our visual content.
Image sharpness is a critical aspect of photography that significantly influences the overall quality and impact of a photo. It plays a pivotal role in how effectively a photo can convey a message, capture minute details, and provide a more immersive experience for the viewer. A sharp image can draw the viewer's attention to the subject matter, highlight intricate details, and enhance the overall aesthetic appeal of the photo. With the advent of AI image sharpeners, achieving such high levels of sharpness and detail in images has become more accessible and efficient than ever before.
Understanding AI Image Sharpeners: How AI is Making Blurry Images a Thing of the Past
AI has been a game-changer in many fields. AI image sharpeners have revolutionized the way we deal with blurry images, making them a thing of the past. An AI image sharpener can help you transform your blurry images into high-quality masterpieces for both professionals and hobbyists. But how exactly does this technology work, and why is it so effective?
AI image sharpeners work by employing advanced algorithms that analyze the image's pixels, identify areas of blur, and then enhance those areas to improve the overall sharpness. This process, often referred to as "AI sharpen image", has revolutionized the field of image processing, making blurry images a relic of the past.
AI photo sharpeners use algorithms that are made to work like the way the human eye can focus on details. They can identify the edges and textures in an image that are crucial for perceived sharpness. Once these areas are identified, the AI then enhances these details, making the image appear sharper.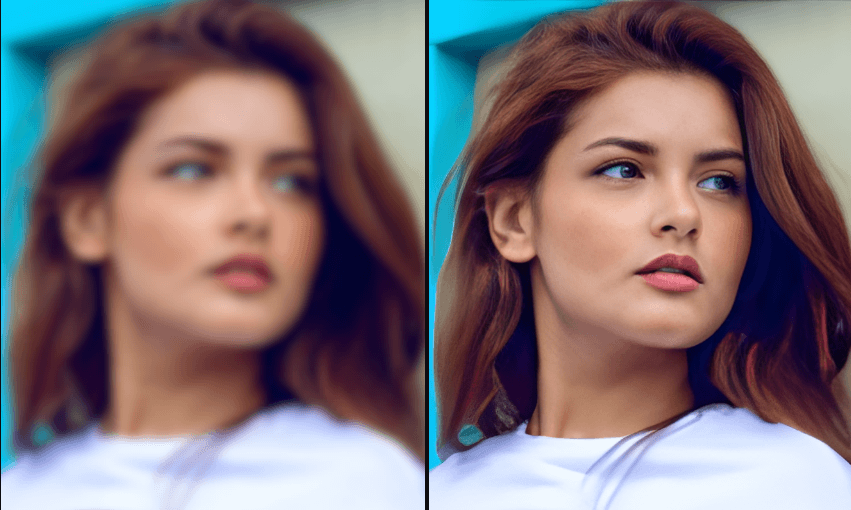 One of the key advantages of AI image sharpeners is their ability to differentiate between actual blur and details in the image that are meant to be soft or out of focus. This ensures that the sharpness is enhanced only where it's needed, preserving the natural look of the image.
Moreover, AI image sharpeners can handle different types of blur. Whether it's motion blur, focus blur, or blur caused by a low-quality lens, AI has the ability to analyze and correct it. This versatility makes AI image sharpeners a powerful tool in image processing.
Another significant advantage of unblurring images with AI is their ability to sharpen images online. This means that you can enhance your images directly in your web browser, without the need to download or install any software, making it more accessible and convenient for some users.
Top Desktop AI Image Sharpeners: Revolutionize Your Photos
Desktop AI image sharpeners are often recommended due to their superior processing power, more extensive feature sets, and ability to handle larger files. Here, I'd like to list what I think the best AI image
–
sharpening software for Windows and macOS.
Topaz Sharpen AI[PC & Mac][Recommended]: Unleashing the Power of Advanced Algorithms
Topaz Sharpen AI is a tool that eliminates blur and fixes out-of-focus images. It uses AI to detect and correct three types of blur: general motion blur, out-of-focus blur, and camera shake. It's highly effective and user-friendly, with a 30-day free trial and 7*24 support available. The software can be integrated as a plugin for Lightroom and Photoshop, making it a versatile part of any image editing workflow.
Its key features include the ability to fix blurry photos, enhance image details, and improve overall image quality, with an intuitive UI yet impressive results.
Pricing: 79.99 for a lifetime license with one-year free updates.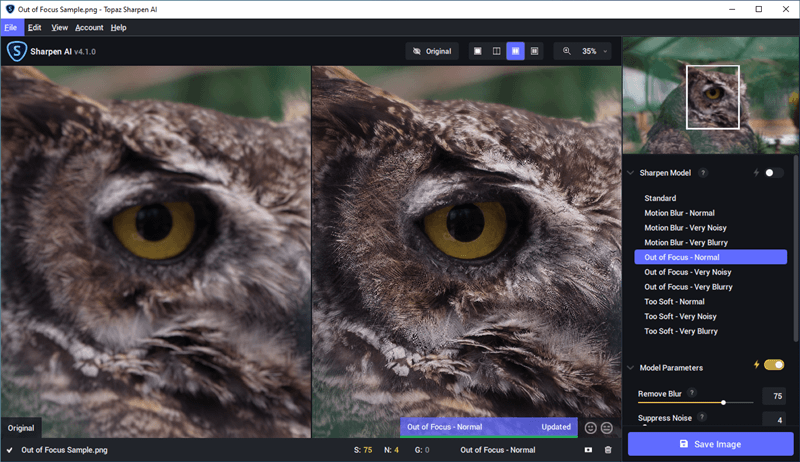 HitPaw Photo Enhancer[PC & Mac]: A Blend of Innovation and Simplicity
HitPaw Photo Enhancer is an AI-based photo enhancement tool designed to fix and enhance blurry images. It offers one-click photo enhancement, with multiple AI models to meet different needs. The software can AI sharpen and upscale images without quality loss, with the support of batch processing and GPU acceleration for faster processing. It's straightforward to use, requiring only a blurry image and an appropriate AI model selection to get started.
Its unique features include the ability to sharpen images with AI, enhance color balance, colorize black and white photos, and improve image resolution. Users have expressed their admiration for HitPaw Photo Enhancer's simplicity and effectiveness.
Pricing: From $17.99 to $129.99. Please note the price for PC and Mac users are different.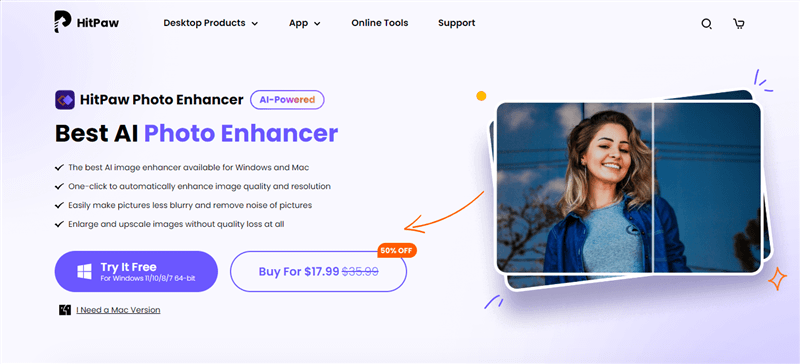 Adobe Photoshop: Where Technology Meets Creativity
Adobe Photoshop is a highly versatile and robust image editing software. While it doesn't use AI in the same way as the other tools listed, it does have advanced sharpening and noise reduction features. It's worth noting that getting the most out of Photoshop's image sharpening capabilities typically requires a good understanding of the software's tools and options. For AI-based features, Adobe has been incorporating AI into its newer updates under the moniker of Adobe Sensei.
Its features include the ability to sharpen image with AI, adjust image parameters, and apply creative effects. Users have lauded Adobe Photoshop for its versatility and powerful capabilities. The pricing for Adobe Photoshop is on the higher end, reflecting its comprehensive feature set and industry-leading capabilities.
Pricing: start at $20.99 per month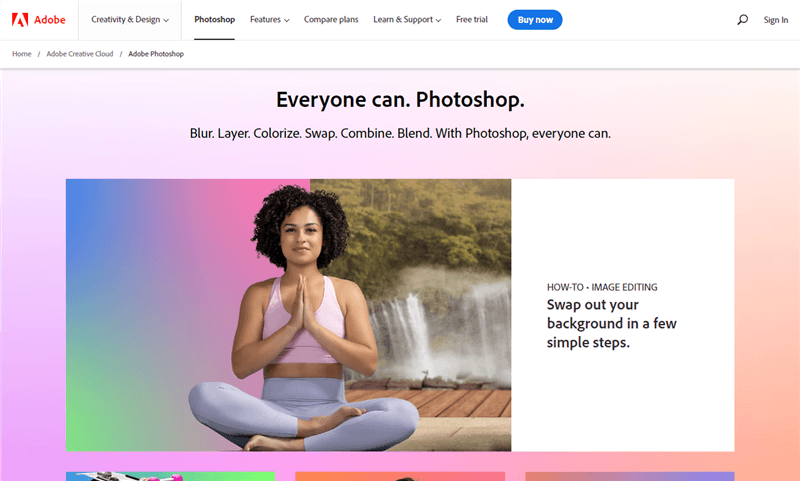 AVC AI: Transforming Images with One Click
AVCLabs Photo Enhancer AI is a comprehensive tool designed to upscale and enhance images using powerful AI technology. It offers a range of features including upscaling low-resolution images by 400%, removing noise and grain, enhancing portraits with AI face retouching, and colorizing black-and-white photos.
Despite AI picture sharpening, AVCLabs Photo Enhancer AI can remove photo backgrounds to create a transparent background. Additionally, it includes a color calibration feature to fix color issues and ensure natural color rendition in photos.
AVCLabs Photo Enhancer AI is praised for its ability to improve image quality significantly, making it a recommended tool for both professionals and hobbyists. It is appreciated for its user-friendly interface, efficient performance, and the ability to handle a variety of image enhancement tasks.
Pricing: From $19.95 to $159.90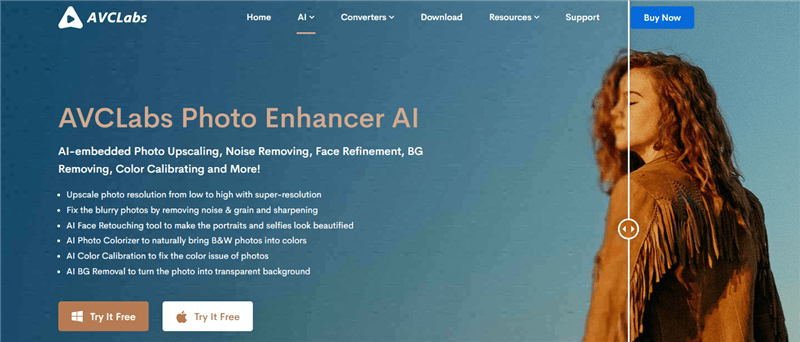 Luminar: The Powerhouse of Image Sharpening
Luminar is a full-featured photo editor that includes AI-enhanced tools to automatically improve your photos. Its AI structure tool, for example, can automatically detect and improve the detail in your images. It also offers AI Sky Enhancer and AI Accent tools that use machine learning to analyze and adjust your photos. In order to make it accessible for both beginners and professionals with advanced needs, Luminar is designed to be intuitive and easy to use.
Its exciting features include the ability to unblur images with AI, adjust image parameters, and apply creative effects. Users have lauded Luminar for its intuitive interface and powerful capabilities. The pricing for Luminar is competitive, reflecting its comprehensive feature set and impressive results.
Pricing: From $9.95 to $149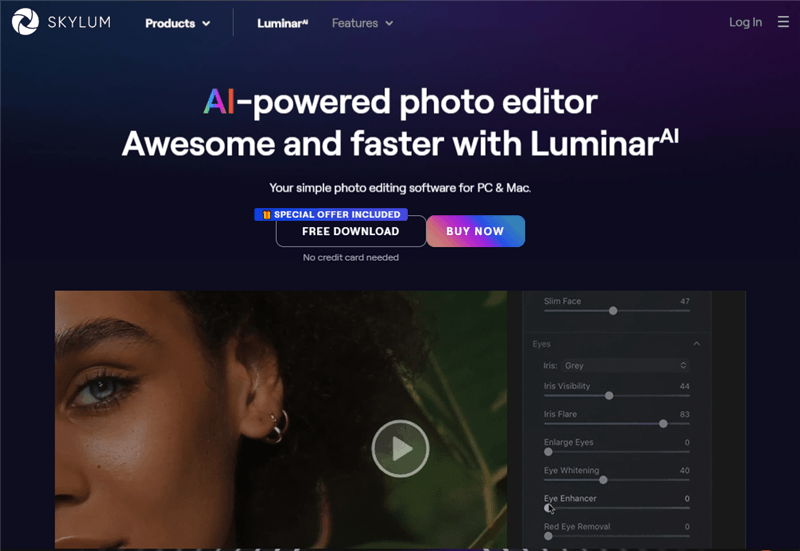 Top Online AI Image Sharpeners
Online AI image sharpeners offer the convenience of being accessible from any device with an internet connection. They are ideal for users who need to quickly sharpen images without the need for advanced features or large file-handling capabilities.
NeuralLove is an online AI image sharpener that stands out with its unique features. It offers a user-friendly interface, efficient image sharpening, and additional editing tools. Users have expressed their admiration for NeuralLove's simplicity and effectiveness.
The cost-effective price structure makes it a preferred option for fans of photography.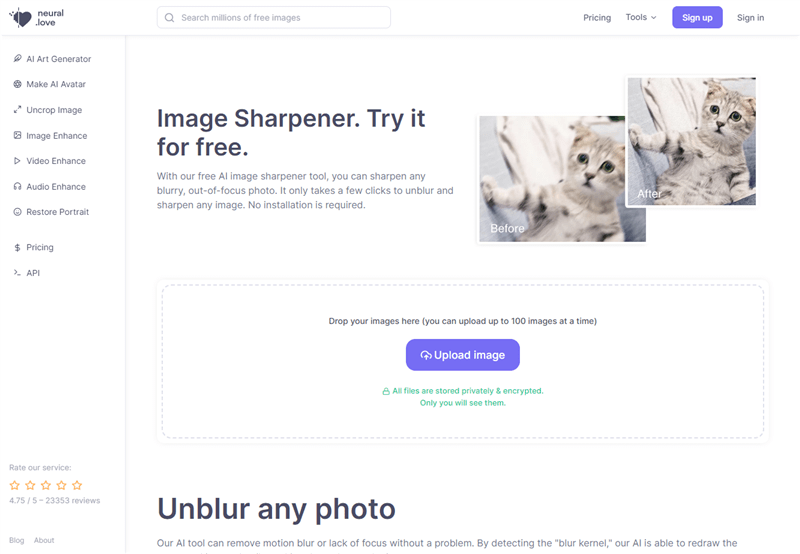 Vance AI is a cutting-edge online platform that offers a plethora of features for image enhancement. It not only serves as an AI image unblur tool but also provides options for color correction, noise reduction, and more. The user-friendly interface and efficient performance of Vance AI have garnered positive reviews from users. The pricing structure is flexible, catering to both occasional users and professionals.
Imglarger, an online platform, offers a unique blend of simplicity and power. Its features include the ability to
ai image sharpening free
, enhance image resolution, and improve color balance. Users have praised Imglarger for its simplicity and effectiveness. The pricing for Imglarger is competitive, offering excellent value for money.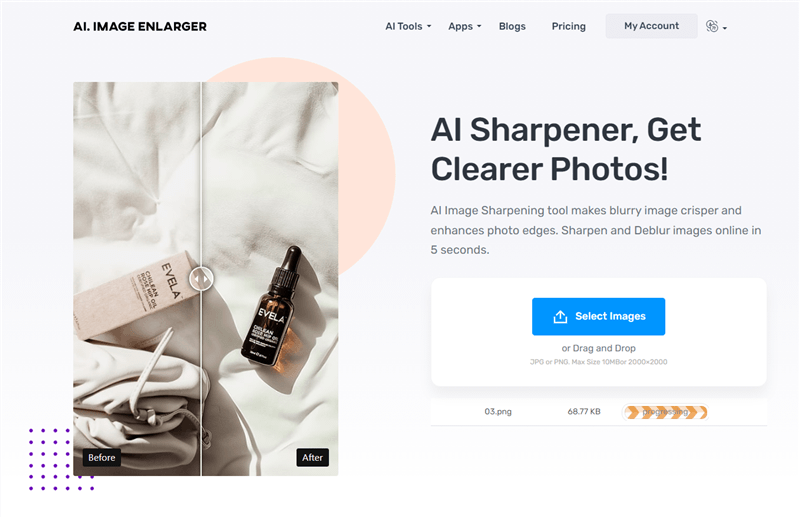 Fotor is an AI tool to
sharpen images online that
offers a comprehensive suite of tools for enhancing image quality. Its unique features include the ability to sharpen image with AI, adjust image parameters, and apply creative effects. Users have lauded Fotor for its intuitive interface and powerful capabilities.
Due to Fotor's extensive feature set and outstanding outcomes, its cost is competitive.

Choosing the Right AI Image Sharpener: Factors to Consider
Selecting a suitable AI image sharpener is a crucial decision that can significantly impact the quality of your images. The appropriate tool for you will rely on your unique needs, financial situation, and level of technical proficiency. Always try out a few different options to see which one you like most.
Here are some key factors to consider when making your choice:
Image Quality Enhancement: The primary purpose of an AI image sharpener is to enhance image quality. Therefore, the tool's ability to effectively unblur image AI and improve sharpness is paramount. Look for a tool that can handle varying degrees of blur and can deliver high-quality, sharp images.
Ease of Use: The user interface and overall usability of the tool is another important factor. Whether you're a professional photographer or a hobbyist, a tool that is easy to navigate and use will make the image sharpening process more enjoyable and efficient.
Feature Set: Consider the range of features the AI image sharpener offers. Some tools provide additional features such as color correction, noise reduction, and the ability to handle different image formats. These added features can provide more value and enhance your image editing capabilities.
Processing Speed: The speed at which the tool can process and sharpen images is also important, especially if you're working with a large number of images. A tool that can quickly process images without compromising quality can save you valuable time.
Pricing: The cost of the AI image sharpener is a crucial factor to consider. A subscription or one-time purchase may be necessary for some tools, while others may offer a free version with restricted features. To make sure you're choosing a cost-effective choice, take into account your budget and the value the tool gives.
Customer Support and Reviews: Check out user reviews and the reputation of the company behind the AI image sharpener. Good customer support can be invaluable if you encounter any issues or have questions about the tool. User reviews can provide insight into the tool's performance and reliability.
Compatibility: Make sure your operating system is compatible with the AI image sharpening software. It's crucial to consider that some are made for particular platforms.
By considering these factors, you can choose an AI image sharpener that best suits your needs and can help transform your blurry photos into high-resolution masterpieces.
The impact of AI image sharpeners on photography has been profound, transforming blurry photos into high-res masterpieces. Embracing the future of image sharpening with AI allows photographers and enthusiasts to enhance their images like never before. Choosing the right AI image sharpener for your needs depends on your specific requirements, budget, and technical expertise. As we look to the future, we can expect further advancements in AI to sharpen images, making the process even more efficient and effective.