We now have 4K videos on YouTube, Netflix, Blu-ray, etc., and we can record 4K videos with our phones, GoPros, and other cameras. Also, we have 4K smart TVs to watch those videos in a great watching experience. However, we still have old recordings or movies that are low in resolution. And, we must suffer watching them on 4K TVs due to the horrible quality.
The good news is, with the help of AI, we can do 4K Video upscaling and easily upscale low-resolution videos to 4K with almost the same watching experience as the native 4K videos.
What is 4K Video Upscaling?
Can we upscale a video to 4K? Definitely, and even with excellent results.
To learn that, let's see what is upscaling first. The process of transforming a video or image with a lower resolution to one with a higher one is referred to as upscaling. Upscaling can be done with or without the assistance of artificial intelligence. So, 4K video upscaling is converting a low-resolution video to 4k. And the difference is whether it's AI video upscaling or not.
You may notice that when we watch lower resolution videos on a 4K TV, your TV automatically upscales the videos to fit the 4K display. Most of the time, those processes are NON-AI 4K video upscaling. And, it does not give you a true 4K video-watching experience.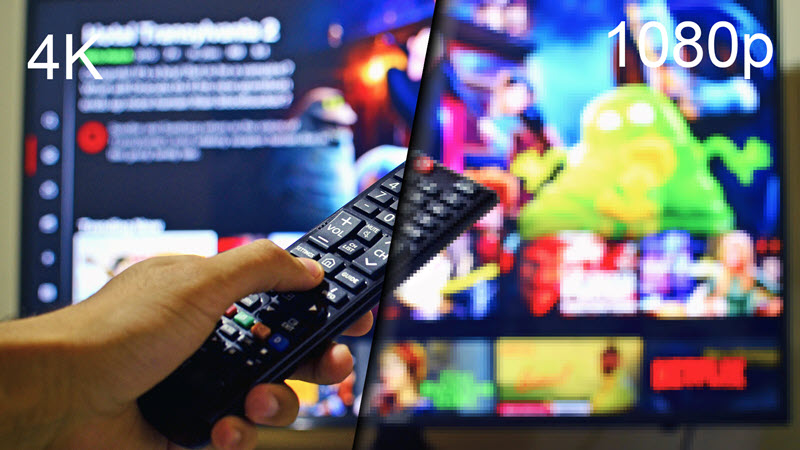 AI 4K video upscaling uses a different strategy than traditional methods with the help of AI. AI 4K upscaling uses AI deep learning models to take a low-resolution video to predict a high-resolution video that, when scaled down, will look exactly the same as the low-resolution video that it was trained on. With training on millions of videos, AI upscaled video can look more natural with high accuracy.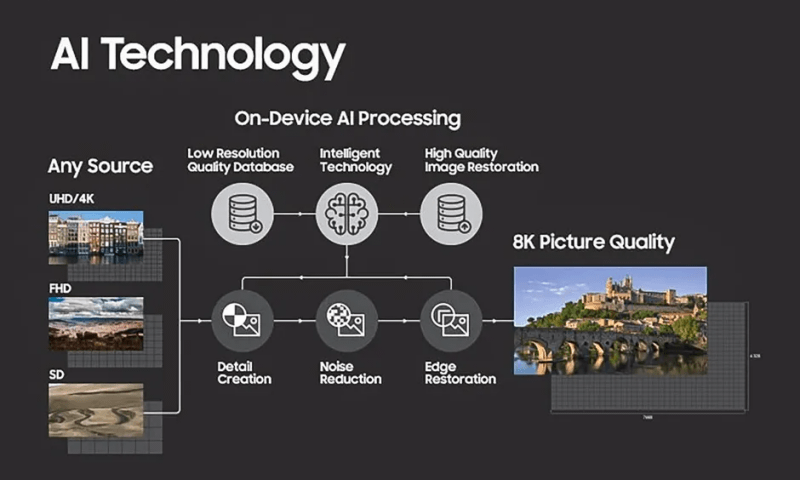 In this post, I'd like to show you two ways, one for PC & Mac and one for online, to do 4K, even 8K video upscaling; all are AI-based with excellent quality. Let's go.
AI 4K Video Upscaling Software for PC/Mac/Online
4K Upscaling Software for PC and Mac
Topaz Video Enhance AI is definitely the best 4K video upscaling software. Since version 3, Topazlabs renames its Video Enhancer AI to Video AI. With over ten applicable AI models, it can upscale low, medium, and even high videos, whether progressive, interlaced, or computer generated, to 4K or even 8k. You can also enhance details to your native 4K videos. In this case, Topaz will denoise and deblock for you.
Topaz Video AI can do batch 4K video upscaling. You can also trim or preview the upscaling. In Topaz, you can add/reduce grains for the 4K upscale to be more natural.
You can do the AI 4K upscaling while removing the black bars by simply using "Crop" This way, you can turn your 4:3 video to 16:9. Also, you can customize the resolution and remove the black bars with this option.  
The 4K Video Enhancer Key Features
Up to 8K AI Video Upscaling with excellent video quality
AI Video Denoising
AI Video Deinterlacing and Restoration
AI-boost FPS up to 120
Smooth slow-motion effect over 2000%
Uncompressed Tiff, Tif, and lossless PNG support
Online 4K Video Upscaling
Pixop is a superb AI video upscaling program that is 100% online-based and automated. The neural network technique used by Pixop offers realistic and complete results. It's simple to use: simply upload your video file and let Pixop handle the rest. The program is constantly updated with new features and filters to ensure you get the best results possible.
Pixop supports almost all popular videos for 4K upscaling online, and you output to MOV, MXF, MP4, and MTS. In Pixop, you can choose different filters for upscaling different videos. Check out how it works here:
Online Video Upscaling Software Key features
100% Cloud-based
Over 10 Filters to do AI deinterlacing, denoising, stabilizing, upscaling, frame rate converting, post-processing, etc
Compare your original video and upscaled one by image or video
Work as a Team
Custom Presets and various input and output
How to Upscale Video to 4K on PC/Mac/Online
Can we upscale a video to 4K? Sure! Is it easy? Yes! In this part of the post, I'd like to show you in detail how to use AI video upscalers to get 4K videos. 
Upscale Video to 4K on PC/Mac
I have a very detailed guide on how to upscale video to 4K or even 8K in this post, along with the best settings for upscaling animation videos.  Also, you will learn tips on picking up the best AI model for 4K upscaling and making the upscaling faster. 
You can also check the below YouTube video to learn AI 4K upscaling.
Upscale Video to 4K online
Tips:
As far as I can see, no 4K video upscaling software is available on iOS and Android because AI video upscaling is time- and hardware-consuming. However, since Pixop is 100% cloud-based, you can use it on your iOS, Android, or Linux devices to upscale video to 4K.
Is upscaling to 4K Worth it?
Does upscaling video improve quality? Is upscaling 4K the same as the native 4K video? 
I have a couple of YouTube videos showing how well AI video upscalers work for your old and low-resolution videos. And, it does improve quality. However, even with 4K video upscaling by AI, it's not a native 4K video, and upscaling to 4K is NOT the same as the native 4K videos. 
But, the truth of the matter is that there are instances when your eyes alone will not be able to differentiate between an upscaled 4K video and a native 4K video while you are viewing both on the same 4K television screen. So, I do believe it's worth doing AI 4K video upscaling.