With the continuous development of AI (artificial intelligence), cloud computing, machine learning and other technologies, the intelligent processing of images and videos is becoming more and more popular. And, various applications based on AI cloud computing and machine learning are emerging. Previously, I have recommended two online programs that are based on AI to enlarge your photos and erase the background.
In comparison, there are very few good tools to upscale and enhance videos or DVDs. Although some gadgets claim to be able to magnify videos, they are just magnifications with resolution and bit rate increased. The output video is actually horrible.
The good news comes from Topaz Lab. Their Topaz Video Enhance AI applied artificial intelligence to video processing. Finally, we have a handy tool for video upscaling, denoising, deinterlacing, etc with enhancement.
In this post, you will have a Topaz Video Enhance AI review and we will discuss the main features, how to upscale your videos, and are Topaz Labs worth? Okay, it's get started.
First of all, let's introduce the company Topaz lab. Those who are familiar with Photoshop must know something about it. Topaz lab is located in Texas and has developed many classic Photoshop filter plug-ins such as Topaz Remask and Topaz DeNoise. Now, Topaz lab turns its whole business to AI video processing.
Topaz Video Enhance AI is Topaz lab's newly developed video enhancement software based on AI technology. It can enlarge the video footage with lower quality and resolution up to 8K by machine learning. Trained by thousands and thousands of videos, Topaz repairs every detail of your video frame by frame, reduces video flickering, sharpens the blurred ideo areas, and many other ways to get natural results by its built-in AI engine. It does a good job in upscaling videos and I am impressive with the enhancement.
Before we continue with the Topaz Video Enhance AI review, let's first look at the comparison video that I used Topaz to upscale 640*480 video to 4K by its AI engine. That's amazing, isn't it?
Topaz Video Enhance AI System Requirements
We can use Topaz Video Enhance AI on our Windows PC and Mac. And, it's compatible with M1 Macs too. However, Linux is currently not supported. You will see the detailed requirements here:
Operating System: Windows 10 (64-bit only), macOS 10.14 and later

CPU:4th generation of Intel CPUs or later, AMD CPU from 2016 or newer.

RAM: 8GB

Supported Video: .avi, .flv, .m1v, .mkv, .mov, .mp4, .mpg, .mpeg, .webm, .wmv

Supported Image: .png, .tif, .tiff
For CPU, GPU and RAM, it's always recommended to have newer or more powerful CPU or GPUs, or larger RAM to speed up the AI video upscaling. However, from my testing, we can still use this AI upscaling software on older computers.
Tips:
Please always keep your GPU drivers up to date.
Get Topaz Video Enhance AI
To get the installer, you will have to visit Topaz, click "Try for free" and enter your email, and click the blue button "Get free trial" to get the download link. The installer for PC or Mac is over 2.5GB.
Along with the download, you will get a password to try the full functions for 30 days. The user name is the email you enter.
The email is sent by mandrillapp.com on behalf of Topaz Labs<[email protected]>. You may need to add them to the white list to get the email.
It's not complicated to install Topaz Video Enhance AI. On Windows, we need to run the installer, allow it to make changes, agree with the user agreement, set the installation folder, and click Next to install.
On Mac, it's easier. We should double click the .dmg, macOS will mount it for you. Then, go for the Topaz icon, which is the installer, click it to start installing. Set an installation directory and hit Next.
After the Mac version is installed, you can locate it in Finder-Applications-Topaz Labs LLC-Topaz Video Enhance AI as shown below: 
Video Enhance AI Main Features
Topaz trains its AI engine thousands of thousands of videos to get us better and more natural results. And it's featured for the below main functions.
AI-upscale videos to 8K with true UHD quality. It's not only the resolution that is increased but the video quality!

Deinterlacing with AI: turn interlaced video to progressive. Most no visual artifacts can be found.

Denoising: Remove noise and minimize flickering according to deep AI learning to provide videos with real details.

Batch Converting: You can do batch AI upscaling with Topaz Video Enhance AI. Just load multiple videos to the video list. You can set the AI models, sizing, etc for each video. Also, you can process the entire upscaling with the same setting. In this case, add a video first, make the changes, and save your changes as Default. Then add the other videos and click Start Processing for the batch job.

Save video to uncompressed and lossless PNG, TIF, or TIFF frame by frame
Topaz Video Enhance AI Review: Something You Need to Know About the GPU Settings and AI Models
Before we get started with the tutorial of how to upscale my SD MP4 video to 1080P, 4K or even 8K in this review, I'd like to introduce you to the basic settings for GPU, and its AI models, so as to get better-desired results as fast as possible.  
Video Enhance AI - GPU Settings
Topaz AI upscaling software supports both CPU and GPU for video enhancement. You can set the AI processor here in Preference: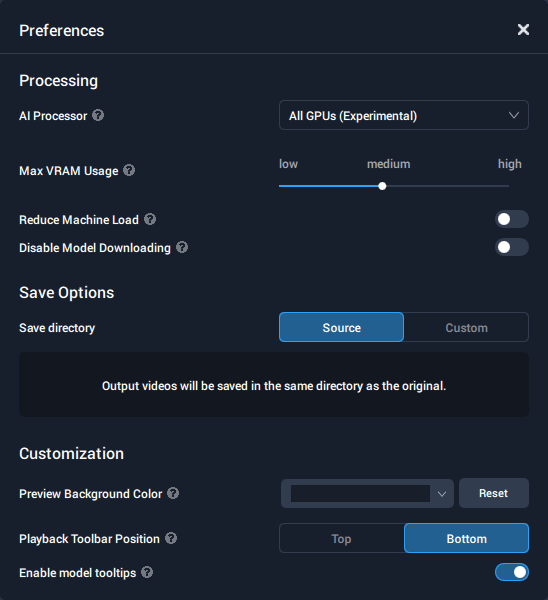 However, we know that AI upscaling for videos is time-consuming, well, CPU processing is even slower. The advantage of CPU processing is that it's more stable. Consider turning it on if Topaz crashes on you.
Actually, it's officially recommended that you'd better run this kind of process on machines with GPU, the more powerful and more RAM, the better.
If you have two or more GPUs on your computer, you can turn on All GPUs. It's currently an experimental feature for Nvidia and AMD GPUs and it will not work for Intel GPUs. And, always be sure to use dedicated GPUs instead of the integrated Intel ones.
If you are a Mac user with multiple graphic cards, please disable Automatic graphics switching here in System Preference-Energy Saver.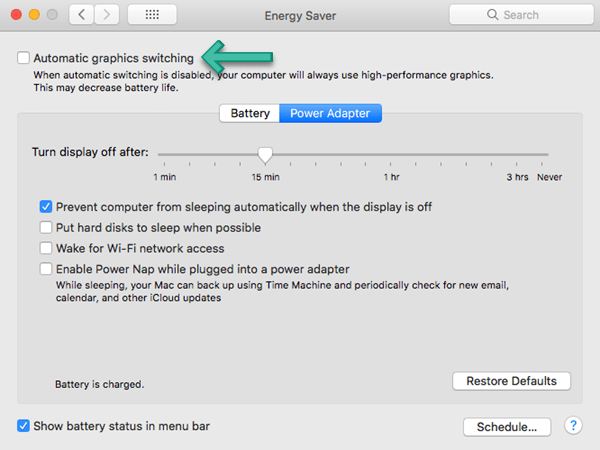 Note:
The Gaia AI model on Mac only uses your CPU. Other models use your CPU, GPU, or both.
AI Model Picker is a new feature since version 2.0, aiming to pick up a better AI model for upscaling. You can see the AI Model Picker button after a video is loaded.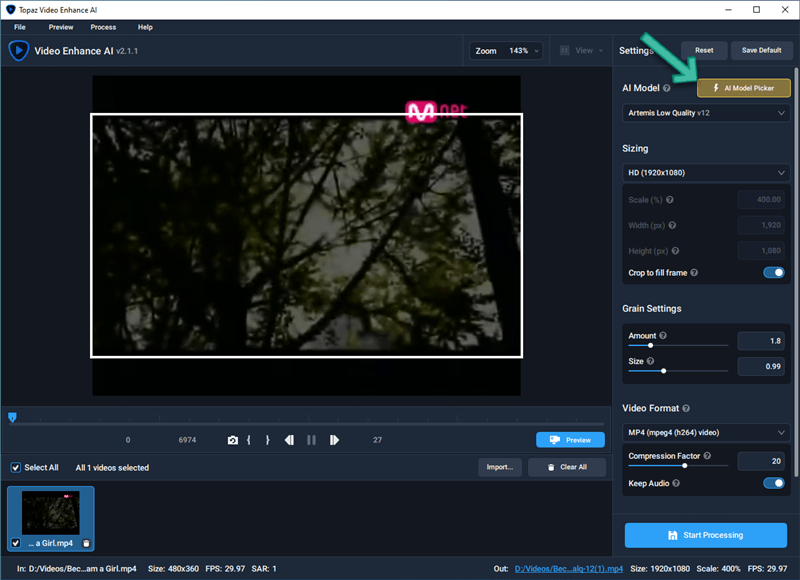 Here, you need to tell the AI enhancer how is your input video quality, the scan type, either interlaced or progressive, is the video generated by a computer, and your desire for the enhancement.
After that, Topaz Video Enhance AI will recommend two or three AI models along with a brief description of each so you can better understand them and pick up the one you prefer.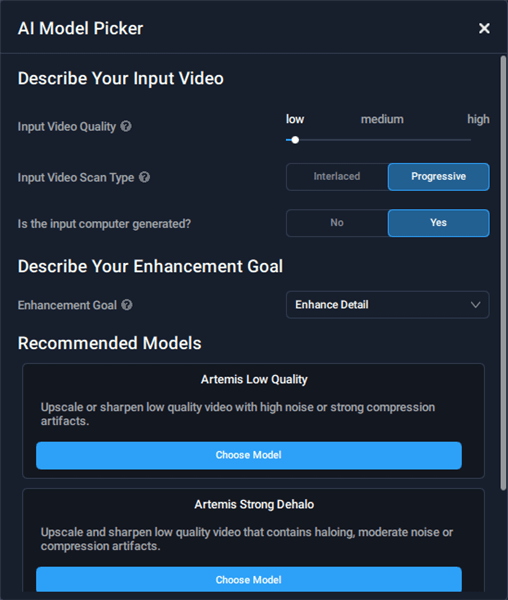 In short, if you have a high-quality video with over 720p or 1080p video, you may need to choose the Artemis High-Quality AI model, if a lower quality video like 480P or highly compressed, you can try  Artemis Low Quality. If a video is a computer-generated animation, you may need to use Gaia Computer Graphics.
If you are still not sure, or you want to get better results, feel free to switch between different AI models. After previewing the actual effect, make a suitable choice and start rendering.
How Can We Improve Video Quality using Topaz?
With the help of the AI engine powered by Topaz, we can increase the video resolution, make videos clearer, and improve video quality. I will take an old MV in 2008 as an example. It's 420*320 MP4 video and the quality now looks bad.
While upscaling a video and improving the video quality, Topaz is CPU and GPU-consuming. So, you'd better not run any other programs in case of unknown errors as well as a faster rendering.
Step 1. Load Video
Click the Browse button to load a video or add by drag-and-drop. Or, you can also load the last saved project by clicking "Load Last Auto Save".
Step 2. Trimming[Optinal]
If you want part of your video to AI-enhanced, click the "Mark start frame(I)" and "Mark end frame(O)" to trim. If you the whole video, just skip this step. 
Step 3. AI Model Picker
Pick the most suitable AI mode by answering a few questions. You can go Advanced to select one if you understand those well.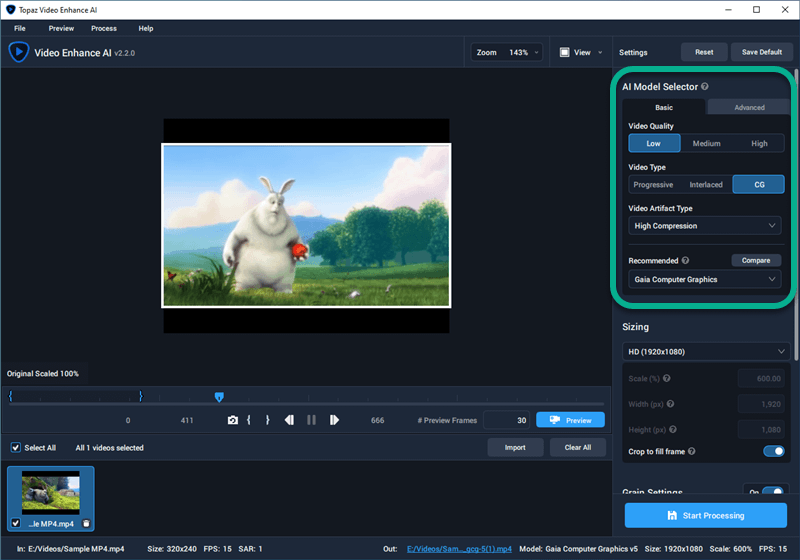 Step 4. Set Size
Set the resolution before you upscale and enhance your videos. You can set it up to 8K. Enable "Crop to fill the frame" if your video aspect radio is NOT 16:9, and it helps you to get the full-screen video without black bars. However, please note, you lose some of the videos.
If you set the 100%, it will only denoise and deblock.
Step 5. Grain Settings[Optinal]
It's better to keep the default unless you know exactly how this would work. Or, you may get bad results and have to start all over.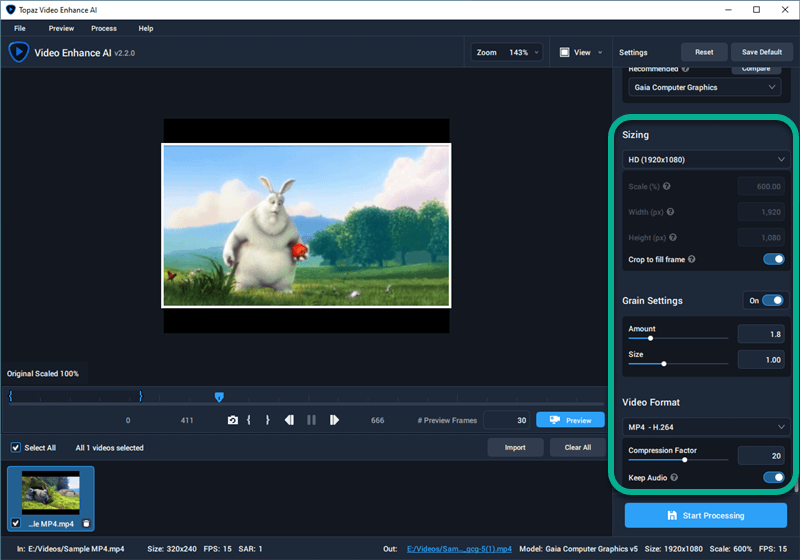 Step 6. Video Format
MP4 H.264 and MOV ProRes HD are supported.
Actually, Topaz recommends images as the output for two advantages:
Lossless PNG, or Uncompressed TIF(8 bit) and TIFF(16 bit) are supported, while MP4 and MOV are compressed and not lossless.
This processing saves each frame as an image, thus, it is more stable and you can resume if there is anything wrong.
However, please note you will have to merge those images back to a video.
Step 7. Preview[Optinal]
You can choose to preview the enlarging or go directly to start upscaling. You can preview 30 frames by default. Or you can set it here:
Step 8. Upscaling
Click on Processing to start upscaling your AVI, MKV, MP4, WebM, WMV up to 8K! Before that, Topaz will initialize AI Engine. Make sure you are connected to the internet, and if there is an update, allow some time to update
How Long Does It Take to Upscale?
When I was doing the review for Topaz Video Enhance AI, it took about three hours to upscale a 480*320 MV to 1080P with Nvidia 1050 for processing. To be honest, I do think it is a long time.
Video Enhance AI supports GPU acceleration. If there is no better graphics card than NVIDIA GTX 1080, it will be 5 times slower with Intel integrated card, and 10 times slower with CPU only.
If you use NVIDIA GTX 1080, zooming in from 480P SD to 1080P HD MP4 H.264 will take about 0.5 seconds per frame, which is about 15 times the length of the original video. To zoom in from HD to 4K, each frame usually takes 1 to 2 seconds, which is about 50 times the length of the original video.
It usually takes 4~5 seconds to zoom in from HD to 8K, which is about 150 times the length of the original video.
For example, for a 15-second 1080p video (25fps), it takes about 10 minutes to zoom in to 4K; it takes about half an hour to zoom in to 8K.
Does AI-upscaling SD videos to 1080P, 4K, or 8K really work?
During my Topaz Video Enhance AI review, I have used the program for over a month, and I have tested a couple of videos with different AI models. I must say that the final results are very good and beyond my expectation.
The basic information of the video is restored as much as possible. While zooming in, details are enhanced by a list of AI technologies like sharpening, denoising, etc, making the final video satisfying. You can get my results here.
Troubleshooting: Topaz Video Enhance AI unable to run the selected model?
For some reason, you may not able to run the selected Topaz Video Enhance AI model and I have come across this kind of error only during my review. If you have the same problem, try the troubleshooting steps below:
Always make sure Topaz Video Enhance AI update-to-date, and your GPU driver is up to date too!
Go File-Preference and lower the VRAM for more stable rendering.
Close other programs that may use your GPU too.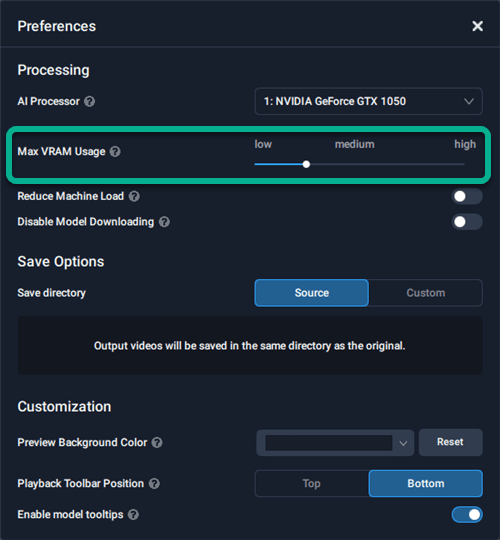 Pricing-Is Topaz Labs Video Enhance AI Worth the Money?
Topaz Labs Video Enhance AI is sold at 299.99 for two computers. Credit cards and PayPal are supported.
To be honest, it is a bit expensive. If you a good many videos to enlarge, I think it's worth that much money considering the great video quality.
Unique Coupon for Topaz Video Enhance AI
I am glad to say I have a unique coupon code for this amazing AI upscaling software. It's a 15% off discount! And, anyone who is interested in the full version can save $45!
Topaz Discount Coupon:
HUNKHAN15
Visit Topaz Video Enhance AI from the below link: 
Then, you can simply click Buy Now and enter the coupon code as shown below: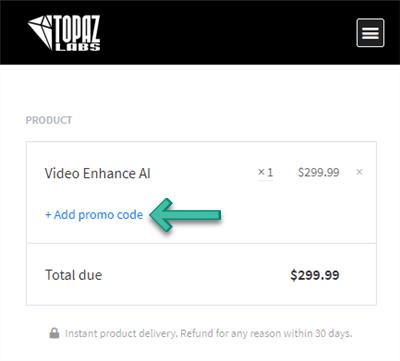 Pros:
30 days full trial
Up to 8K upscaling
Great video quality, better other any other AI upscaling software
Easy to use. With AI Model Picker, we can get better results
Uncompressed Tiff, tif, and lossless PNG support
Cons:
Summary for Topaz Video Enhance AI Review
We highly recommend you always have a try first even you have read many good reviews of Topaz Video Enhance AI. The one that meets your needs and works for you is the best. But I do believe Topaz Video Enhance AI is the best.
With the help of the AI engine powered by Topaz, we can increase the video resolution, make videos clearer, and improve video quality. I will take an old MV in 2008 as an example. It's 420*320 MP4 video and the quality now looks bad.
While upscaling a video and improving the video quality, Topaz is CPU and GPU-consuming. So, you'd better not run any other programs in case of unknown errors as well as a faster rendering.