In today's digital age, the demand for high-quality imagery is at an all-time high, with professionals and enthusiasts alike striving to create visually stunning content that stands out from the crowd. However, working with low-resolution images or enlarging photos for various purposes often results in a loss of detail and diminished quality. This is where innovative upscaling solutions come to the rescue, transforming the way we enhance and optimize our images. In the realm of digital imagery, there are few innovations as transformative as Topaz Gigapixel AI. In this Topaz Gigapixel AI review, I will delve into the intricacies of this revolutionary tool, elucidating its features, benefits, and applications in photography and design.
Topaz Gigapixel AI Review: The Key Features
Let's begin by examining the standout features of Topaz Gigapixel AI that set it apart from traditional upscaling methods as well as other AI-based tools.
You can also check its official site to see if I am wrong or not:
AI-driven Image Upscaling
Topaz Gigapixel AI's pièce de résistance is its AI-driven upscaling algorithm. This advanced technology scrutinizes each pixel, extrapolating information to generate an upscaled image that retains the original's fidelity. The outcome is an image of exceptional quality, with crisp, well-defined edges and minimal artifacts.
A common issue with upscaling is the amplification of noise. Topaz Gigapixel AI circumvents this problem by incorporating noise reduction technology. By reducing noise while preserving the original details, the software achieves a remarkable level of image clarity.
Topaz Gigapixel AI's noise reduction capabilities do not compromise the image's authenticity. Instead, the software judiciously balances noise reduction and detail preservation, ensuring the upscaled image maintains its integrity. 
Slide
Original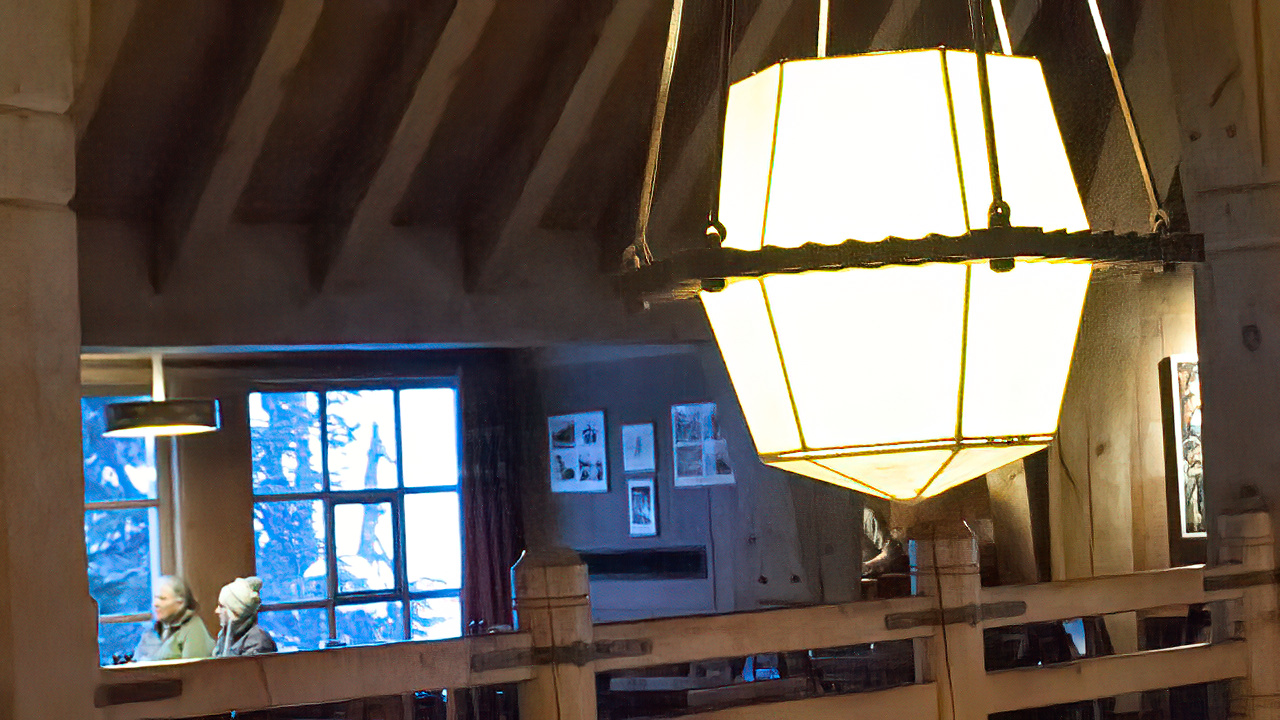 Denoised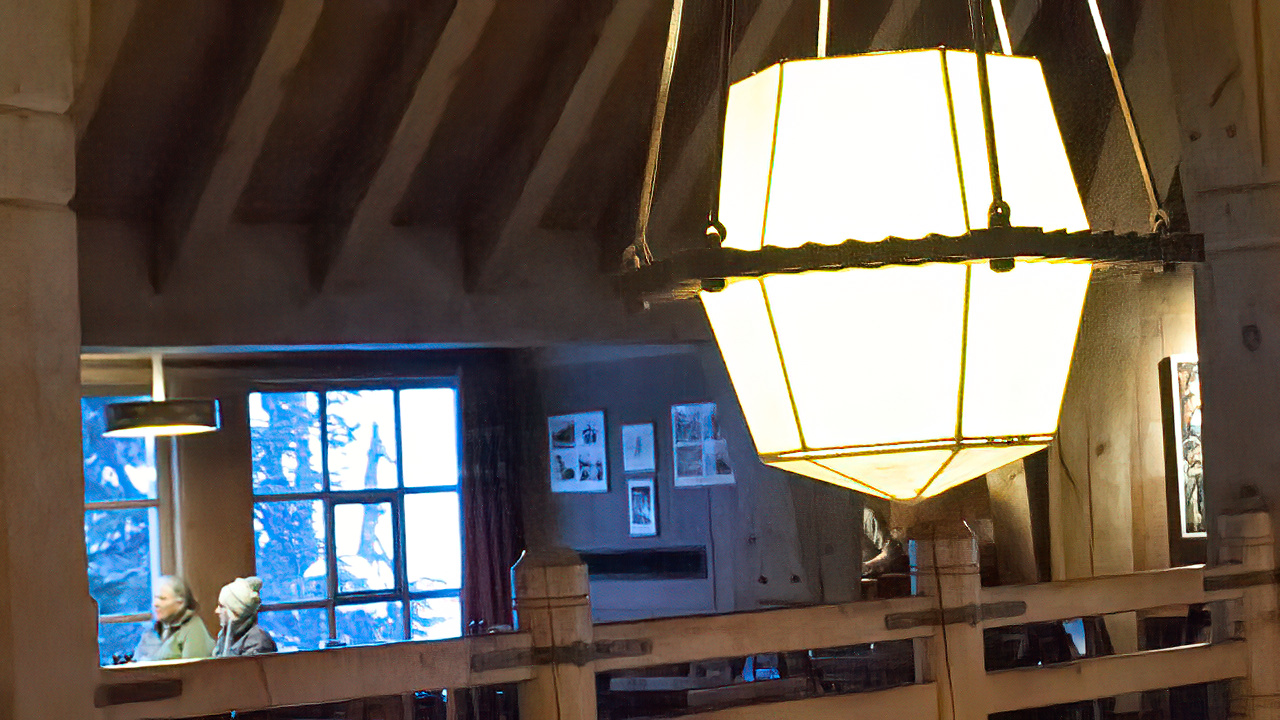 User Interface and Experience
The user-friendly layout of Topaz Gigapixel AI, with clearly labeled controls and tools, makes it a delight to learn and use. This user-friendly design allows even novices to master the software quickly.
It has built-in tutorials that provide users with a step-by-step walkthrough of the software's features and functionality. This interactive learning experience helps users familiarize themselves with the interface, tools, and settings, ensuring they can make the most of the software right from the get-go.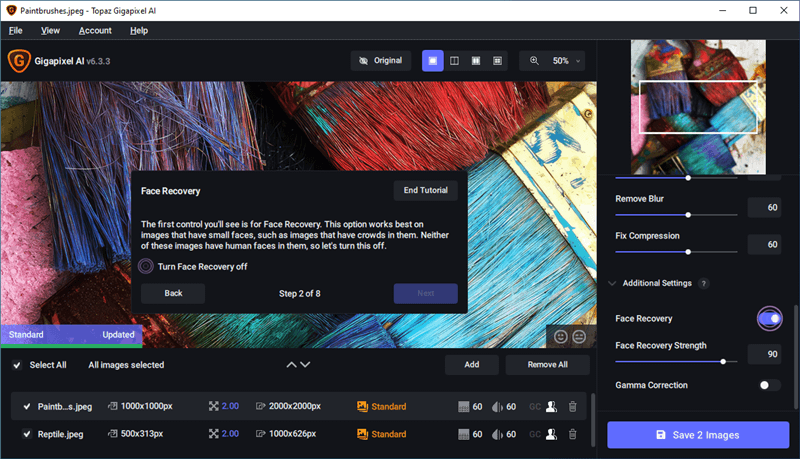 Topaz Gigapixel AI offers a bevy of customization options, empowering users to tailor the upscaling process to their needs. You can fine-tune settings such as noise reduction, blur removing,  compression fixing, face recovery, and gamma correction, giving you unparalleled control over the final output.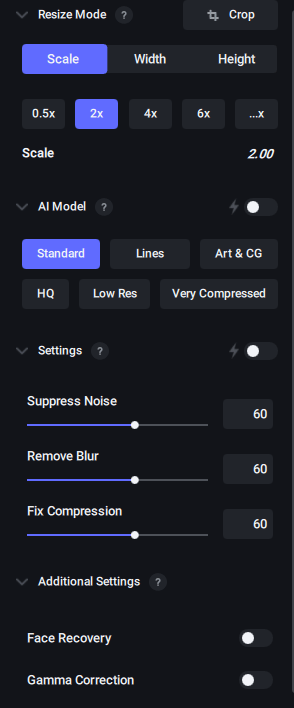 Gigapixel AI's performance is impressive, with rapid processing speeds that do not sacrifice quality. Topaz Gigapixel AI is made to make the most of your computer's GPU so that it can process and enlarge images faster. GPU acceleration significantly speeds up the upscaling process by offloading the computational workload from the CPU to the GPU, which is specifically designed to handle graphics-intensive tasks more efficiently.
You can, and you'd better go File-Preference to set the AI Processor to the more powerful GPU instead of CPU or the integrated graphics.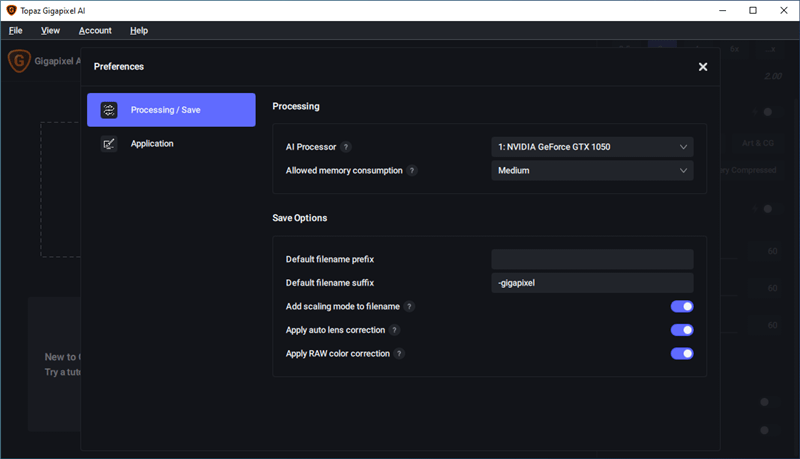 In addition to its impressive upscaling capabilities, Topaz Gigapixel AI also offers a batch processing feature, streamlining your workflow and ensuring consistent results.
In the fast-paced world of digital imaging, efficiency is paramount. Topaz Gigapixel AI understands this and offers batch processing, allowing you to upscale multiple images simultaneously. This feature is invaluable for professionals juggling large volumes of work, enabling them to streamline their workflow and save time.
Another benefit of batch processing is the consistent quality it ensures across images. This is particularly useful when working with a series of photos or designs, as it guarantees uniformity in the final output.
Topaz Gigapixel AI offers different AI models to provide users with optimal upscaling results based on their specific image types and requirements.
Note:
The names of the models may change or merge with other models over time. In 2023, Topaz Gigapixel AI offers six AI models to cater to various image types and upscaling requirements.
Below are details for each AI model. 
Standard: The Standard model is designed for general-purpose image upscaling and works well with a wide range of images, including photographs, illustrations, and graphics. This model preserves details, enhances textures, and reduces noise while upscaling images.
Lines: The Lines model is optimized for images containing intricate lines, geometric shapes, and patterns. It focuses on preserving the sharpness and clarity of these elements during the upscaling process.
Art & CG: The Art & CG model is specifically designed for upscaling digital art, illustrations, computer-generated graphics, and other non-photographic images. This model aims to preserve the unique characteristics and stylized details often found in these types of images.
HQ: The HQ model is designed for high-quality images that require minimal enhancement. It maintains the overall quality of the image while upscaling, ensuring that details, colors, and textures remain as accurate as possible.
Low Res: (previous name: Compressed) The Low Res model is tailored for upscaling low-resolution images, such as small or pixelated photos with compression artifacts.
Very Compressed: The Very Compressed model is optimized for images with significant compression artifacts or those saved in a highly lossy format, such as low-quality JPEGs. This model works to reduce compression artifacts while upscaling and maintaining image details.  
By selecting the most appropriate AI model for your image, you can achieve optimal upscaling results tailored to your specific needs. If you are really not sure which one to use, just toggle the Auto(Recommend) function here: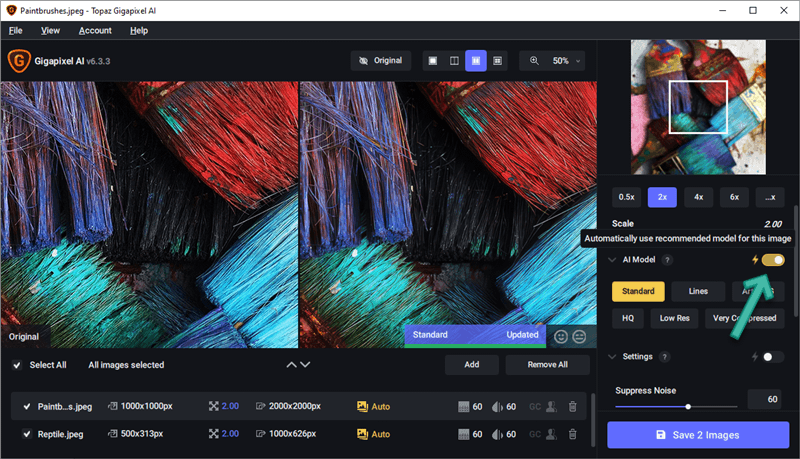 You can also download all the AI model files for offline use. If not, you need to connect to the internet as it will ask you to download the required AI model if needed.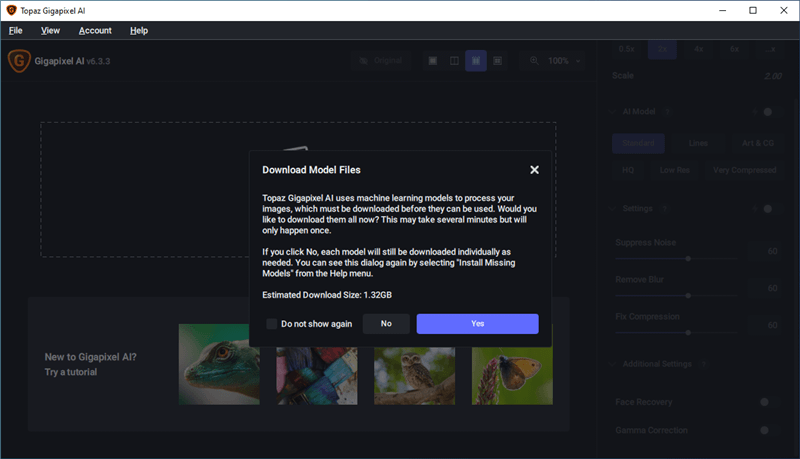 Competitors and Alternatives
Conventional upscaling techniques, such as bicubic interpolation and Lanczos resampling, pale in comparison to Gigapixel AI. These methods often produce blurred images with visible artifacts, whereas Topaz Gigapixel AI's AI-driven approach delivers crisp, high-quality results.
So, if you are looking for a Gigapixel AI competitor or an alternative, never consider those conventional ones. While there are other AI-based image upscaling tools on the market, Topaz Gigapixel AI stands out for its advanced algorithms and exceptional image quality. Its unique blend of AI-driven upscaling, noise reduction, and detail enhancement makes it the gold standard in the industry. I do believe Topaz is the best.
There are several alternatives to Topaz Gigapixel AI that you may consider for image upscaling and enhancement. All on AI.
AVCLabs Photo Enhancer AI is designed to enhance the quality of images by improving sharpness, reducing noise, and optimizing color and contrast. It analyzes and processes photos using AI-driven algorithms, leading to improved image quality.
Stockphotos AI Upscaler is an online tool that can enlarge images using artificial intelligence. It can upscale images by 2X, 4X, or 8X and preserve sharp details and vivid colors. It also has a special AI model called FacePro that can reconstruct faces with high accuracy. You can use it for free to upscale 3 images up to 2000×2000 pixels.
If you are looking for an online tool to enhance your images, Stockphotos AI Upscaler might be a good option for you.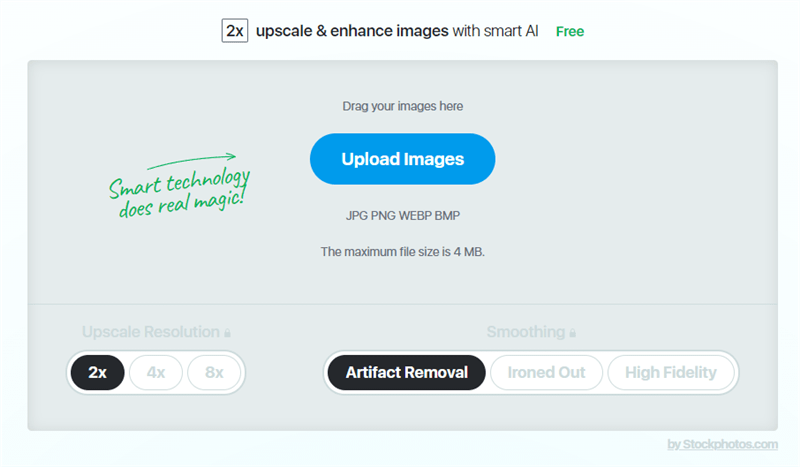 ON1 Resize: ON1 Resize (formerly Genuine Fractals) is an image-resizing software that uses fractal-based interpolation algorithms for upscaling. It produces better results than traditional upscaling methods but may not provide the same level of detail enhancement and noise reduction as Gigapixel AI.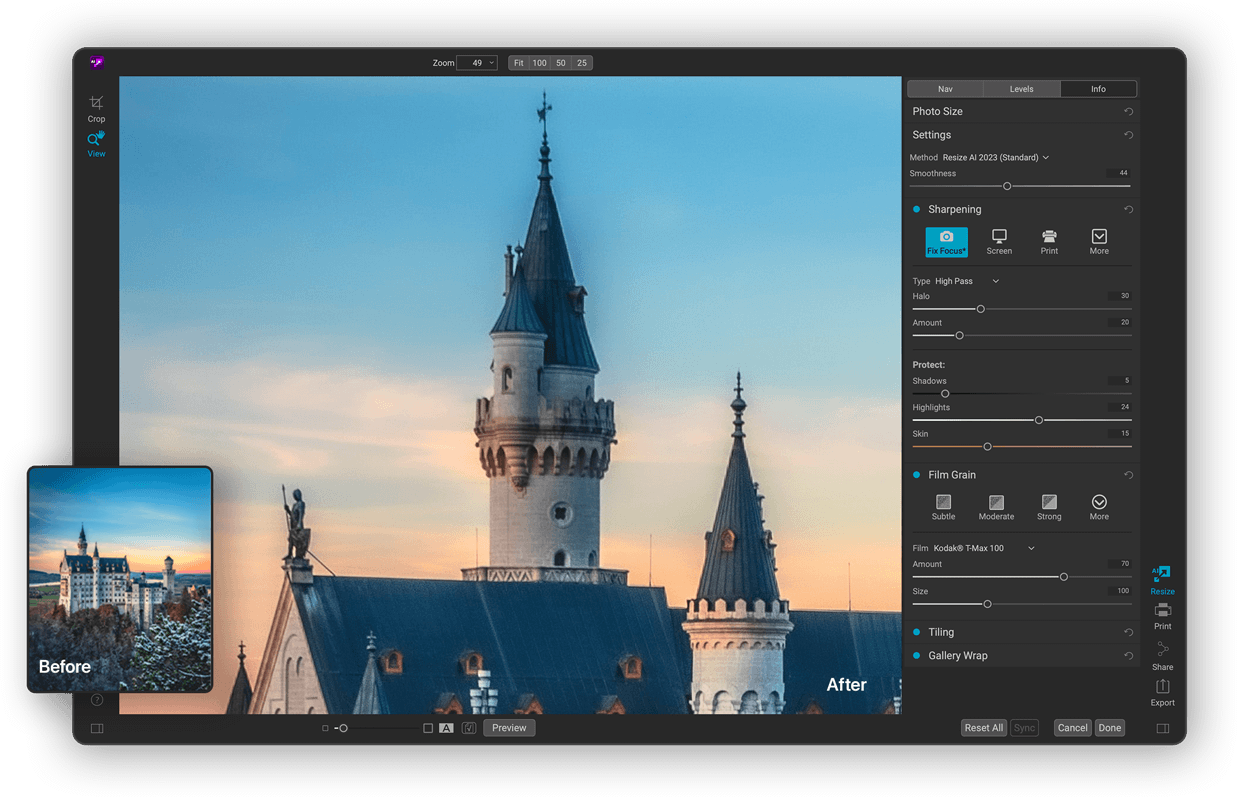 Luminar AI vs Gigapixel AI
Luminar AI and Topaz Gigapixel AI are two different types of image editing software that serve different purposes. While both utilize artificial intelligence to improve images, their primary functions and target users vary. Here's a comparison of the two:
| | Luminar AI | Topaz Gigapixel AI |
| --- | --- | --- |
| Purpose | Comprehensive photo editing software with AI-powered tools for enhancing various aspects of an image. | Specifically designed for image upscaling and enlargement while preserving details, enhancing textures, and reducing noise. |
| Target Users | Photographers, graphic designers, and creative professionals who need a versatile image editing solution. Beginner-friendly. | Photographers, graphic designers, and professionals who need to upscale images without losing quality. |
| Features | AI Enhance, AI Structure, AI Sky Replacement, AI Portrait, AI Augmented Sky, and more. | Detail enhancement, noise reduction, customizable upscaling settings, and batch processing. |
| Compatibility | Standalone application and plugin for Adobe Photoshop and Lightroom. | Standalone application and plugin for Adobe Photoshop and Lightroom. |
In summary, while Luminar AI is an all-in-one photo editing solution that focuses on various aspects of image enhancement, Topaz Gigapixel AI specializes in image upscaling and enlargement. Depending on your specific needs and requirements, you may choose one over the other or even use them in combination to achieve optimal results in your image editing workflow.
It seems there may be a slight confusion regarding the naming of Topaz Labs' products. Topaz Gigapixel AI is a standalone software focused on image upscaling, while Topaz AI products, such as Topaz Sharpen AI, Topaz Denoise AI, and Topaz Photo AI, are designed for different purposes in the image editing process.
Topaz Gigapixel AI and Topaz Photo AI are two different products from Topaz Labs that can upscale low-resolution images. Topaz Gigapixel AI is a standalone application that focuses on enlarging images with various settings and options. Topaz Photo AI is aiming to solve different image quality problems in one app. It's an all-in-one bundle of three applications: Gigapixel AI, DeNoise AI, and Sharpen AI, that can enhance images with noise reduction, sharpening and upscaling. In a simple sentence: Photo AI can do all Gigapixel AI does.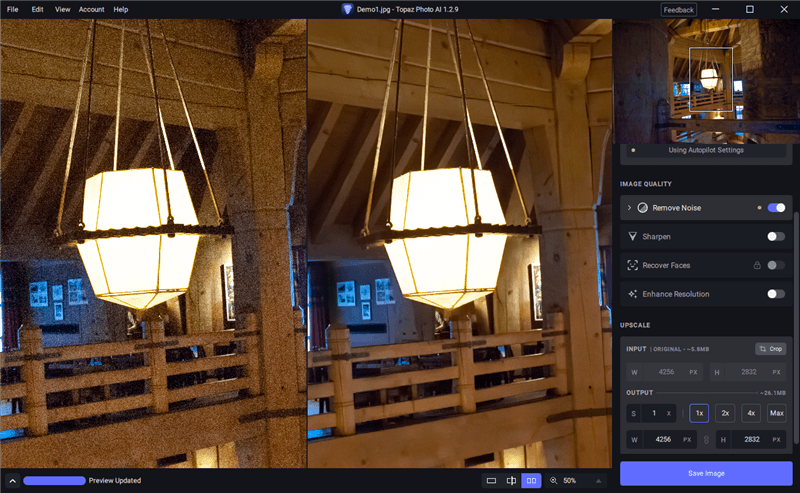 However, to be very honest at the very moment, Gigapixel AI performed better than Photo AI in most cases, producing sharper and more detailed results. This may be simply because Photo AI is a new-coded program. But I also believe the current version 1.2.9 works much better than the very first version. We should give Topaz a little bit more time.
Practical Applications and Use Cases
Now, let's explore the diverse range of applications and use cases for Topaz Gigapixel AI across various creative fields.
Professional photographers can use Topaz Gigapixel AI to upscale their images without losing quality, allowing them to print large-scale versions of their work for exhibitions or sale.
Graphic designers often work with a variety of image resolutions and sizes. Topaz Gigapixel AI enables them to seamlessly upscale images, ensuring consistent quality across their design projects.
In web design, high-quality images are crucial for user engagement and visual appeal. Topaz Gigapixel AI allows designers to optimize images for various screen resolutions and devices, maintaining sharpness and clarity.
Film and video professionals can utilize Topaz Gigapixel AI to enhance lower-resolution footage, making it suitable for high-definition formats or large-scale displays.
Pricing and System Requirements
Before wrapping up our review for Topaz Gigapixel AI, let's take a look at the pricing plans and system requirements.
According to the official website, Topaz Gigapixel AI costs $99.99 as a one-time purchase. This includes a standalone application and a plugin for Photoshop and Lightroom. You also get one year of unlimited upgrades with your purchase. If you are unsatisfied with the software, contact Topaz Labs within 30 days for a full refund.
Alternatively, you can also buy Topaz Gigapixel AI as part of the Image Quality Bundle, which includes three other image enhancement apps: DeNoise AI, Sharpen AI, and Gigapixel AI. The bundle costs $199.99 and saves you $59.98 compared to buying each app separately. You can get Topaz Photo AI free if you buy the Image Quality Bundle.
Topaz Gigapixel AI is compatible with both Windows and macOS. It's always recommended to run it on more powerful computers with modern GPUs simply because AI image upscaling or noise reduction is time-consuming. You can find more detailed requirements on the official site.
However, from my testing, it runs on no GPU system too. Just slower.
Below is what I thought the advantages and disadvantages of Topaz Gigpixel AI, just for your reference. 
AI-driven upscaling for exceptional image quality
Detail enhancement and noise reduction capabilities
Intuitive user interface with customization options
Time-saving batch processing feature
Wide range of practical applications
One-time purchase with lifetime access and updates
Higher system requirements compared to conventional upscaling methods
Occasional artifacts may appear in complex images
In summary, Topaz Gigapixel AI is an indispensable tool for professionals and enthusiasts alike. Its AI-driven upscaling, detail enhancement, and noise reduction capabilities set it apart from conventional methods and other AI-based solutions. With its intuitive user interface, customization options, and diverse applications, Topaz Gigapixel AI is a game-changer in the realm of digital imaging. Unleash the power of upscaling and elevate your work to new heights with this remarkable software.