I have a couple of programs that can download videos from YouTube as well as many other video sharing websites like Facebook, Vimeo, Dailymotion, etc. And, they worked just fine. However, we see that Google, YouTube, and others keep updating themselves, thus, sometimes my YouTube downloaders just don't work and I will have to find alternatives. 
In this post, you will see my Allavsoft review: a simple but powerful online video downloader and converter that supports over 100 websites like YouTube, NBC, MetaCafe, Break, etc.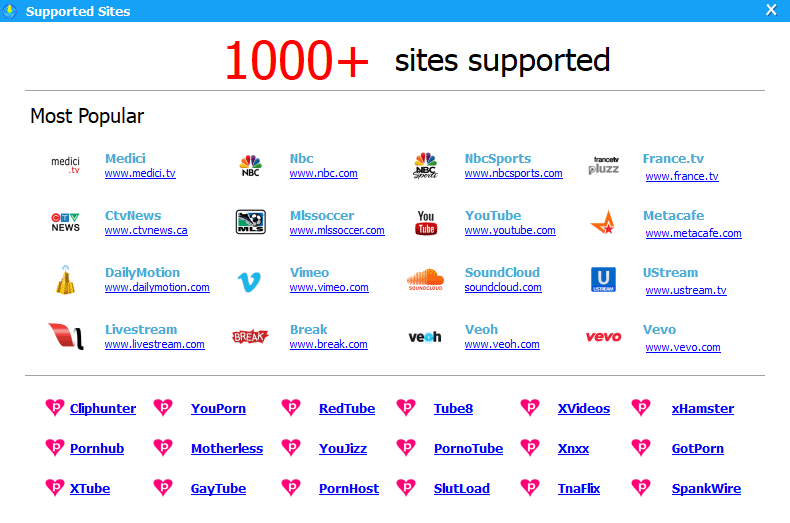 You can visit Allavsoft's homepage via the below button:
Allavsoft: One-click YouTUbe Video Downloading
Allavsoft is simple and user-friendly in video downloading. When you are watching YouTube or other videos in your browser, you simply copy the URL and then go back to Allavsoft. You will see the URL is already pasted. And what you need to do here is click the big Download button: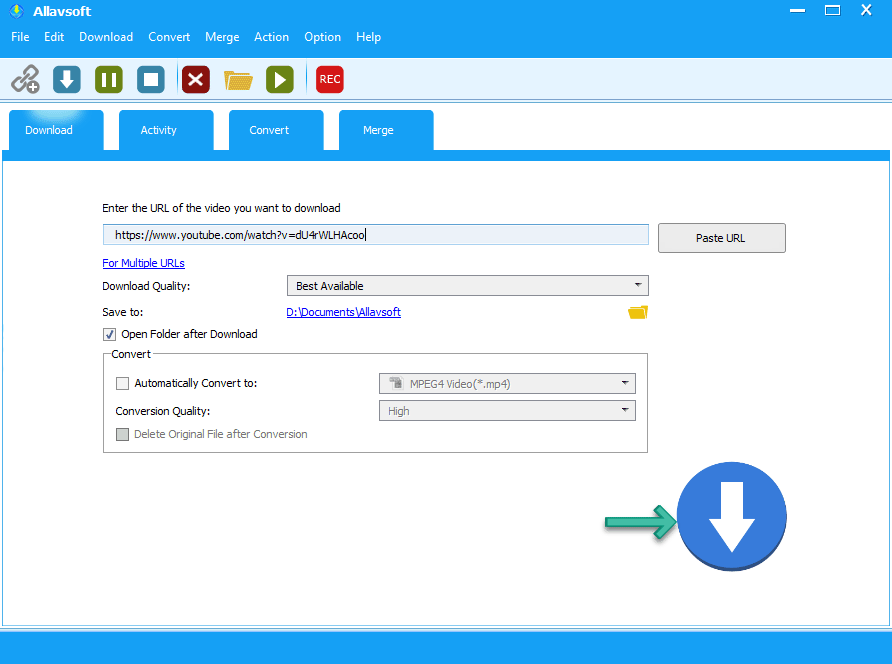 Allavsoft allows you to download multiple videos. You can click the "For Multiple URLs" and paste the links as many as you want to download. And, in Option-Preference, you can set the number of simultaneous downloads to a maximum of 7.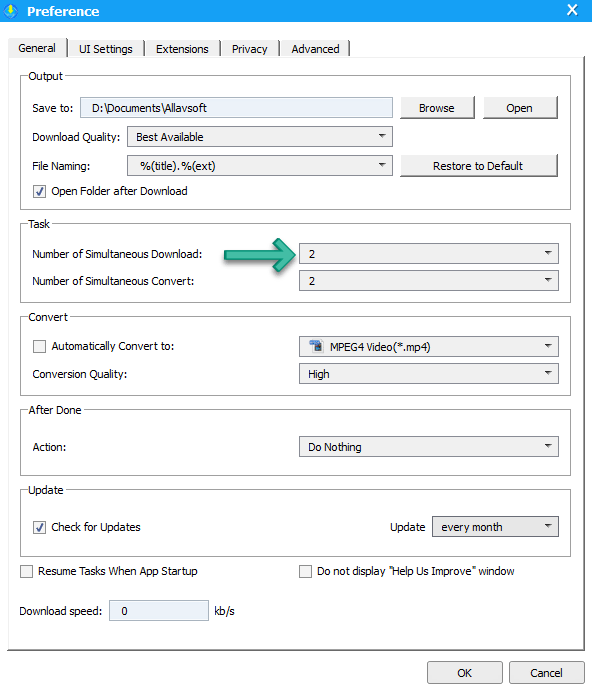 Allavsoft supports downloading playlists as well. You will be presented the below window to confirm if you want all the videos in the playlist or just the current one to be downloaded.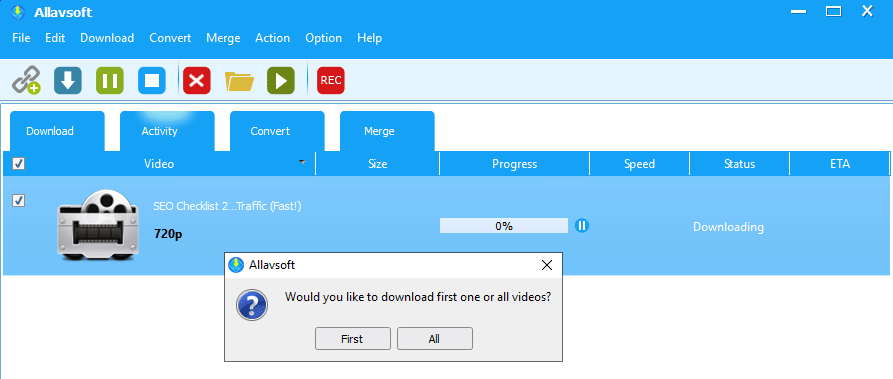 Convert YouTube to AVI/MKV/Android/iOS
When we download videos from YouTube, we may get a WebM or VP9 video that doesn't quite meet our needs. Also, there are many other reasons that you want to re-convert the downloaded YouTube videos. And, Allavsoft is right here for you to convert YouTube to MKV, AVI, WMV, MOV, etc or devices like iPhone, iPad, PS3, Wii, Xbox, etc. The convert feature in Allavsoft is basic but straightforward. There are no options for advanced users to set the FPS, bit rate, resolution, etc, but it simply works. So it's extremely easy for those who are not that tech-savvy. To make it as simple as possible is what I think the main purpose of how Allavsoft designs its program.  
With Allavsoft, you can convert the downloaded YouTube videos by three means. You can enable the auto-convert in the download part, or add the downloaded video in Activity: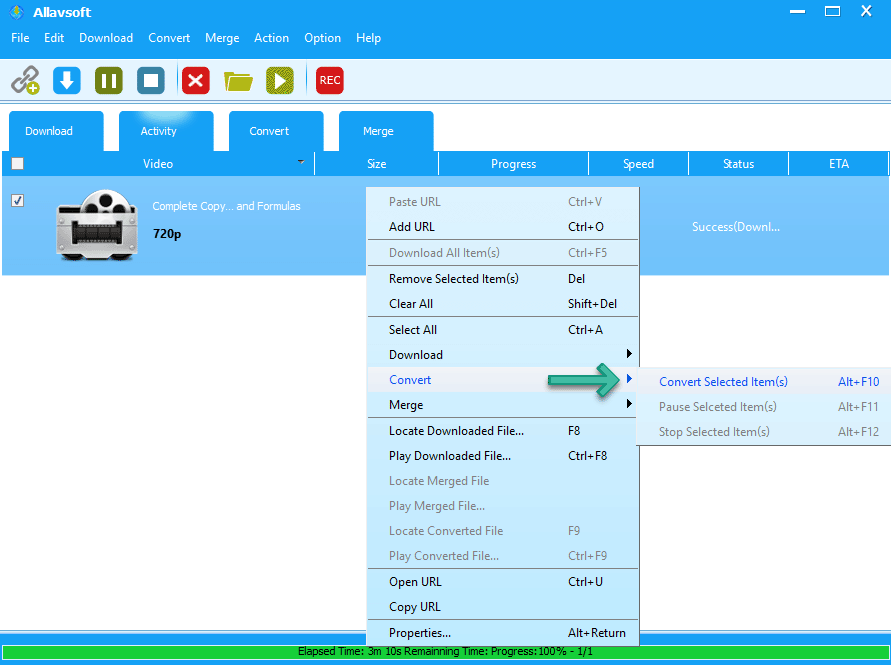 You can also add your local video for converting in the Convert section.  Besides, Allavsoft supports downloading Spotify to MP3.
Proxy for YouTube Downloading
Allavsoft supports proxy as well. However, for some reason, it is hidden. If you want to set a proxy for YouTube downloading, you can enable it by holding the Control button and then clicking "Option" ->"Preference". Socks5, Http and FTP are supported. Add your proxy and click OK to confirm. Once the window is closed, the Proxy setting will be hidden again. 

I want to have the feature of removing finished items. I notice it is very important for downloading playlists. For some reason, maybe my network connection, some of the videos failed to download in the playlist, but it was hard to check and I happened to notice that. Then I have to go over all the videos in the list and start over again for the failed ones. If I am able to remove the finished ones and leave the failed ones, I can re-download the failed ones within two clicks.
Pros:
Simple UI and easy to use with the best results. 
Flac, MP3 supported.
Fast in downloading
Great support
Cons:
The output is limited. 
Allavsoft can be a nice alternative for YouTube downloading. It is simple to use without complicated settings and it does its job well.