AI, known as Artificial Intelligence in computer science, seems nothing to do with my life. And, I don't really care about it much. A couple of months ago, I was invited to review the free online AI Image Enlarger and I was amazed by what I got. To me, I always believe that the quality losses in images and videos are irreversible. I mean, you probably cannot make your lower resolution images or videos to be in high quality again. When I got good results from AI Image Enlarger, I know things were changed and how amazing the AI engine was. Now, I am wondering if we can do the same thing to videos? Luckily, the answer is YES! Here in this post, you'll see my review for DVDFab Enlarger AI and how it works.
World-Class AI Video Upscaling Solution
While there are quite a few AI Enlargers out there that can do photos and image enlarging, DVDFab Enlarger AI is the first in the world that upscale low resolution like 480P to 1080P. With the most recent updates, DVDFab Enlarger AI is able to upscale 1080P full HD videos to 4K! Powered by the built-in AI engine, DVDFab Enlarger AI is a new function module that works like a profile with DVDFab Blu-ray and DVD Ripper, video converter, and DVD to Blu-ray converter. 
While you use the AI Enlarger to upscale your videos or DVDs, the AI engine will enrich the video frame by frame. You will see the resolution increase, and the video gets sharper and clearer.
Based on the TensorFlow framework, DVDFab develops its own deep learning AI engine and smart color correction algorithms to improve sharpness and quality. DVDFab Enlarger AI engine studies and analyzes tons of videos and images on its server. So, it makes progress almost daily.
You can also visit its official page for more details. 
In this DVDFab Enlarger AI review, you'll see my tips using it. 
DVDFab Enlarger AI: GPU Requirements
Enlarging videos from 480P to 1080P or upscaling 1080P to 4K by AI Enlarger is GPU consuming. It requires Nvidia GPUs for the job. Importantly, there must be at least 2GB of free memory. And, the compute capability must be higher than 3.5. According to Nvidia, the compute capability of a GPU determines its general specifications and available features. To see if your GPU's compute capability is higher than 3.5 or not, you can check it out on Nvidia's official page. Also, the latest GPU driver is required. 
Or, you can run the program, DVDFab Enlarger AI will check it out for you, and notify you if your GPU is supported or not. If not, it explains why on what is missing. 
The most recent update to DVDFab Enlarger AI, as you can see, requires 2GB free GPU memory, while it asked for at least 3 GB. Since then, my entry-level GPU MX150 can do the AI enlarging as well. And, I do believe it will support more GPUs. AMD's, maybe? 
Supported Formats and Codecs​
Currently, DVDFab Enlarger AI supports MP4 and MKV as the output. And, the video codecs are H.264 and H.265.  At this moment, you cannot freely set the resolution. You can only upscale 480P videos up to 1080P and 1080P videos up to 4K. Also, the frame rate has to be the same as the source. But, you are free to split chapters in DVD upscaling, extracting Blu-ray DVD subtitles directly to SRT. Video editing is also available. 
For audios, there are no such limits as MP4 and MKV are both great containers. You can copy the audio or convert it to AAC, AC3, EAC3, MP3, or DTS.
DVDFab Enlareger AI Review: The How-to Guide
Working with DVDFab is easy. DVDFab Enlarger AI is a function module in conjunction with the ripper and converter but works like a profile. So, there is nothing hard on it. Here is a detailed guide on how to use this AI video upscaling software to enlarge your Blu-ray, DVD, or lower quality videos.
Getting Ready:
Please follow the below link to download and install DVDFab. It is available for PC and Mac users. Install and launch it. If you want to upscale DVD to 1080P or Blu-ray to 4K, please insert the disc to the drive.
Step 1. Load Blu-ray/DVD/Video
For DVDs and Blu-ray, DVDFab automatically loads them for you to the COPY or RIPPER mode. For videos like AVI, FLV, MKV, etc, you can drag and drop to load. Or click the Add from local to load. 
Step 2. Profile for AI Video Enlarging
As discussed above, MP4 and MKV are supported for AI enlarging. You can choose one as you prefer as shown below: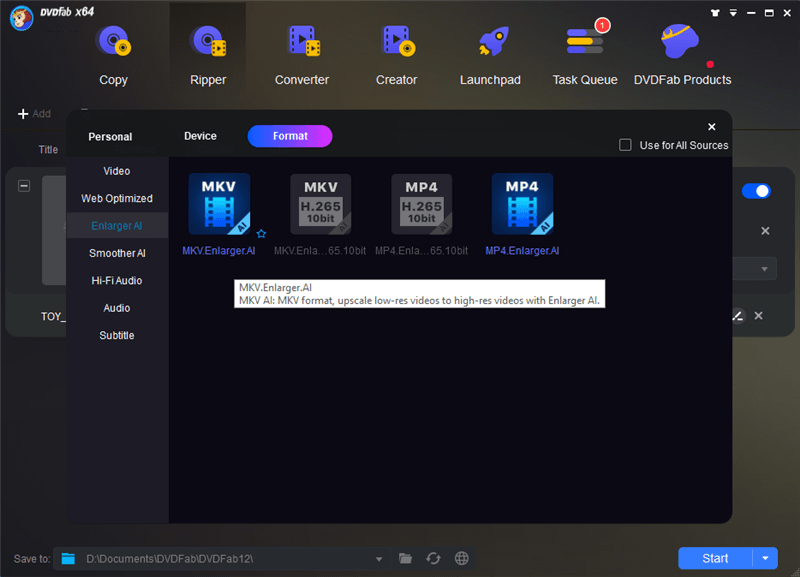 If you are upscaling standard Blu-ray to 4K Blu-ray, you can select the AI profile and set it to 4K. 
Step 3. Settings[Optional]
Splitting, subtitles, etc are available in Advanced Settings. You can go set them as you like. 
Step 4. Start AI Enlarging
Hit the Start button to begin AI enlarging your DVD, Blu-ray, or videos up to 4K. Firstly, DVDFab will go check if your GPU is supported. If yes, DVDFab will download the required data for AI enlarging. Then initialize the AI engine and start converting. You will see it takes full use of your GPU to do so.
Enlarger AI Important Updates
In this part of the review, I'd like to record the important and critical updates that DVDFab brings to its Enlarger AI. Here's you'll see how DVDFab makes its product better. 
Since DVDFab 12.0.3 (June 1, 2021), you will have new AI models for better video quality:  
Sharpen AI: New model adopted to fix blurs, sharpen edges, and add more details to make videos/photos more lifelike.
Denoise AI: New model applied to remove all types of noises from videos/photos.
UltraFast: Introduced the UltraFast training model for AI conversion.
DVDFab admits that its Enlarger AI still needs improvements. So, in version 11.1.0.2, DVDFab brings a critical update to its enlarging program. In a version newer than 11.1.0.2, you can now preview the upscaling before converting. I see it's important for people who want to make sure the output is within their expectations.
The new preview mode is currently only available in the Converter mode, but I do believe it will soon come to the Blu-ray Ripper and DVD Ripper mode.
Ok, let's see how it actually works. You can preview the AI enlarging frame by clicking the Preview AI button in the Converter mode. Make sure the profile Enlarger AI MP4.AI or MKV.AI is selected: 
If your GPU meets the needs, you'll be presented with a window asking you to install the Preview Engine. Make sure you click the download button and let DVDFab install the required engine. After that, you are able to preview the output. DVDFab will automatically select one frame for your reference. 
New Enlarger AI Training Models
DVDFab recently releases a new version, claiming to add new Enlarger AI training models in its DVD Ripper and Video Converter modules for upscaling DVDs or 480P videos to 1080P with better video quality. 
As is introduced by DVDFab, the new model for DVD Ripper is specifically trained from DVD movies with MPEG compression artifacts, while the one for Video Converter is trained from a clean movie dataset without MPEG compression artifacts, which also works well on cartoons and animations.
You are supposed to get better results! Make sure you have DVDFab 11.0.8.5 or newer versions. 
How does the new Enlarger AI training modes work for you? 
Troubleshooting-DVDFab Enlarger AI Not Working
To be honest, I didn't get the desired result from DVDFab Enlarger AI when I was doing the review for the first couple of tries. Here are some troubleshooting tips that I can think of:
Don't run other programs as it is GPU consuming and DVDFab will take full use of GPU for auxiliary calculation.

A network connection is required. DVDFab will always check the AI engine updates for every run. This is important to download the latest version of the AI engine. Or, you may get the below result:

It's possible that the enlarging process failed for some unknown reason. I suggest you contact DVDFab support and they can fix the problem for you.
How does DVDFab Enlarger AI Work?
I know you guys must care about how actually the program work and how the output video looks. From the screenshot below, I need to say that the output video quality enlarged by DVDFab Enlarger AI is better. 

You can download the original video in 640*480, the AI-enlarged video in 1920*1080, and the enlarged video in 1080P without the AI engine for your reference. 
So, what's the difference between normal upscaling by increasing the resolution and the AI enlarging? As can you see from the screenshot above, there are no quality improvements in normal enlarging without an AI engine.  And, they even look worse like when you zoom in small pictures to larger ones. However, the video converted by DVDFab Enlarger AI gives better quality, making it possible to improve standard resolution, low-quality video to HD video in 1080P or 4K. 
You can also check out the comparison video from DVDFab official YouTube channel:
To unlock the DVDFab Enlarger AI module, you will have to pay for it separately: $89.99 for one year and $139.99 for a lifetime license.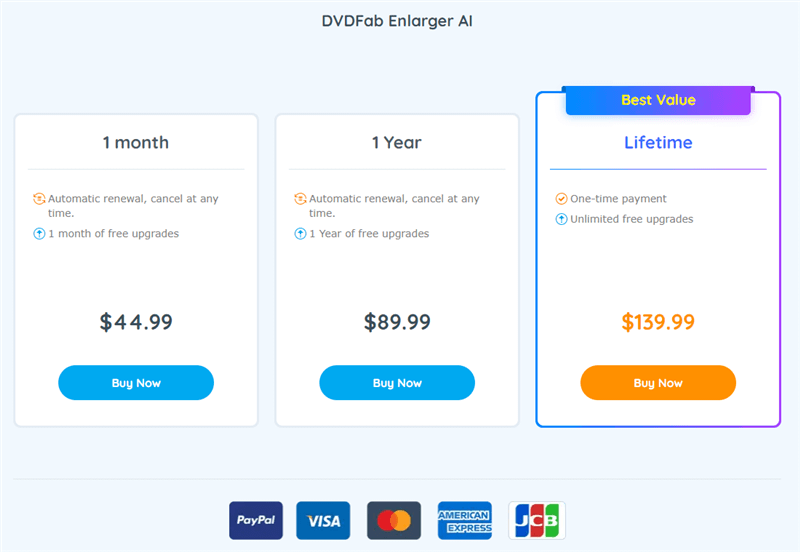 DVDFab Video Enhancer AI vs DVDFab Enlarger AI
DVDFab Enlarger AI is more like a profile or function module in DVDFab, the all-in-one solution for DVD and Blu-ray ripping, copying, burning, and video converting. It works in conjunction with DVDFab DVD Ripper, Blu-ray Ripper, and Video Converter to upscale your videos, Blu-rays as well as DVDs up to 4K with enhancing quality.
DVDFab Video Enhancer AI is a stand-along program for AI video upscaling. You can choose an AI model for better upscaling while DVDFab Enlarger AI cannot.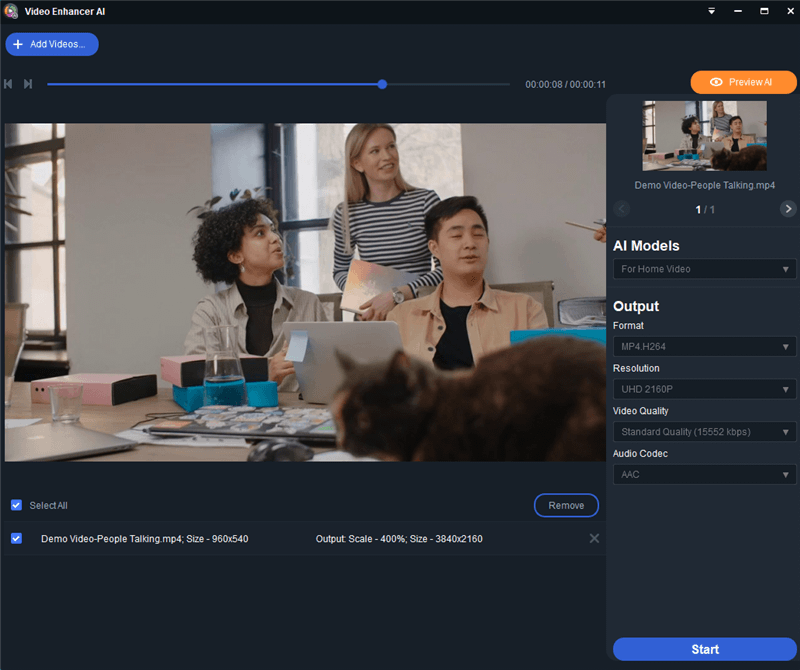 DVDFab Enlarger AI Alternative
DVDFab is not the only one that does AI upscaling. For any reason that you are not satisfied with it, I'd like to recommend an alternative: Topaz Video Enhance AI: 
You can pick up your preferred AI Model for better results. And, you can check out the result I got from AI upscaling 480P video to UHD 4K. 
Note: It does not support Blu-ray nor DVD, but it can AI-upscale your videos up to 8K.
Both Topaz and DVDFab are desktop programs for AI video upscaling. For other AI video enhancers, free and online ones, please visit my other post for details. And, if you are looking for an online video upscaler, I'd like to recommend Pixop.
Pixop is an artificial intelligence video upscaling software that is completely cloud-based. The entire process is automated in the cloud, and there are no upfront costs or software or plugin downloads required. Everything from Windows to macOS to Linux to iOS to Android to Chrome OS and everything in between is supported. To get started, all you need is a web browser and a visit to app.pixop.com, where you can register for an account.
See how it works for me:
I have tested the program DVDFab Enlarger AI for almost two weeks. To be honest, it does not work quite well at the very beginning, but luckily, I didn't give up to miss a good program. When I was doing the review with DVDFab 11.0.7.1, my GPU MX150 on the notebook is not supported. And I have to go for my Desktop for testing which comes with a more powerful GPU: GTX 1650. Two weeks later, MX150 is supported. It is really glad to see those entry-level GPUs are supported. Hopefully, more GPUs can be supported. 
DVDFab's support team is timely and really efficient in fixing my problems. Thumb up to them! And, as you may see, DVDFab is updated frequently. Give them some time. They won't let you down. 
The only con that I can think of is that the upscaling is really time-consuming.
In short, it is an epoch-making program for who are not tech-savvy to make the high-quality video even from low-quality videos. It is worth trying. The bundle is recommended for better cost-performance.