Only a limited number of individuals learned recoloring methods in the mid-1950s. However, these things are not quite the same anymore. You can easily get your hands on tons of colorization software tools nowadays. With photo colorizers like AI Image Colorizer, web applications, plugins, and programs, you may colorize a picture despite having no prior experience with editing photos.
It might be a hard nut to crack if you are keen on manually colorizing black-and-white photos. The great news is that issues are now more straightforward thanks to AI colorizing technology. 
An AI picture colorizer may allow users to colorize black and white photos online for free, even if they have never used Photoshop. With this image colorization software, you can quickly turn a black and white to a colorized version and bring it back to life, thanks to the latest combined AI and photo colorization technique.
Let us look at the best 15 photo coloring apps on the market today.
Best 5 AI Photo Colorizers to Colorize Black and White Photos for PC
If you want nothing but the best solution for your colorization, opting for software running on a PC is the best way to go. Here we have showcased five of the best tools on the market that offer exceptional AI models to bring back your age-old images to life.
HitPaw Photo Enhancer is one of the best AI photo enhancers and black-and-white image converters for Windows and macOS. The quality and resolution tool on HitPaw only takes one click. It also makes things less fuzzy and less noisy.
HitPaw's Photo Enhancer has a lot of different AI modes to meet your needs and gives good colors for family pictures. Without this feature, making small images bigger on platforms is challenging. Any image can be enlarged without losing quality, and the tool gives you unlimited access based on AI.

Features:
The most effective AI picture enhancer for both mac and Windows.

Automatically improve picture quality and photo resolution with a single click.

Simple methods for reducing blur and removing noise from images

Upscale and enlarge photographs without sacrificing any quality
Topaz Image Quality bundles Denoise AI, Sharpen AI, and Gigapixel AI. However, anyone who regularly uses the three standalone programs knows that switching between them is cumbersome and bulky. Because a single image can have multiple quality issues, beginners may not understand which of the three will improve photo quality. Supporting various AI models in programs complicates things, requiring you to run different models in different apps for the best results.
Thus, Topaz Photo AI, a three-app bundle, was created. Photo AI automatically finds and fixes image quality issues. Therefore,  it calls itself "Autopilot."
Features:
Boost the quality of your images automatically.

Your images can be made sharper, noise-free, and of higher quality using future technology.

Included are batch processes, pick-and-choose changes, and auto-subject choice.

The ability to directly open your image through the application.
Most of the time, "colorizing" an image means making its colors brighter or turning a black-and-white image into a color one. It's hard to color an image, especially in a way that looks good. We don't want a color picture that looks worse than a black-and-white one.
Many tools add too much color. We need an expert to colorize the pictures. With VanceAI Photo Colorizer, you can add color to old, colorless photos in any way you want.
Features: 
Use the AI Image Colorizer to colorize images dynamically.

Anywhere, at any time, color-correct black-and-white images.

Download Watermark-Free Colorized Images for Free.
DeepAI Colorizer is an API for coloring images that lets you color online photos for free. It does this with the help of a deep learning model specifically trained on colors. Following a long training period, the model can add color to images that were previously only in black and white.
Any image you want to upload can't be bigger than 1200px. If not, this AI image colorizer will make the image smaller so that no dimension is larger. You can add color to old family photos and pictures from the past. The site doesn't let you download anything. You can add color to black-and-white images for free by right-clicking on the picture and saving it to your computer.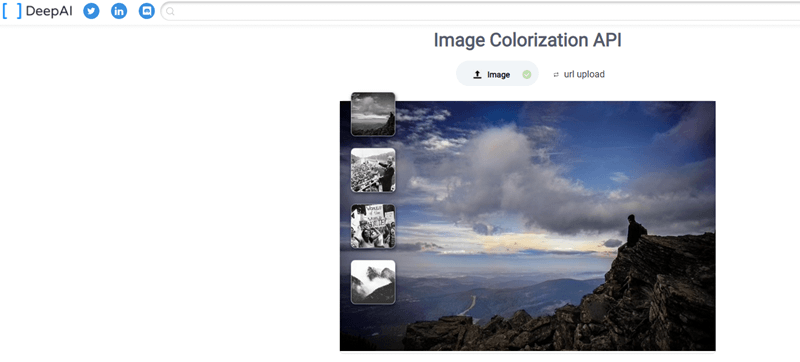 Features:
Can colorize images up to 1200px for almost any dimension possible.

Offers API solution to be used on web versions as well.

The ability to save the colorized image directly to your computer.
MyHeritage is an online site to let you add color to photos. MyHeritage turns black-and-white photographs into color automatically. Deep learning and AI algorithms have used millions of pictures to teach this colorizer how to work.
This online colorizer keeps the quality of the black-and-white photo. As you may know, most automatic photo colorizers make the images look less real and of lower quality. It's simple to use, and you need a Google or Facebook account to upload photos to this site. Drag a picture from your computer into this web frame. The time required to color an old photo ranges from ten seconds to one minute, depending on the size and level of detail.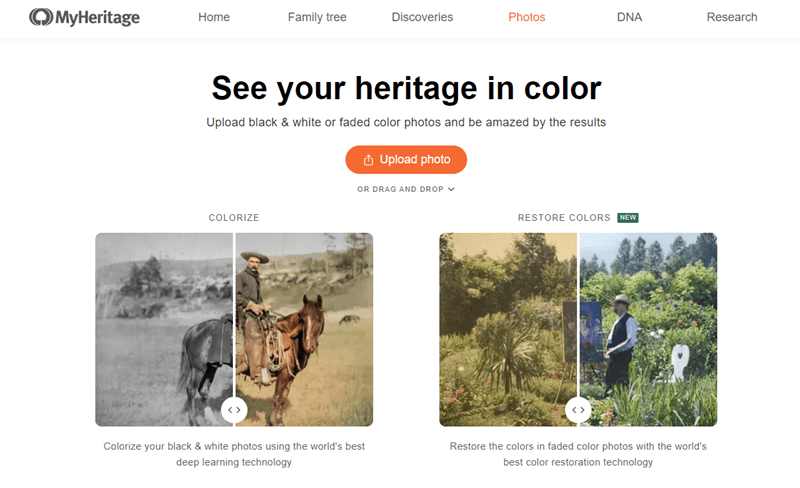 Features:
 Upload an image to find out the specific ethnic group you have descended from.

You can use its deep AI technology to animate your old family photos with ease. The app supports over 104 million different animations.

The ability to create your very own family tree with name photos, dates and stories.
Top 5 Apps to Colorize Black and White Photos for Phone
If you want your everyday carry smartphone to have a colorize option, these five are the way to go. We have mentioned and featured both IOS and Android photo coloring apps to colorize black and white photos, so do not worry.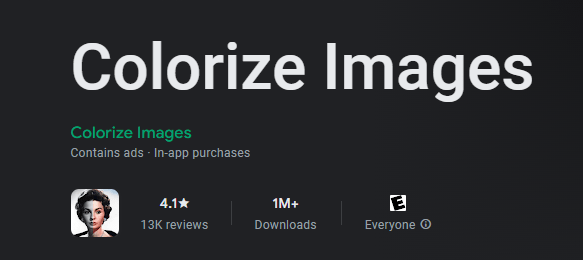 Features:
The ability to provide a black-and-white picture or add one of these from your photo library.
Your monochrome snapshot instantly gains color with only one swipe.
You can now download or start sharing your colored picture.
The folder Phone/Colorized-pictures contains all of the colored photos.
Features:
Remove everything but the desired portion of an image's color by graying out the rest.

Using the Recolor function, you can make your hair or eyes purple, blue or green, or any other color. 

Create collages using up to nine photos using innovative layouts.

Edit with countless choices, including filters, curves, tweaks, and text.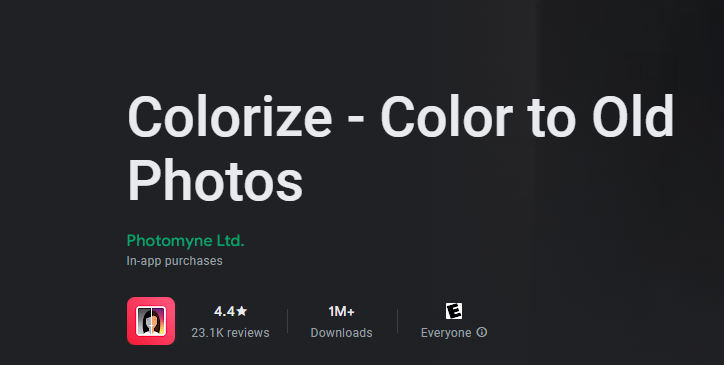 Features:
Import or scan a black-and-white photo using your photos app.

Your monochrome snapshot instantly gains color with only one press.

When finished, look through the collection of your colored pictures.

Now in vibrant colors, save or exchange your photographic memories!

Features:
Easy to add your family's black-and-white image and turn that back to life.

State-of-the-art machine learning technology.

You can make a one-time purchase to edit unlimited photos.

Very consistent colorized quality.
Features:
No form of login or registration is needed.
High-accurate and one of the best photo coloring apps to colorize black and white photos.
Extremely easy to use, that requires no prior photo editing expertise.
Comes with both a colorize black-and-white photos app and an online version.
Top 5 Photo Colorizers to Colorize Black and White Photos Online
If you do not want to install something on your device and want some online solution, these five are the best options for you. These are web-based solutions that can be accessed with any browser and internet connection.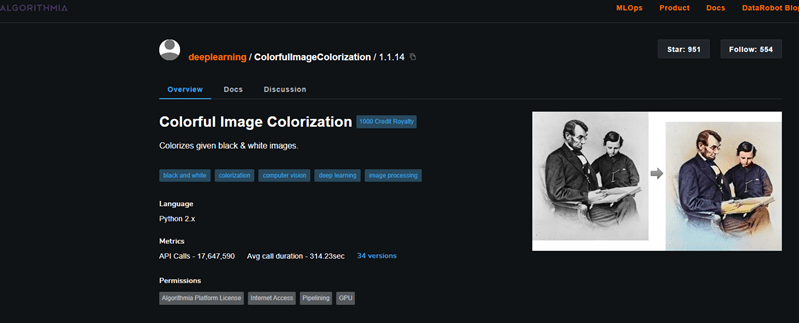 Features:
Colorful color colorization with a single click.
Open-source software.
Fairly accurate image processing due to a massive amount of training.
A free online service colorizes black-and-white photos.
Features:
Remini can create HD masterpieces from your old images using cutting-edge AI technology.

In a couple of seconds, the processing goes from grainy to HD.

One-click will sharpen all of your photographs.
Features:
 Completely free to use.

Ai-powered colorization for that extra punch of accuracy.

Comes with a simple UI design for zero retouching experts.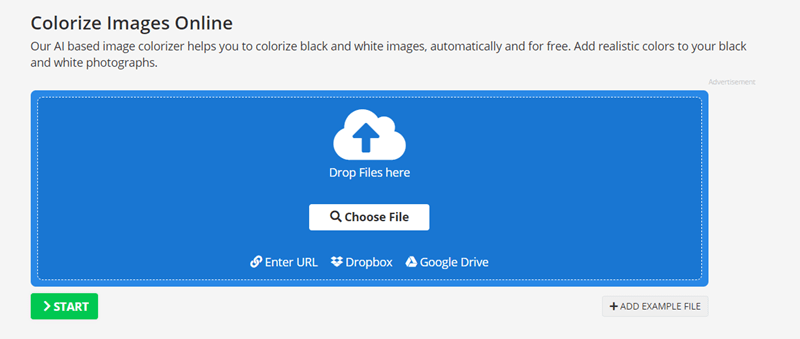 Features:
Ai-based colorizer.

Best free solution for how to colorizing black and white photos in photoshop.

Adds real-life color to your old black-and-white photos.

Supports 11 different output formats for convenience.

Two unique AI models with customizable render factors.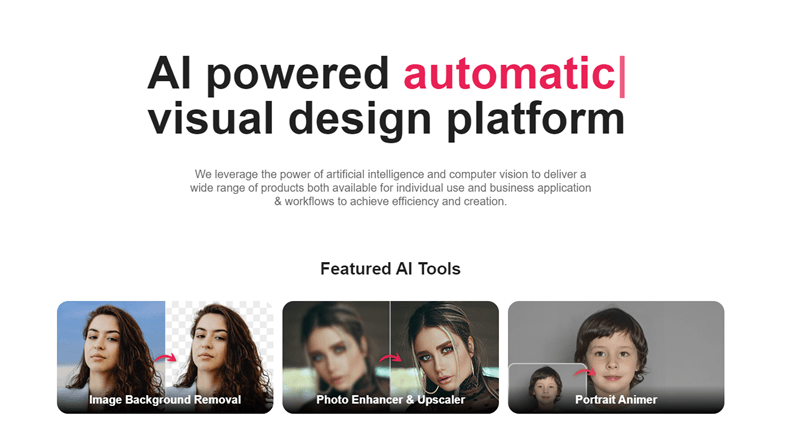 Features:
Web-based AI cut out a solution

No installation is needed.

It also offers photo retouch and 3D cartoon effects: animations, many other photo effects, and colorization.
That ends today's discussion on the Top 15 Photo Colorizers to Colorize Black and White Photos in 2023. All the options mentioned in the list have something unique to offer.
If you are still confused about which solution to go for, we highly suggest you try the HitPaw Photo Enhancer. This tool features life-like colors and offers a free trial version to try it out before purchasing.
Stay tuned for more updates.