Some time ago I tried a free video converter called Freemake Video Converter, planning to convert M2TS H264 to AVI or WMV in order to make a movie using Windows Movie Maker. However, as you can see in my previous post, Freemake Video Converter always failed to start up!
I converted some family video clips in H264 to either AVI or WMV format using the free H264 to AVI converter called Any Video Converter and then inserted them into my movie timeline. All of that went well, but when I play the movie, most of the audio and video are out of sync, and some had no audio at all. I realize that is a universal problem across all container formats and media players and this seems to be a common complaint with maximum frustration. And I really need an alternative.
It is no exaggeration to say that there are almost countless fixes offered by the pundits plus the zillion companies making related software, and all of them have a long list of steps to follow to essentially eyeball the video and audio tracks to speed up or delay the offending track.
Since this is such a universal frustration, I then was looking for a reliable and relatively easy-to-use sync program that actually works across the board? I'm familiar with VirtualDub, A/V Sync, and similar programs that say they can do the job, but they really can't-VirtualDub is apparently useful mainly with AVI files but it does not always work for me here.
I then look everywhere for ideas, tips, potions, spells, magic dust, or any other suggestions that will keep me from wasting another couple of dozen man-hours on converting M2TS in h.264 only to give up in frustration and schedule a root canal because the latter would be more enjoyable? And this is when Tina from Wonderfox contacted me about the review of their WonderFox HD Video Converter Factory which has been upgraded and fixed some bugs about h264 converting and I decided to have a try and bingo! This is the very program for me to convert my M2TS to AVI as well as WMV!
H.264 Converter-Convert H264 to AVI with Forced Subtitle
I have been experimenting with the full version to convert M2TS files from Blu Ray discs to reduce file size, all of which are in the H264 codec. I am very impressed with the speed and quality of conversions achieved but have some movies which are the English language (which is what I want) but also have moments where foreign languages are spoken. The other H.264 converters I have tested so far do not list which subtitles are forced only or contain descriptions for the hard of hearing. They are all listed as English, so it is hard to know which to use. It would be very helpful to be able to preview the subtitles when viewing the file inside and you know how great it is to have the option of force only in the output .avi or .wmv or .mkv file, either built-in or not from the M2TS file. I see this feature is not listed on the official site,  but it shows the forced option right in the subtitle drop-down menu. So this is how to use the H.264 convert to convert an M2TS H264 file to AVI with forced subtitle.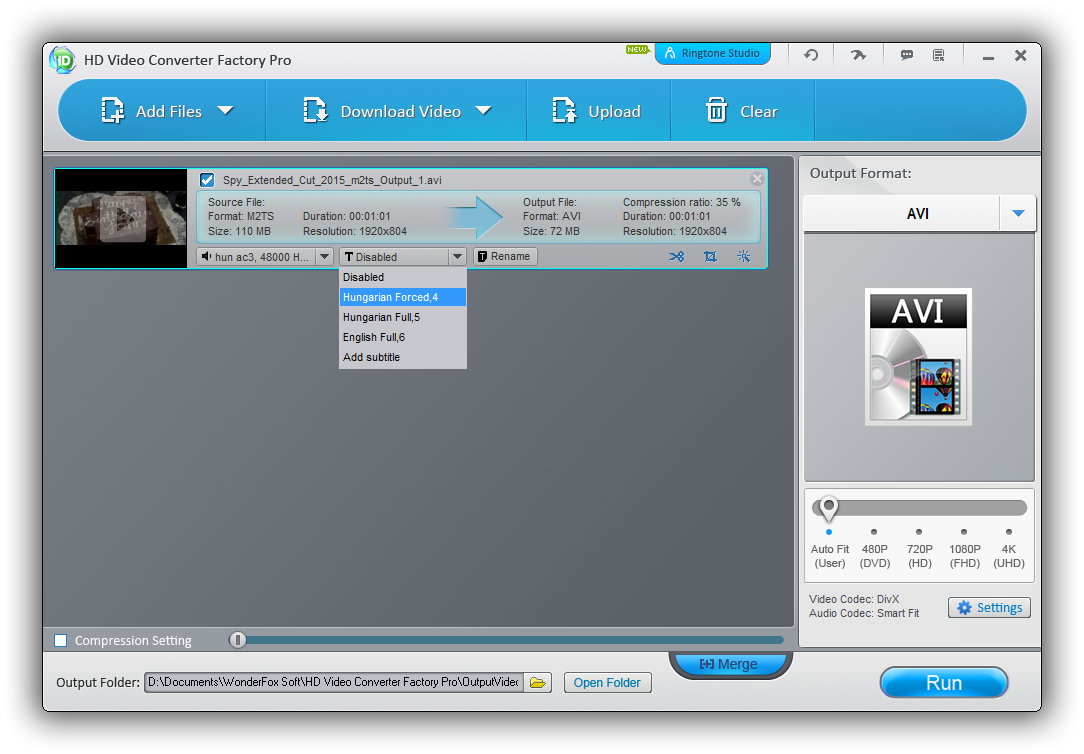 Download and Convert YouTube H264 directly to AVI
There is another feature from WonderFox HD Video Converter Factory that really impresses me. You are able to download videos from YouTube, Facebook, Vimeo, etc, and convert them directly to AVI. I mainly used it for downloading YouTube videos. I found out that YouTube will only offer videos in the following formats: MOV, MPEG4, MP4, AVI, WMV, MPEG-PS, FLV, 3GPP, and WebM. Although AVI is listed, I find no links that offer AVI download, most of which are MP4, WebM, and FLV. So after downloading, I will have to reconvert it to AVI. Among all those formats, I'd prefer MP4 in H264 as I think it offers the best possible video quality and I won't lose much quality while converting H264 to AVI for my personal use.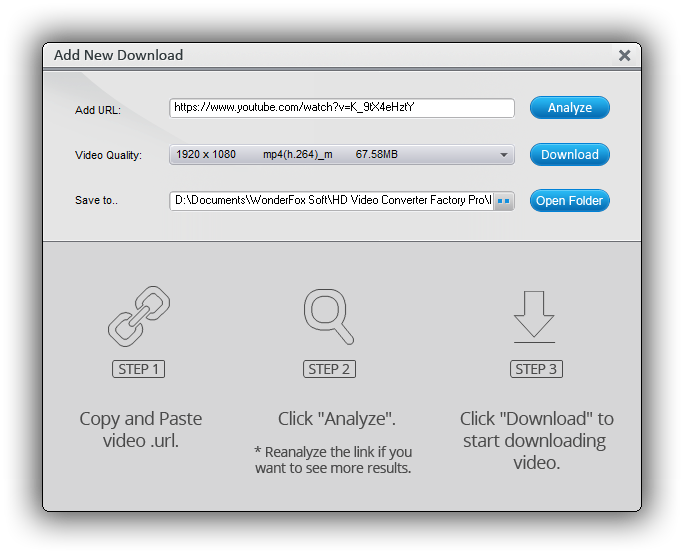 After downloading, WonderFox automatically add the downloaded H264 MP4 to the convert list and you just have to pick up AVI before converting it.
Crop or Cut Part of H264 to AVI
Wonderfox have an excellent effects area you should also checkout and I like the ability to make cropping area to display bigger. Overall a 10 rating with an excellent in the area of cut/editing H264. The crop and trim feature is available right after an H264 video is loaded into the program.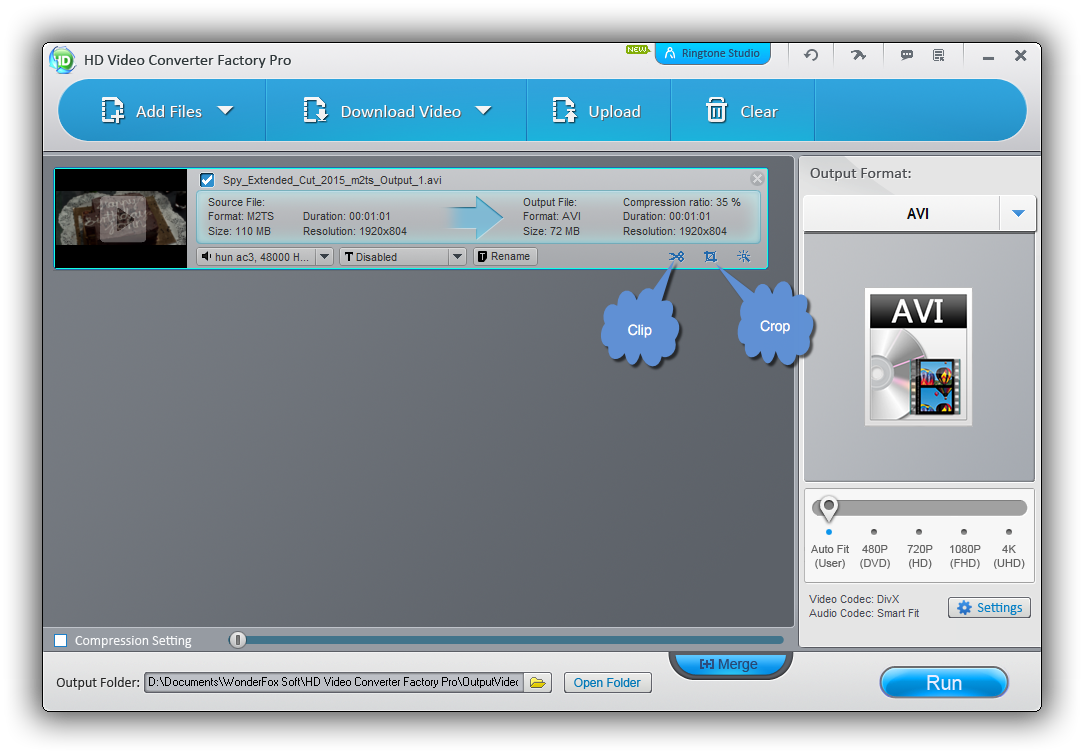 Also, the crop feature enables you to rotate videos 90 or 180 degrees counterclockwise and clockwise and flip vertically and horizontally. You are even able to rotate videos 90 degrees counterclockwise and clockwise after flipping it vertically.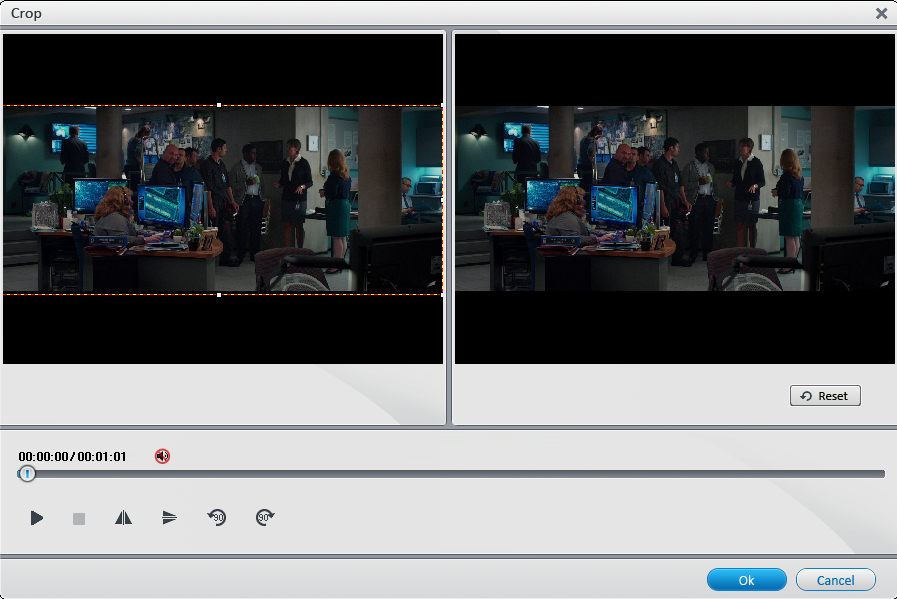 Custom Bitrate for H264 Converting
Before Wonderfox, I also tried another converter but I am having issues with setting the bit rate. Whenever I set it to something other than the default 1,200 it does not save the custom bit rate. When I enter in say 1,500 and click apply and then ok, when I go back to check it, it says 1,200 again. So far I have found that restarting my whole computer allows me to manually enter in a bit rate once. If I attempt to change it after that, it reverts back to the 1,200 default. This really disappoints me but I find it quite easy to custom your own bit rate for AVI or whatever format you need while converting H264. Simply go settings as shown below and set the custom bit rate and you are free to set the custom profile as you own, so you don't have to go over again for the next time.
HD Video Converter Factory Pro Discount
Wonderfox HD Video Converter Factory Pro is normally sold at $29.95 for the ONE-YEAR subscription. Here in my blog, you are able to get a full version license for lifetime for only $24.95. The discount is available via the button below:
WonderFox HD Video Converter Factory does exactly what I need it for converting M2TS files in H264 to AVI or WMV, even with forced subtitles and it downloads YouTube and convert it directly to AVI with custom bitrate and feature-rich crop and clip. And I am impressed with the fast speed and great quality.