I know there are a great many video converting programs on both Windows and macOS that are able to convert videos to iPhone 12, Galaxy S20, OnePlus 8T, etc. You may probably notice all the phones that I mentioned are bezel-less phones and people may also call them full screen, full display, all screen, or entire screen as Apple calls, and their screens are in 18.5:9 or 19.5:9 and others are between 18:9 and 19:9. However, as you can see one of the complaints on Reddit, there are black bars on videos:
Personally I prefer 16:9, as 18:9 adds black bars on video (no immersive feel), makes the phone harder to use one handed (to reach upper left especially), and gives me a cramped keyboard…I really hate that part. I'd rather it be shorter to where it's 16:9 or wider to where it's 16:9, many of the issues would be solved. What do we get for to the longer display in exchange? I don't see it being worth the trade off, an extra text message on screen?
And you may wonder how is it possible to convert any video in any aspect ratio like 16:9, 16:10, 4:3, etc to 18.5:9, 18:9, 19.5:9, 19:9 bezel-less, or full display phones and make it fit 100% with all the screen? Well, today, I am giving you an absolutely no black bar solution for converting any videos in MP4, MKV, AVI, WMV, etc to perfectly fit your full-screen display phones with any aspect ratio, any screen resolution.
What's My Phone's Aspect Ratio?
It is important to know the phone's aspect ratio if you want to convert videos like AVCHD, MKV, AVI, WMV, M2TS/MTS, etc with no black bars and fit any screen with any resolution. When the video's aspect ratio matches your phone's aspect ratio, it can be perfectly fit your phone with no black bars upside down or left and right. 
So, how do we know our phone aspect ratio? It can be checked on the official site of each phone but sometimes it just doesn't work. I suggest you guys go to Gsmarena.com for details.
Do a search on Gsmarena.com, locate your phone, and check the aspect ratio in Display-Resolution. Below is an example for Galaxy S9 Plus:
If you know the screen resolution of your full-display phone, you can also calculate yourself: Divide the length by width and you get the aspect ratio. Let's take Samsung Galaxy S9 Plus in the screenshot above as an example:
2960÷1440=18.5÷9=2.055555555555556
And this will be used for us to calculate the customized resolution for the 18.5:9, 18:9, 19.5:9, 19:9 full-display, all-screen or bezel-less phones in converting.
Bezel-less/Full display Video Converter PC/Mac
I myself use different video converters to do different video converting. Generally, Wondershare UniConverter, once named Wondershare Video Converter Ultimate, is my main one as it is really powerful and stable and does almost anything I need and I am a big fan of Wondershare's other programs like Filmora, Dr.Fone, Recoverit, etc.
However, when I try to convert videos to full display phones and fit the screen 100%, Wondershare Video Converter Ultimate works, but it just doesn't give me a perfect copy to fully fit the full screen without black bars. I notice I am not free to set the resolution and the aspect ratio is fixed.
The same thing happens to my other main converter, Leawo Video Converter, and the free one Handbrake. I also tried DVDFab, it is able to convert videos with a customized resolution I need, but it adds black bars…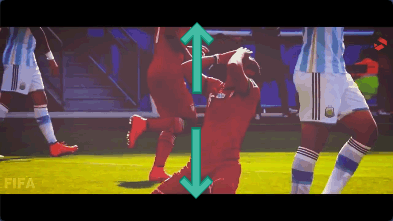 A perfect solution is found until I try MOVAVI Video Converter Premium. I do have MOVAVI Video Converter long ago and used it for converting videos to Innotab Max for kids with customized baseline, main or high profile for H264 videos, but I don't use it much since then. But for converting videos like AVCHD, M2TS/MTS, MKV, AVI, VOB, WMV, etc to 18:9, 18.5:9, 19:9, 19.5:9, and other aspect ratio full-display or bezel-less phones with all-screen display, it works much better as you are able to customize the resolution and aspect ratio and stretch any video to full screen without black bars on your iPhone 12, Galaxy S9/S9 Plus, OnePlus 8, etc and all the others bezel-less phones with any resolution! 
Convert Any Video to 18.5:9/19.5:9 Full Display Phone
In the post below, I will give you a very detailed guide on how you can convert videos to full display phones, and it does not matter what video formats you have and what the aspect ratio or screen resolution your bezel-less, entire screen phone is.
Please follow the link below to free download a 7-days full version trial of MOVAVI Video Converter from its official site, install and launch it. The Mac version works just the same as the Windows version.  
Step 1. Load Videos
You can simply drag and drop MKV, WMV, AVI, AVCHD, M2TS/MTS, photos, and even unprotected DVDs. You can also click the Add Media button to do so. You can even add a whole folder.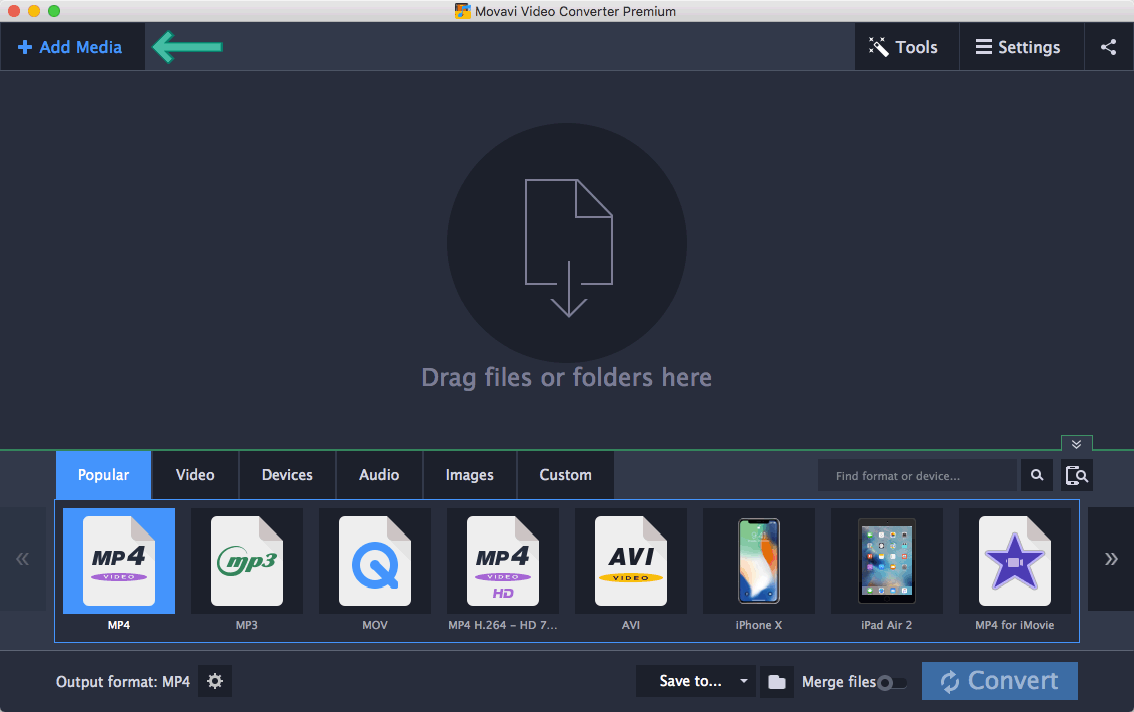 Step 2. Check Video Resolution
We need to check the video's resolution in order to calculate the new resolution to fit the full-screen display on your phone. Right-click on the video you add and select File Information.
Step 3. Select Profile for Full-display Phone for Converting
MOVAVI lists all its profiles below and chooses the one you need. You can also choose popular formats and follow the next step to custom the profile to meet your needs.
Step 4. Custom Profile for 18.5/19.5:9 Full-Screen Display
Click the Gear icon as shown below to custom profiles. Here, we will custom the resolution so as to convert video to full-screen phones.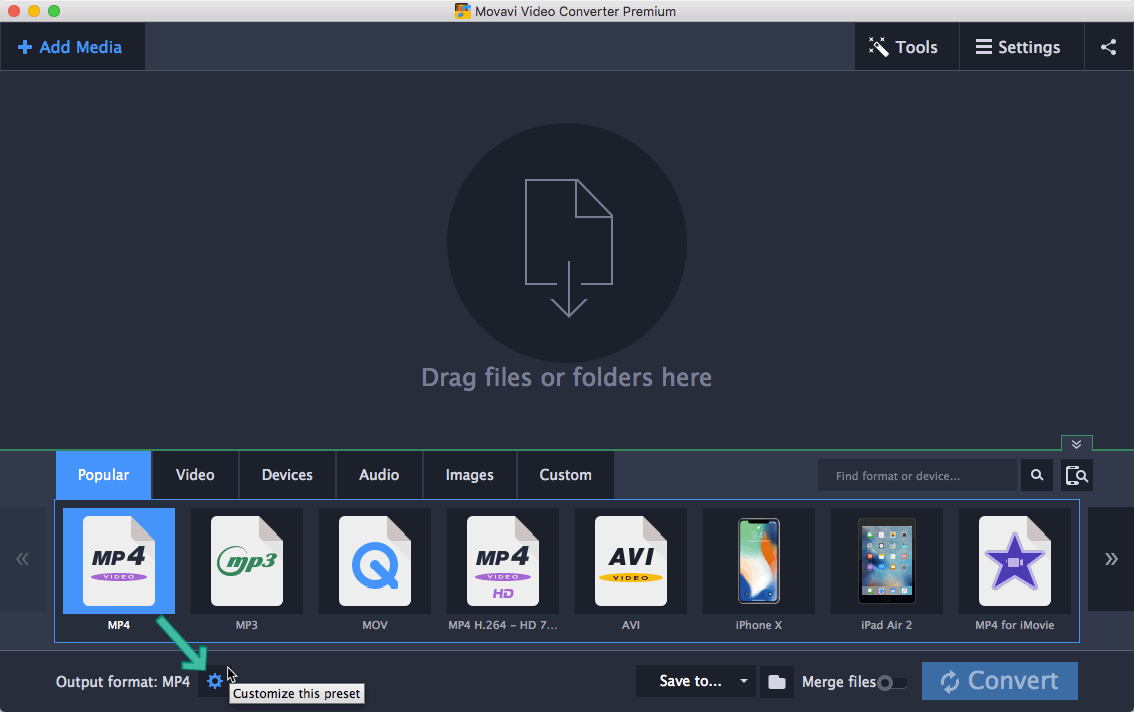 Select Custom in Frame Size
Uncheck "Scale proportionally" (The chain looks broken). And custom the resolution according to the below rule:
Keep the Height as origin, and Multiply height by PHONE's aspect ratio as Width.
So, in my example, my video's resolution is 1280×720, and Galaxy S9 Plus' aspect ratio is 18.5:9, which equals 2.055555555555556 (18.5÷9). So we keep the height 720 as original and multiply 720 by 2.055555555555556 (phone's aspect ratio) and we get 1480 as the width.
Select Stretch in Resize method.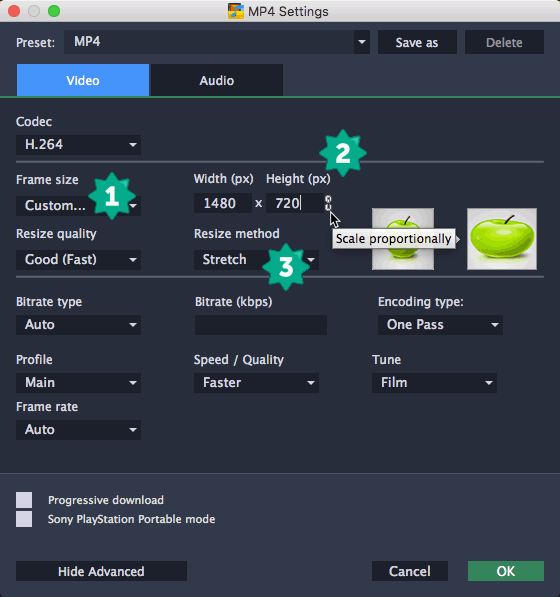 You can also set the resolution as you need and you are free to save all your settings as your own profile by clicking "Save as".
Step 5. Start Converting
Click the Convert button to start converting video to 18.5/19.5:9 full display phones.
Troubleshooting-Still Have Black Bars?
It is possible that you still have black bars and it's not 100% fit the screen when you play the converted video on iPhone 12, Galaxy S20, etc. And I find it is because there is a black bar upside down in the original video. In this case, in order to remove those black bars, we need to use the Crop function in Edit in the full-screen video converter.
Please always note, since you changed the aspect ratio of your videos, you enjoy the videos or movies without black bars, you are still possible to lose some pixels in converting.
Uncheck "Maintain aspect ratio" and crop as you need.
Rip DVD to Full Display Phone?
It is really a pity that MOVAVI does not support protected DVDs, which I notice when I was trying to rip DVDs to Innotab 3 for kids. So, how we can rip DVDs to all-screen full display phones without black bars and 100% fit the all-screen display?
I recommend you to decrypt the DVD encryption and then convert with MOVAVI. And below is some top DVD ripper software that I'd like to recommend you as I do in 2018 best Blu-ray DVD rippers:
MakeMKV. A free program to decrypt all kinds of DVD copy protections and save all video, audio, and subtitle tracks in MKV container in MPEG2, the same as DVD VOB files. Since there is no change in the codec, the ripping speed is fast. You are always required to get a beta key for MakeMKV here every two months and if you are interested in the lifetime full license, you are possible to get a discount here.
WonderFox DVD Ripper Pro. The fastest DVD ripper for Windows. It supports all kinds of DVD copy protections including CSS, Disney, etc and I just rip Disney/Pixar animation DVD for me. You can save $5 and get the full version at just $24.95.
Other DVD rippers are also recommended and you can check more details in my recommendations in best Blu-ray DVD rippers. I recommend MakeMKV and WonderFox here just because they can decrypt the protection and rip DVDs to MKV or MPG in MEPG2 with 1:1 quality at a really fast speed. 
Now, there comes the question, are you guys able to convert video and DVDs to your full-display, bezel-less phones, and 100% fit the all-screen display now without black bars?