I have two PCs, a laptop running Windows 10, and a more powerful desktop running Windows 7 with an i7 Intel Processor and 8GB RAM. It is not the best, yet powerful enough to cope with all my personal stuff, ripping DVDs to hard drive or remote hard drive being nothing difficult.
With a large collection of DVDs and plenty of space on my 2 TB hard drive, I'd always like to rip and backup my DVDs to my library in its fastest way in order to digitize my whole DVD collections. So, what is the fastest way to rip and backup DVDs to HDD on Windows 10, Windows 8/8.1, and Windows 7?
Among many DVD rippers, WonderFox claims, with the latest upgrade with 1:1 copy mode, its WonderFox DVD Ripper Pro is the fastest DVD ripper that is able to rip a DVD to a hard drive in just 5 minutes!
Well, it is just an advertisement, I am not carping, but I know normal users like me are unlikely to get a DVD ripped in just 5 minutes. I am just wondering how much time it is going to take and let's see.
As you can see I am running the registered version. The register button here is grey out, it's not clickable. And if we click About, we see there is a remove license button. So my version is fully registered and there is no limitation on this version.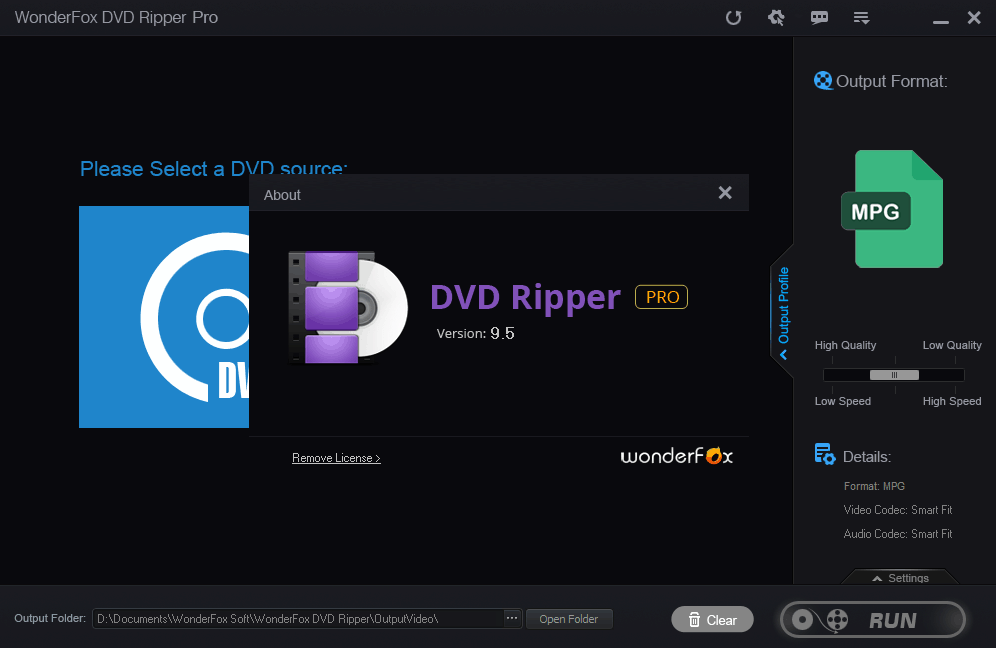 Fastest way to rip and backup DVD to HDD
I am going to use the kid's movie Toy Story 3 as an example. I am always running the latest version. There are 350+ built-in profiles in WonderFox, among which "Rip a DVD to Digital copy in 5 Minutes with Flawless 1:1 Quality!" is mentioned on the website. And Main Movie in 1:1 Quick Copy Mode is believed to be the fastest way to rip and backup DVDs to HDD.
Let's see how long it is gonna take to rip a 98 minutes (7.4 GB) Toy Story 3. And this is what I do. Check it out.
Slow in DVD Ripping? How to Rip DVDs the Fastest!
Follow the above button to download and install the fastest DVD ripper, insert the DVD to your DVD drive to get ready.
Step 1. Load DVD
You'll have to manually add the DVD to the program via the DVD Disc button, hit OK, and get it analyzed.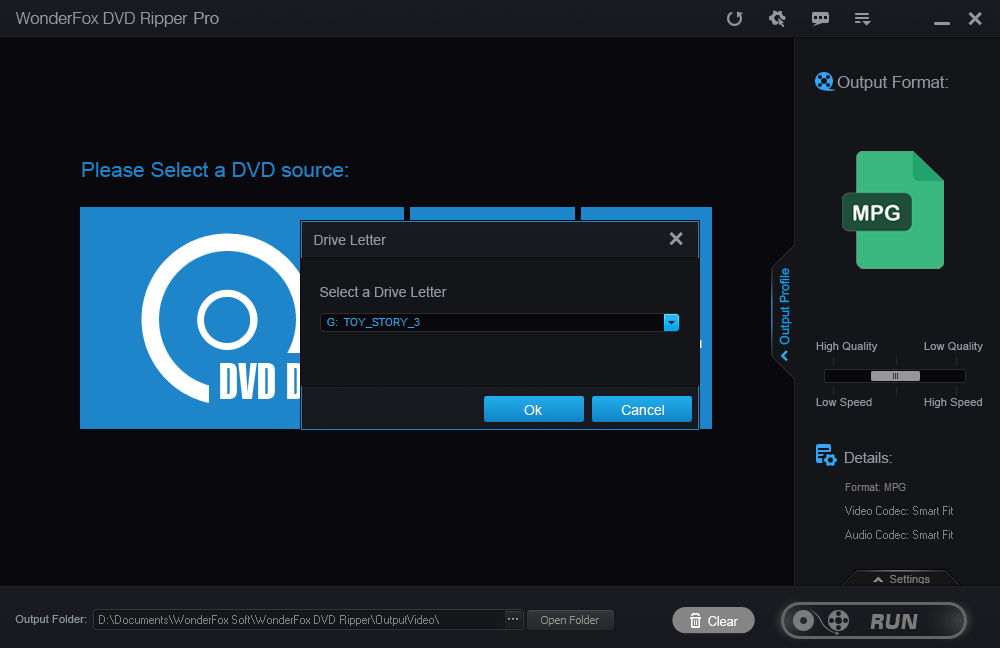 Analyzing and loading the DVD usually only takes seconds. After the DVD is loaded, you will see title 2 marked as the main movie. Or check to manually select the right title.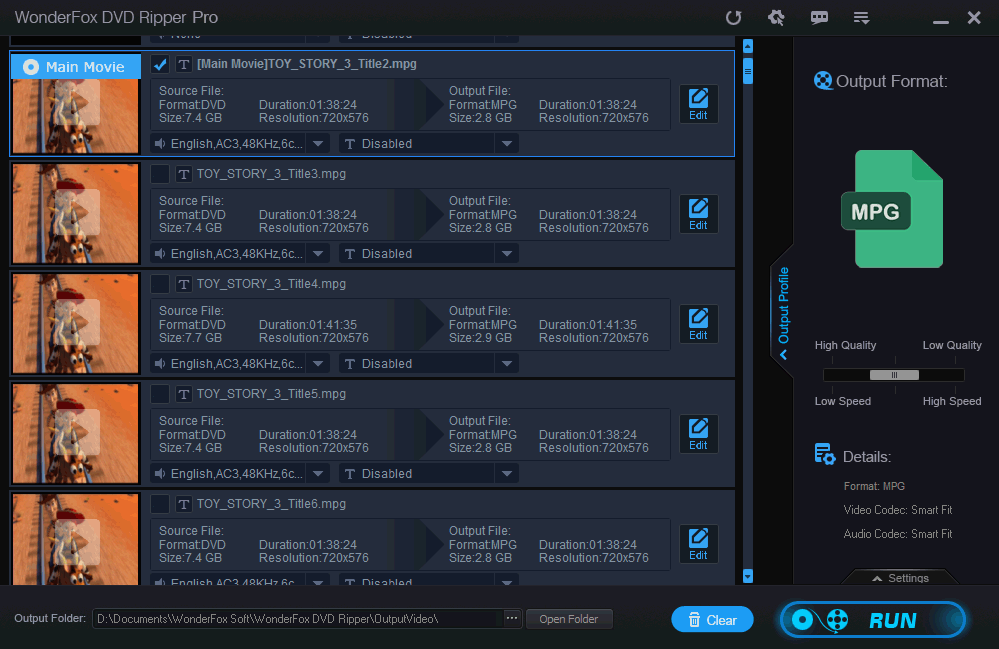 Step 2. Set profiles for ripping
If you click on the output format, you will see there are different profiles, including those for Apple Devices, iPhone, iPad, iPod, Apple TV, iTunes, Final Cut Pro as well as common video formats MP4, WMV, AVI, MOV, MPEG. The Web video profiles enable you to rip DVDs to YouTube, Facebook, and Vimeo compatible formats for uploading. Make sure you select Main Movie in 1:1 Quick Copy Mode and you are supposed to get an MPG file with selected video and audio track from the DVD.
Step 3. Rip
Okay, after the profile is selected, you can hit RUN and go directly ripping. It takes about 9 minutes to rip the DVD Toy Story 3 to MPG, which I assume is the fasted way to backup a DRM DVD along with even Disney DVD protection to the hard drive. I have also checked the output quality and it is excellent! The only problem it takes 4.22 GB disc space bigger than it estimates and I don't think it'd be any problem for me with much free space.
Take Ages to Rip? Tips on Speed up DVD Ripping
There are different possible reasons why the ripping is slow. If you rip a DVD quite slow, check WonderFox DVD Ripper Pro, the very DVD Ripper for Windows 10 with Main Movie Copy to MPG file. It is super-fast with great video quality but takes some disk space. But what if we just don't want an MPG file? We see MPC-HC is able to play MPEG2 files on Windows, but how about iPhone iPad, or your Android devices? Say, if ripping to MP4 is your must-do, are there any tips for WonderFox DVD Ripper Pro to speed up DVD ripping?
DVD Ripping is CPU-consuming, so make sure no other programs are running if you want to speed up the ripping.
Make sure the CPU Core is set to the max number and CPU Priority to Highest, this makes the program take full advantage of your CPU for ripping. You can check so if don't have to do anything else.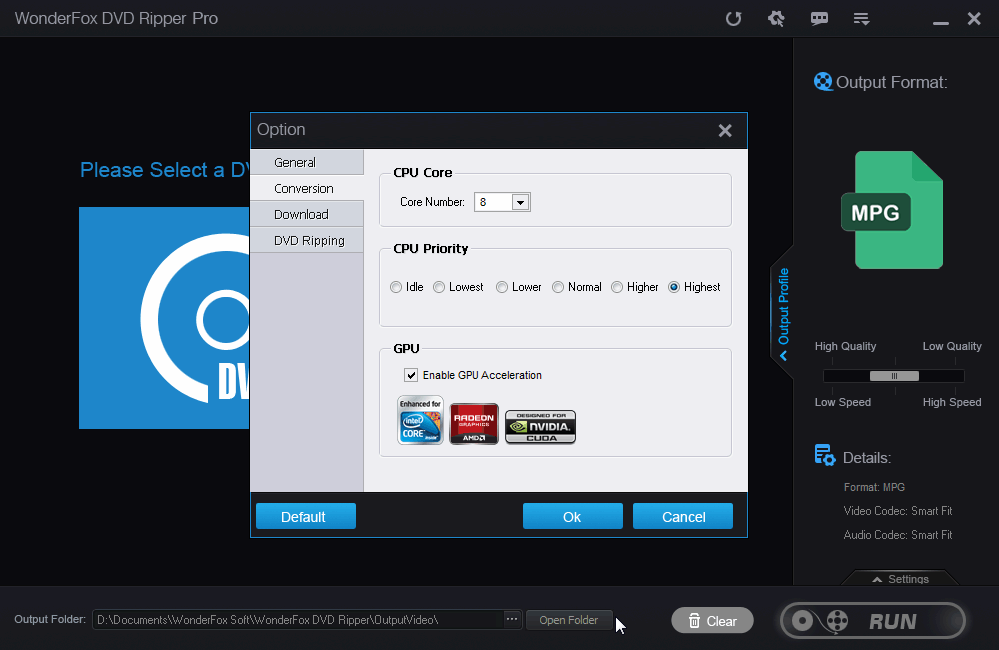 Choose MPEG4 as the video encoder for MP4 instead of Smart Fit or H.264. H264 does offer better video quality, but it takes longer than MPEG4 for ripping.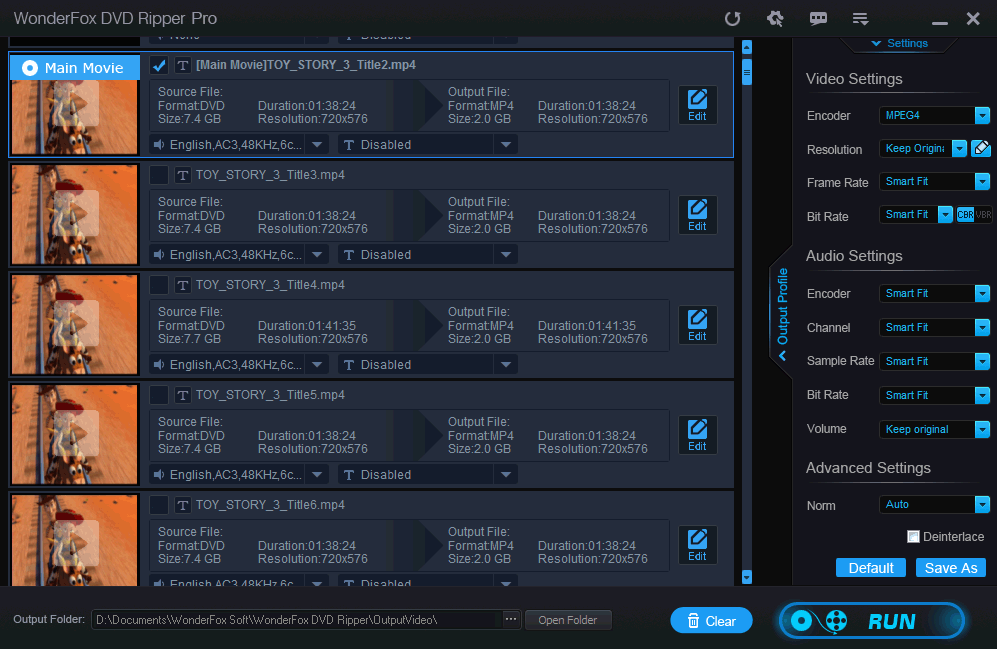 Save $5 for a Lifetime License
WonderFox DVD Ripper Pro is sold at $29.95 for a lifetime key. Here you are able to save $5 and get the full version at just $24.95. This special offer is only available for MySolutions.Tech readers. You can get the discount via the below button.