AVCHD, instead of MMV, is now widely used in recordings in Sony's camcorders and it is acting as a video file and can be played through QuickTime player or IINA via double click on macOS. However, when I try to load AVCHD for converting to MP4 or MKV, I have little trouble but am able to fix it myself and want to share my experiences of how to convert AVCHD to MP4, MOV, iPhone, or MKV, mainly on macOS. But the guide will also apply to WMV, AVI, or MPEG converting of AVCHD on both PC and Mac.
According to Wikipedia and Sony, AVCHD is short for Advanced Video Coding High Definition. AVCHD is developed by Sony and Panasonic to record HD videos with high-efficiency compression coding technology, MPEG-4 AVC/H.264 for video, and Dolby Digital® or Linear PCM for audio.
AVCHD is widely used in recordings by camcorders from Canon, Hitachi, JVC, Leica Camera, and Panasonic. And, it has a special file system:

As I am also running Windows, I find something different from how AVCHD acts in macOS than in Windows. macOS is very helpful in handling those kinds of folder structure movies, like AVCHD, for editing in FCP or iMovie, but if you come across a problem importing AVCHD to MP4 video converters for further converting, you are supposed to follow the guide below and locate the actual video files in .mts that are all hidden in Mac OS X Mountain Lion and later.
Hold Control and click AVCHD or right-click AVCHD and click Show Package Contents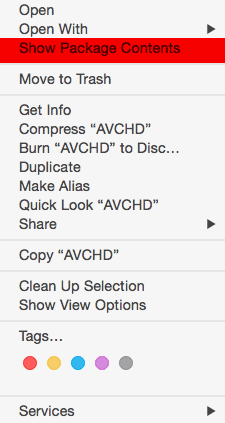 Hold Control and click BDMV or right click BDMV and click on Show Package Contents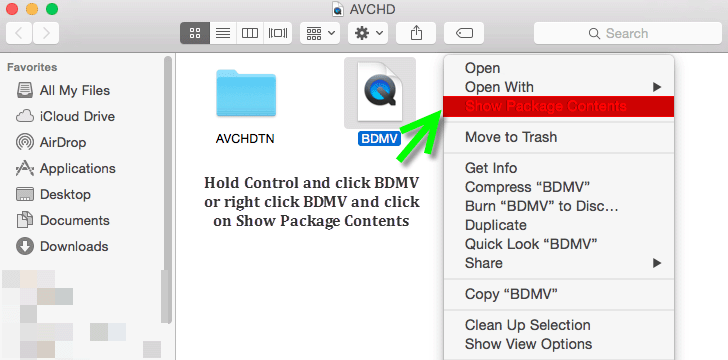 Inside, you will see a folder called STREAM. Double click the STREAM folder you will see the .mts video files there:

AVCHD Converting Problems
I see people on Reddit and Quora complaining about their problems converting AVCHD to MP4, MOV, Apple ProRes, etc. Do you have the same problem? No worry, in this post, you will have a three-step only program to easily convert AVCHD to any videos you like, including Mp4, MOV, iPhone, iPad, MKV, etc!
I recently paid to download a Mac AVCHD Converter Pro, but it does not allow me to drag AVCHD files into the application for converting to something I can edit in iMovie. When I try dragging AVCHD files over to convert, it doesn't allow the files. I bought the software because it claims to have the ability to convert AVCHD files to MOV, MPEG-4, etc…
I was trying to convert an AVCHD with MTS files into something more editable, such as Apple ProRes 422. The software would convert MTS files, but only 11-minute sections of an hour and a half clip, and would not merge them. 
The Best AVCHD Video Converter for PC and Mac
Comparing with other video converters that can do AVCHD converting on PC and Mac, Wondershare UniConverter takes only three steps to convert and merge AVCHD clips to MP4, MOV, iPhone, or any other videos you like.
In this post, I'd like to recommend Wondershare as the best way out as it supports dragging and dropping AVCHD to the program instead of locating the MTS media file in AVCHD for converting. And my below shows you to use the very AVCHD MTS converter to convert your camcorder files in AVCHD to any file like MP4, MKV, AVI, WMV as well as devices like iPhone/iPad and Android-based phones, tablets, and TVs.
3 Steps to Convert AVCHD to MP4 MOV iPhone
Wondershare UniConverter is said to be able to convert AVCHD, MTS/M2TS, MKV or any other HD & SD videos with its built-in engines to support up to 350 video and audio codecs in MPEG4, H264, VP8, DivX, Xvid, etc including the 4K and 3D formats. Let's see how Wondershare works with AVCHD files and convert them to MP4 MKV AVI WMV.
Step 1. Getting Ready
Follow the below two buttons to have a free trial version of Wondershare Video Converter for AVCHD. If you already have it, please go for step 2.
Step 2. Loading AVCHD
You are able to manually locate the MTS file in the STREAM folder mentioned above and drag one or more to the AVCHD converter but you can drag it directly to AVCHD! Wondershare will let you choose what to convert if there is one more MTS file in AVCHD. When you drag to load, Wondershare AVCHD Converter shows your loading Camcorder Files as shown below: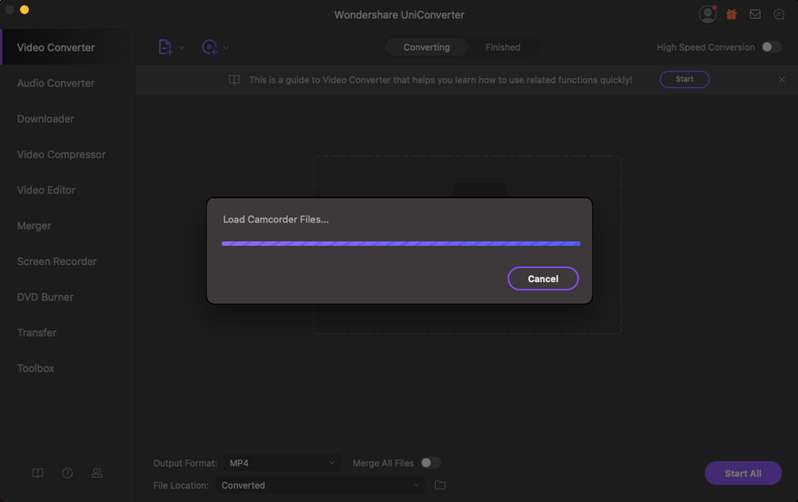 If there is more than one MTS files in the AVCHD, Wondershare will ask you to choose which to add and convert: 
Step 3. Choose Output Profile
MP4 comes as the default output profile for converting AVCHD in Wondershare. You are always free to choose another in "Convert all tasks to" or custom your own via the Edit button on the right.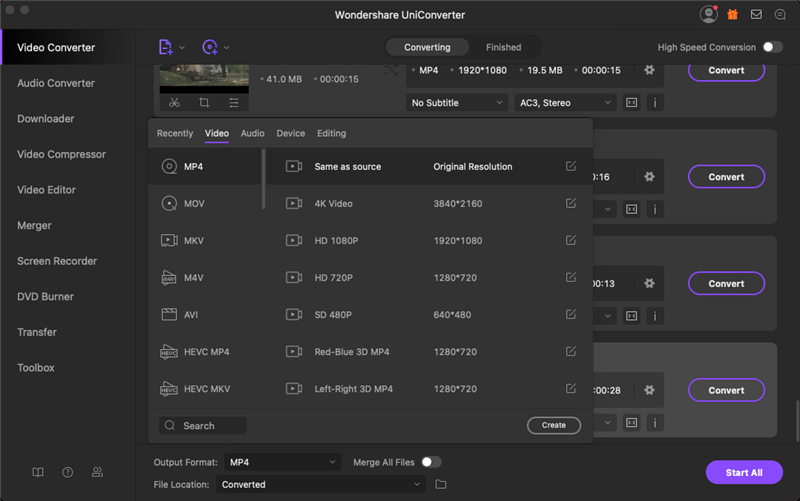 Step 4. Converting AVCHD to MP4 MKV
If there is no edit or merge needed, you can just hit Convert All to start converting. If you convert it to MP4, you are supposed to enjoy your AVCHD files on any computers or devices.
Besides, there is one thing that I have to point out that even you are able to drag or remove the MTS files out does not mean you should. You will always need the special structure on Mac OS X to import into FCP X. So, it is better to leave the AVCHD in its original type.
Video Tutorial to Convert AVCHD to MP4 on Mac
Trouble Loading AVCHD to AVCHD Video Converter on Mac
When I try to load AVCHD to my AVCHD MTS converter Wondershare Video Converter Ultimate, which is now updated and renamed to Wondershare UniConverter, I find it not recognizing my AVCHD files Sony camcorder recorded. Mac Video Converter does not recognize the files either from my camera, resp. from the SD memory card on my MacBook Pro. AVCHD is also grey out when you try to add it via the Add Files button in UniConverter. If you have the same problem. Just make sure you have the latest version. Or, if you have the same problem with other AVCHD converters, just locate the videos in AVCHD and then add.