Innotab is a popular learning tablet for children from VTech. And I have two for my kids as their birthday gifts, Innotab 3S for the younger and Max for the elder and I think this Android-based tablet is a great tool to develop kids' intelligence but I have great trouble in ripping and converting Disney DVDs to Innotab 3S and Innotab Max. I tried a number of DVD ripping programs, both Windows and Mac and I will list all my troubles below and possible Innotab Converters to truly rip Disney protected DVDs as well as videos like MKV AVI to Innotab 3S or Innotab Max compatible format.
Before we started, let's take a look at what kind of videos does Innotab actually support?
Innotab 2/2s, 3/3S/3S Plus Supported Videos
Below is a quote from the official manual and Innotab 3S is taken as an example. The requirement is the same as Innotab 2/2s, 3 and 3S Plus.
You can transfer photos/videos from your computer to your InnoTab® 3S using Learning LodgeTM. 

InnoTab® 3S supports JPEG formatted photos and MJPEG/H.264 baseline profile formatted video playback. Other video formats can be converted to work with InnoTab® 3S using third party software (not included). There may be legal restrictions associated with the use of commercial video files, movies, programs and other content for which VTech® accepts no responsibility or liability. Users should take responsibility for observing relevant copyright law in their country
for this type of media. 

When converting your video for InnoTab, please follow the following guidelines:
Supported format:
H.264 baseline profile video and MP3 audio in an AVI file.
Recommended resolution:
480×272 if source is 16:9 and 320×240 if source is 4:3. Other resolutions are supported but are not optimal for the device.
Recommended Video bitrate:
600 Kbps. Other bitrates are supported but are not optimal for the device.
Recommended Audio bitrate:
96 Kbps. Other bitrates are supported but are not optimal for the device.
Maximum file size:
2GB (over 5 hours of play time using the recommended setup).
InnoTab® MAX Compatible Videos
To convert your video content for the InnoTab® MAX, use the following
recommended settings:
Format: H.264 main profile video and AAC audio in an MP4 file.
Resolution: 1024×578 if source is 16:9. Other resolutions are supported but are not optimal for the device.
Video bitrate: 2000kbps. Other bitrates are supported but are not optimal for the device.
Audio bitrate: 128kbps constant bitrate. Other bitrates are supported but are not optimal for the device.
Maximum file size: 4GB (over 4 hours of play time using the recommended settings).
Troubles in Innotab 3S and Innotab Max Video Converting/Ripping
Before, I copied every movie and rip to mp4 for smart TVs to either watch on the big screen at a later date or to put on the new iPad. But for Innotab, I have great trouble. I have tried a lot of DVD rippers or Innotab video converters but I will list all the troubles I have here.
Freemake says its Freemake Video Converter is the very Innotab converter to free convert videos and DVDs to Innotab for kids, but I don't even have a chance to see if this is true and I see blog comments or Yahoo answers that state Freemake does not actually work very well for kids' tab Innotab 2/2S, 3s/Plus nor Innotab Max. I have come across a couple of problems using Freemake Video Converter. Details below:
Freemake Video Converter cannot open at all. I have a previous version installed on my Windows 7 about half a year ago or so I don't use this video converter much but only find it fails to open without any error message and goes away like a crash. How can it be an Innotab converter? 
I checked the crash issue and the official site says I just need an update so I go to the website and download the update but…it always says "Error-The setup files are corrupted. Please obtain a new copy of the program." Maybe there are too many downloads of the latest version to fix the crash issue?
I tried a couple of times with the same error message and one time it gets stuck in 99% and finally said "Download error-Downloading installation files failed. Click the "Finish" button to download and install files manually from our site".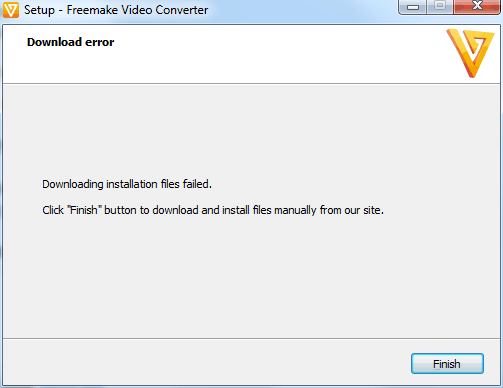 And it asked me to download the full offline setup and it failed either:

I finally got the latest update installed the other day using the Remote Upload from pCloud and then downloaded Freemake from my pCloud drive and but it still crashes and cannot open at all. I tried all the suggestions from its official site with no luck.
I tried my first converting to Innotab 3S but it doesn't work. As you can see the below message from Mediainfo, Innotab 3S requires an H.264 baseline profile video in AVI however Freemake converts an AVI file with the main profile. I tried several times and the result is always the same.
I asked Google for help, but I didn't find any DVD rippers or video converters to be a decent Innotab converter that had a profile for Innotab but I have managed to find one that I have full control of video and audio format, codec, and resolution and am able to convert a YouTube video to Innotab 2 for kids.
EaseFab DVD Ripper's guide on "How to Move Kid's DVD Films to VTech InnoTab Max/3S Plus/3 Plus" comes as the featured snippet in Google search like "rip DVD to innotab" as you can see below:
However, I don't think this post is responsible and what Easefab suggests doesn't work at all! 
Firstly, I tried to load a protected DVD but took extremely long for loading! I left it about for ten minutes or so and the DVD was finally loaded. 
I followed the guide to try the profile "Android Tablets" and found it didn't match what Innotab required as shown above. 
For Innotab 3S and 3S Plus:
While Innotab 3S and 3S Plus need an AVI file in H.264, it rips the DVD to MP4 in H.264. 
We cannot custom the video bitrate and then the least 1500 kpbs is two times more than 600 that Innotab requires.
The resolution EaseFab provides is 640×480, while Innotab 3S and 3S Plus only support 480×272 or 320×240. Innotab is not rich in hardware.
The audio codec is AAC instead of MP3
For Innotab Max:
The output for Innotab Max must be the MAIN profile MP4 H.264 video however Easefab rips a DVD to Mp4 baseline.
So, obviously, EaseFab is not the Innotab converter that you are looking for. 
Pavtube Bluray Ripper/BD Magic
Pavtube is another DVD and Bluray ripping and video converting solutions provider that says its Pavtube Bluray Ripper to be the very Innotab converter to rip and convert Blu-rays as well as DVDs to Innotab Max/3S Plus/3 Plus for Kids. From what I tried, Pavtube works better than Easefab but they are not much responsible for users either.
From the guide by Pavtube, they recommend the profile "H.264 Video(*.mp4)" in "Common Video" as well as the general "Android Phones 720P Video (*.mp4)" for Innotab 3S but they two don't work at all. The default resolution from the two profiles is way to0 large than what Innotab 3S supported and the output is MP4 while Innotab 3S as well as other Innotab 3S Plus, 2/2S asks for an AVI file with H.264. All the profiles in AVI come with Xvid or Divx instead of H.264. Besides, what Pavtube advertised is ripping Bluray discs as well as DVDs. Can they compress a Bluray to an AVI under 2GB? You see, Innotab 3S doesn't support files that are larger than 2G!
However, Pavtube Bluray Ripper and its DVD ripping program DVDAid have separate profiles for MP4 H264 Baseline, Main, and High thus it is possible to rip and convert DVDs to Innotab Max but I didn't try. You can try it yourself.
Tips: You are probably able to compress a Bluray either in BD50 or BD25 to an MP4 under 4GB but it will lose a lot of quality even the kids don't care, I care! So, for Innotab Max, I just recommend Pavtube DVDAid. And actually, its Pavtube BDMagic works for protected Blurays as well and can be an alternative to  MakeMKV and Handbrake.
I tried the 7-days trial of MOVAVI Video Converter as I saw it was able to custom the baseline, main or high profile for H.264 MP4 AVI videos. However, when I tried to rip protected DVDs and it showed me protected. And the Convert button is grey out and not available at all for protected DVDs. And when I click on titles, it goes immediately stuck and the DVD drive starts to make noise even I force close the program. And it even stops me from normally shut down Windows. I will have to force shut down…
I then checked the official site of MOVAVI and found the below words:
Disclaimer. Please note that Movavi Video Converter does not allow you to work with copy-protected DVDs and media files.
It is really a pity! And be sure NOT to use it for protected DVDs nor DRM iTunes videos!
However, when it comes to video converting, MOVAVI works great and is able to convert all kinds of unprotected videos to Innotab 3S and Max as I need. It's the VERY Innotab Converter! You are able to custom each output profile and save it as your own. Below are the two custom profiles for Innotab 3S and Innotab Max for video converting, just for your reference.
Movavi Innotab Video Converter-Convert Video to Innotab 3S
This is a quick guide on how to custom a profile for Innotab 3S. And it should apply for Innotab 2/2S, 3 and 3S Plus.
Click AVI as the output format, go Settings
Custom the Frame Size to 480×272 for 16:9 videos and 320×240 for 4:3 videos
Custom the bitrate to 600kbps
Select Baseline in Profile.
Go Audio Tab
Set the codec to MP3 and custom birate to 96.
Click Save as and save the customized profile as your own.
Movavi Innotab Video Converter-Convert Video to Innotab Max
Innotab Max supports MP4 and you are also free to custom a profile and convert videos in AVI VOB MKV M2TS to Innotab Max. A quick guide for the customizing a profile here as well:
Click MP4 as the output format, go Settings
Custom the Frame Size to 1024×578
Custom the bitrate to 2000 kbps
Select Main in Profile.
Go Audio Tab
Set the codec to AAC and custom bitrate to 128.
Click Save as and save the customized profile as your own.
Best Innotab Converter: Rip DVD and Convert Videos to Innotab Max
Wondershare Video Converter Ultimate, which is called Wondershare UniConverter now, offers rich settings and you are able to custom profiles freely as you need. However, when it is to rip DVDs and convert videos to Innotab 3S, I find it does not support AAC in AVI, so it won't work for Innotab 3S and other models that require the audio codec AAC in AVI. But as for Innotab Max, it works great for both DVDs and other videos like MOV, AVI, MKV, M2TS, etc, and you are even able to download YouTube videos and convert them to Innotab 3S or Max. So, currently, Wondershare Uniconverter is the best Innotab Converter for me.
There is a quick guide on how to rip DVDs as well as convert MKV, AVI, M4V videos to Innotab Max.
Load a DVD or add any video you want to convert. You can even add both DVDs and videos and then rip and convert them all together. And MP4 is the default profile. Go to the drop-down menu of "Convert all files to"-Video-and Edit in same as the source:
Custom the profile as shown below:
Title: Innotab Max or anything you like
For Video: Encoder:H264, Resolution:854*480, Bitrate:2000, Profile: Main
For Audio: Encode: AAC Channel 2, Bitrate:128
Select the customized profile and go back to the main UI and make sure the output is no large that 4G as forecasted below.