Every time when a new DVD from Disney, Warner Bros. Pictures, or Paramount, etc, is released, I'd always like to rip and backup the DVD disc to MP4 on either my PC or Mac for future playback on computers, phones, or TVs. And until then, I can see a good DVD ripper software can be a lifesaver and preserver for me in many regards especially when my DVDs are protected, mishandled, or ruined in some fashion.
What follows is a list of DVD ripper software for PC and MAC that I think the best in the world. I paid close attention to them in the past few years and tested them one after another.
Which is the best DVD ripper software? My suggestion always goes that you try them first and make the decision.
A DVD ripper that can do the below 12 things better will be marked by me as a good DVD ripper. Among those good DVD rippers, you can pick up your best DVD ripping software.
As is known, most of the commercially purchased DVDs are encrypted. Thus, it becomes one of the most significant features a good DVD ripper software should support. Or, there would be problems, even loading those protected DVDs.
I do believe a good DVD ripper should keep updating itself to fix bugs and better support copy-protected DVDs. Also, the profiles need to be updated because there are new phones and tablets every year. 
It's always better to rip DVDs at a faster speed. Some DVD rippers can rip DVDs in just 5 minutes.
Great Output Video Quality
The DVD quality nowadays is just so-so. If we can keep the original quality, that's good. We don't want to lose quality anymore.
Rich profiles and functions
You may think it would be too complicated for a DVD ripper to have a lot of profiles with different functions as you may only need the software to do the basic ripping. However, the best DVD ripper should be able to meet the various needs of different people. 
It's annoying for a program to keep giving errors and troubleshooting may take days and even months! So, stability is important.
A nice and user-friendly makes a DVD ripper software better to effectively and effortlessly understand how it works.
Email support is basic. Autonomous service via FAQ or on the forum is acceptable, but it's better to have a phone/Skype or online support. Remote assistance sometimes is more efficient.
Most of the DVD ripping solutions are NOT free. It is extremely important to have a full trial for free to see if the program can 100% meet your needs.
Life is tough, especially during the epidemic, the COVID-19. Accessible and affordable price is good for different people considering those DVD ripper programs are NOT shareware.
Your native language support
It is truly a bonus for a DVD ripping software to support your native language for better understanding one option does.
Zero tolerance for malware apps!
DVDFab always comes as the first recommendation to rip, copy, and burn Bluray as well as DVDs just because it is super powerful in decrypting every kind of copy protection in a Bluray or DVD disc. Some DVDs are specially encrypted and you may find them really different to be ripped, however, with DVDFab, it won't take you more than an hour (which depends on your PC or Mac hardware level) to get them converted to whatever video formats like you.
You guys are able to download a free trial copy of DVDFab via the below button. DVDFab is available for both PC and Mac. And since it is 64-bit, it is 100% compatible with the latest macOS.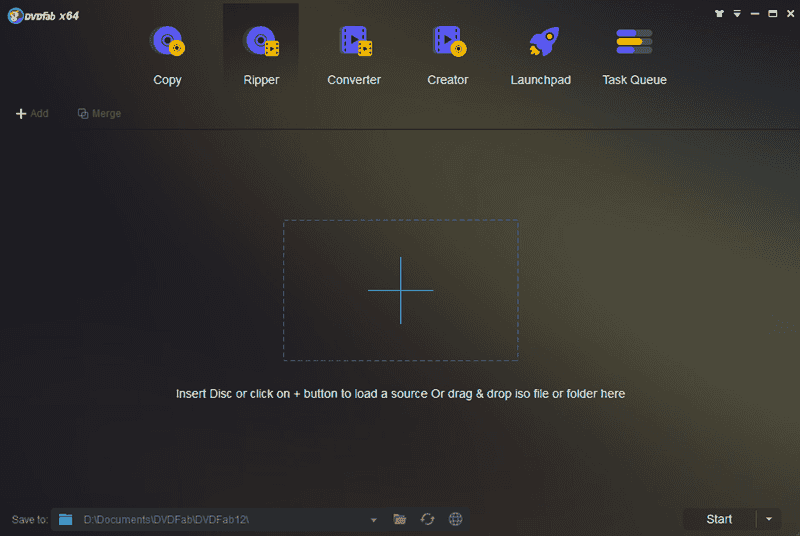 DVDFab DVD Ripper Main Features
Rip any Protected or home-made DVDs: As one of the best DVD ripper software, DVDFab is famous for decrypting different DVD copy protections from Disney, Pixar, Paramount, Sony, BBC, etc. For home-made DVDs, they are generally unprotected and a piece of cake for DVDFab.
Rip DVD to various videos and audios: DVDFab DVD Ripper supports various devices (iOS, Android), videos, and audios as the output. As you can see, it comes with a rich profile library with almost any popular video and audio formats supported. Importantly, it keeps updating its library with new presets, making DVD ripping easier.
Update metadata for your movies: Metadata may not be a need for everyone but is extremely useful and convenient for those who want to play DVD videos on media servers or players over Plex, Apple TV, NAS, etc, just because it would show details about DVD cover art, titles, seasons, or episodes.
Full Control of DVD video, audio, and subtitle: Different people need different chapters, audio tracks, or subtitle track, including forced subtitle from different DVDs, well, with DVDFab DVD Ripper, you have the full control of all those, so you get the best DVD output that 100% meets your needs.
Enlarge DVD to true 1080P: A unique feature from DVDFab, making it the true best DVD ripper software in the market. Unlike other DVD rippers, DVDFab builds in AI enlarging engine to enlarge 480P DVD video to true 1080P HD video. Remember, it is NOT just upscaling, it indeed improves the output quality.  
GPU Acceleration for faster DVD ripping: DVD ripping is time-consuming. However, DVDFab takes full advantage of your CPU, GPU to remarkably increase the ripping speed.
DVDFab DVD Ripper Pros and Cons
Pros:
Copy protections like CSS, region code, etc are fully supported.
Rich profiles, flexible functions to meet different needs.
DVD editing. It's more than a basic editor, but you can even add transactions,
A modern, user-friendly, and straightforwardness UI, with color themes
Batch DVD ripping supported. You can more than one DVD disc, or ISO files, or VIDEO_TS folder to the program for ripping.
Cons:
It's a bit expensive.
AI enlarging takes really long to rip.
How to Rip DVD with DVDFab
Ripping DVDs with DVDFab is easy and straight-forward, even with newly released DVDs. And here's a quick guide on how to rip DVDs to whatever video formats like MP4, AVI, WMV, MKV, etc.
Please follow the above button to download, install, and launch DVDFab. Also, insert your DVD to the Bluray/DVD drive to get ready.
Step 1. Load DVD
DVDFab is able to load your DVD disc in the drive automatically. If not, go for the Ripper tab and click the Add button or drag and drop to add DVD ISO or VIDEO_TS folder.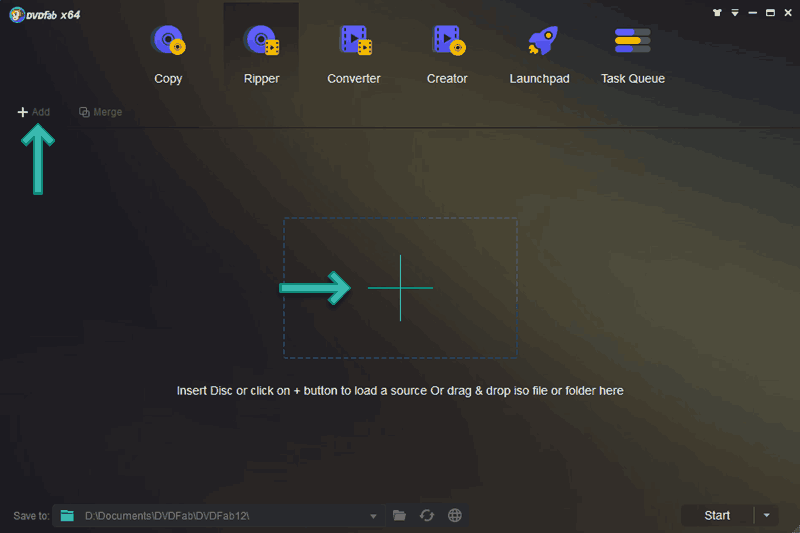 DVDFab will ask to confirm the DVD region as shown below. Feel free to disable this window as DVDFab is always able to detect the right region for you.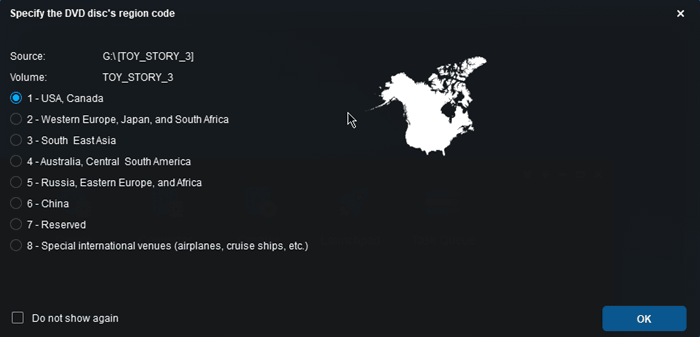 Step 2. Profile for DVD Ripping
MP4 is the default profile for any Bluray or DVD ripping. If this is your first time you use the DVDFab DVD Ripper software, you will be presented to choose your default profile as shown below.
If you want to rip DVD to something else after you set the default profile, you can still click MP4 to choose the one you prefer.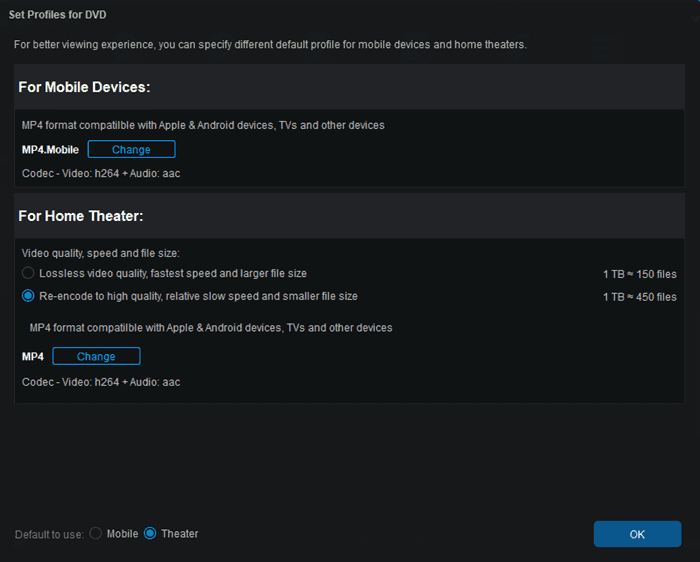 Step 3. Rip DVD
We are now ready for the ripping. Hit the Start button to begin ripping DVD.
Leawo is also my favorite program to rip and backup Bluray and DVD movies. Like DVDFab, Leawo Prof. Media is also an all-in-one solution to rip, copy and burn Bluray DVDs and convert and download videos. The Bluray/DVD Ripper are two of the main function modules, the two actually work the same, but each can be activated individually.
Leawo is good at decrypting DVD copy protections in any means, any video format you need, like MP4, AVI, WMV, VOB, MKV, etc. Besides, please note forced subtitle is always enabled in Leawo Prof. Media.
Also, please note the Bluray ripper rips both Bluray and DVD discs and the DVD Ripper only rips DVDs.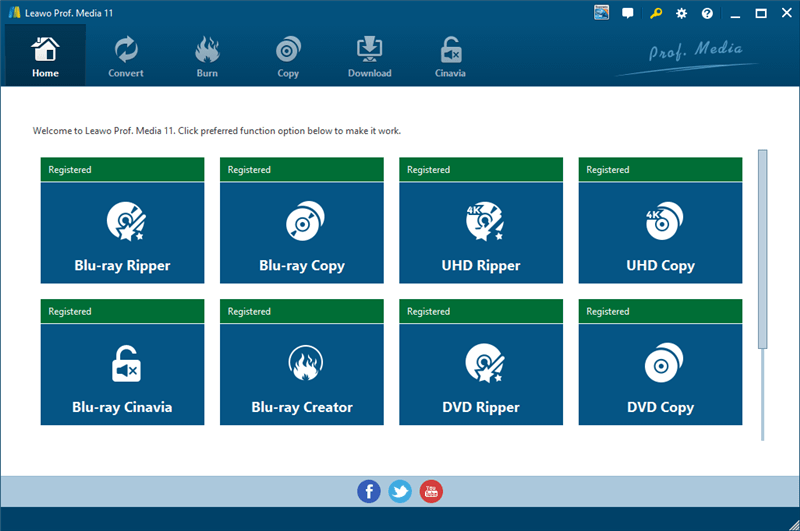 Leawo DVD Ripper Main Features
Abundant Output Profiles: Leawo DVD Ripper is professional and provides up to 180 profiles for your DVD ripping. Not only does it support DVD discs, but IFO, DVD ISO as well as DVD VIDEO_TS folder. It can extract the DVD to video in MP4, MKV, AVI, WMV, etc, or audios in AAC, MP3, FLAC, WAV, etc, or iOS or Android devices like iPhone, iPad, Apple TV, Samsung, Huawei phones, to name but a few. Besides, you can upscale your DVD to 720P, 1080P, or even 4K videos.
Decrypt, and Convert any protected DVD Discs: Leawo DVD Ripper can rip all kinds of protected DVDs, including those that are protected by CSS, region code, DVD Disc Corruption (also known or called as ARccOS by Sony, RipGuard by Rovi, Disney X by Disney, etc).
NVIDIA, AMD, and Intel GPU Support: Leawo DVD Ripper supports GPU from NVIDIA, AMD, and Intel and speeds up the DVD ripping by 600%.
Source DVD Quality: With the world-leading compressing technique, Leawo keeps the original DVD quality with a relatively small size.
DVD Editing with 3D Support: Leawo DVD Ripper builds in an editor for you to freely trim, crop, your DVD, add watermark, set effects, and even enable 3D option to convert normal 2D DVD to 3D.
Set parameters, Change subtitle, audio track, or angle: All video and audio parameters like resolution, frame rate, aspect ratio in Leawo is adjustable. You can even save the preferred options as your own profile. Also, you have full control of which subtitle or audio track to rip. For multi-angle DVDs, you can even change the angle. Note: Forced subtitles are always enabled.
Leawo DVD Ripper Pros and Cons:
Pros:
Stable in ripping, even with protected DVDs
Three ripping modes (Full, Main, and Custom) and a large window for preview
Nice and straightforward UI, and easy to use
Support popular video and audio formats and various devices
Updates within the program. So, you don't have to download the full installer to start over.
Over 10 languages support
Cons:
Only the first 5 minutes of a DVD can be converted.
How to Use Leawo DVD Ripper Software
Either you want to rip DVDs on PC or MAC, it is the same here in Leawo Prof. Media. I will take MP4 as the output example for your reference.
Step 1. Load DVD
Open Leawo Prof. Media and click on Blu-ray/DVD Ripper. Or simply click the Convert tab. And then load DVD by clicking Add Blu-ray/DVD and select the disc in the drop-down menu of "Add from CD-ROM". Please note Blu-ray/DVD Ripper is the function module in Leawo Prof. Media as ripping Blu-ray is the same as DVDs with Leawo. But no worry, the two can be activated each.

You will be presented to confirm the Full or Main Movie mode. We recommend Main Movie mode with the main title. Click OK to confirm.
Step 2. Profile for DVD Ripping
MP4 Video or your last used profile is the default for ripping. If you want to rip DVDs to AVI, MKV, or any other video formats, click MP4 Video to change.
Step 3. Rip DVD
Hit the Convert button to starting ripping DVD disc to MP4 or other video formats you like.
AnyMP4 offers a great and easy-to-use solution for DVD ripping. It is very compact, with less than 100M in size. Compared with other DVD ripper software, it takes up less memory and you can run it on your old computers as well. With AnyMP4 DVD Ripper, you can quickly extract DVD video and convert to MP4, AVI, WMV, MKV, VOB, MP3, AAC, iPhone, iPad, etc. Meanwhile, you can edit your DVD before ripping. You can merge different DVD titles and combine them into one. And it's impressive in creating 3D videos, meaning you are able to rip 2D DVD to 3D MP4, 3D MKV, 3D AVI, and 3D MOV for your VR headsets. It is a must for your DVD ripping.
Also, as you can see, the design is fresh and concise, no useless buttons at all.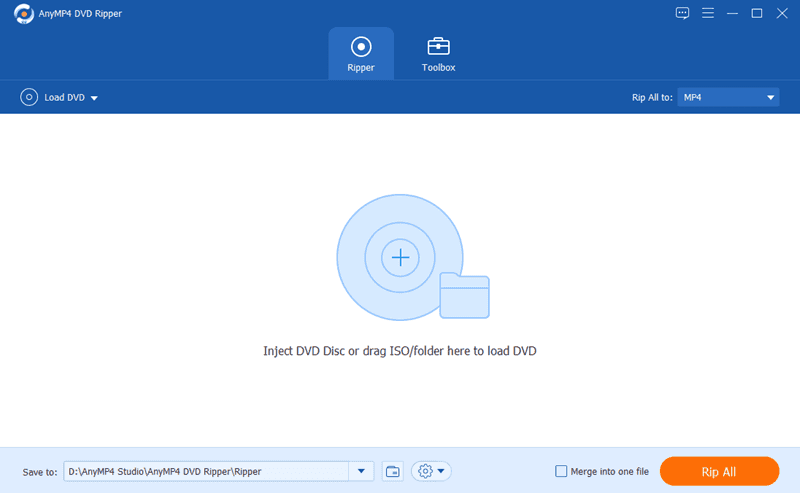 AnyMP4 DVD Ripper Main Features
Rip commercial DVDs to popular video and audio formats: We see that DVD discs are easy to get damaged and it is inconvenient to take the discs everywhere. As a powerful DVD ripping program, it can help you convert DVD movies into various popular video and audio formats.  You can easily convert DVD to MP4, MKV, AVI, MOV, WMV, FLV, M4V, TS, DivX, WebM, 3GP, and other 4K/1080p/720p video formats, and save the DVD to your computer for backup. In addition, the software can help you extract audio tracks from DVDs and convert them to your favorite audio formats, such as MP3, WAV, WMA, AAC, M4A, ALAC, FLAC, OGG, etc.  
1:1 Copy DVD to the hard drive: AnyMP4 can copy DVD to ISO or VIDEO_TS folder to hard drive with 100% the original video quality, original DVD structure with menus, all the sound and subtitle tracks, and chapters. You can burn the ISO back to DVD anytime you lick. Lossless copy to MPG gives you an MPEG2 video with the original DVD quality. However, the menus are gone but the speed is super-fast.
Rip your DVD for any iOS/Android Devices: AnyMP4 is the very DVD ripping solution to copy your DVDs to your local hard drive, convert them for playback on iPhone, iPad, Apple TV,  Samsung, LG, HTC, as well as other digital devices. The DVD ripper software builds in different profiles for different devices, so you don't have to create yourself.
Edit DVD before ripping: It provides multiple editing functions to adjust DVD video effects such as brightness, contrast, saturation, hue, and volume, and even add personal text/image watermarks to the output video. You can also rotate, trim or crop the part you need.
Fast DVD ripping and High-Quality Output: Thanks to the latest hardware acceleration technology, with AMD, Intel, and NVIDIA GPU supported, the software provides you with super fast DVD ripping speed. Also, it can convert DVD to high-definition video formats such as MP4, MOV, MKV, AVI, WebM, TS, etc with fantastic image and sound quality.
Customize Your Own Profile: Within the profiles, you can edit, change, and set up your own profile. The video and audio codec, resolution, bit rate, sample rate, and audio channels are adjustable.
AnyMP4 DVD Ripper Pros and Cons
Pros:
Rip protected DVDs and upscale them to 1080P or even 4K
It's just a few mouse clicks to get your DVDs ripped.
Keep all the audio tracks or even add your own track for ripping
Forced subtitle track supported
2D DVD to 3D MP4, 3D MKV, 3D MOV with valorous 3D options like anaglyph,slide by slide (Half-Weight or Full), or top and bottom(Half-Weight or Full)
Make GIF different from DVDs
Edit DVD metadata for better playback or management on Plex, Apple TV, etc.
Cons:
The new version 8 no longer splits DVDs into chapters, which is one of the best features it ever has. Will the feature be back in the near future?
AnyMP4 is concise and easy to rip DVDs with it. Here I will show you how. 
Step 1. Load DVD
Click the Load Disc button on top and add a DVD from the DVD drive. You will have the option to load the DVD ISO file or DVD VIDEO_TS folder from its drop-down menu. 
Step 2. Profile for Ripping 
MPG Lossless or your last-used profile is the default for DVD ripping with AnyMP4. Click the drop-down menu from "Rip All to" below and choose the one you prefer to rip your DVDs. 
Step 3. DVD Titles for Ripping[Optional]
AnyMP4 can choose the main DVD title for your ripping. For any reason, you want to choose other titles for ripping, click "Full Title List", then select the titles you need.  If you want to confirm the right title yourself, there's the guide.
Step 4. Rip DVD 
Click the Rip All button to start ripping and enjoy the movie after about 30-50 minutes!