I downloaded the ultimate version of the video converter from Xilisoft, so I could download all my movies and convert the VTS VOB to MP4 for my daughter (I already own the DVD) for our trip. Whenever I try to load the VTS_01.VOB files, Xilisoft ultimate converter and HD Video Converter Deluxe crash or fail to load the file with the movie content.
I also used iSkysoft Video Converter to create an MP4 copy of the Dangal and other Disney/Pixar movies, but I got over 90 mp4 files from the VTS VOB files, and when I played them back, they played the chapters in the wrong order. The main Title chapter it selected as the main title was chapter 33. I have tried a few things to correctly get a digital copy of the movie that I can watch using my computer, but it continues to play back in the wrong order.
I see a lot of guides on Google that show you how to convert VTS VOB to MP4 AVI WMV or whatever video format you need. Still, I don't think they are pretty straightforward, and a major of those so-called VTS VOB converters are giving me trouble regarding VOB files in a PROTECTED DVD, especially those from Disney. I have tried and researched a lot myself and finally seem to understand what we need to do to convert VTS VOB files. I will take MP4 as the output in the below guide.
How to Convert Single VTS VOB to MP4 AVI
For single and unprotected VTS VOB files, most of the guides from a variety of VTS converters on the whole web are able to do at least not a bad job for you, including free ones Handbrake, Freemake Video Converter, AVS video converter, and paid ones I mentioned above: Xilisoft Video Converter Ultimate, HD Video Converter Deluxe, etc. And the steps are easy to follow, simply known as Add VOB, Select MP4 as the output and Start converting.
Here I'd like to recommend another program that can convert single and unprotected VTS VOB to MP4 as well as over 180+ videos as you prefer. I recommend it just because it is fast and stable and converts 2D VOB to 3D MP4 as well! 
Leawo Video Converter Ultimate is available on both Windows and Mac for you to convert VTS VOB files, and there's a 25% discount for you for the one-year and lifetime subscription. You are able to save $10 for the lifetime subscription.
And there is a quick guide on using Leawo Video Converter to convert VOB to MP4 AVI, WMV, etc.
How to Convert Protected VOB to MP4
Well, if you are actually converting VTS VOB files that are in a DVD disc like I do, specially protected movie discs from Disney, Paramount, etc., the guide below will be extremely helpful. The VTS VOB to MP4 Converting guide applies to VTS VOB files that are along with IFO and BUP files in the VIDEO_TS folder in a DVD disc. DVD ISO files that contain VOB, IFO and BUP files in the VIDEO_TS folder or a folder that contains the VIDEO_TS folder with IFO, BUP and VOB files are also recommended to use this guide. Also, this guide applies to DVD media files (.dvdmedia) and DVD .cdr files which are more commonly seen on macOS instead of Windows.
Leawo DVD Ripper is the best DVD ripping software that can rip DVD VOB and convert DVD VOB to MP4, MKV, AVI, FLV, RMVB, etc. for iPhone 7 Plus, Galaxy S8, PS4, Surface Pro 3, etc.
Step 1. Install and launch the program. Click DVD Ripper in the Leawo Prof. Media main user interface. The BluRay Ripper works for DVDs as well but cost more.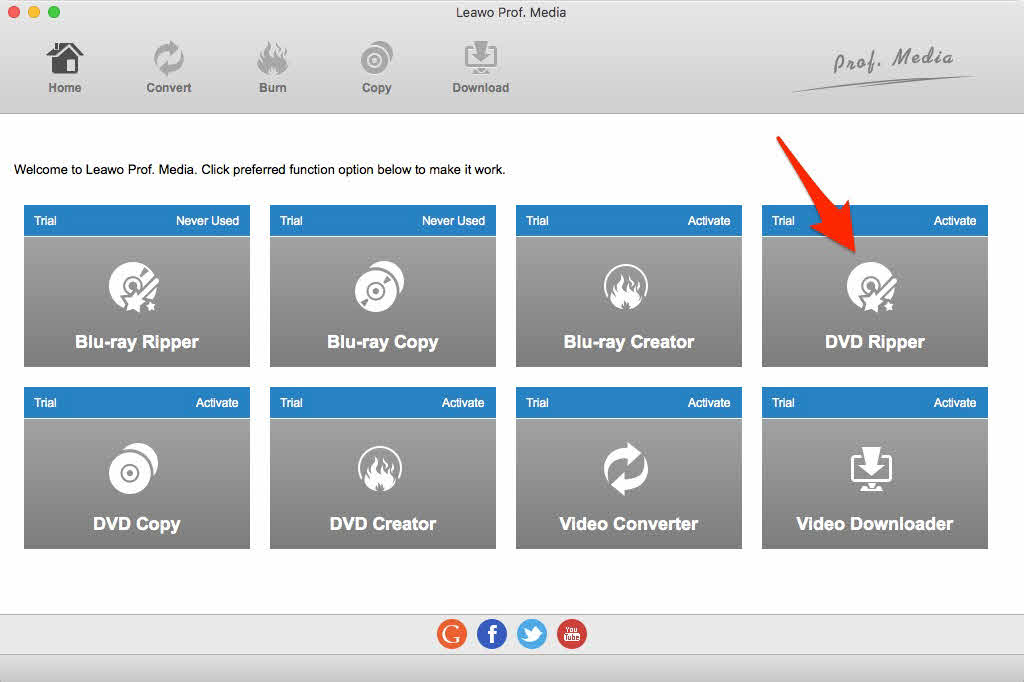 Step 2. Add DVD. Click the DVD Ripper on the home screen and click the "Add Blu-ray/DVD" button on top.
You can add a DVD that is on a disc, in a folder as well as an ISO file. Also, you can Drag and Drop to add. You can drag the disc, the folder, and the ISO file into the program. If you are on a Mac, you are also able to drag the .dvdmedia and .cdr file to the program. 
Please note Leawo combines all programs into one app, you can drag the VTS VOB files to the program even you select DVD ripper before. But as explained above, we need to treat them as the whole just because they are protected and VOB files in a disc have their own structure.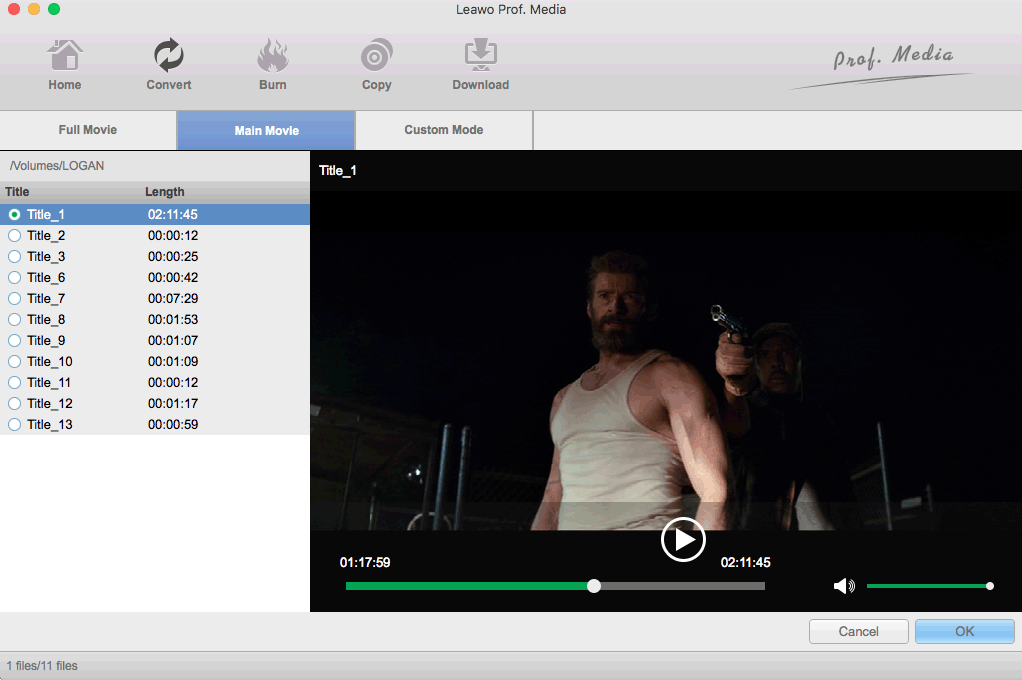 You will then be presented to choose the Full, Main or Custom Mode for ripping. Here I recommend Main Mode for movie DVDs and Full Mode for TV shows. Customer Mode is always available for advanced users who understand DVD structures well and want to rip separated titles.
Step 3. Output Profile. MP4 comes with the default one and there are 180+ more if you just like other formats like MKV, AVI, MOV, WMV, etc when you convert the VTS VOB files in a disc. 3D formats are also available. Please note subtitle is disabled by default and English is the default audio. Don't forget to change them if you need another. If you need Forced Subtitle for a DVD, make sure to choose None in Subtitle. 

Step 4. Converting. You just need to hit the Convert button and let it go.