GPU acceleration is widely used on Windows PC to speed up Bluray DVD ripping to MP4 MKV etc, however, I notice there are few programs that fully support Intel and AMD GPU on macOS. In this post, I'd like to share my experience of how to rip Bluray DVD with Intel and AMD GPU acceleration on Mac.
Bluray DVD Ripper with Intel and AMD GPU Acceleration for Mac
Is your GPU supported for Bluray DVD Ripping?
DVDFab uses OpenCL for GPU acceleration on Mac. You can check with Apple to see if your GPU supports OpenCL and the version it supports:
And, if you go choose Mac OpenCL in DVDFab, it will notify you if it is NOT supported as you can see the example here: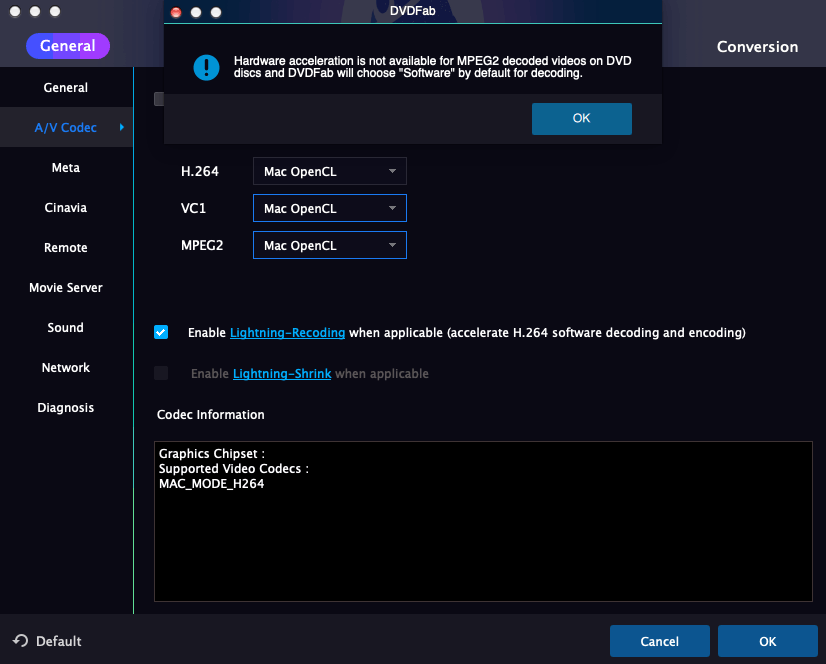 Enable GPU Acceleration for Bluray DVD Ripping Mac
For some reason, GPU acceleration is disabled by default in DVDFab. If you want to rip Bluray DVD with your GPU, you will need to go Preference-General and A/V Codec and uncheck "Disable all GPU codec for decoding and encoding":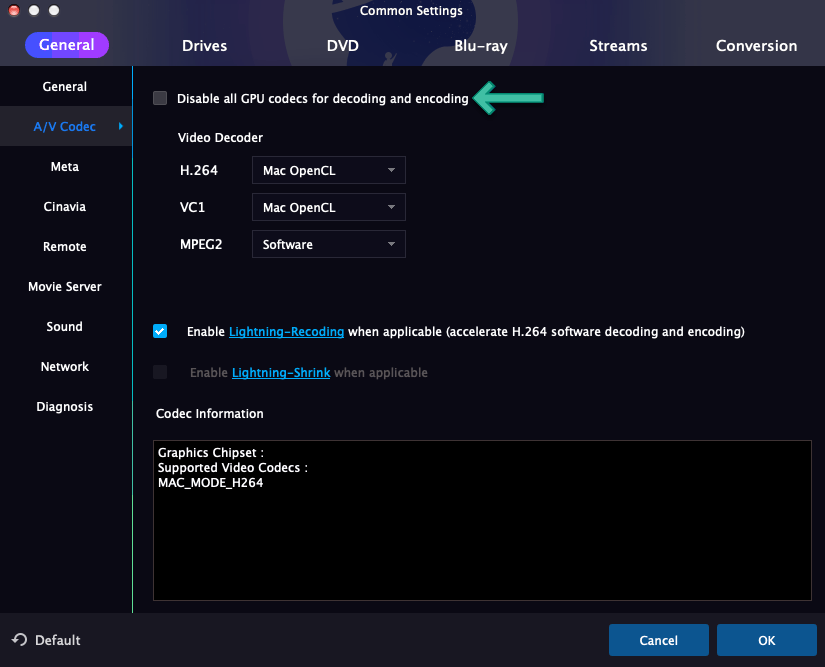 Besides, Lighting-Recoding is for Bluray Copy, which is able to speed up the copying by up to 40%, said by DVDFab. And Lighting-Shrink is for Bluray Copy and Bluray Ripper but is only available for IQS, CUDA, and NVENC-based GPUs.
Rip Bluray DVD with Intel and AMD GPU Acceleration on Mac
Actually, ripping Bluray DVD to MP4 H264 with Intel and AMD GPU acceleration with DVDFab on Mac is very easy and we just need a few mouse clicks. Below is a quick guide on how to do so.
Step 1. Getting Ready
Follow the below button to download, install, and open DVDFab. Insert your Bluray or DVD into your Bluray DVD drive to get ready.
Step 2. Load Bluray/DVD
DVDFab automatically loads your Bluray or DVD in the drive. But you are always able to add your Bluray DVD disc, ISO file or folder by drag-and-drop. 
Step 3. Enable GPU Codec[Important]
Please be sure to enable GPU acceleration for Bluray and DVD ripping in DVDFab as shown above.
Step 4. Profiles
As far as I can see, H.264 is more widely used. So I'd like to recommend you guys choose MP4 H.264 as the output.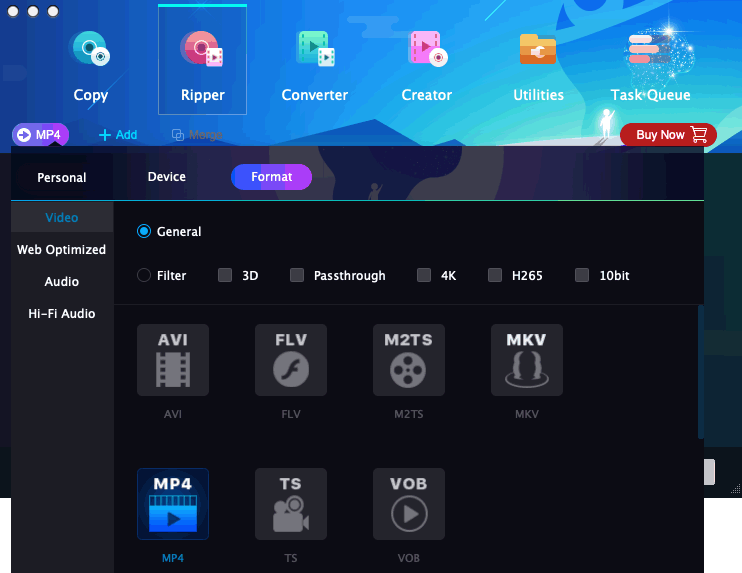 Step 5. Rip Bluray DVD to MP4 with GPU Acceleration
Click Start button to start ripping Bluray and DVD to MP4 H.264 with Mac OpenCL. 
DVDFab Update: VideoToolbox Makes DVDFab 2 Times Faster on Mac
Can't bear the slow speed when converting DVDs, Blu-rays, and videos on your Mac? DVDFab launches VideoToolbox in the recent update. Now with the addition of VideoToolbox hardware acceleration support, the recent DVDFab 11 for Mac can perform averagely 2 times faster on the conversion tasks in DVD/Blu-ray Ripper and Video Converter modules. Time to make that happen on your Mac!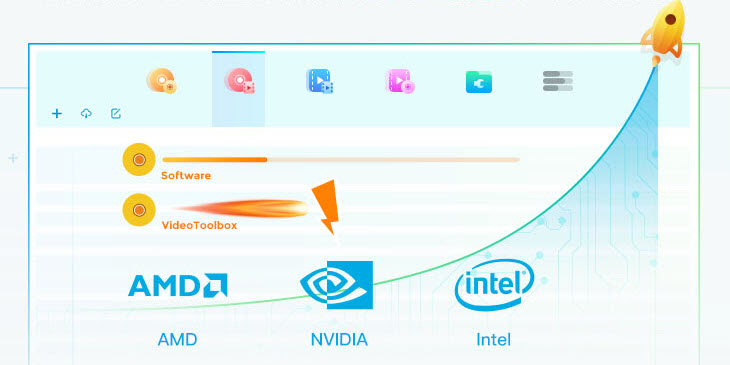 Make sure to download the latest version via the below button:
And, you can enable the VideoTool box here in Preference-General-A/V Codec: