When we are now able to download 8K videos from YouTube and convert 8K videos to MP4, AVI etc, we still only get 4K UHD video on Blu-ray. I believe we are able to get 8K videos on discs but they will be huge since it can be 80 GB for a two-hour long 4K Blu-ray and 45 GB for a 1080P Blu-ray. And, it seems more difficult to rip 4K UHD Blu-ray as there are few 4K Blu-ray Rippers that can do so.
In my previous post, I recommended 4 best Blu-ray rippers to be the best to rip standard 1080P Blu-ray discs, however, when it comes to 4K UHD Blu-ray ripping, it noticed some of them does not work quite well.
In this post, I will show you the problems I met when I was trying the 4K Blu-ray Rippers I found on the Internet and I will recommend 3 top UHD 4K Blu-ray Ripper that truly works on PC and Mac, along with a bonus gift.
There are a quite a few programs that say they are able to handle 4K UHD Blu-ray ripping, however, from what I can see, only three of them works. Here are the problems that I have with some of the so-called 4K Blu-ray Rippers.
The first program I tried is the BD-DVD Ripper from Videosolo. It looks like AnyMP4 and advertises itself to be the best 4K Blu-ray Ripper to rip & convert UHD 4K Blu-ray. However, it failed to load the Blu-ray discs immediately.

And, the very same thing happens to EaseFab Lossless Copy.
And, it even crashed and disappeared after I hit OK.

Pavtube ByteCopy gives me the same error message as EaseFab without crashing. It seems that the two are the same?

Top Three 4K Blu-ray Ripper for PC/Mac
What I recommend is the 100% working 4K Blu-ray Ripper for me. All of them are available for both PC and Mac. Each of them has its own advantages and I will explain one by one.
DVDFab UHD Ripper[Editor's Choice]
DVDFab UHD Ripper is one of the function modules in DVDFab and it is mainly for 4K Blu-ray discs, including the 3D ones. It is recommended as it supports AACS 2.1 now and it keeps HDR10 and HDR 12.
I am not sure why DVDFab limits the output videos from 4K Blu-ray to MKV, M2TS, and MP4. I guess it's about the ripping speed and 4K Blu-ray ripping is really time-consuming. The good news is DVDFab UHD 4K Blu-ray Ripper supports GPU acceleration on both PC and Mac to boost your ripping speed.
Leawo UHD 4K Blu-ray Ripper works just like its standard version.  From what I tested so far, Leawo 4K Blu-ray Ripper works just fine for every aspect of Blu-ray ripping that I can think of. It loads protected 4K Blu-ray discs just fine. And you're free to select any profile in the list for ripping.  Also, 4K Blu-ray editing works as usual.
MakeMKV is one of the most powerful tools for Blu-ray ripping. And it supports every kind of Blu-ray discs, no matter they are protected or not and no matter they are 3D ones or 4K ones. Most importantly, the author promises that MakeMKV will remain free while it's in beta. Actually, it's in beta for quite a long time. 
MakeMKV is available for 4K Blu-ray ripping on Windows, macOS, and Linux machines. MakeMKV comes as the last recommendation just because it only supports 4K Blu-ray ripping to MKV and the file size is huge. Most of the time, the MKV file would be 50 GB for 4K Blu-rays. And you will have to convert MKV to MP4 for iPhone, Plex, etc. 
Besides, in order to use the 4K Blu-ray ripper for free, you'll have to get a MakeMKV beta key about every two months. Or you can consider a LIFETIME key for $50. 
How to Rip 4K Blu-ray on PC and Mac
DVDFab UHD Ripper is what I think the best 4K Blu-ray ripper and the guide below is about how to rip 4K Blu-ray discs with DVDFab.
Getting Ready:
Please follow the below button to free download a trial copy of DVDFab. Install and launch it. And, insert your 4K Blu-ray disc into your Blu-ray drive. 
Step 1. Load 4K Blu-ray
DVDFab is user-friendly in loading Blu-ray and DVD discs as it automatically does so. You may have to select the Blu-ray region as shown below, but feel free to disable the window because DVDFab can detect the right region for you. And, you can free to re-enable it in Settings.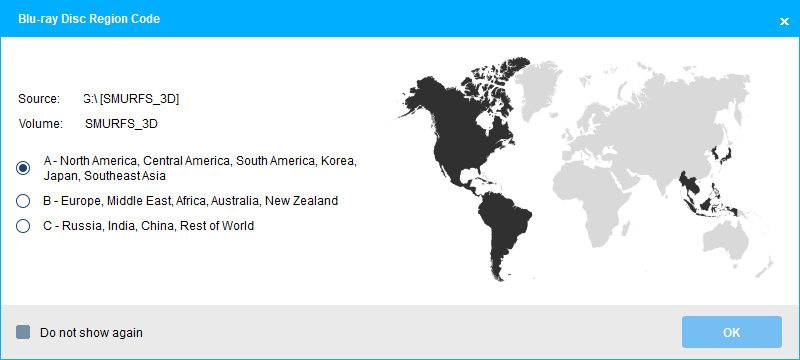 Step 2. Profile for 4K Blu-ray Ripping
DVDFab 4K Blu-ray Ripper limits the profiles for 4K UHD Blu-ray ripping as shown below.

I think those profiles can meet most people's needs. If not, the DVDFab Video Converter supports all video conversions. 
Step 3. Rip 4K Blu-ray
Hit the Start button to begin ripping 4K Blu-ray discs. 
Bonus Gift: 4K Blu-ray Player
I know how hard it is for Blu-ray playback. For standard Blu-ray disc playback, there are a couple of programs for us to go like VLC and Leawo Blu-ray Player, which are free to use.
But, when it comes to the 4K Blu-ray playback, we are in trouble. With DVDFab Player, the Ultra version, you are able to play 4k UHD Blu-rays without any problem. The support of HDR10 gives you impressive playback of UHD Blu-ray quality. Besides, it also supports 3D playback.