We live in a digital world where everything is done online. So why not transform your ideas into something that has the highest engagement? This is where PixTeller online GIF Maker comes into place.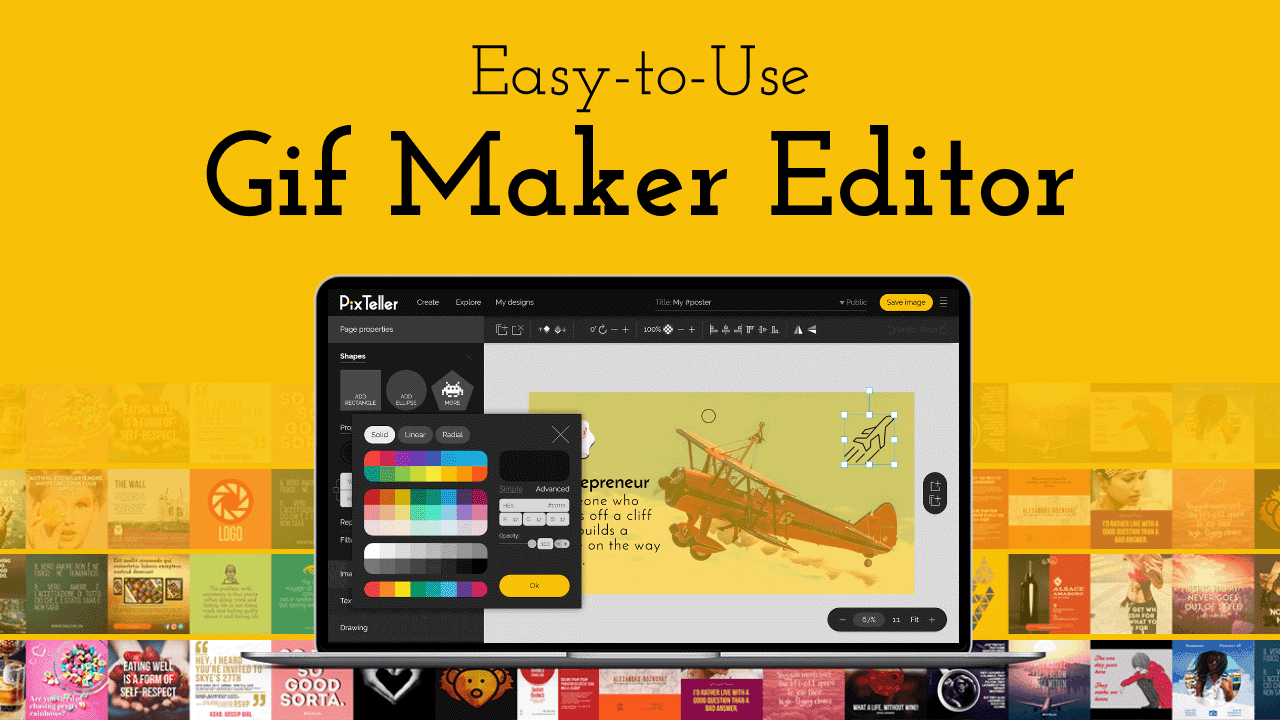 People tend to remember content that has movement and sound because that's just how the human mind works. It all has to do with how we interact with the real-life. Because of this, PixTeller created an editor that now gives users the possibility to set motion patterns for any element they choose from their design – the online GIF Maker.
The answer is simple – it brings much more value to its users than any other tool due to its ease of use editor that doesn't require any previous known skills or experience. It's an accessible tool that anyone can use to create engaging content that converts.
Today, you will see just how easy it is to use this online GIF maker and creator and how it brings so much value by grabbing all the attention with its animated content.
WHAT HAS PIXTELLER TO OFFER?
PixTeller started as an online image maker and photo editor and has thousands of pre-made templates to choose from, so your work is halfway done. All you have to do is USE any of them, edit the content to fit your needs, and save. In just a few seconds, you can create content that is ready to be shared for your personal or business use.
But since animated content is the new trend, so has PixTeller evolved so it can give you the tool you need to create such motioned graphics.
And the best side of the story is that its free! No watermarks to block your creativity. You can access most of the editor features without paying and make a GIF online in no time. For complex designs, the subscription features are well worth it!
WHAT ABOUT THE ONLINE GIF MAKER?
With PixTeller, you can now create custom animated GIFs starting from a static design, thanks to its frame by frame motion editor. An innovation in animation making, this easy to use GIF editor will only bring users benefits – like increased clicks and views for their social media posts.
What features can I take advantage of?
Frame by frame timeline to edit the properties of each element
Multiple pages so you can create beautiful slideshows or animations
Ability to change colors, positions of elements, text fonts and filters an more
Pre-made animated GIF templates ready to be customized
A huge database of images and shapes free to use
Resizable GIF on download – no need to create a new one just to change proportions
Once your animation is saved and rendered, all you have to do is share it, embed it on your websites or email it and make an impression!
5 EASY STEPS TO CREATE A GIF ONLINE
The simplest way is to start from a template. Find the one that speaks to you from hundreds of pre-made animations and start editing it by clicking the USE button.
Once the editor is open, customize the design so it matches your personality or project. Start with changing words and images and make sure that you have the right message you need to send out there.
Update the GIF design colors for any of the elements, like text, background, shapes. Put your brand palette and make the animation personal.
Switch to animate mode and check the timeline. Since you started with a template, most users prefer to keep the pre-made motion. But you can always customize each element frame by changing its properties. Also, multiple options are given for the element motion acceleration.
The last step is saving and rendering. Once you are satisfied with your GIF animation, just save it and the rendering process will start. Depending on the complexity of your animation, its length, and an internet connection, the rendering process may last a few seconds up to a few minutes.
That's all! You now have created a marvelous GIF animation!
The result:
It's easy to see why this GIF helps with communication. The impact they have on users, being animated content, makes them an effective and easy way to reach the highest grounds in audiences and engagement.
And now that you know about the right tool to create them – Pixteller's Online GIF Maker, you have all it takes to spread the word about your business and go viral.
Used by thousands of people, PixTeller GIF creator is yours to play with, so enjoy!