My TV broke and I am recently looking for a smart TV with 4K video supports. To my surprise, I find there are 8K smart TVs from Samsung, Sony, LG, TCL, etc!  I really want to get an 8K smart TV because I know a decent way to convert 8K videos. For any reason you want to convert and upscale your videos and Blu-ray or even DVDs to 8K or compress 8K videos to 4K or 1080P, this 8K video converter is right here to help. 
And you will have one bonus gift from me as well. 
I often convert videos to different video formats and have used different video converters for the job. When it comes to 8K video conversion for 8K smart TVs, I have tried a couple of free applications including Handbrake. I must say I love the video processing application because it's been incredibly helpful in converting videos for me.  But when I am working on the project to convert 4K to 8K and 1080p to 8K, it does not let me do so.
What I'd like to recommend today is a true 8K video converter that is able to rip and upscale Blu-ray and DVDs and all kinds of videos with different resolutions to 8K  MKV, MP4, M2TS, etc and it supports 10 bit as well! For DVDFab, you don't have to custom or create your own profiles so as to convert to 8K videos because the 8K video converter builds in six different profiles for you: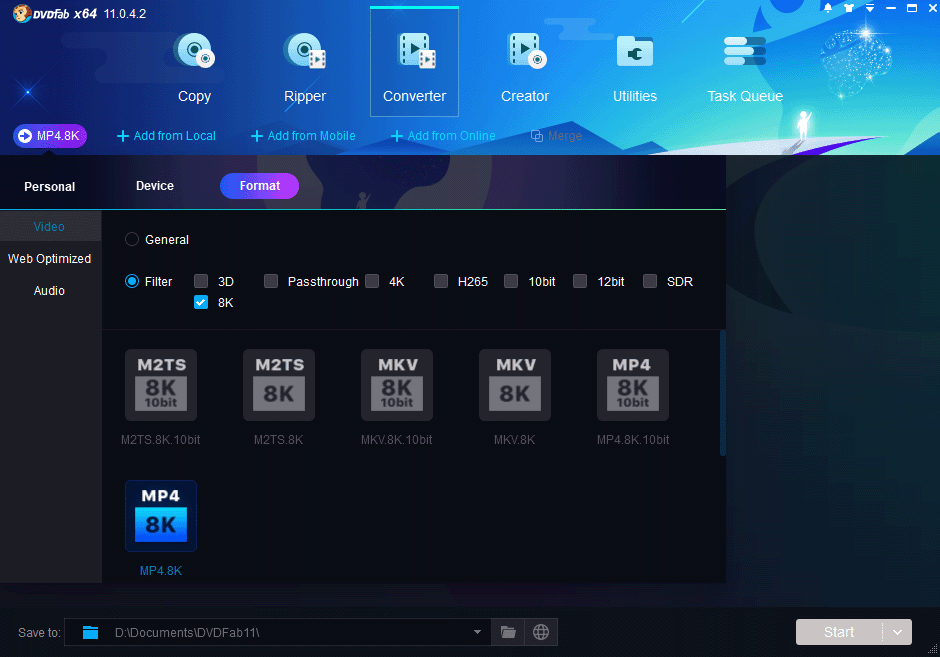 DVDFab, the very 8K Video Converter is available on both PC and Mac. And, it's fully compatible with the latest Windows 10 and macOS Big Sur. It runs just fine on M1 chip Macs. You can download a free trial via the below button. 
Upscale Blu-ray DVD MKV MOV MP4 AVI to 8K
DVDFab is an all-in-one media solution and this 8K video converter can upscale Blu-ray and DVDs to 8K videos in M2TS, MKV, and MP4 as well. The important thing is that DVDFab supports copy-protected Blu-ray discs from different A, B, and C regions as well as AACS copy protections. Meanwhile, DVDFab supports 4K UHD Blu-ray discs as well. With DVDFab, the very 8K video converter, you can upscale the standard 1080P Blu-ray and 4K Blu-ray to 8K videos. It also accepts different videos as an input and can upscale any video like MOV, MKV, MP4, AVI, VOB, etc in any resolution to 8K videos as you requested. 
Besides, DVDFab also supports DVDs, since the profile is there, you can surely increase the DVD's resolution from 720*480/720*576 to 7680*4320. However, this does not make too much sense, so I don't quite recommend it.  
One more thing, since Blu-ray and DVDs contain chapters, DVDFab can split Blu-ray and DVD to 8K videos by chapters as well as preserve the chapter markers: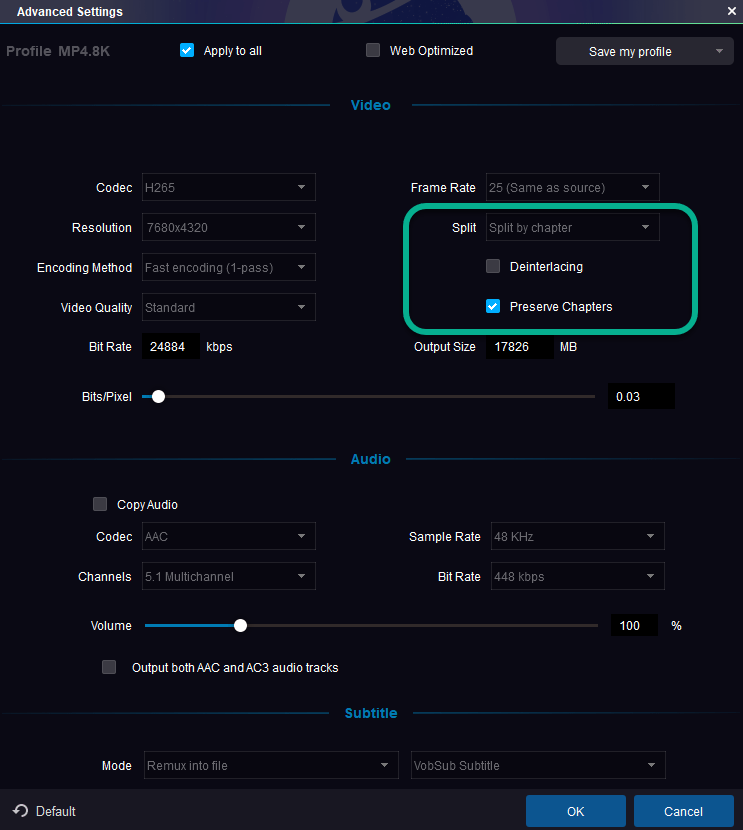 Compress 8K Video to 4K, 1080P
We know 8K videos are breathtaking to watch on 8K 80 inches smart TVs. However, 8K video playback is CPU and GPU consuming and 8K video files are huge to store. Most of the time, we need to compress 8K videos to 4K, 1080P, or even smaller for web streaming or other different purposes. DVDFab, the 8K video converter, is able to compress 8K videos by decreasing the resolution, bit rate, frame rate as per your needs. You can set your preferred parameters and save them as your own profile for future 8K video converting.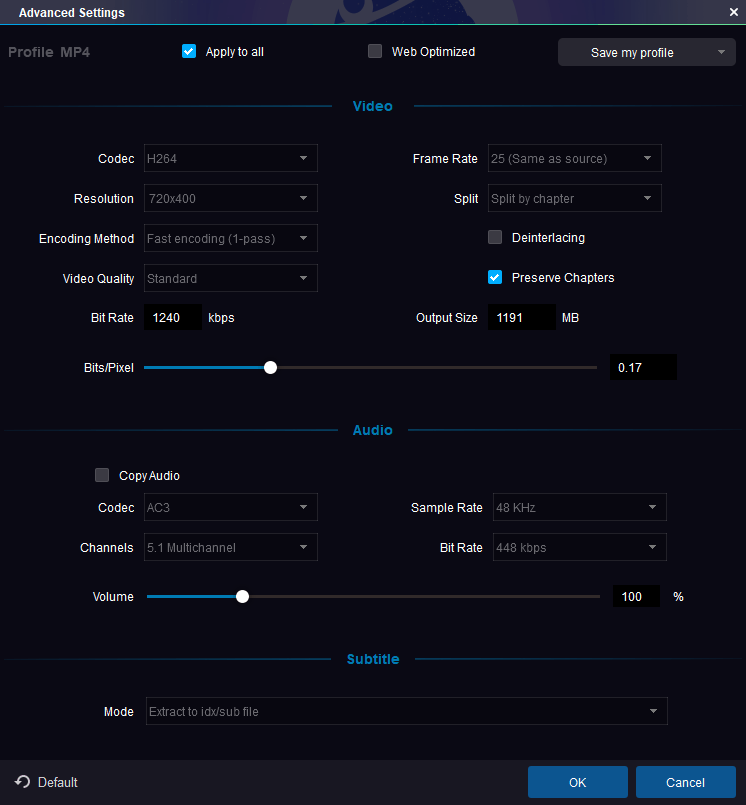 8K to 8K Video Passthrough
DVDFab is recommended as the best 8K video converter because it is super-powerful to meet the different needs of different people. I know a certain number of users would just like to change the video format without changing anything else. For example, we just need to convert the 8K M2TS to 8K MP4 for playback on Plex without losing any video quality. We call this remuxing. DVDFab 8K Video Converter does this job for you with the passthrough profiles as shown below.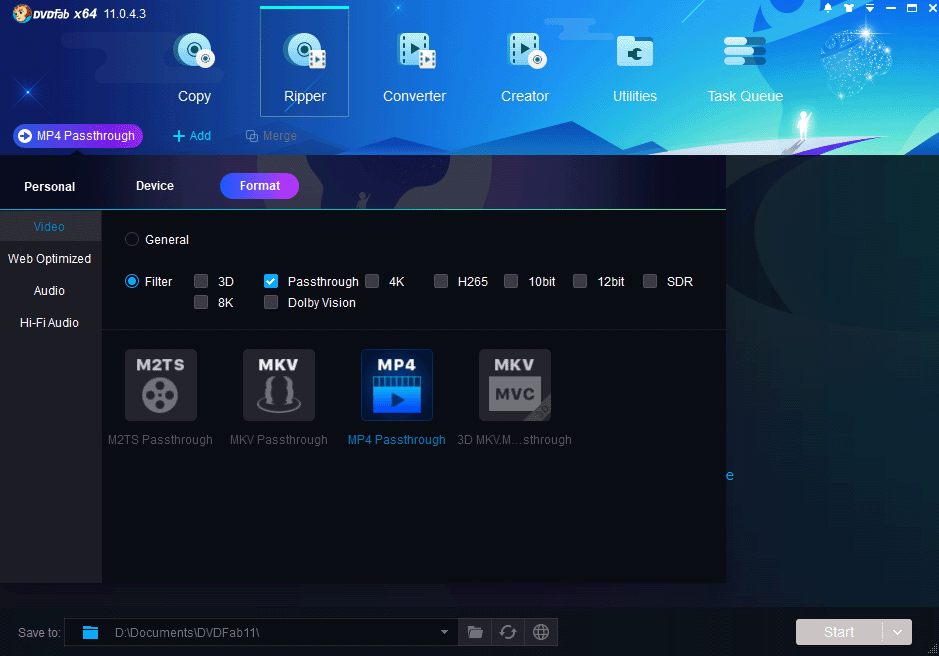 You may probably know that MP4 and MKV are containers and they accept different video codecs in them. So, it does not matter if you have HEVC 8K video in M2TS or MKV, you can do the 8K to 8K video conversion with losing quality since nothing changes as you can see the details below in Advanced Settings that everything is as same as the source:
8K Video Converter with GPU Hardware Acceleration
You may probably know that 8K video converting is really time-consuming, and it takes ages. However, if you have a really powerful GPU like Nvidia's GeForce 10 (Pascal) series and above, congratulations! You can speed the conversion up as DVDFab supports GPU hardware acceleration for 8K video converting! To see if your GPU is supported or not for different codecs, go for Common Settings-A/V Codec in General for details:
Guide: How to Use the 8K Video Converter
This 8K video converter is not complicated to use. DVDFab combines all its functions into different function modules, but they share the same profiles. So, it is quite easy for us to use the 8K video converter to rip Blu-ray and DVDs, convert MKV, AVI, MP4, M2TS, etc to 8K videos. Here's how we do so!
First, please follow the below download button to free download and install DVDFab. Launch the program to get ready. 
Step 1. Add Blu-ray/DVD/Videos
DVDFab supports drag-and-drop. No matter where you are, simply drag and drop any media including the Blu-ray and DVD drive, ISO, and folders or videos to the program! The program automatically takes you to the right place.
Step 2. 8K Video Profile
We see DVDFab shares profiles for different functional modules. Click the format and locate the 8K video profiles by enabling Filter-8K.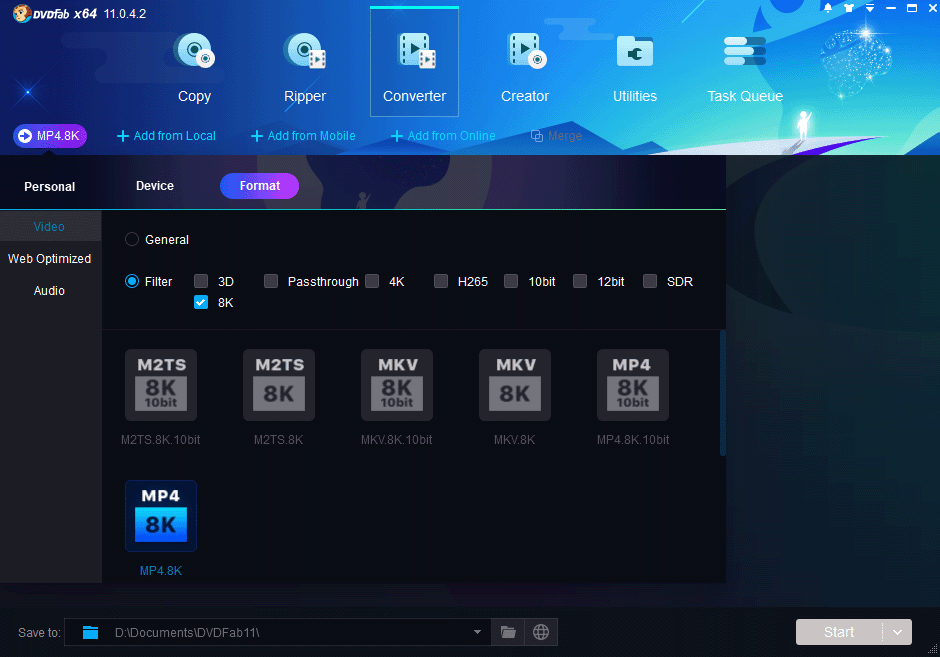 Step 3. 8K Video Conversion
After that, we are almost done! Hit the Start button to begin the 8K video conversion and let the 8K video converter do the rest for you. 
Bonus Gift: Download 8K Video from YouTube/Vimeo/Ted etc
DVDFab is the leading multimedia solution provider. Besides the 8K video converter, DVDFab can also download 8K videos from various online sharing video sites like YouTube, Facebook, Video, Ted, and more sites listed here.  Get the 8K Video Downloader here:
You can also get the 8K video downloader within DVDFab in Utilities here:
DVDFab Video Downloader downloads 8K videos right within its build-in browsers. You just need to visit the videos you want to download and the Download button is right here for you. Hit it and choose 8K UHD to start downloading 8K videos.