I come across 5KPlayer recently and  I am really impressed at some of the features, like rotating video, sync options, and it's way to manage library and playlist are great as well. However, I don't quite like it and decide to uninstall 5KPlayer from PC and remove it from my MacBook Pro but also has problems. Below is my guide on how to completely uninstall 5KPlayer from PC and Mac, no matter it's Windows 7 or Windows 10, macOS Big Sur or Catalina that you are running because their official guard of how to remove 5KPlayer  is NOT very clear and easy to go and it does not solve my problems on uninstalling and the uninstalling is NOT 100% clean. 
Although 5KPlayer works on video playback for AVCHD, M2TS, MKV and it is fast in launching and the video quality is superb. But I don't like it for the following reasons!
I hate it's taking itself as the default player for all my media files WITHOUT my permission! 
The icon is not very pleasing. The colors don't blend well. And it doesn't convey a very straightforward message to the audience. It is generally expected for most video players, which may lead to confusion if you don't have one.
The video rotation controls are on the top bar of the player, which is a very eye-catching area. I doubt that users will use video rotation quite a lot. QuickTime is able to rotate videos I recorded on my iPhone automatically.
I also installed the player on my new tablet running Windows 10. Even if it still works smoothly and fast, I have to say that it's a little uncomfortable to be used on a touch device. 
 I have a problem with some subtitle coding as you can see in the screenshot, it doesn't appear right and just appears as a strange litter. 

How to Completely Remove 5KPlayer from your Mac?
When I try to remove 5KPlayer from macOS Sierra, High Sierra, Mojave, Catalina, Big Sur or old Mac OS X El Capitan, Yosemite, or Mavericks, I get the below error message that reads "The item '5KPlayer.app' can't be moved to the Trash because it's open", but I do remember I close it.

Well, actually it is still running in the background! You can still see the icon in Dock and that is why it prevents itself from being uninstalled. To be able to 100% remove 5KPlayer from your macOS, please simply follow my guide below:
1. Click the below icon in the system status bar on the upper right and select Quit 5KPlayer. 
2. To completely remove and uninstall 5KPlayer on your macOS Big Sur, Catalina, Sierra, High Sierra, macOS 10.13 Mojave, or previous Mac OS X 10.6 to 10.9, I recommend a freeware AppCleaner. Drag 5KPlayer icon from the Applications folder to AppCleaner, check all items, and confirm uninstalling.  Make sure you download version 3.5.1 or above for the latest macOS 11 Big Sur. As fas as I can see, AppCleaner is fully compatible with Big Sur, even with Apple Silicon Macs. 
Tips: be sure to fully quit 5KPlayer before you uninstall. You are also able to remove it to Trash for uninstalling and empty Trash and better re-start Mac to take full effect. However, I notice this kind of uninstalling is NOT 100% clean and that's why I recommend a free uninstaller.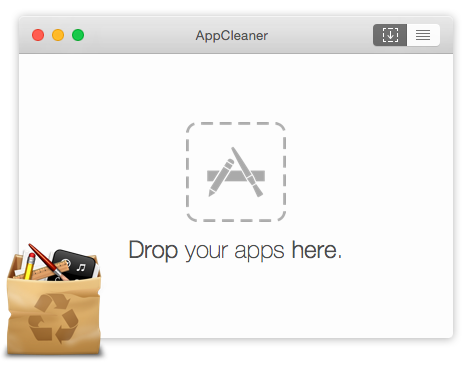 You are also able to FORCE remove 5KPlayer with AppCleaner even 5KPlayer is RUNNING. But you will have to do a re-start. Just drag 5KPlayer to AppCleaner and you will be presented with the below error message that reads: "Cannot remove protected apps-You can choose which apps are protected in the preferences." No worry, click Preferences… to set.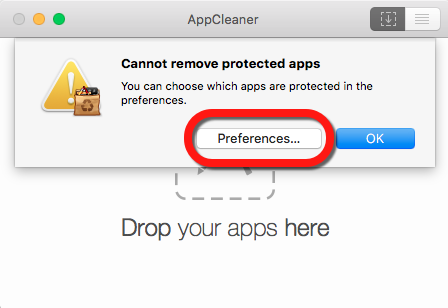 Uncheck "Protect running apps" here: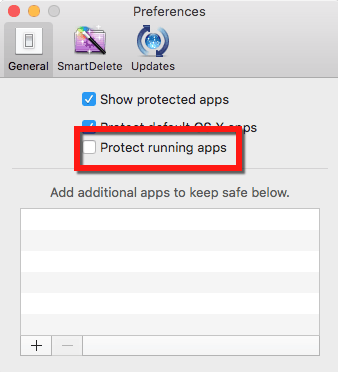 Drag 5KPlayer again to the app and check all items found and hit Remove! You will see 5KPlayer is still running! Don't worry! Restart your Mac, and 5KPlayer is forever and 100% gone! 
However, it is still recommended to QUIT it first as shown above before 100% uninstalling it from your MAC.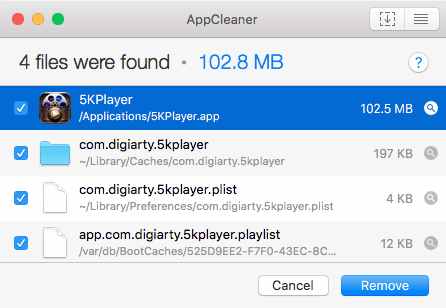 How to Uninstall 5KPlayer on Windows 100% Clean?
You may get a similar error when you go Control Panel\Programs\Programs and Features and try to uninstall 5KPlayer on Windows 10 or Windows 7, Windows 8/8.1 that reads: "Uninstall has detected that 5KPlayer is currently running. Please close all instances of it now, then click OK to continue, or Cancel to exit." Or newer version v5.1, v5.2 v6.0 that reads: "5KPlayer is running. Please exit and try again."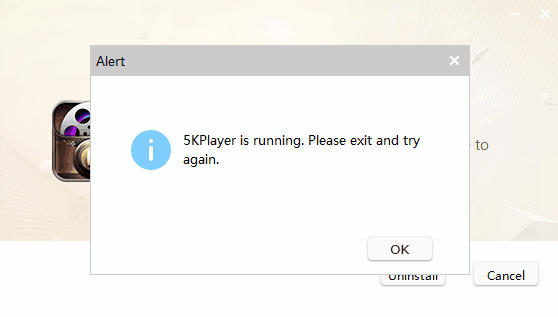 Firstly, You will have to Quit it by right-clicking the icon on the lower right corner of your desktop before uninstalling it here: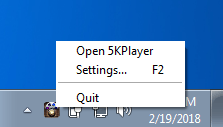 Then, you go to Control Panel to uninstall but to uninstall 5KPlayer from your Windows 10, Windows 7, or Windows 8/8.1 100% clean, I'd like you to use another free uninstaller from iObit to uninstall.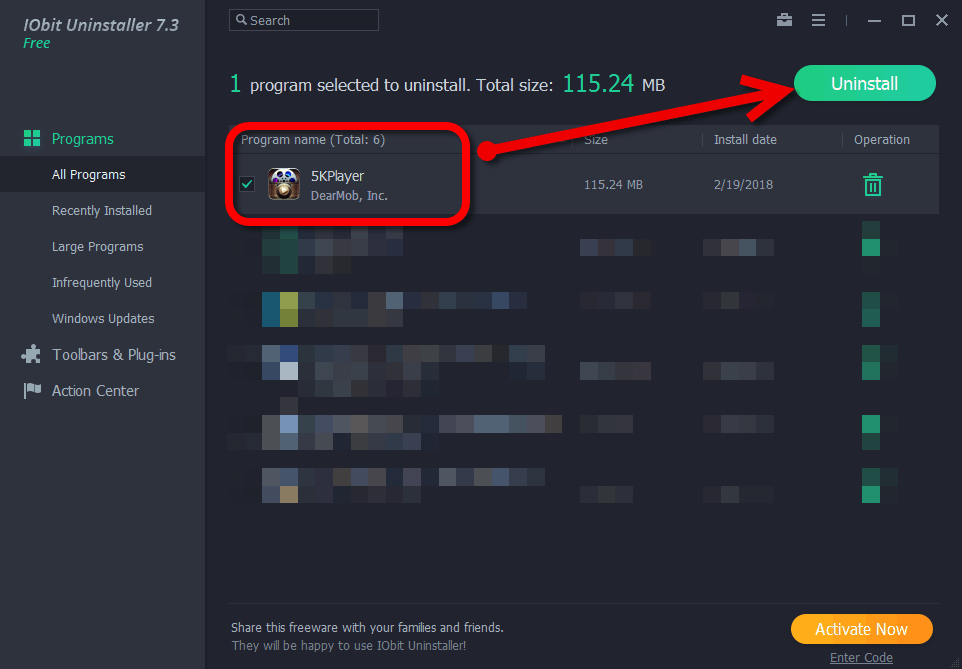 As shown above, you just need to check 5KPlayer and click the Uninstall button or icon. I recommend to check "Automatically remove residual files".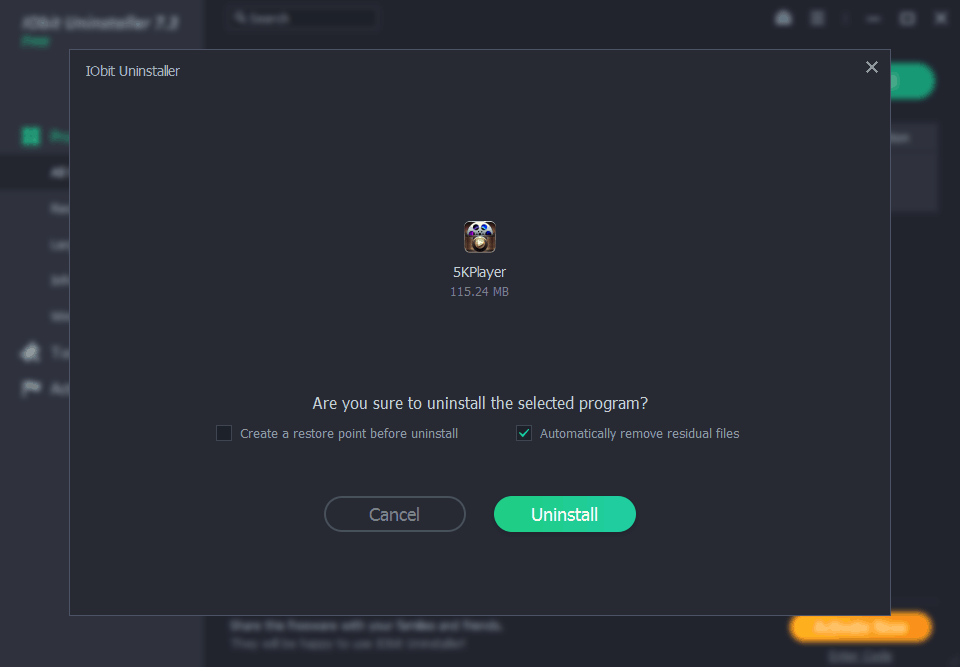 And you will see how many files or registries need to be deleted: