I tried a free online SWF video convert today to test it on a project I'm working on for a client. I have some small .swf files that need to be converted to a video format in MP4 or AVI. After following the simple instructions multiple times, I continue to ge`t the message "There was an error converting your file!" or 0 bytes output due to many possible reasons including wrong file type, corrupted file, wrong file extension. I tried converting different SWF files from multiple sources and had the same problems with all of them. 
SWF to MP4 Video Converter for PC/Mac
The frustration ends when I come across Wondershare Flash SWF to Video Converter-Wondershare UniConverter. Since it is working great on me with all my .swf files converted to MP4 as well as AVI, MOV, I assume it is the best solution to convert SWF files to MP4/AVI on Windows 10 and the latest macOS 10.15 Catalina. It is also supposed to be able to convert .swf files with flash in flawlessly to MOV, FLV, MPEG1, and MPEG2.
Wondershare offers a simple yet feature-rich SWF converter and it has the following unique features if compared with most of the online SWF converters, some free, some not.
We know that SWF is an Adobe Flash file format mainly used for multimedia. You will need Adobe Flash Player to play SWF files. However, with this SWF to MP4 converter, you can convert SWF files to play with any media player, like MPC-HC on PC or IINA on Mac, or VLC on Linux.

Convert SWF to iPhone/iPad compatible MP4 format
Wanna burn SWF files to DVD? No problem. Select the SWF file and burn directly to DVD!
You are also free to set frame rate, resolution and add a soundtrack for your SWF files.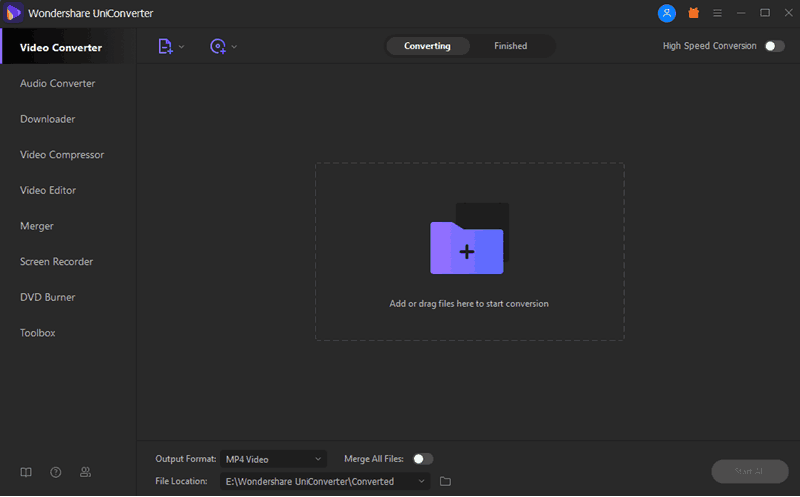 Convert SWF to MP4/MOV/iPhone on PC/Mac
As is known to all,  Apple no longer supports Adobe Flash player, meaning you will not be able to play SWF files on your iPhone, iPad, and iPod. To convert SWF files to Apple-friendly video format MP4 or MOV seems to be the only way out. Now we have Wondershare UniConverter-the very SWF converter for both PC and Mac and I am gonna show you how to convert SWF to MP4 for your iPhone. I will take my iPhone 8 as an example.
Getting Ready: Follow the above two download links to have a free trial of Wondershare Flash SWF to Video Converter, install and launch it. You are able to convert 1/3 of the SWF to any video format when you are in trial. 
Step 1. Input Flash SWF
Converting SWF to MP4 with Wondershare is way too easy. It walks you through every step so everyone is able to handle it. You will always have to Add files, browse to select the input .swf file. Drag-and-drop is also supported.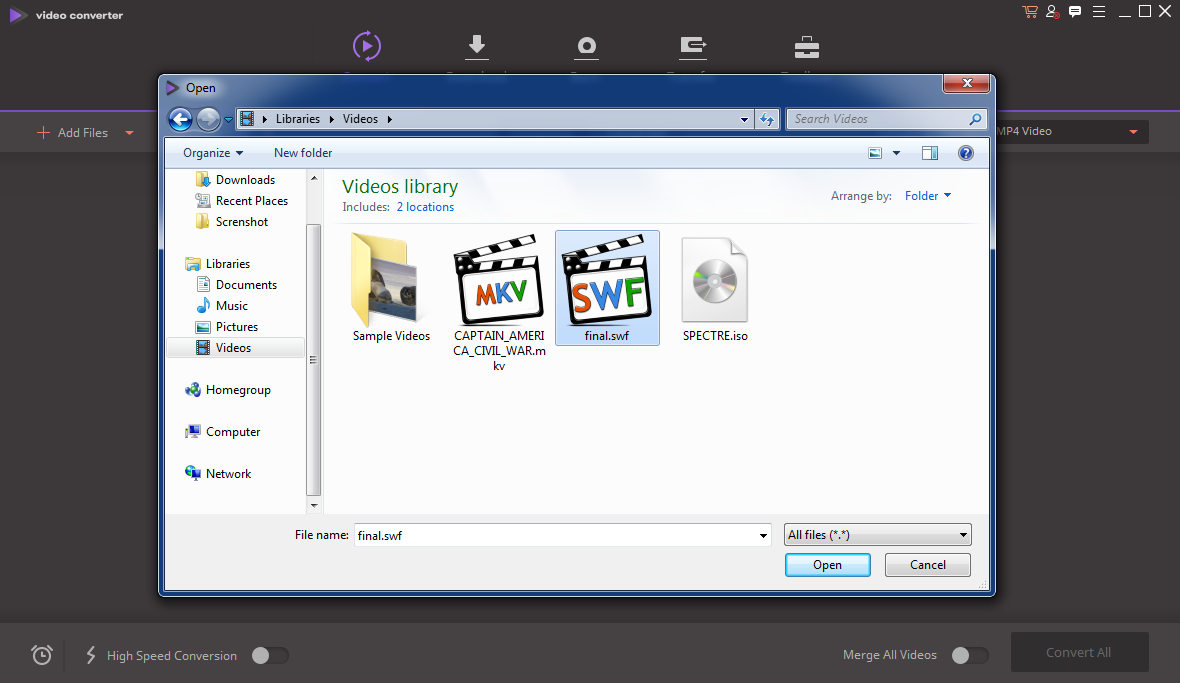 Step 2. Setup video format, codec and frame rate
After the flash video is loaded, you can click on MP4 Video or its drop-down menu in "Convert all files to" and locate iPhone 7/7 Plus or iPhone 8/8 Plus, iPhone X in Device-Apple and click the Edit icon for more options. Video Settings or Next to go settings for video format, codec, and frame rate. The codec H.264 is the only available for iPhone videos. But if you want to convert SWF to MPEG4 for iPhone, go for MP4 Video and edit it.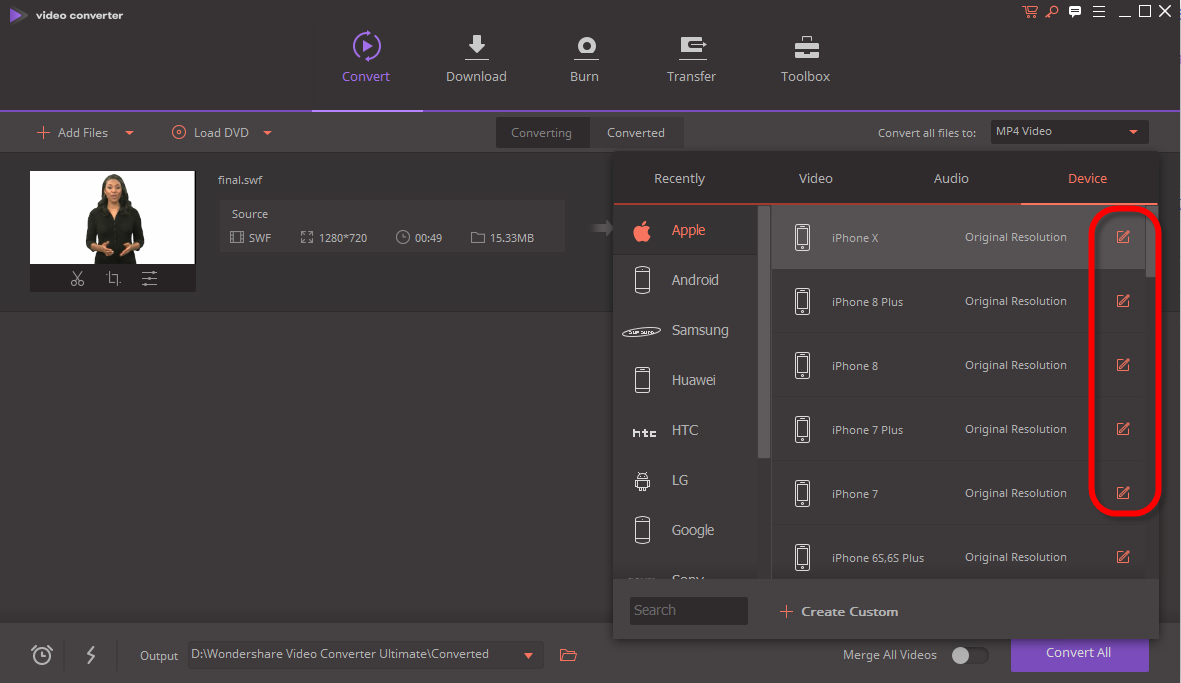 Tips:
I prefer to convert SWF to MP4 and remain the original sound. But if you want to remove the whole video, go for audio in Setting and un-check Audio:
And, Wondershare UniConverter keeps updating itself to support the latest iPhones. Make sure you have the latest version.
Step 3. Convert SWF to MP4
With all the above steps, you are now ready to convert SWF to MP4 for your iPhone. Just press Convert All and let the Wondershare do the rest for you. After that, you can go and add the MP4 your iTunes library to sync to iPhone! Wondershare SWF to MP4 Converter makes it possible to play SWF files on iPhone!
Troubleshooting-Cannot Sync MP4 to iPhone
The conversion to Mp4 goes fast and the output MP4 files play perfectly on iTunes, IINA and QuickTime player on macOS and MPC-HC on Windows. However, when I go to sync the file to my iPhone 8 I got the below error message that reads:
"final.mp4 was not copied because it cannot be played on this iPhone"
I was really frustrated to get this error message since the output is playing flawlessly and I am wandering around how to troubleshoot. There is my idea:
I previously set the resolution to 800*600 SVGA as I thought it would offer better MP4 files with better audio quality. I was wrong. I go and check on iPhone specifications and found the below spec for all iPhones, iPad, and iPods. You will notice in bold Apple only supports video with fewer pixels than 640×480 if the codec is MPEG4. So, make sure the codec matches the resolution. 
Video formats supported: H.264 video up to 1080p, 60 frames per second, High Profile level 4.2 with AAC-LC audio up to 160 Kbps, 48kHz, stereo audio in .m4v, .mp4, and .mov file formats; MPEG-4 video up to 2.5 Mbps, 640 by 480 pixels, 30 frames per second, Simple Profile with AAC-LC audio up to 160 Kbps per channel, 48kHz, stereo audio in .m4v, .mp4, and .mov file formats; Motion JPEG (M-JPEG) up to 35 Mbps, 1280 by 720 pixels, 30 frames per second, audio in ulaw, PCM stereo audio in .avi file format.
Set the resolution to the iPhone. There is no such problem.
iPhone is also able to play AVI files if the codec is MJPEG with less than 35 Mbps, 1280 by 720 pixels, 30 frames per second. You are able to do so with this SWF converter. Make sure you choose the codec MJPEG Compressor in Step 2 for video settings.
Troubleshooting-Trouble loading SWF to the Converter?
For the first time I try Wondershare UniConverter, it does not allow me to add the SWF file to the converter and if I try to drag the SWF file to the program, nothing happens. But actually, as we can see above, Wondershare works flawlessly for SWF to MP4 conversion for all iPhones. So, if you have trouble adding SWF to Wondershare, simply follow the screenshot below:
You just need to click Add files as we usually do and choose All files as shown above! Then you will see SWF files to convert!
Do you successfully convert your SWF files now?