What is the most eye-catching thing on the web? Nothing but videos. Women and men watch all kinds of videos. And people always would like to share videos on Facebook, Twitter, Google Plus, etc. Although we are able to convert and upload videos to sharing sites like YouTube, Video, Dailymotion, etc, we still need a faster and more convenient way to share videos. And, GIF, as far as we concern, is not only small but computers and mobiles phones friendly. We don't need plugins for GIF playback, which is far more convenient to share.
Also, FIFA World Cup 2018 starts in June in Russia. If you have the chance to go to Russia, I am sure you will have a lot of videos and photos on your iPhone, Android, or cameras/camcorders from Canon, Sony, Kodak, etc. The video will be in various video formats like AVCHD, MKV, M2TS/MTS, MMV, MOV, etc. You are always able to convert your camera/camcorder videos from FIFA World Cup 2018 in Russia to MP4 or M4V for sharing between family and friends or upload to YouTube, Facebook, Dailymotion and share with everyone. But if you are able to convert your FIFA World Cup videos to GIFs for sharing on Reddit, will you like it?
Today, I am gonna show you a 100% compatible way on Windows and macOS of converting videos or photos to GIF in HD with custom FPS like 50, 60, etc no matter what the video format is. It is the best program to convert AVCHD M2TS/MTS MOV M4V to GIF 60FPS HD! Let's go.
Best Video to GIF 60 FPS Maker
FIFA World Cup is a feast for all fans including me. Back in 2014 in Brazil, I took the Sony HD recorder with me and recorded a lot of videos as well as photos. After the World Cup, I found myself extremely busy converting and sharing those videos on YouTube and Reddit just because I didn't have an awesome converter for doing so! Some World Cup video converters gave me errors in converting over and over again and some even didn't read the AVCHD I recorded. But today, I'd like to recommend the best program that is able to convert your videos in AVCHD, M2TS/MTS, MKV, MOV, M4V, etc that you recorded from your iPhone, Galaxy phone, Canon, Sony cameras/camcorders, etc to GIF in 60FPS in HD quality.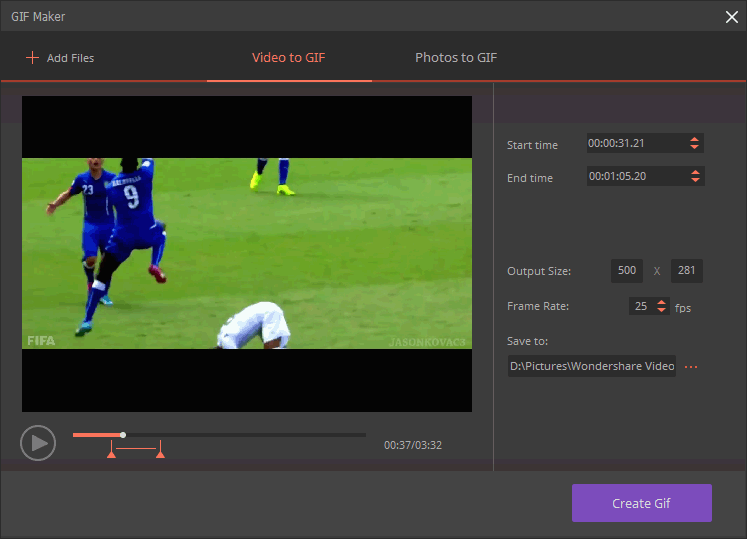 Wondershare Video Converter Ultimate is renamed Wondershare UniConverter, and it's 100% compatible with the latest Windows 10 and macOS Big Sur and your ultimate way to download and record, convert and burn videos. Making GIFs from Wondershare UniConverter is extremely easy and it's believed by me to be the best GIF maker to convert AVCHD, M2TS/MTS, MOV, M4V to GIF. You are able to custom the duration, FPS, and resolution.
Besides, as one of the best multimedia solution providers, Wondershare offers ways to edit videos, recover lost photos, transfer videos, and recordings to iOS/Android.
How to Convert Russia Video to GIF 60FPS
In the below guide, I will walk you through a step-by-step guide on how to convert your videos like AVCHD, M2TS/MTS, M4V, MOV, as well as photos in JPG, PNG, BMP to GIF in 60 FPS in HD quality.
You can first download the program on your PC or Mac via the above buttons, install and launch the GIF maker and then follow my instruction.
Convert MP4 M4V MOV to GIF
If you record your World Cup journey with your iPhone/iPad, great! This is because the videos will be in MOV format and you are able to convert MP4, M4V, and MOV files directly to GIF.
Step 1. Toolbox-GIF Maker
You are able to locate the GIF Maker in Wondershare Video Converter Ultimate in Toolbox tab-Assistant Tools: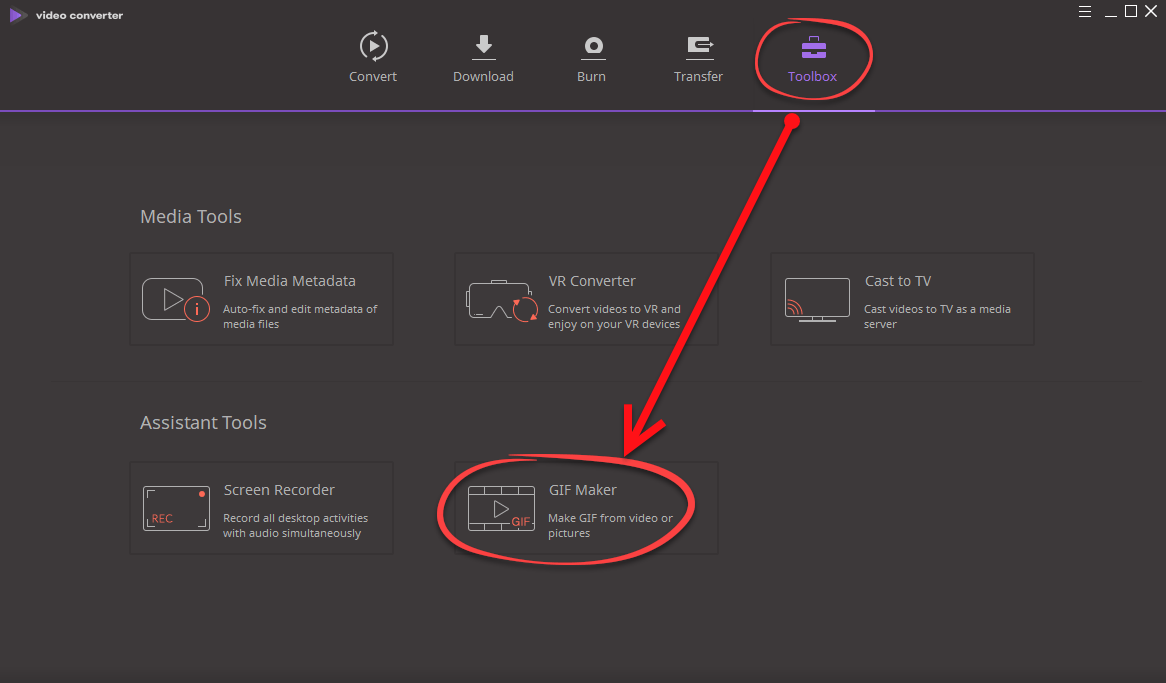 Step 2. Add MP4/MOV/M4V
Click Add Files button to add your video files for making GIFs. You are able to convert videos in MP4, M4V, 3GP, MPEG, MPG, DAT, AVI, MOV, ASF, WMV, VOB, MKV, 3GS directly to GIF. 
Step 3. Set FPS, Time and Resolution
After your video is loaded, Wondershare GIF Maker will automatically start playing the GIF. And here you are able to set the start and end time to make a GIF and the resolution, FPS and output folder. Feel free to set the FPS to 50 60 as you like. 
Step 4. Create GIF
Now, click the "Create Gif" button to start converting Videos in MP4 M4V MOV AVI MKV directly to GIF 60 FPS. And the output is in HD quality. 
Convert AVCHD M2TS/MTS to GIF 60FPS
I see most cameras/camcorders from Sony record videos in AVCHD and some other HD recorders like Canon may record your World Cup videos in M2TS/MTS or other video formats, however, Wondershare GIF maker does not offer a direct way to convert videos in AVCHD, M2TS/MTS, etc to GIF. What can we do?
There is no worry about this if you are using Wondershare Video Converter Ultimate. This is simply because Wondershare Video Converter Ultimate is your all-in-one World Cup videos solutions! You are able to convert your videos, no matter what video format they are in, to whatever video formats like MOV, MP4, M4V so as to make GIF. 
I have a previous post explaining to you in detail how to convert AVCHD and MTS to MP4 on macOS. You can follow that and the above guide to convert AVCHD M2TS/MTS to GIF. 
If you are on Windows, things are easier. You just have to double-click AVCHD and go to folder BDMV-STREAM to locate the MTS file for converting. 
And, you are even able to add your recorded videos during World Cup directly from your camcorder as shown here: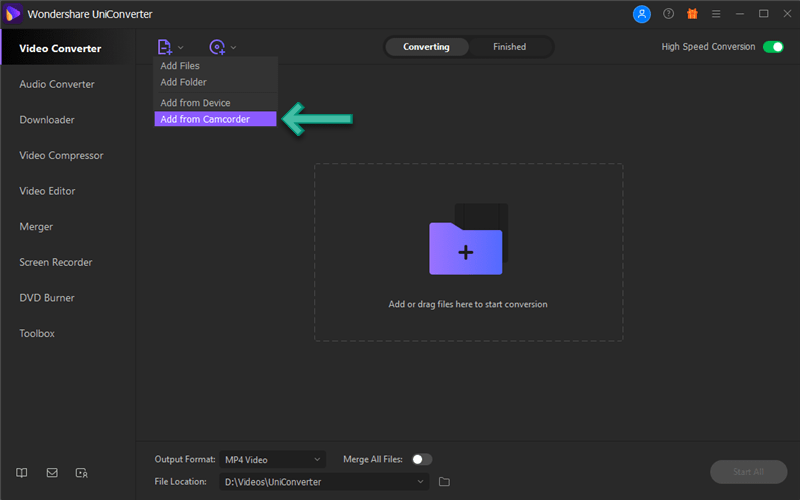 In short, if your videos are in AVCHD, M2TS/MTS, or other video formats and you want to convert them to GIF 60FPS or more in HD quality, no worry. You just need to convert AVCHD M2TS/MTS etc to MP4 and then follow the above guide to make GIFs.
How to Convert Photos to GIF
How many photos do you take with your phone and camera during the world cup? Converting photos to GIF is almost the same as we convert videos to GIF. We just have to switch to Photos to GIF in GIF Maker, Add photos, set the size, frame rate, and click Create Gif: