I have a DVD which I would like to burn mp4 without subtitles as well to save a subtitle file as an external file. This way I when I watch the movie I can set my own fonts and size for the font. I have tried to download SRT files online but I always come across the syncing issue between subtitle and the audio. Then I decided that I may be able to extract subtitles from the Blu-ray or DVDs! 
In this post, I will explain my experience of how I extract subtitles into sub/idx or srt file from Bluray and DVD on PC and Mac. 
Update: Extract Blu-ray/DVD Subtitles directly to SRT
Update: with of one the most recent updates from DVDFab, it is now able to extract Blu-ray and DVD subtitles directly to SRT without re-converting from sub/idx to srt online. You just have to go select SRT as a profile as shown here: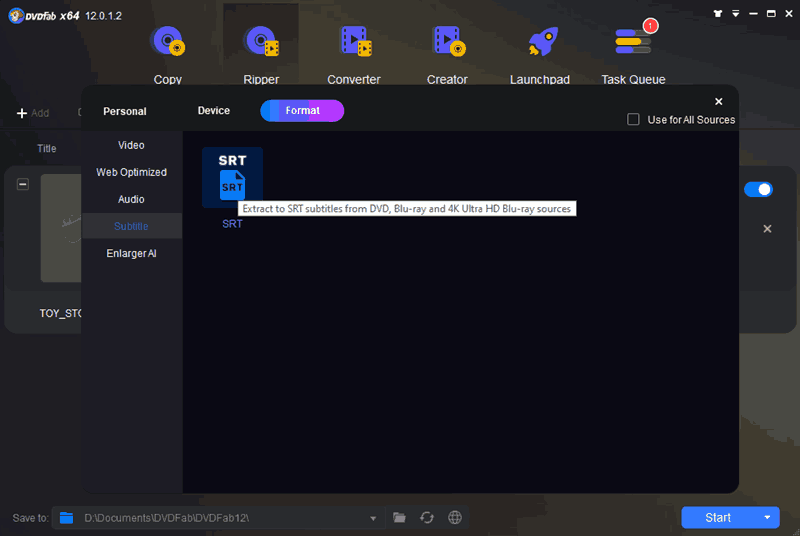 If you want to extract the subtitles along with ripping Blu-ray or DVD to MP4 or something else you prefer, you can extract the subtitles as SRT in advanced settings here: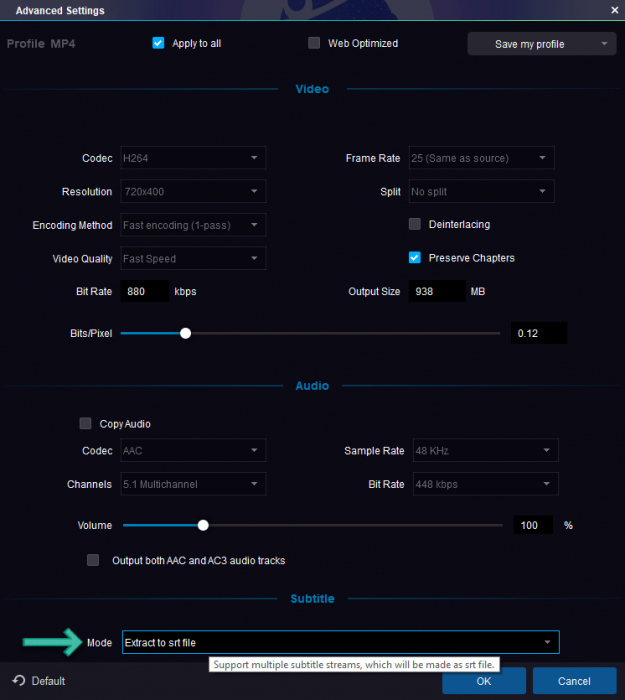 You can follow the below-detailed guide on how to extract subtitles from Blu-ray or DVDs. Just make sure you have the latest version downloaded.
Extract Subtitles into srt or sub/idx file from Bluray and DVD
Extracting subtitles into sub/idx or SRT files from Bluray and DVD is not as easy as we think. This is just because Bluray and DVDs are always encrypted and the very first step is to decrypt the copy protection. Meanwhile, the subtitle in a Blu-ray or DVD is actually an image instead of tests, and the program needs to scan the images and then extract the text. Well, with DVDFab, we are able to rip all kinds of copy-protected Bluray and DVDs and extract subtitles into sub/idx/srt file. 
Please follow the above button to download a copy of DVDFab, which is available for both PC and Mac users. Importantly, it is compatible with the latest Apple Silicon Macs (the M1 chip) running macOS Big Sur! DVDFab is a collection of tools that are able to rip, create, copy Bluray and DVDs, convert videos, etc. You will have to activate each function like ripping a Bluray or ripping a DVD separately. 
The guide explains how we extract Bluray or DVD subtitles with a simple setting in DVDFab. Screenshots are taken on Windows, but this guide also applies to the Mac version as they look and work the same.
Step 1. Load Bluray/DVD
Once you have inserted your Bluray or DVD disc into your Bluray or DVD drive, DVDFab automatically loads the disc for you.  You will be presented to choose a Bluray or DVD region. Feel free to disable it or learn more on how to remove Blu-ray region code.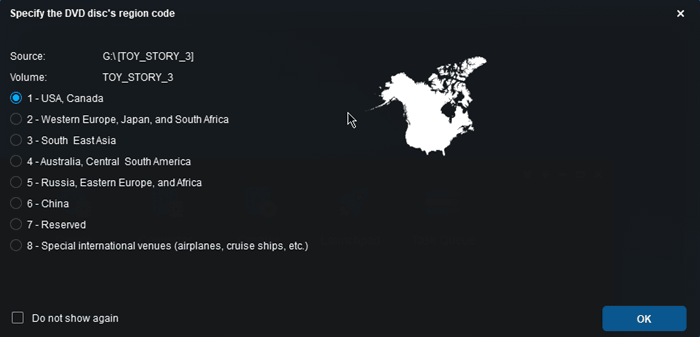 Step 2. Profiles for Bluray and DVD Ripping
MP4 is the default profile for both Bluray and DVD ripping. If you just want to extract subtitles into sub/idx from Bluray or DVD. I suggest you go for Passthrough profiles: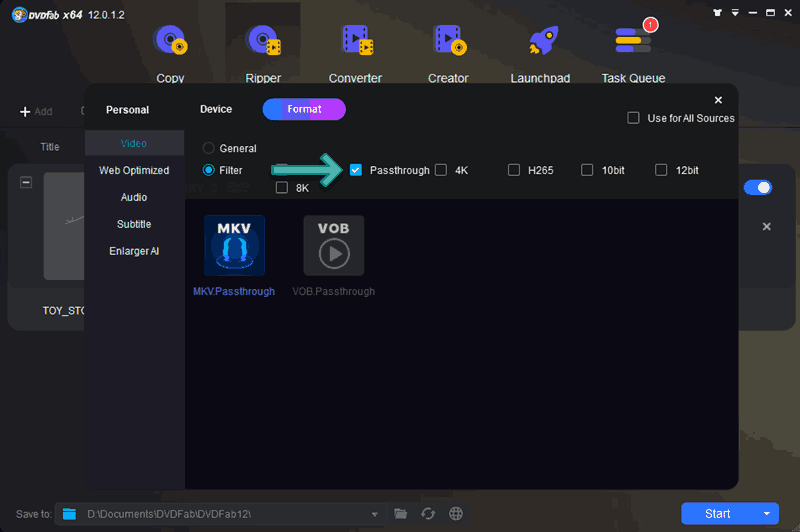 Please note M2TS, MKV, MP4, and 3D MKV passthrough are available for Bluray extracting, and MKV and VOB passthrough for DVD extracting. I suggest those profiles just because you are able to remux Bluray or DVD without converting, which can be super fast. 
Step 3. Advanced Settings
In order to extract subtitles from Bluray and DVDs to .sub or .idx file, we will need to go for Advanced Settings here: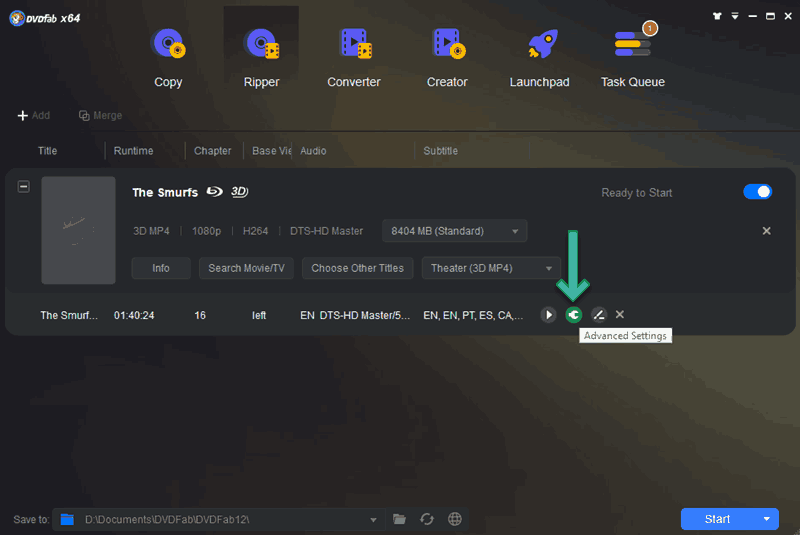 And set the subtitle mode to "Extract to idx/sub file". You are able to extract all subtitles in your DVD and Bluray to idx/sub.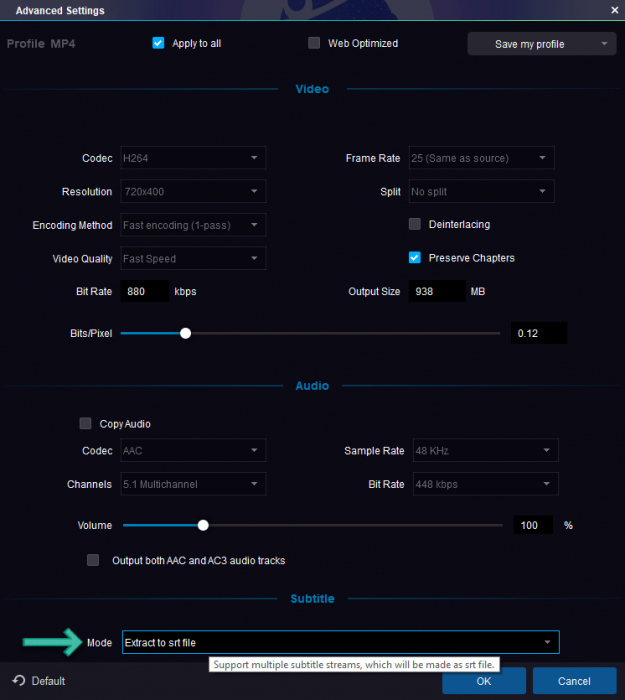 Step 4. Rip Bluray/DVD and Extract Subtitle
Click Start button and DVDFab will begin right away ripping and decrypting the Bluray or DVD and save the subtitle file as idx and sub. 
Free Convert IDX/SUB to SRT
Update: since DVDFab is able to extract subtitles from Blu-ray DVD in SRT, you don't have to use this free online tool to convert IDX/SUB to SRT anymore. This part is kept just for your reference.
Idx/sub does not seem to be as widely used as SRT, but luckily, there is a free way to convert idx/sub to SRT. What you need is just a web browser, so this job can be done on any system. 
It is really simple to free convert idx/sub to srt online. You select and upload the idx and sub file separately and click Convert: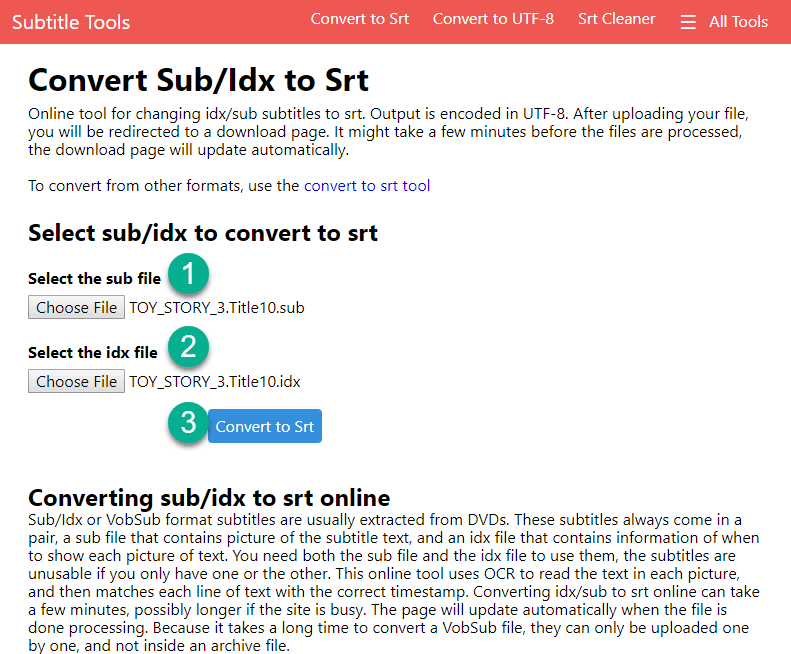 When the converting is done, click Download to download the SRT file to your local hard drive: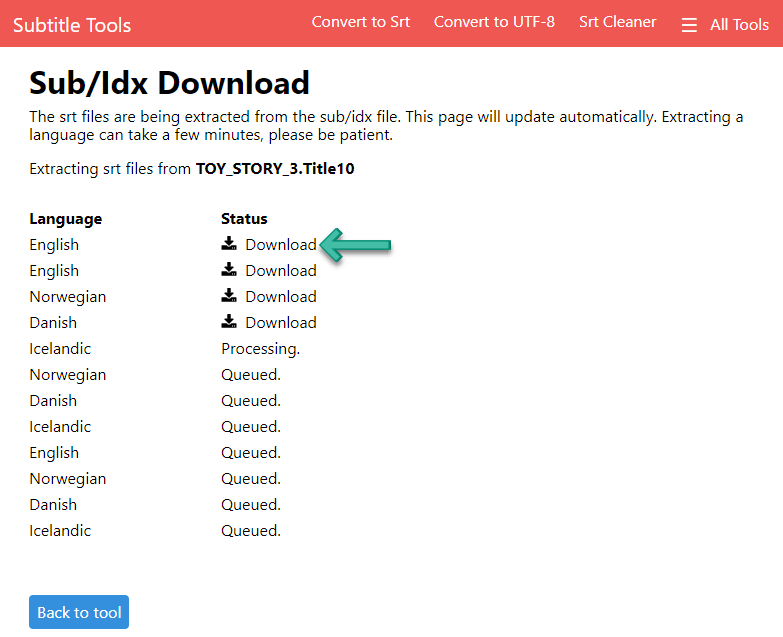 Here's the final SRT file we extract and convert from Bluray and DVD: