On Windows, there are many powerful universal format video players we can choose, such as PotPlayer, KMPlayer,
MPC-HC
and so on. What is puzzling is we actually could not find a useful universal player in the Apple Mac platform which is in the possession of much high-quality software? Although the macOS also has Movist, MPlayerX,
VLC
, and other popular universal players, they all have their shortcomings: slow to update, poor performance, common but not good video format compatibility, unable to play 4K high-resolution videos, etc. In this condition, where no one can be called the most powerful and versatile video player, finally, there are developers who stand out… Besides, I believe IINA is your top choice to play World Cup videos and recordings!
Committed be the most powerful open-source video player on macOS
IINA
player is a free open source macOS universal video player, based on MPV (a command-line boot / highly customized cross-platform high-performance open-source player), uses Swift language to develop. It has a strong performance and compatibility and is able to support smooth playback of almost all major video formats, and support network playback. The author's goal is "to do a modern macOS video player", so IINA player perfectly fit the modern Mac design style. Compared with similar software, it supports Touch Bar, Force Touch, and other new hardware features, and it strives to be lightweight and powerful with the best user experience.
Playback decoding and function settings
Thanks to MPV as the playback core, IINA player enjoys all the advantages in decoding and image processing and when comparing to other similar players, it has a significant improvement in picture quality. The following is the comparison chart in rendering quality between the IINA and MPlayerX from the official website and IINA is significantly more clear and sharp.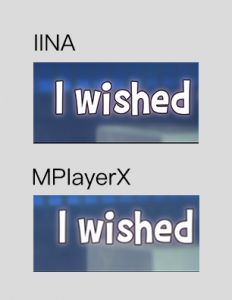 According to the actual measurement, IINA, regardless of the video's opening speed, startup speed, picture quality, is very satisfactory! It even plays smoothly some high-resolution 4K video, but in the other players, the playback gets stuck every now and then. IINA player offers almost the same menu options as most other players. It supports video clips, subtitles (it supports external subtitles and downloading network subtitles automatically with Shift + Command + D). It supports playlists and chapters, removing letterbox and you are able to custom mouse and shortcut keys operation and so on. At present IINA is only in a very early stage of development, but the use of experience and playback are indeed very good and can be used for the main playback. After trying IINA, it is estimated that you will have this Mac player with great confidence and will be looking forward to it!
Free and Open source
There is one more thing that is also important! The IINA project is fully open source (GPLv3), and the author also very kindly announced: "IINA now or in the future, will be free." Therefore, IINA most likely in the open-source community to obtain high-speed growth, so as to become a star player on the platform of the Mac! Perhaps you are the same who have been looking forward to a player on macOS that can be beautiful, powerful and can take all the video formats. IINA player was developed by users who had the same idea and wanted to meet the needs of both ordinary and professional users of media playback. If you are currently using the Mac video player but has a variety of dissatisfaction, then try IINA, I believe you will not be disappointed!