I was on Quora today and found someone was wondering how to convert IFO to MP4 because he was in trouble doing so. And I noticed there were many others asking the same thing. I was amazed by this kind of question because a single IFO file cannot actually be ripped or converted. So, in this post, I'd like to explain how we can convert IFO to MP4, AVI, MKV, etc on either PC or Mac with the ultimate solution in 2021.
IFO is actually short for information. As the name suggests, it is actually a text file instead of a video or audio file. According to Wikipedia, you will see the detail definition of IFO:
IFO (information) files contain all the information a DVD player needs to know about a DVD so that the user can navigate and play all DVD content properly, such as where a chapter starts, where a certain audio or subtitle stream is located, information about menu functions and navigation. BUP (backup) files are exact copies of IFO files, supplied to help in case of corruption. Video players may not allow DVD navigation when IFO or BUP files are absent.

As you can see in the above screenshot, IFO files are only a couple of KB. 
What IFO files can be Converted to MP4?
As is explained, a single IFO file cannot be converted, so what IFO files can be converted to MP4 AVI MKV, etc?
The IFO files that are along with BUP and VOB files in a VIDEO_TS folder can be converted and generally, DVD, DVD ISO, VIDEO_TS folder, .dvdmedia files can be converted. 
2021 Ultimate Solution to Convert IFO to MP4
From what I have tested with a couple of different DVD ripping solution, there is few that are able to add IFO files for ripping. And here I'd like to recommend an ultimate solution for you to convert IFO to MP4 in 2021.
AnyMP4 DVD Ripper is what I think the best way for you to rip and convert IFO to MP4 as well as other video formats. I always recommend it to rip DVDs as I believe it is one of the best DVD rippers in 2021 and it helps you to rip and convert protected DVDs from Disney, BBC, etc to whatever video formats you need. 
AnyMP4 DVD Ripper impresses me in DVD splitting and 3D DVD ripping is its unique feature.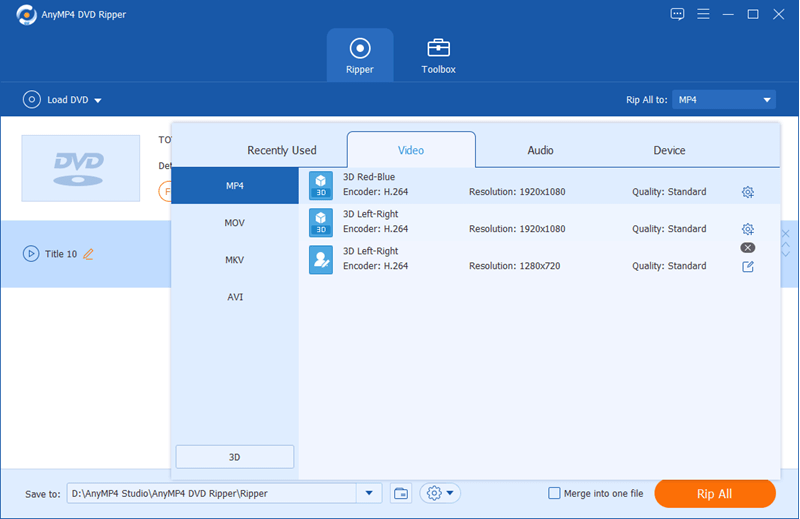 How to Convert IFO to MP4 on PC/Mac
Below is the detailed guide on how we can use AnyMP4 DVD Ripper as our ultimate way to convert IFO to MP4 or any other video formats you like. 
Please follow the above buttons to have a trial of the program, install and launch it to get ready. 
Step 1. Load IFO
Click the drop-down menu of Load Disc and the Load IFO File: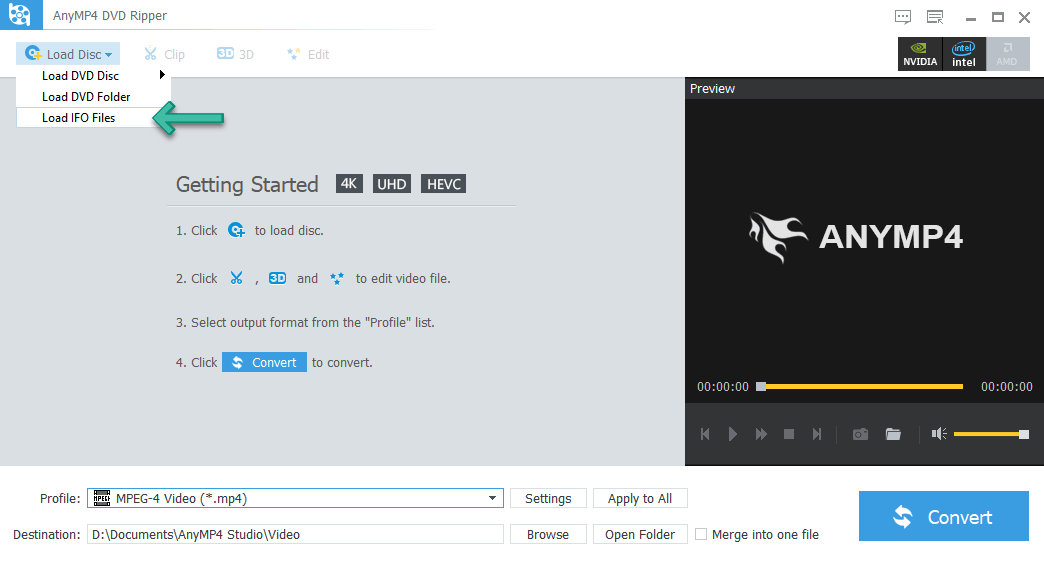 Make sure you choose all the IFO files: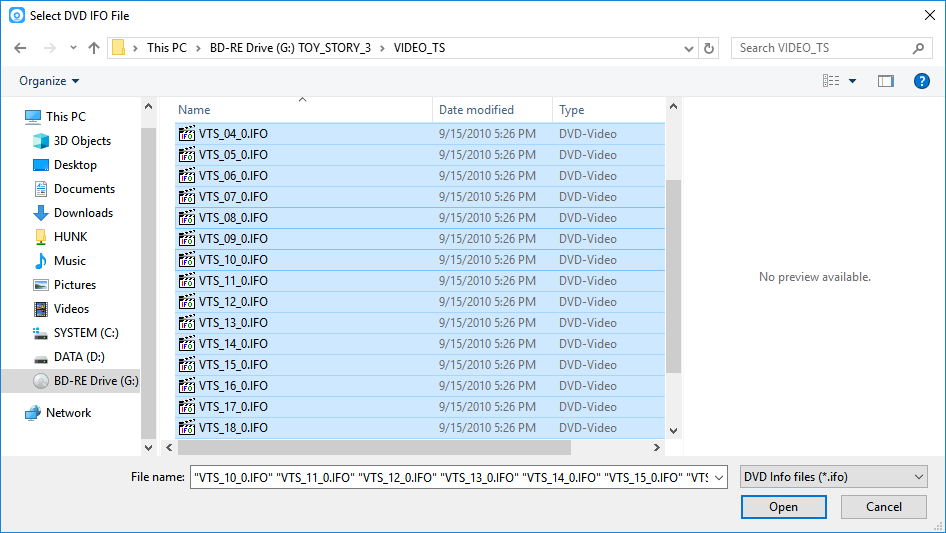 Step 2. Titles and Profiles
You will see AnyMp4 loads all possible titles for your ripping. If you want to confirm, you can use the preview window or VLC to free check the right title.
And, go Profile and choose the profile you prefer. I'd always like to recommend MP4 H264 for converting IFO files.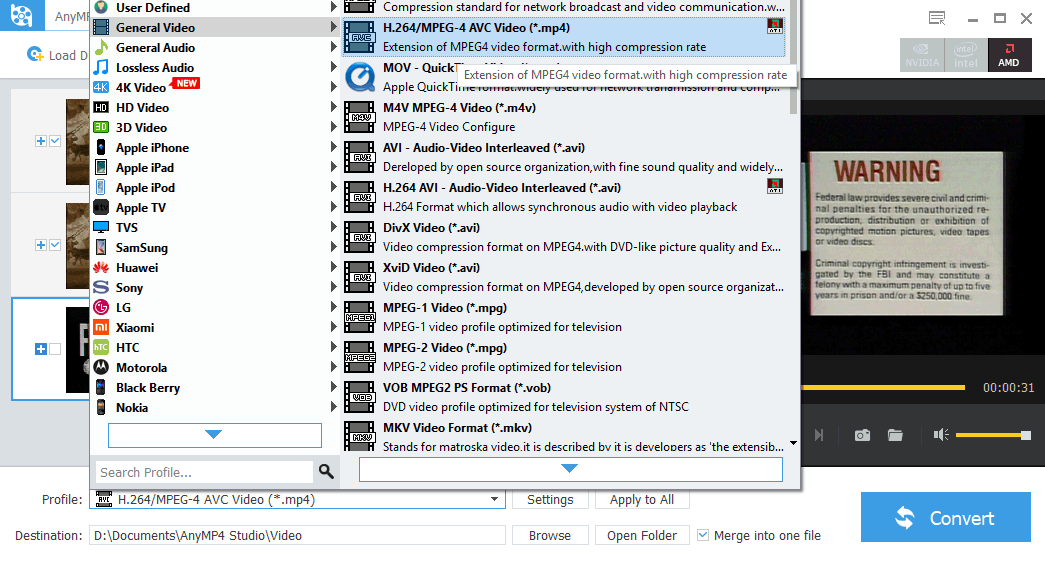 Step 3. Convert IFO to MP4
You are now ready to convert IFO to MP4! Just hit the Convert button and leave the rest to the program!
Troubleshooting-Load DVD Failed
When I was testing the program to convert IFO to MP4, I got the error message that reads: "Load DVD Failed-No valid title found." 

Luckily, I was able to fix this problem and here's how we can troubleshoot.
Make sure you choose ALL IFO files for loading instead of single IFO files like VIDEO_TS.IFO.
Try to load the DVD via Parser Mode. DVD Navigator Mode is recommended but if it failed, try another one.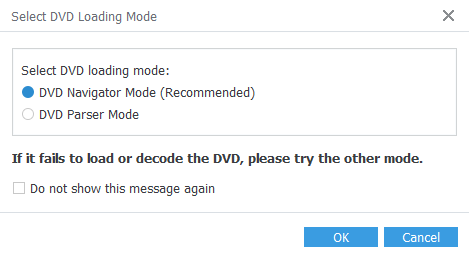 Try to load DVD by disc or Folder.