Update: macOS 13 Ventura  is realized and we can still record the screen with QuickTime Player with sound for free, it's almost the same as we do in previous macOS, but it gets a bit different from older macOS like Mojave. You will see how it goes here as well.  Since QuickTime is 100% compatible with Apple Silicon Macs, it's 100% working to free record screens with sound on those Macs.
When I was running Mac OS X El Capitan, I saw we could free record our screen and upload it to YouTube for sharing or put it into PowerPoint or Keynote presentation. However, there was no sound. In the most recent macOS update, Mojave, I see it is quite easy to free record your screen with sound now and in this tutorial, I will show you how to free record screen with system sound in detail on macOS Mojave and Catalina as well as Big Sur using Quicktime.
How to Record Screen with Sound on macOS 13 Ventura for Free
Go Applications, and open QuickTime Player.app. Go click File on the top and then New Screen Recording or use the keyboard combination COMMAND+CONTROL+N for a new screen recording: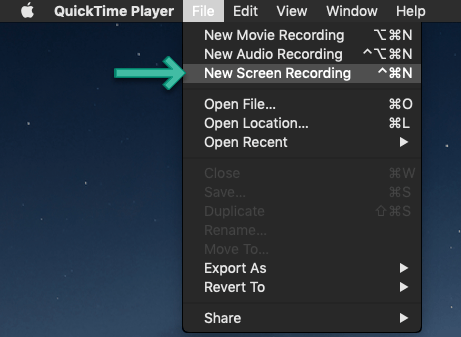 IMPORTANT:
You will be presented with the below window asking for permission. Make sure you click Open System Preferences instead of Deny.  However, while recording the screen with QuickTime on Big Sur, I don't see this requirement and the recording goes just fine with sound. 

Check QuickTime Player.app to allow recording. In case you click the Deny button, you can manually go to System Preferences-Security & Privacy-Screen Recording to allow screen recording.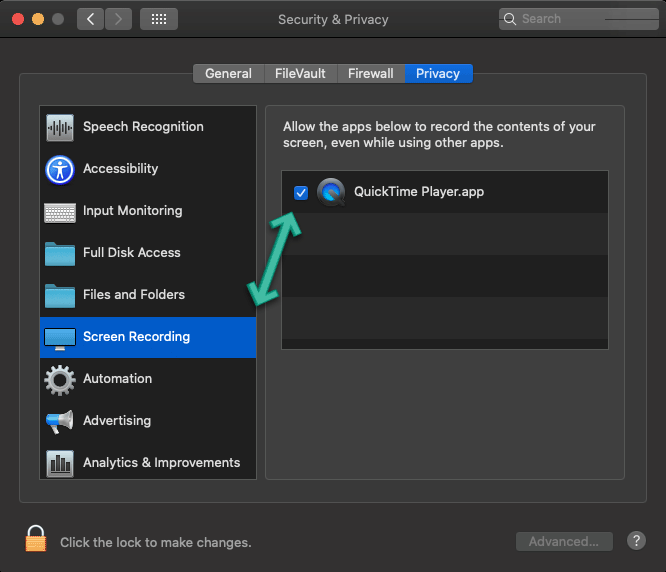 Then quit QuickTime Player and restart it, and click File-New Screen Recording to go on the process. 
Now, it's easier to record the screen on Catalina and Big Sur than we do on Mojave as the icons below are straightforward and easy to understand what it means. You can set the Options for recordings like output location, timer, and microphone. Soundflower is still working on Mojave as an alternative to the built-in input to record the screen with sound. But on macOS Big Sur and Catalina, you will have to go to BlackHole.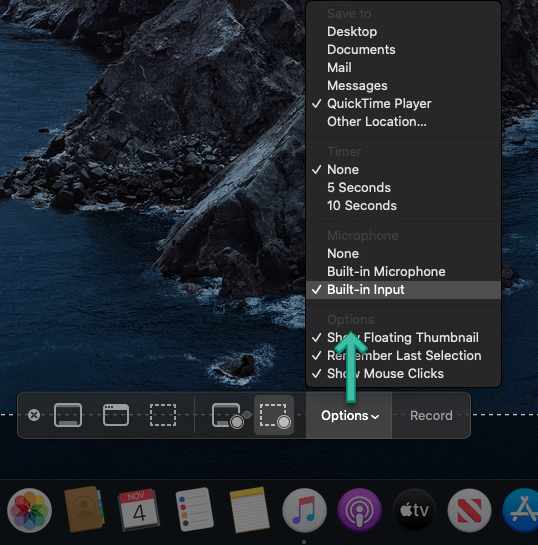 Now, just HIT Record to start free screen recording in Catalina and Big Sur. 

Use Quicktime Player for Free Recording in Mojave, High Sierra
Go Applications, and open QuickTime Player.app. Go click File on the top and then New Screen Recording or use the keyboard combination COMMAND+CONTROL+N for a new screen recording: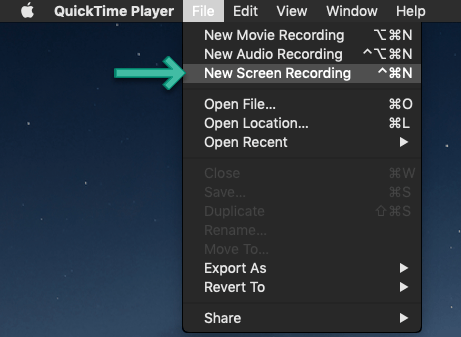 Click the little arrow(drop-down menu) on the side of the red record button and make sure the Internal Microphone is selected under the microphone section.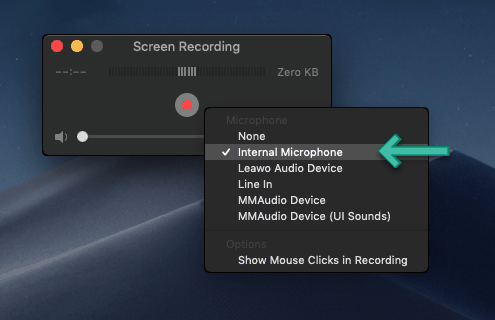 Click the red record button to free record video and system audio on Mojave. Followed is an overlay that reads: "Click to record the full screen. Drag to record part of the screen. End recording by clicking the stop button in the menu bar." teaching you how to record full screen or part of the screen.

Click the stop button in the Menu bar to stop recording. The stop button is on the top-right:

If the recording meets your needs like sharing on YouTube or presenting in PPT, click File menu in QuickTime and then choose Save or use COMMAND+S to save the MOV file to wherever you need.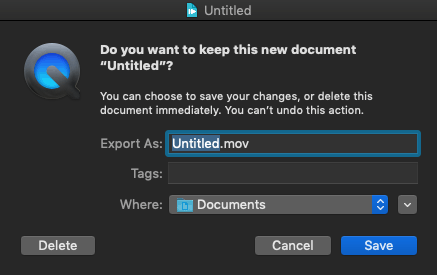 BlackHole[Working with macOS 13 Ventura ]
I am sorry to see a great program Soundflower is no longer working with macOS 10.15 Catalina. Fortunately, we still have an alternative: BlackHole and it seems to work better.
BlackHole is a virtual audio driver that is modernly designed for macOS. It allows applications to pass audio to another as Soundflower does. Importantly, it comes with zero additional latency and it is working with the latest macOS 11 Big Sur and 10.15 Catalina. It supports up to 256+ channels and 192kHz sample rates.
Update:
BlackHole is now 100% compatible with macOS Big Sur and Catalina, so you won't get the below warning. You can install it directly by clicking Next, Next, Next.
For the first time you install BlackHole to macOS Mojave and Catalina, you cannot open it with the same error message as Soundflower because it is from an unidentified developer and macOS cannot verify if it contains malware. Likewise, you will have to hold the Option key to click or right-click the installer, and then click Open to install.
Note: BlackHole is open-source and it is 100% worry-free to use.

For more details on how to install BlackHole to Catalina or Big Sur, you can visit the official guide here.
Setting up Multi-output Device
To be able to use BlackHole to record the screen with sound on your Mac, you will have to follow the below steps to set up the multi-output device.
Step 1. Open Audio Midi Setup
BlackHole won't show up everywhere in the Applications folder because it is an audio driver. You can set it up in Audio MIDI Setup. Click the Search icon [default keyboard combination: command+space] on the menu bar to search Audio Midi Setup in Spotlight to open.
Step 2. Open Audio Devices[Optional]
You will only have to do this when the Audio Devices window does not show up. Go to Windows drop-down menu in the menu bar and select "Show Audio Devices":

Step 3. Create a Multi-Output Device
Click the + icon in the lower-left of the Audio Devices window, and select "Create Multi-Output Device".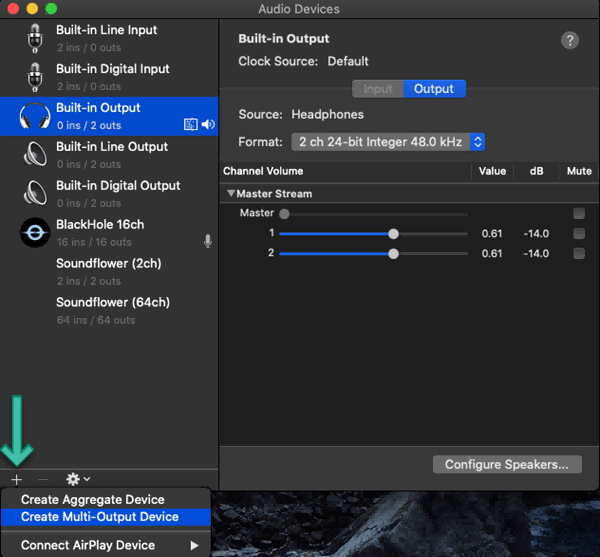 Step 4. Set Multi-Output Device[IMPORTANT]
To be able to record a screen with sound via QuickTime or other programs free, make sure you enable Build-in Output and list it as the top device. Drift Correction is recommended officially.
Step 5. Set Sound Output
Right-click on Multi-Output Device and select "Use This Device For Sound Output":
Now, you can select BlackHole in QuickTime to record your screen with sound for free.
Soundflower[Working with Mojave]
Soundflower is a Mac extension that allows programs to pass audio to other applications. Using this program you will be able to record system sound along with the video as well. The latest soundflower is 2.0b2 and it signed to meet Apple's new code-signing requirements and will be installed in the /Library/Extensions folder as required.
Download Soundflower here. This is the direct download link. You can also see more information and even its source code here.
Double-click the downloaded Soundflower-2.0b2.dmg and then Soundflower.pkg to install.
Choose Soundflower in the drop-down menu of Screen Recording to record sound.
Installing Soundflower on Mojave
Soundflower doesn't seem to be compatible with Catalina anymore and there are no updates since 2014. You can still install the program on Catalina, however, when I try to record screen with QuickTime for free, there is no sound. The good news is, we can still use Soundflower on Mojave, High Sierra, etc. But, you may have trouble installing Soundflower to Mojave with the error message that reads: "'Soundflower.pkg' cannot be opened because it is from an unidentified developer." :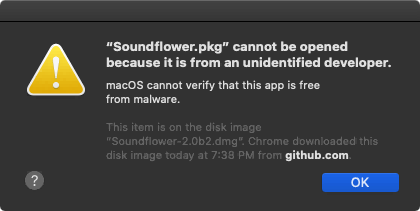 No worry! Here's an easy way to install it to macOS Mojave so as to record screen with sound free of charge.
First off, you will have to double click the dmg file to mount, locate the Soundflower.pkg file. And then right-click it and select Open to confirm opening: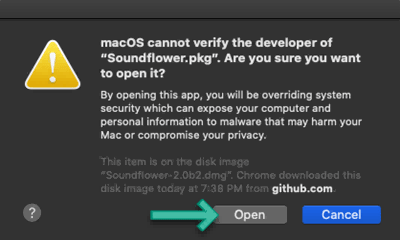 After installing, you will see the below error message that reads: "The installation failed." Make sure you click Open Security Preference: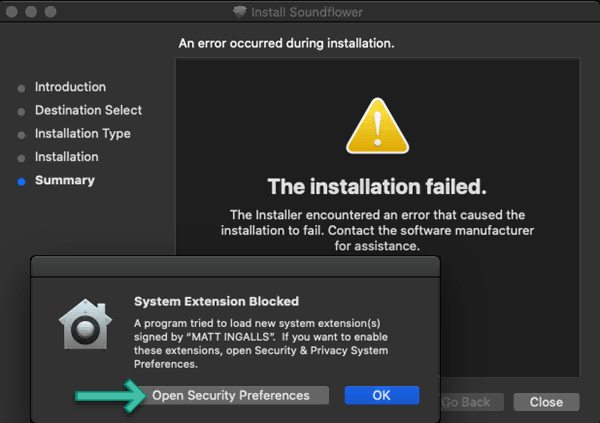 Unlock to make changes first and then Allow Matt INGALLS from loading.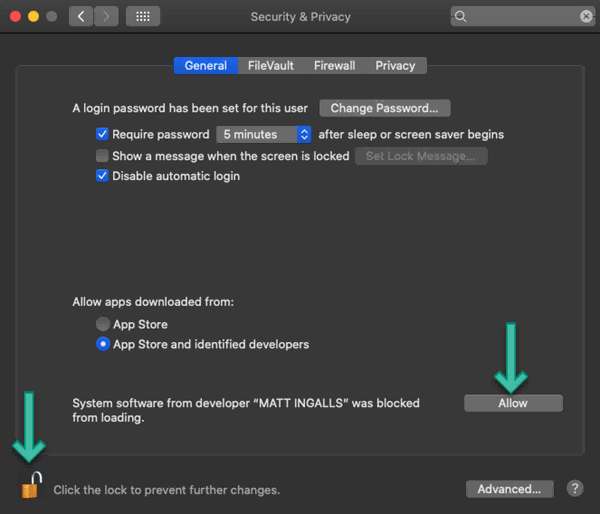 Convert/Burn/Edit Recorded MOV File
As we can see, the saved file for QuickTime recording is MOV, the most Apple compatible video format. If you want to convert, edit or even burn the MOV file, I'd like to recommend an all-in-one video solution-Wondershare UniConverter, which was named as Wondershare Video Converter Ultimate.
Wondershare Video Converter Ultimate is the all-in-one solution to convert, edit and even burn MOV files. You are able to convert the MOV file to whatever video formats like AVI, MP4, VOB etc and you can add the MOV for burning to DVDs.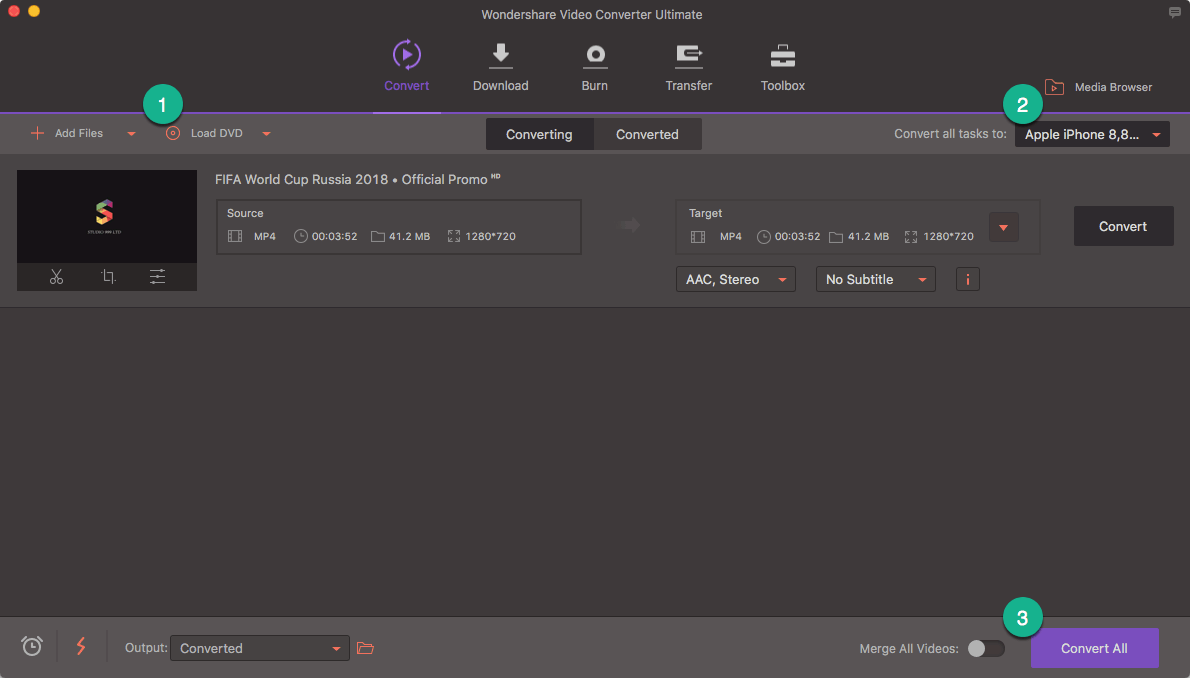 QuickTime Alternative to Record Screen
Besides, Wondershare is also able to record screen for you. If you are somehow not satisfied with QuickTime, go to Toolbox for recording.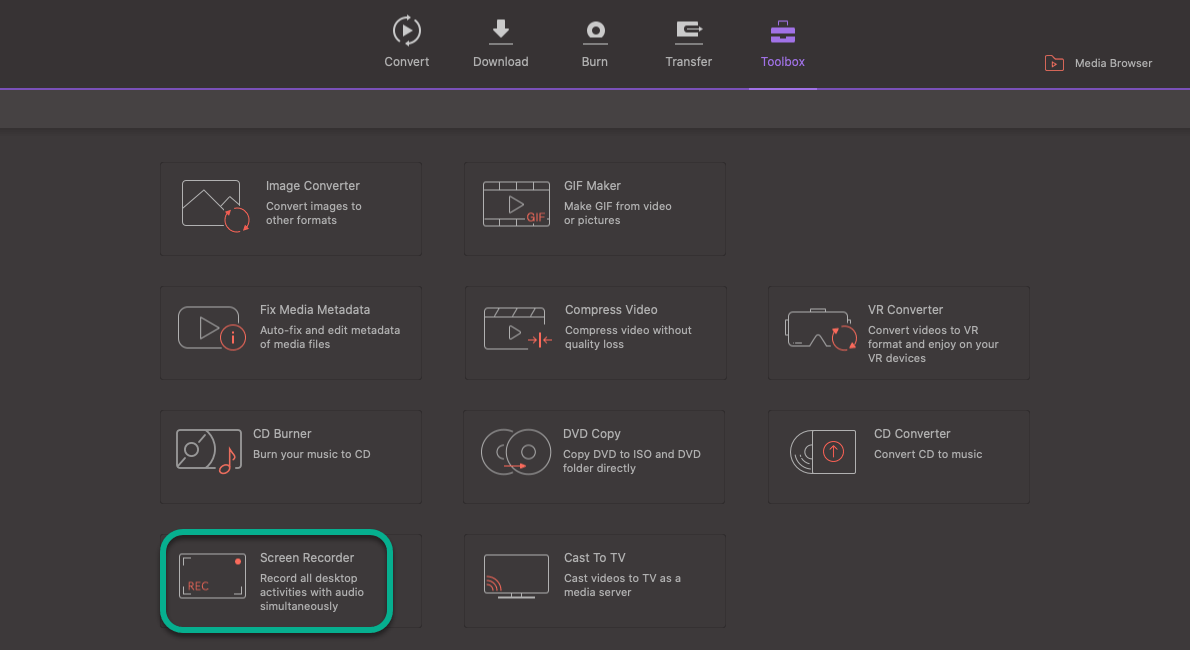 In order to record sound along with the screen, you will need to install the virtual sound card as requested: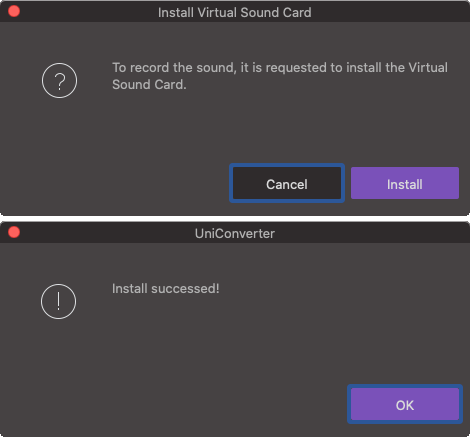 And allow it to record screen in System Preferences-Security & Privacy-Screen Recording:

You will that Wondershare UniConverter is rich in options for screen recording on Big Sur and Catalina: