Are you a Marvel movie fan? Avengers: Endgame and Spider-Man: Far From Home are the two best marvel moves in 2019 and the Blu-ray and DVD versions are released. Did you get yourself a copy? Have you ripped your Marvel movie collections? And, about four new movies are upcoming from 2021 to 2022, would you like to rip and backup the Marvel Studio movie, either the Blu-ray or DVD version, to MP4, MKV, AVI, etc for future playback?
Marvel Movies Chronological Order
You may want to rip and backup your Marvel movies in chronological order, and here they are:
Captain America: The First Avenger (takes place during WWII)
Captain Marvel (takes place in 1995)
Iron Man (takes place in 2010)
Iron Man 2 (takes place after Iron Man)
The Incredible Hulk (time unspecified, pre-Avengers)
Thor (takes place six months before Avengers)
The Avengers (takes place in 2012)
Iron Man 3 (takes place six months after The Avengers)
Thor: Dark World (post-Avengers, pre-Ultron)
Captain America: Winter Soldier (post-Avengers, pre-Ultron)
Guardians of the Galaxy (sometime in 2014)
Guardians of the Galaxy Vol. 2 (after Guardians)
Avengers: Age of Ultron (takes place in 2015)
Ant-Man (takes place in 2015)
Captain America: Civil War (post-Ultron, pre-Infinity War)
Spider-Man: Homecoming (post-Civil War, pre-Infinity War)
Doctor Strange (takes place in 2016)
Black Panther (takes place in 2017)
Thor: Ragnarok (post-Ultron, pre-Infinity War)
Avengers: Infinity War (takes place in 2017)
Ant-Man and The Wasp (ambiguous, but fits nicely between IW and Endgame)
Avengers: Endgame (starts in 2017, finishes in 2022)
Spider-Man: Far From Home (post-Endgame)
For more orders like the release date, you can visit this site for more details.
According to Wikipedia, there are Marvel movies upcoming in 2021 and 2022. Don't miss them!
Marvel Movie Blu-ray DVD Ripper
To be able to rip Marvel movies, you will need the help of the best Blu-ray DVD ripper to decrypt the Bluray DVD copy protection. And, here I'd like to recommend one. 
Leawo Blu-ray Ripper and Leawo DVD Ripper from Leawo are among the best DVD and Blu-ray rippers that are continuously upgraded to be able to remove DVD Region code and CSS protection and Blu-ray AACS, BD+ and MKB protection. If you want to rip either the Bluray or DVD version of your Marvel movie collections, Disney DVD collections, BBC or Beachbody workout collections, now or in the near future to any video format including AVI, MP4, MKV, etc or only devices like iPhone/iPad/Apple TV or Android devices like Galaxy series, VR headsets, you are coming to the right place.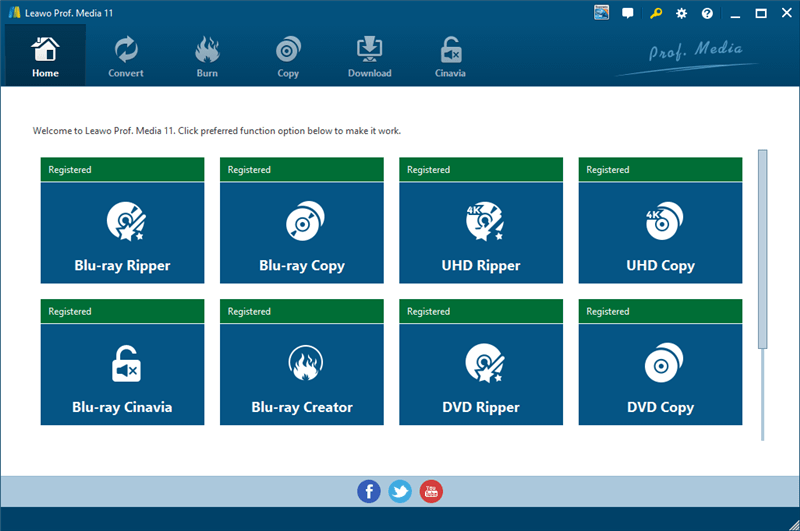 Please note the two are parts of Leawo' all in one app Leawo Prof Media, the output is all the same.
Rip Marvel Studio Movie (Blu-ray and DVDs) to MP4 AVI iPhone
If you want to rip both the Bluray and DVD versions of the Marvel movie Black Widow go for Leawo Bluray Ripper, if the DVD version, Leawo DVD Ripper. The difference between them is Leawo Blu-ray Ripper works for Bluray and DVDs sources in the disc, ISO file, Bluray/DVD folder, dvdmedia file but Leawo DVD Ripper only works for DVD sources.
With Leawo Bluray or DVD Ripper, you are able to rip and convert Marvel Bluray DVDs like Black Widow with super-easy steps. I will take Leawo DVD Ripper on my Windows 10 as an example to show you the process of ripping Bluray DVDs to MP4 H264. Please note this guide will also apply to the Bluray Ripper and the macOS version!
Step 1. Download, Install
Follow the below two buttons to download Leawo Prof. Media, install, and launch it. Also, insert your Marvel Bluray or DVD you want to rip.
Step 2. Load Marvel Bluray/DVD
Click the Blu-ray/DVD in the main interface or the Convert tab on top. Load the DVD or Bluray disc button from "Add Blu-ray/DVD" and then "Add from CD-ROM" to load any protected and home-made Bluray DVD like Black Widow you want to rip.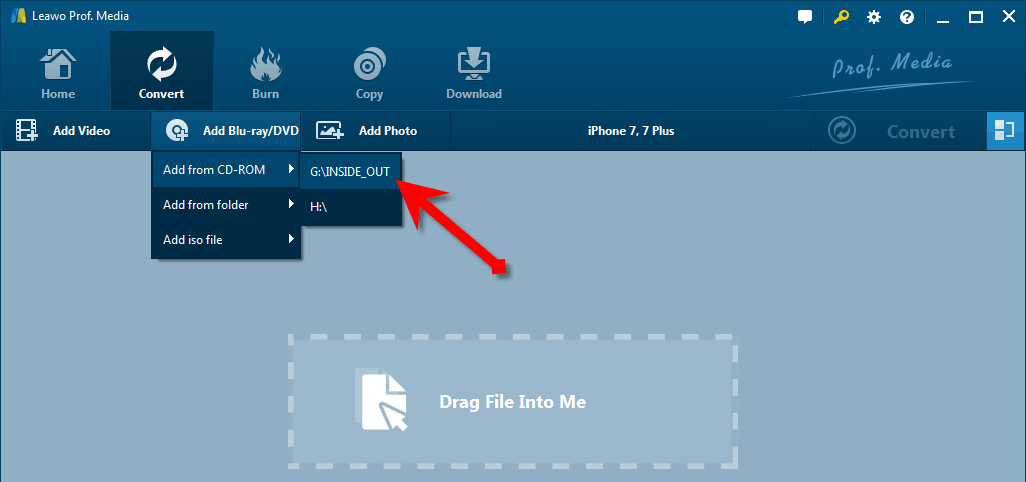 Step 3. Main Movie mode
It will take only a few seconds for the program to analyze Marvel movies before ripping and select the right title for you. And you are presented to choose the Full, Main, or Custom mode along with a preview window. For all Marvel movies, including Black Widow, I'd like to recommend you guys to choose Main Movie mode. Custom Mode is for TV shows. Full Mode is not recommended here.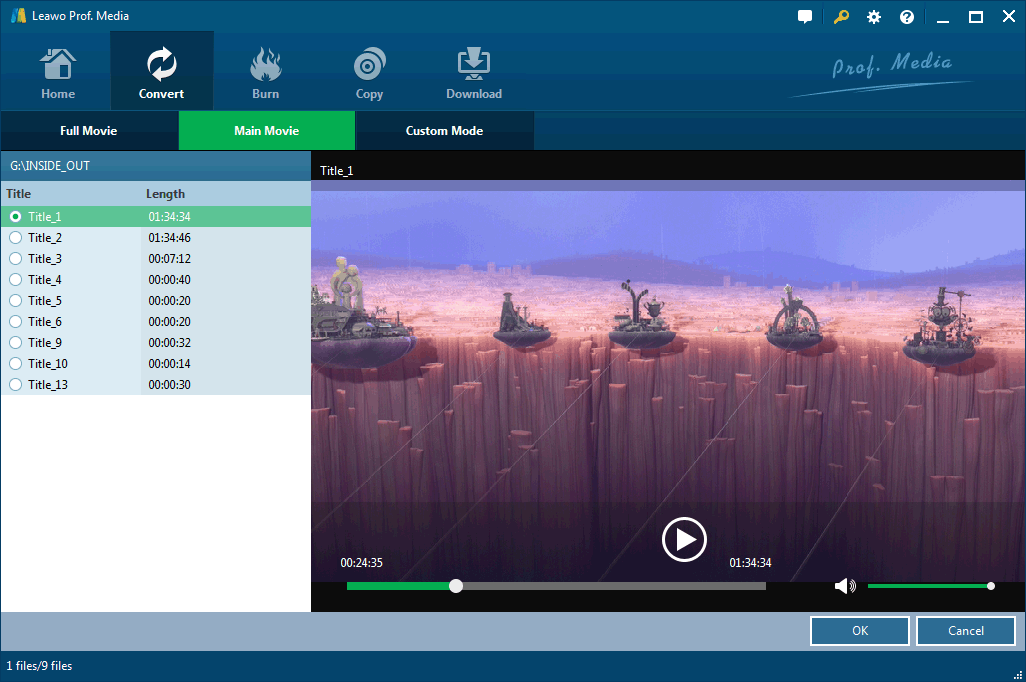 Step 4. Output Setting[Optional]
After the Marvels film is loaded to the ripper, you will be brought back with basic title info like file size, resolution, etc, and the MP4 as the default output profile. If this is NOT the one you need, say, you want MKV, click MP4 Video-Change or Edit to make your own decision.

Step 5. Ripping Marvel Bluray DVD
If there are other steps needed if you want to trim to set the destination folder yourself. Just hit Convert and leave the program ripping Marvel Bluray DVD movies to MP4 or whatever format you prefer.