Recently, I have been trying to batch convert videos like MKV, AVI, and M2TS together to MP4; however, I am getting into trouble. I am running Windows 10 Pro 64-bit with 8GB RAM and Intel Core i7 inside, and the converter always gets stuck when I do batch conversions.
I added around 50 videos in MKV, AVI, and WMV to convert to MP4 (each video is 30 minutes long) using the batch converting feature. Batch-converting videos starts just fine, but the memory usage goes up and up as time goes on. Eventually, after approximately 24 videos, the memory usage of the program hits 3.6GB (and rising), and then the program stops encoding. There are no error messages, no windows pop up, the program doesn't crash or anything like that – the program remains on-screen, but the progress bar stops rising any higher (and the file size of the video in progress stops getting any bigger).
Quick Solutions on Batch Converting's Getting Stuck
I imagine the problem could be that the program is only 32-bit, so it stops working when memory usage hits 3.6GB. The best solution would be to recode the program and release a 64-bit native version so that it releases the memory when the current video has finished encoding.
This is how it should work:
Create a batch job by adding videos to be encoded.
Start encoder.
After each video has finished encoding, release the memory for that video. You could even remove the finished video from the batch job listing because once the encoding has finished, it's done, so there's no need to re-encode.
Doing it this way, the memory footprint should remain low, and the issue with the memory cap of 3.6GB will never arise.
However, there does not seem to be any updates on this when I come across this issue in the past two months. So the possible solution for a 32-bit program being stuck in batch converting is to limit the videos. As far as I can see, 20 videos are safe to batch convert.
Best Program to Batch Convert Videos on PC/Mac
If you are looking for an alternative program that is able to do batch converting, no matter what video formats they are, I'd like to recommend Leawo Video Converter. As far as I can see, there is no memory issue and I have used it to successfully convert VTS VOB to MP4. Below you'll see the main features of Leawo Video Converter.
Convert videos and audios between 180+ formats
Convert 2D to 3D video with great effect
Trim, Crop, Effect, Watermark to edit video
Specify the video and audio parameter
Batch video loading and converting
Choose subtitles and audio channel
Fast and high-quality conversion
Leawo Video Converter is a pure video converting program that can do all the above. Besides that, the 2D to 3D converting is unique, and enjoying 3d videos on larger TVs or a VR device is great fun.
How to Batch Convert Videos MKV AVI M2TS to MP4
This is a quick guide on batch converting MKV or AVI to MP4. You are free to add as many videos as you want to the program for converting. Here we go to download Leawo Video Converter. 
Step 1. Please follow the below link to download and install Leawo Video Converter.
Step 2. You will see what you download and install is called Leawo Prof. Media, the launcher program for all Leawo programs. Select Video Converter in the program.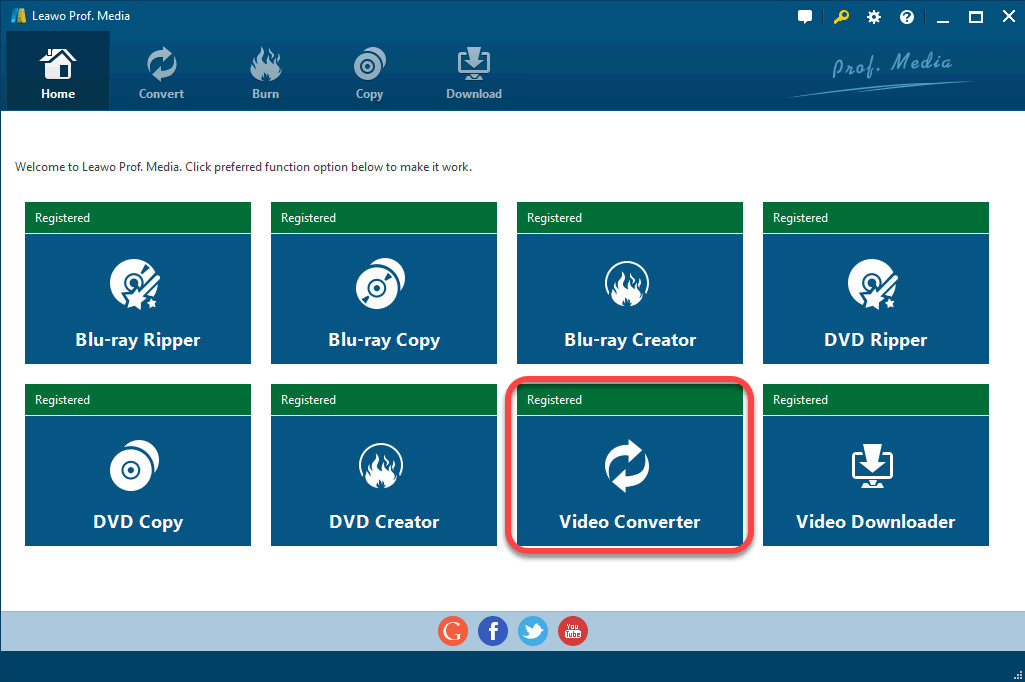 Step 3. Add files. Add any file you want to convert to the program. You can even add a whole folder or drag as many videos as you want and drop them into the program. It is as easy as that.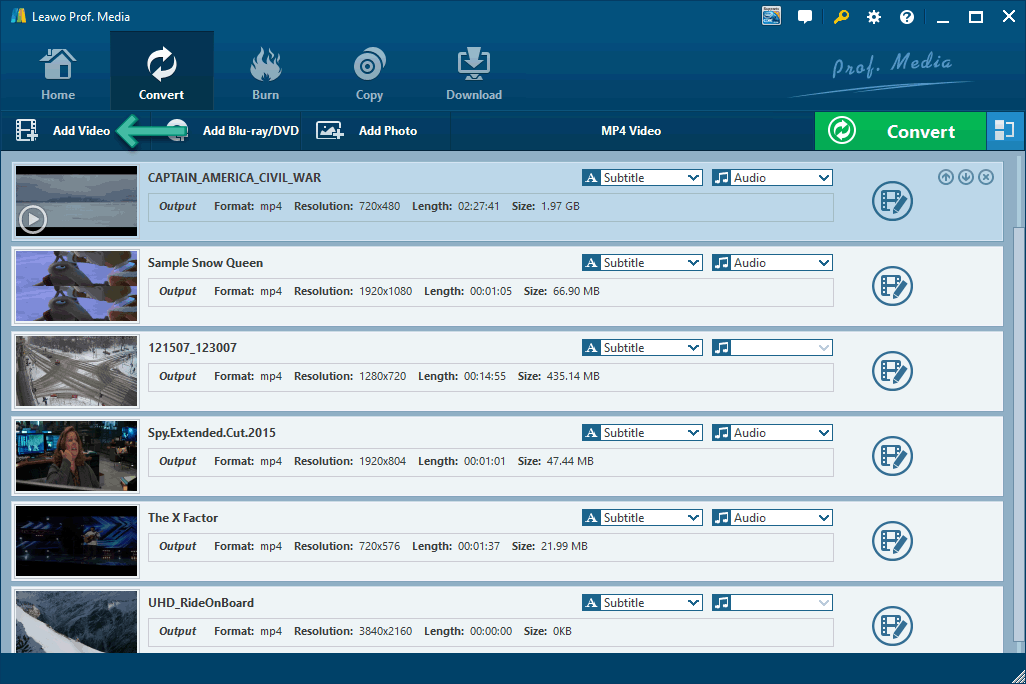 Step 4. The mp4 video is the default format for batch-converting MKV AVI WMV MOV files. Click it to change if you like to convert to iPhone/iPad, Galaxy S9, etc. You are free to custom and save it as your own profile or favorite an existing one for quick switches next time. Besides, Leawo can remember your last choice. So if you always want to convert MKV to MP4, you don't have to change the output every time.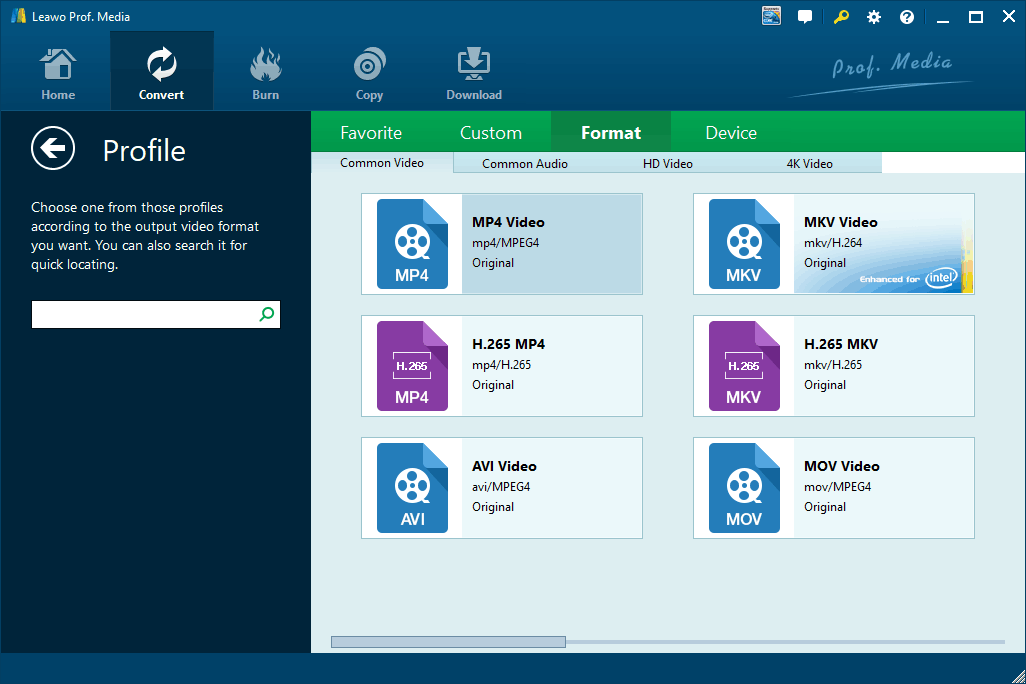 Step 5. Editing. [Optional]
Leawo Video Converter is rich in editing, like trimming, adding text or image watermarks, cropping from 4:3 to 16:9 videos, effects, removing noise, and 3D editing. Enjoying a 3D movie on a VR device like Gear VR is great fun. If you want to do so, go to Edit-3D, enable 3D Mode, and choose Side by Side.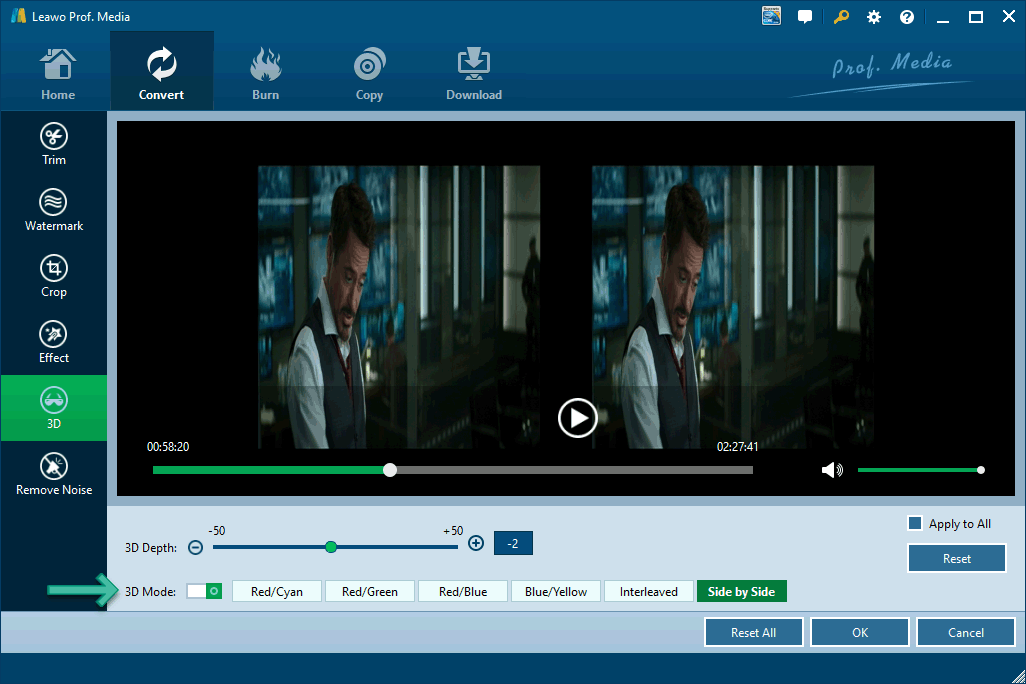 Step 6. Batch Convert
Hit the Convert button to start batch converting videos like MKV, M2TS, VOB, etc., to whatever video and audio formats you like. 
Leawo is rich in its products and functions. And as you can see, there is the ultimate version of Leawo Video Converter which can do much more such as converting videos, ripping Bluray and DVDs, burning Bluray and DVDs, and downloading online videos like YouTube DailyMotion MySpace downloading, etc.  And the 25% discount also applies to the ultimate version, but you are able to save over $29.96 since it is more expensive. For more Leawo product discounts, check it out here.